Heart-Shaped Red Velvet Sandwich Cookies
Ever since I watched Steel Magnolias, I've had a love affair with red velvet. It's light chocolate flavor with a bright hue is irresistible! It's even better when paired with a sweet cream filling. These red velvet sandwich cookies are a beautiful and festive way to celebrate Valentine's Day. They require just a few staple ingredients, minimal effort and are unbelievably good!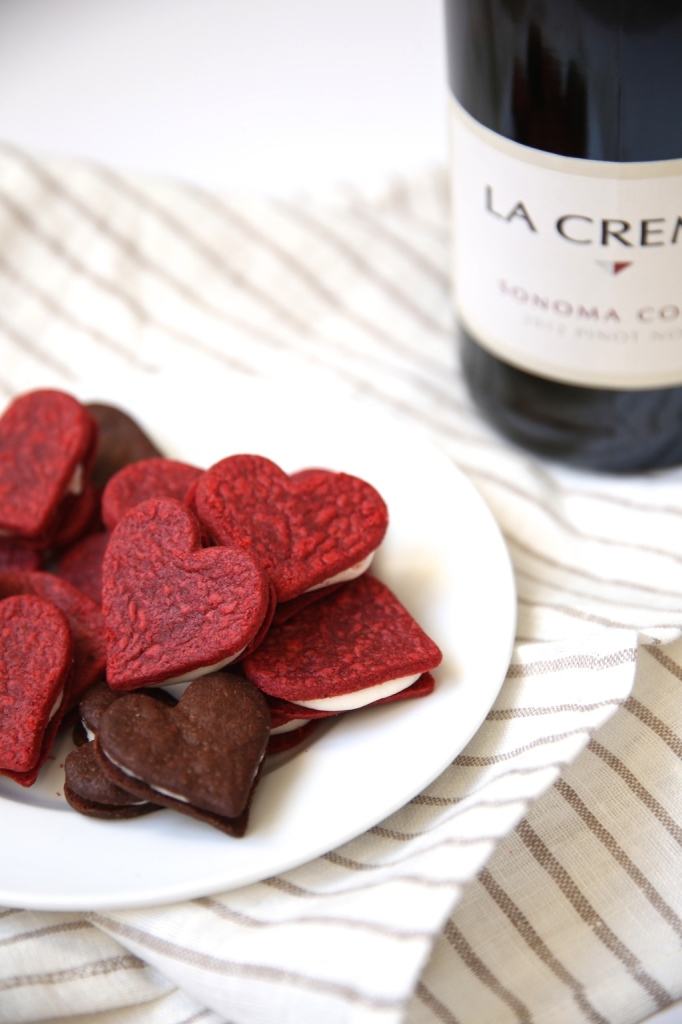 While some like to dip their cookies in milk, I prefer to enjoy mine with a glass of Sonoma Coast Pinot Noir and I think you will, too!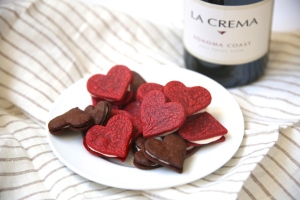 Making red velvet sandwich cookies is easy—and rewarding! I roll out dough onto a parchment paper lined cookie to minimize cleanup and eliminate the need to transfer cookies. Arefter you cut out the dough, just peel away the excess & bake!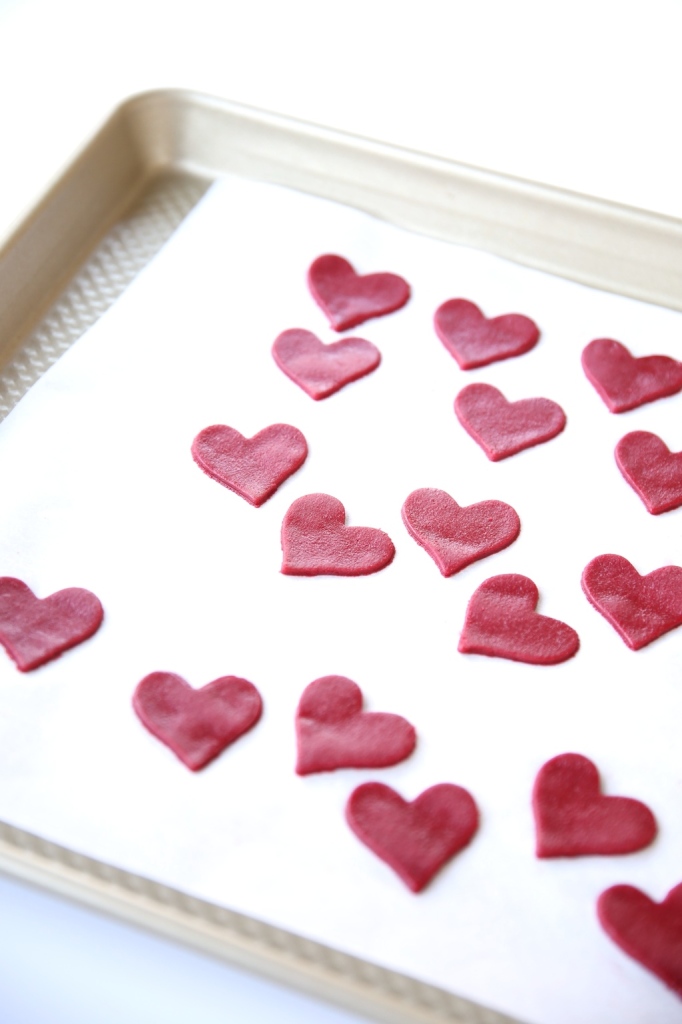 To create sandwiches, you can simply spread the cream frosting directly on the cookies or pipe it on by cutting the tip off of a sandwich bag, filling it with icing & squeezing it directly onto the cookie.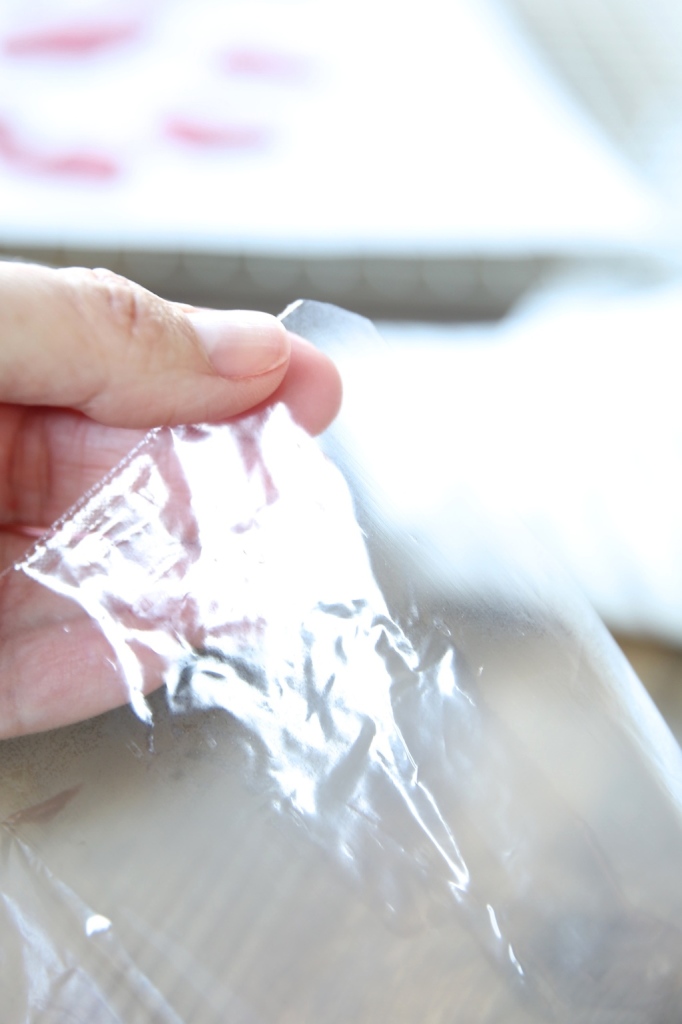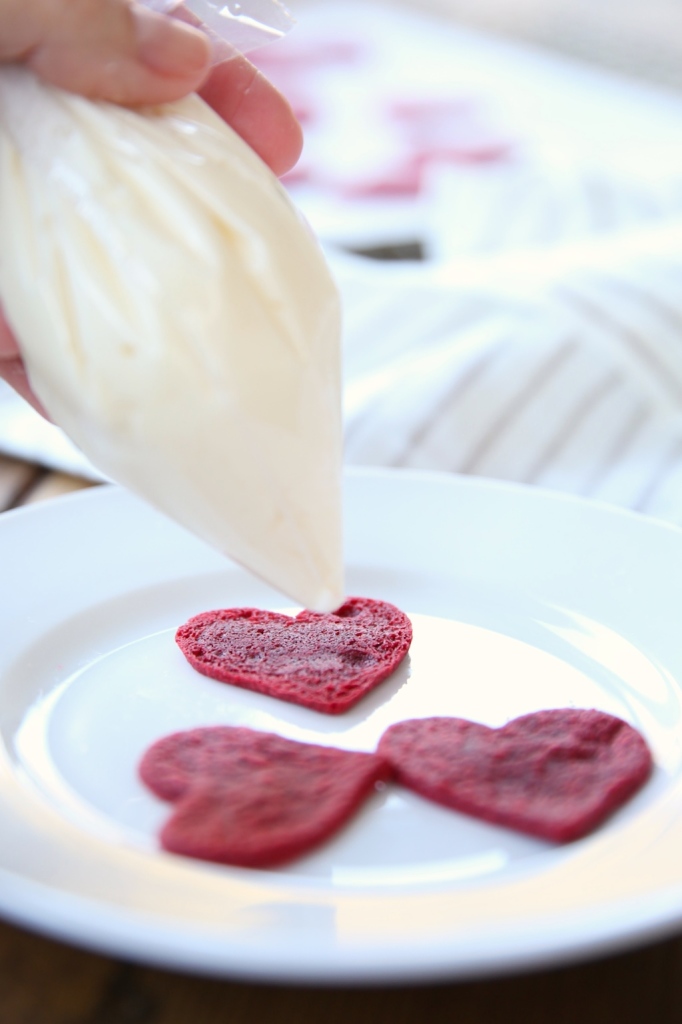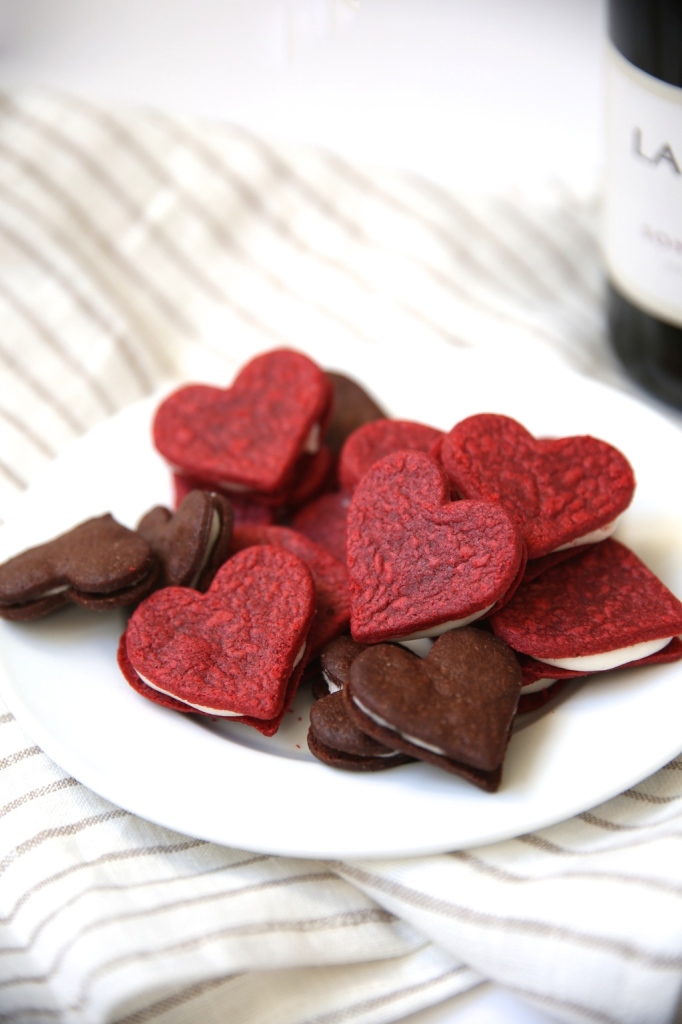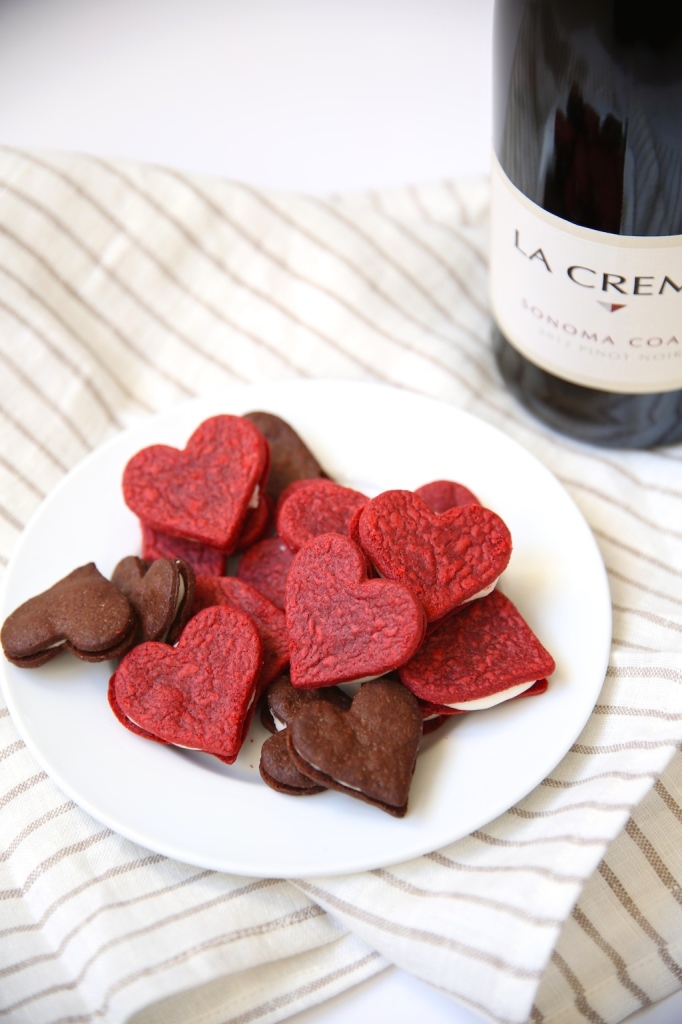 Red Velvet Sandwich Cookies
Prep time:
Cook time:
Total time:

Ingredients
½ c butter, softened
¾ c powdered sugar
1 tsp vanilla
1 c flour, sifted
1 Tbsp cocoa powder
¼ tsp baking soda
pinch salt
1 ½ tsp red food coloring
filling:
½ c butter, softened
2 Tbsp half & half
1 tsp vanilla
3 c powdered sugar
*8 oz cream cheese, softened – optional
Instructions
Beat butter, sugar & vanilla until smooth.
In a medium bowl, combine flour, cocoa, baking soda & salt. Gradually add into butter mixture. Add food coloring & beat until well combined.
Use a dough hook attachment or your hands to knead a few times, then wrap the dough in saran wrap & refrigerate for 1-2 hours.
Meanwhile, combine filling ingredients & mix until smooth.
Preheat oven to 350 degrees. Line cookie sheets with parchment paper.
Roll out dough & cut with cookie cutters, peeling away excess dough.
Bake 8 minutes & allow to cool.
Spread filling onto cookies & press to create sandwiches.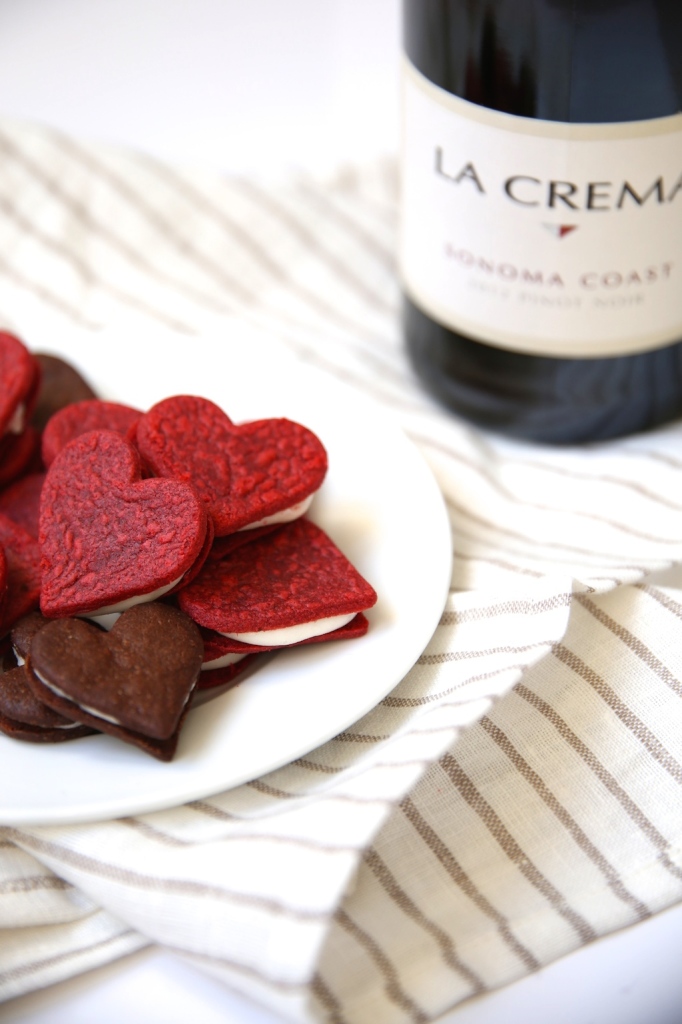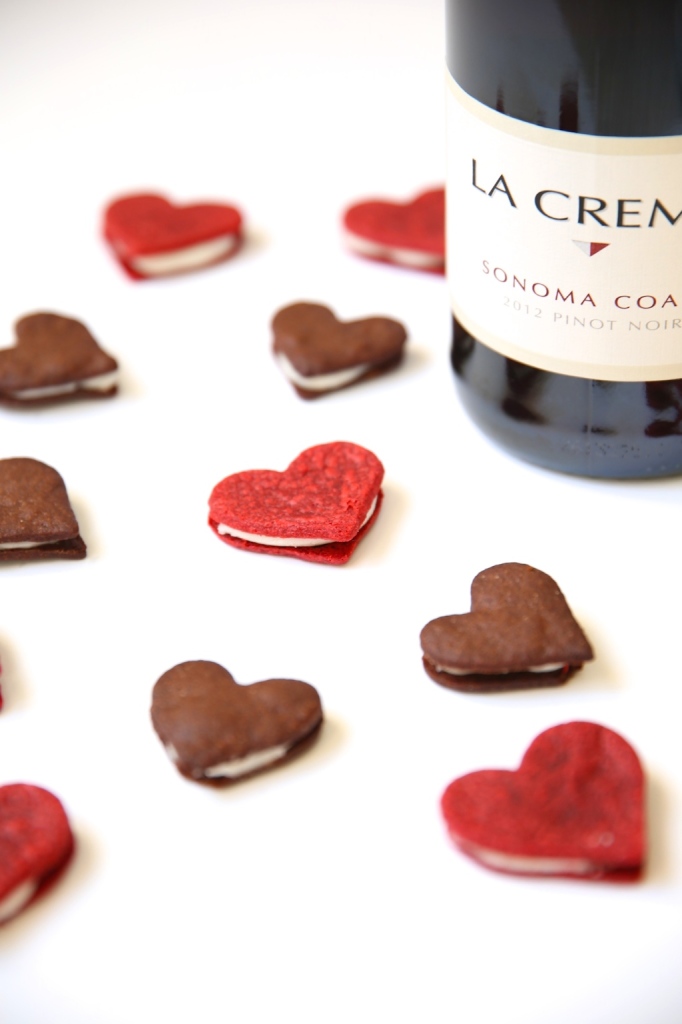 Oh, and those chocolate cookies?  They're like Oreos, but better! Get the chocolate sandwich cookie recipe here!
Share this on Pinterest