Roasted Beet and Yogurt Soup
I'm a huge fan of soup–I could eat ramen or pho every day–but I always associate it with cool and gloomy weather, not exactly spring and summer. But lately I've been thinking about chilled, yogurt-based soups, and immediately thought a Roasted Beet and Yogurt Soup would be absolutely delicious with a glass of Chardonnay.
So, the other day I picked up some gorgeous beets at the grocery store and decided to turn them into this bright and beautiful spring soup. First, I roasted the beets along with a head of garlic to get as much sweetness out of them as possible–while that was going on I caramelized an onion on the stove. Then the beets, garlic, and onion all simmer together with some vegetable stock until everything is fork-tender and the broth is bubbly and pink–a sight that I must admit can be a bit off-putting, but the fragrance of all those flavors together is truly delectable.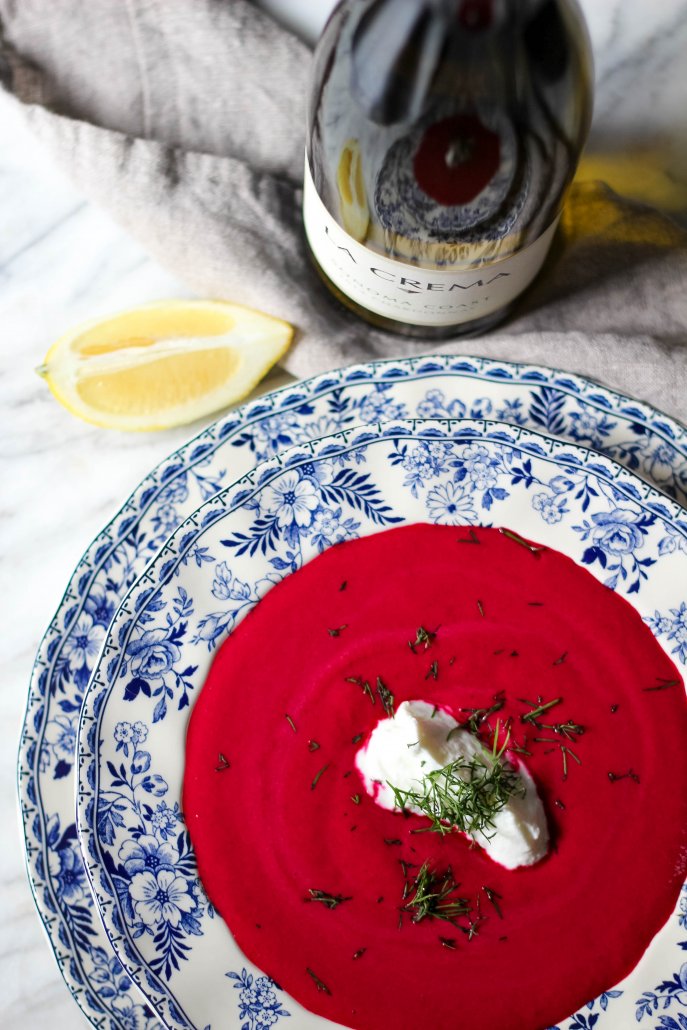 I added a little cream to make the soup extra luscious, and then the broth and vegetables get blended together with a bit of salt and pepper before going into the fridge to chill out. This recipe is super easy, but actually took me all day, so if you can plan ahead, roast the beets and combine everything up until this point the night before to make your life a little easier. Once the soup is cold, you add some tart yogurt and lemon zest before serving with an extra dollop of yogurt and some fresh dill–delicious! It's even better with a glass of La Crema Sonoma Coast Chardonnay, so make sure you've got a bottle chilling in the fridge.
Roasted Beet and Yogurt Soup
Author: Megan Flynn Peterson
Prep time:
Cook time:
Total time:
Serves: 6 servings
Ingredients
1 pound of beets
1 head of garlic
1 onion, chopped
1-2 tablespoons olive oil
2 cups veggie broth
1 cup half & half
The zest of 1 lemon, plus the juice of half of it
8 ounces of full-fat plain yogurt, plus another couple of tablespoons for serving
fresh dill for garnish
salt and pepper, to taste
Instructions
Preheat oven to 375. Peel beets and wrap each one in aluminum foil. Slice the end off of the head of garlic and also wrap in aluminum foil. Place everything on a baking sheet and roast in the oven for 45-60 minutes, or until the beets are fork-tender. Remove from oven and allow to rest for about 10 minutes before handling.
In a large pot, sauté chopped onions in olive oil over medium-low heat for 10-15 minutes (you can do this near the end of the roasting time or while they are resting). Season with salt and pepper.
Once the beets are cool enough to handle, chop into large pieces and transfer to the pot. Remove the garlic from its peel and add to the pot (if you can't get every clove out, that's okay). Add veggie broth and bring to a simmer. Cook over medium-low heat for 15-20 minutes.
Remove from heat and add the half & half. Stir to combine and blend everything carefully using an immersion blender. (If you don't have an immersion blender, you can use a regular blender, just let the soup cool a bit more before using and do it in batches so you don't pop the top off your blender and burn yourself.)
Once the soup is a smooth consistency, transfer to the fridge for at least an hour or until cool.
Remove from the refrigerator and add lemon zest and juice. Stir well before adding yogurt. Blend again to make sure you don't have any lumps. If necessary, return to the fridge to chill some more.
Serve chilled with a dollop of yogurt, some fresh chopped dill, and a glass of La Crema Sonoma Coast Chardonnay.
I must admit the color of this Roasted Beet and Yogurt Soup is my favorite part! Once it's all blended together it's just the most beautiful shade of hot pink. Enjoy!