Roasted Pork Loin with Spicy Plum Chutney and Roasted Vegetables
What is the first thing that comes to mind when you think about a romantic dinner for two? Candles? Chocolates? A table reservation at a mega expensive restaurant? All the typical assets of a romantic dinner that we probably won't even enjoy that much. So, today I'll share with you an easier way of enjoying a delicious meal with your love with this roasted pork loin. Take note!
First, avoid all the fuss and keep it simple, make it about the time spent together. Second, choose a meal that you will both truly enjoy, and I emphasize truly because more often than not, we end up cooking something that sounds fancy and tastes like crap (because you didn't know how to cook it or it's just too out there). Finally, make sure to have a sweet treat plus an activity of sorts, like a nice walk around the park (I mean, leaves are falling, the light is golden hued, what else do you need?), or a movie — easy peasy. For my romantic dinner in, I decided to go with a Roasted Pork Loin with Spicy Plum Chutney and Roasted Vegetables — sounds fancy, but is pretty easy to execute!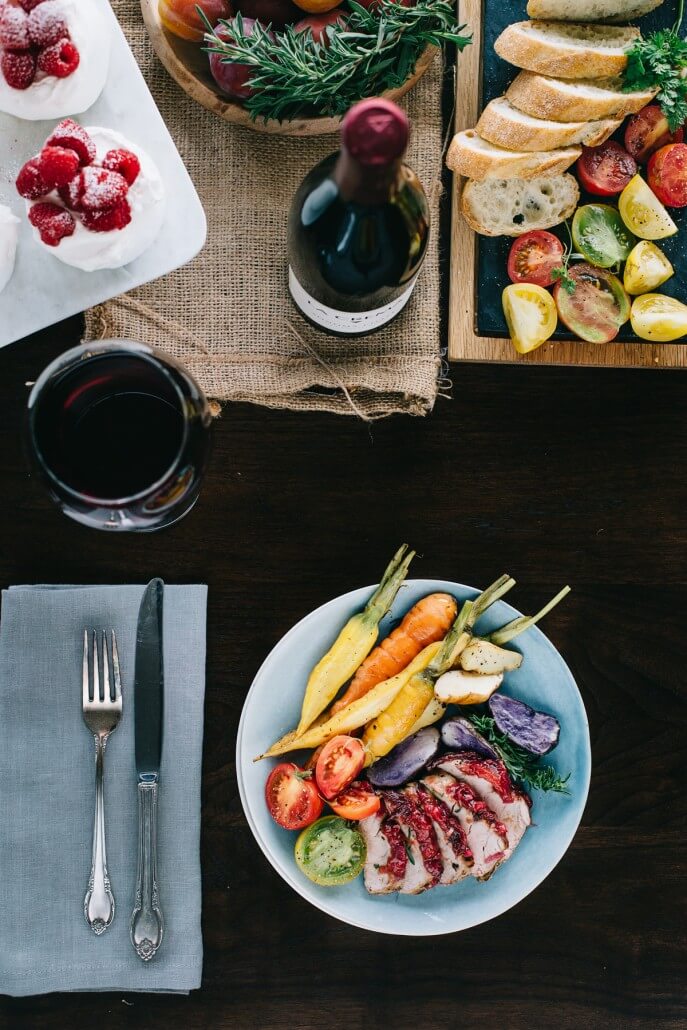 You do want to pay attention to your meal in the sense that you should get super high quality ingredients in order to keep it nice and simple — by high quality I don't mean imported and expensive, but flavorful and local. The farmers market is full of beautiful fall produce right now, so check out the market and pick your favorite veggies to roast. In this recipe I used some seasonal carrots and purple potatoes with fresh herbs — it doesn't get simpler and tastier than that.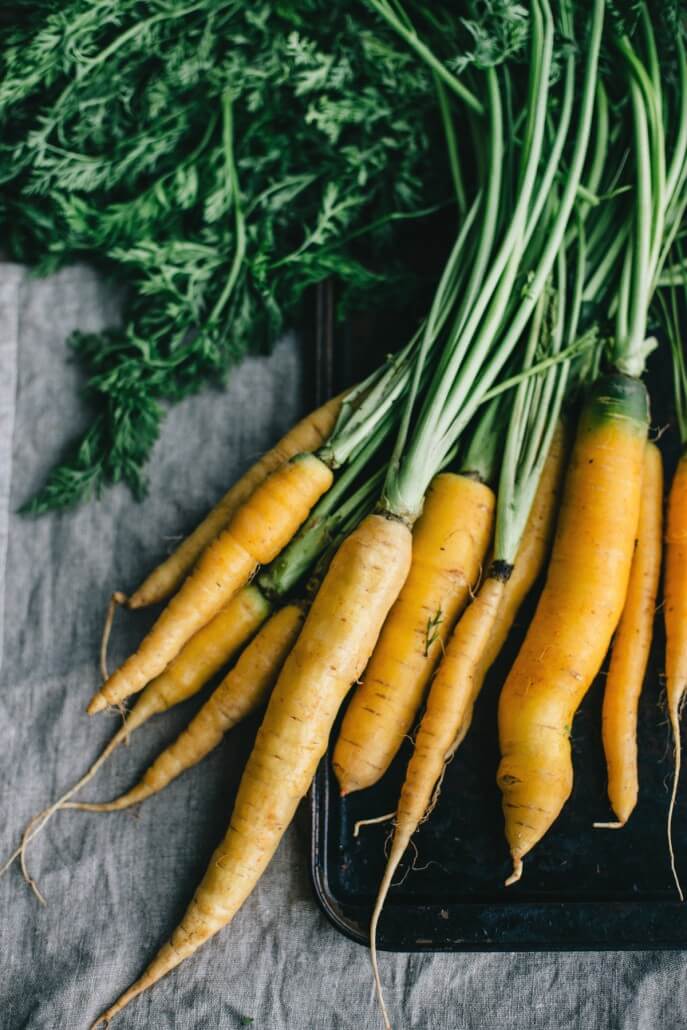 With all the earthy flavours in this meal, we need something to go along with the dish. I don't want a wine that would cut through the flavors, but rather, I'd like it to merge with them so it's one smooth ride. I think La Crema's Sonoma Coast Pinot Noir hits all the notes, so that's my pairing recommendation for this dinner for two. Drinking a Pinot Noir this time of the year makes you feel all warm and cozy, like a blanket in a glass…sort of.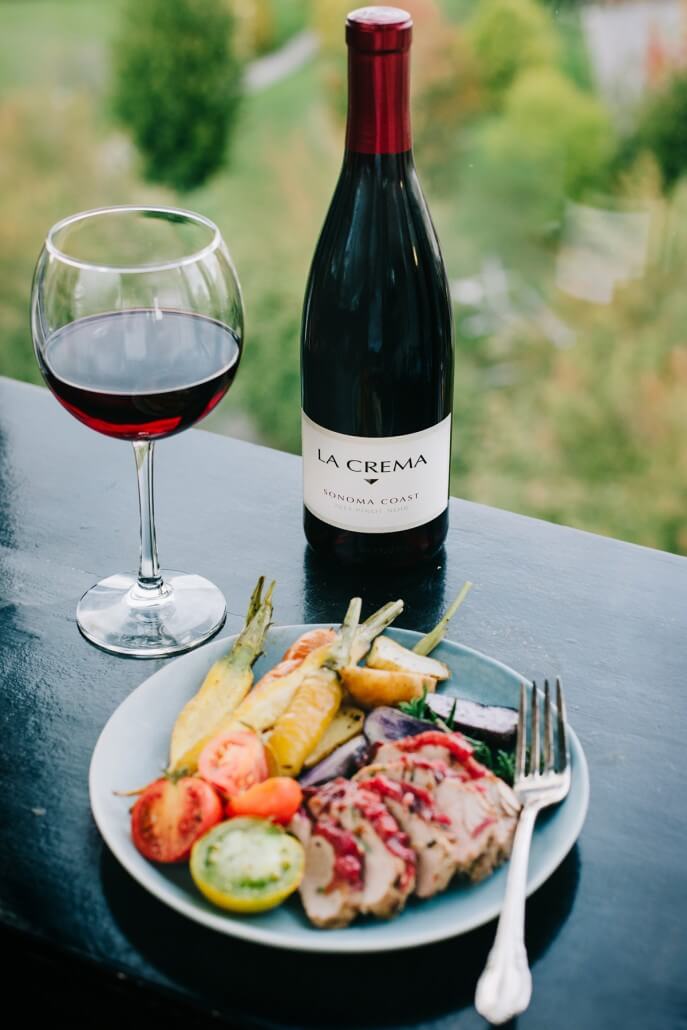 Ok, so there, you have the menu, you have the wine, just go get your love and head over to the market to start dinner! Hope both of you enjoy it 🙂
Roasted Pork Loin with Spicy Plum Chutney and Roasted Vegetables
Author: Gabriel Cabrera
Recipe type: Main
Serves: 2
Ingredients
For the chutney:
1 small onion, chopped
2 cloves of garlic, peeled
Salt and pepper to season
1 lb Italian plums, pitted, sliced
1 small onion
1 clove of garlic
1 teaspoon fresh ginger, minced
½ teaspoon chili flakes
¼ teaspoon Chinese five spice (sub for ground anise or ground clove if you don't have it)
3 tablespoons brown sugar
1 tablespoon apple cider vinegar
For the pork loin:
1 pork loin (1 lb will serve 2 people)
½ pound farmers market carrots, washed, cut in half
½ nugget potatoes (add a few different varieties if you can), washed, cut in half
3-4 sprigs of savory (sub for rosemary if you can't find it)
Salt and pepper to taste
Instructions
To make the chutney:
Place all ingredients in a heavy bottom pot over medium heat with some oil. Let the ingredients brown a little, then reduce the heat to low and stir. Continue to stir for 10 minutes (be careful, it can stick to the bottom of the pan so keep an eye on it) until it thickens and looks like jam. Taste for seasoning and set aside.
To make the loin:
Preheat the oven at 400F
Take a big pan, put some oil in it and turn on the heat on high. Pat dry your pork loin, then rub it with pepper (don't add salt now as it'll dry it out). Place the pork loin on the smoking hot pan and sear it (let it be for 3 minutes and don't move it!) once the side is nicely seared, turn it and repeat. Do not cook! You just want to have a nice caramelized crust. Remove loin from pan, place on a plate and cover with tin foil.
In a big bowl place the carrots, potatoes, summer savory sprigs, and garlic cloves, toss with olive oil (coat them well), and season with generous amount of salt and pepper. Place seasoned veggies on a roasting pan (or big skillet). Bake them for 20 minutes or until ¾ done.
Lower the oven temp to 350F, remove the pan with veggies from the oven, place the pork loin on top of the veggies, sprinkle loin with sea salt and bake for 20 minutes until ¾ done or the inside of the loin registers 145F.
To serve, get some of the roasted veggies on a plate, then top with slices of the pork loin, spoon a generous amount of chutney, pour more wine, and you're done!