Roasted Squash Conchiglie with Chipotle, Brussels Sprouts and Walnuts
Hi guys! It's Gab from Artful Desperado. How are you doing? It's been a while since I last "made dinner" here at La Crema, but I'm back! And I'm back with a fantastic Roasted Squash Conchiglie recipe to celebrate the best season of all: fall!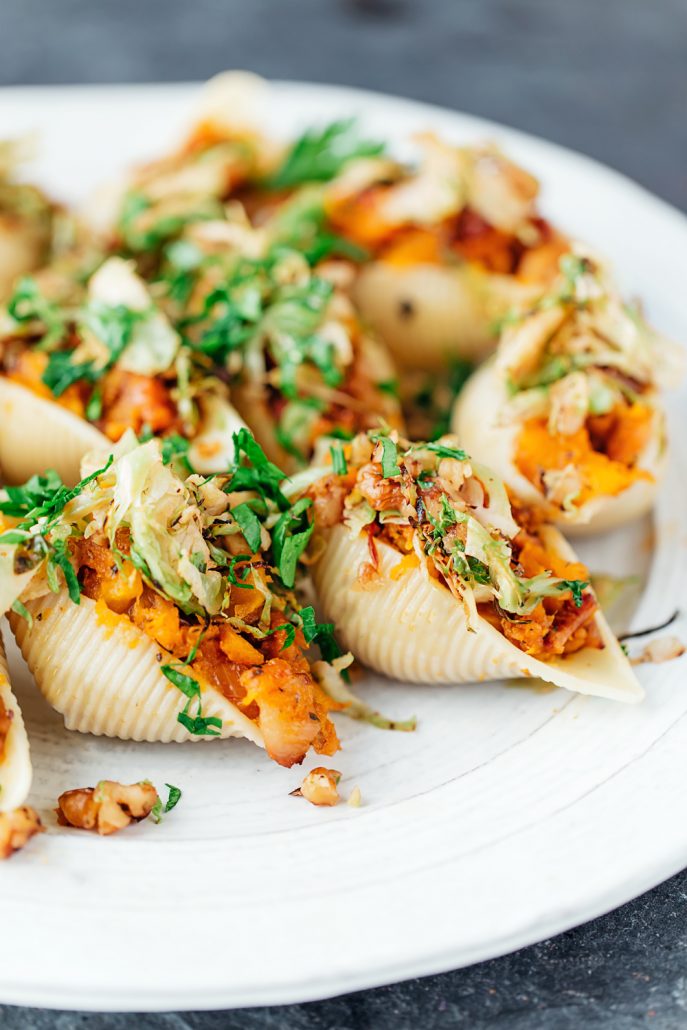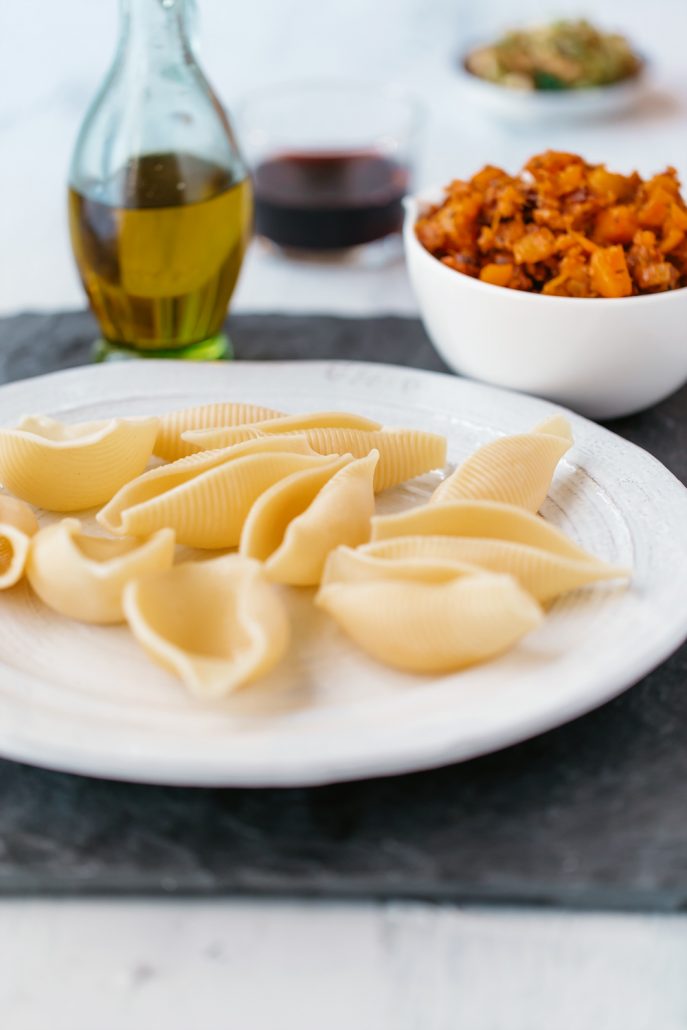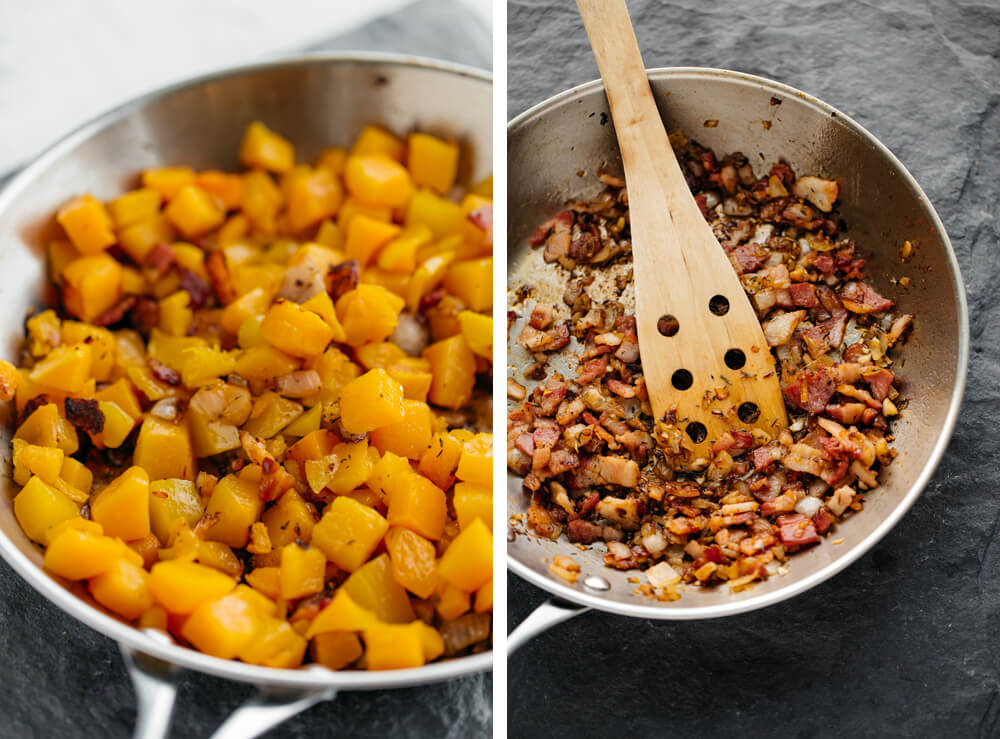 I know we all love summer, but fall has a special place in the foodie world where we finally put away our BBQ and we go out to hunt the season's harvest. I tried to incorporate some of those early fall flavors into this dish; squash, bacon, brussels sprouts, and a few walnuts, all tightly packed in a pasta shell – rustic, easy, and quite delicious!
Oh and by the way this recipe is totally dairy free, but you can add your own dairy twist by mixing in a tablespoon or so of butter, and perhaps a splash of cream. You can also top the whole thing with some parmesan and bake it in the oven which will make the pasta more crunchy.
To compliment the flavors in this dish I paired it with La Crema's Willamette Valley Pinot Noir which has a really nice level of acidity to balance the rich filling in the roasted squash conchiglie. I don't think this Pinot has a lot of fruitiness in it, which is good so we stick to the savory side of things. It also has a mellow spicy finish which I thought enhanced the heat from the chipotle. This wine plus this dinner honestly feels like a cozy hug!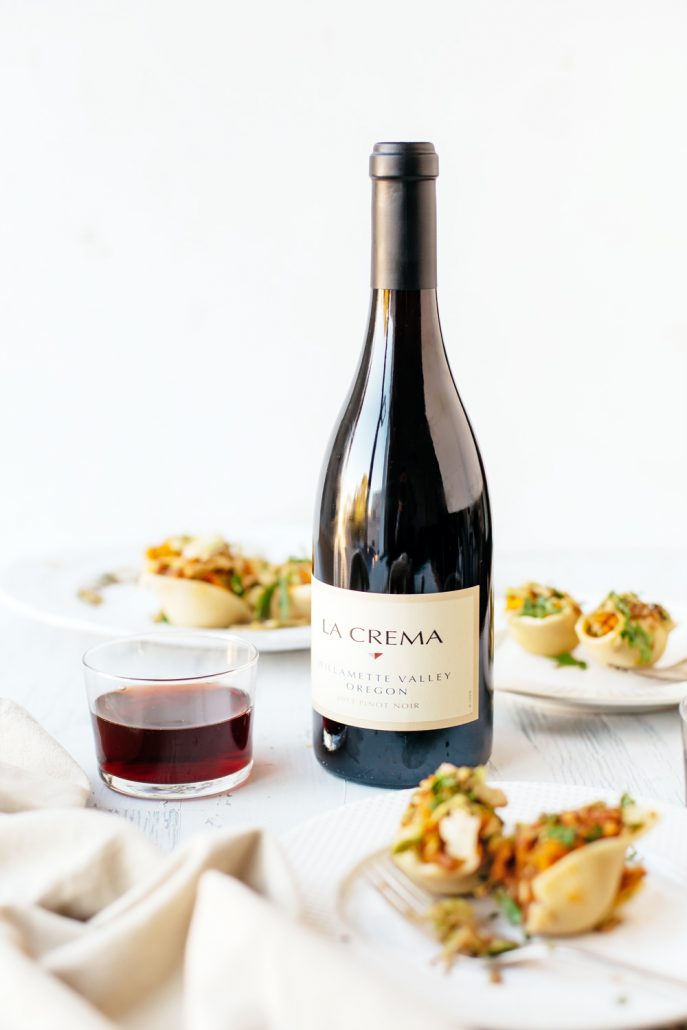 Ok so want to make a batch? Let's head over to the kitchen!
Roasted Squash Conchiglie with Chipotle, Brussels Sprouts and Walnuts
Prep time:
Cook time:
Total time:
Serves: 4
Ingredients
10-12 Conchiglie (you can sub for cannelloni if you cannot find them, though it will make half of it)
1 kg squash (peeled, and cubed)
5 smoked bacon strips, chopped (you can use regular bacon if you can't find smoked)
1 small onion, diced
2 garlic cloves, minced
1 teaspoon dry thyme
1 teaspoon smoke paprika
1 chipotle chilli in adobo suace (from a can)
1 tablespoon apple cider vinegar
2 cups brussels sprouts, thinly sliced
1/4 cup walnuts, crushed
Salt and pepper to season
Chopped parsley to top
Instructions
Preheat the oven to 400F
Grab a baking sheet, place some parchment paper on it and lay out the squash. Drizzle generously with olive oil and season with salt and pepper. Roast in the oven for 20 to 25 minutes.
Put a big pot of salted water in the stove and bring to simmer (you'll use it for the pasta in a bit)
Fry the chopped bacon in a pan, once it starts to get crispy add the onion, garlic, thyme, paprika, and chipotle. Sautee all ingredients for about 5 minutes or until onions is translucent. Mix in the apple cider vinegar and cook for another minute and remove from the heat.
Once the squash is roasted, add it (be careful!) to the onion and bacon mix. Squish the mixture with a fork so the squash breaks down a bit. Check for seasoning and adjust if needed.
Place another pan on the stove on high heat and add the brussels sprouts with some salt and pepper and let it char for a minute or two. Once you see a few charred bits, give a toss, remove from the heat and add the walnuts.
Now cook the pasta in the boiling water. Drain, don't rinse! Just drizzle with olive oil and let it cool down enough to handle.
Time to stuff the pasta! Grab the warm pasta, stuff with the squash mix and top with the charred brussels sprouts and walnuts. Add a little pinch of flaky sea salt and top with fresh parsley.
As mentioned you can add some cheese or cream if you want to, but it's also great as is. Hope you enjoy this fall recipe! Until next time.