Savory Chorizo Crepes
Savory Chorizo Crepes
Mother's Day is only a week away now, and what better way to celebrate than to present your mother with a delightful brunch?
This is exactly the sort of occasion these savory chorizo crepes are made for. They're a wonderful mixture of spicy and buttery, of full flavor and silky texture. This is Mexican and French culinary cultures coming together, as rich chorizo is wrapped in a warm crepe. It makes for a vibrant and delicious brunch, and is definitely a special meal for a special loved one.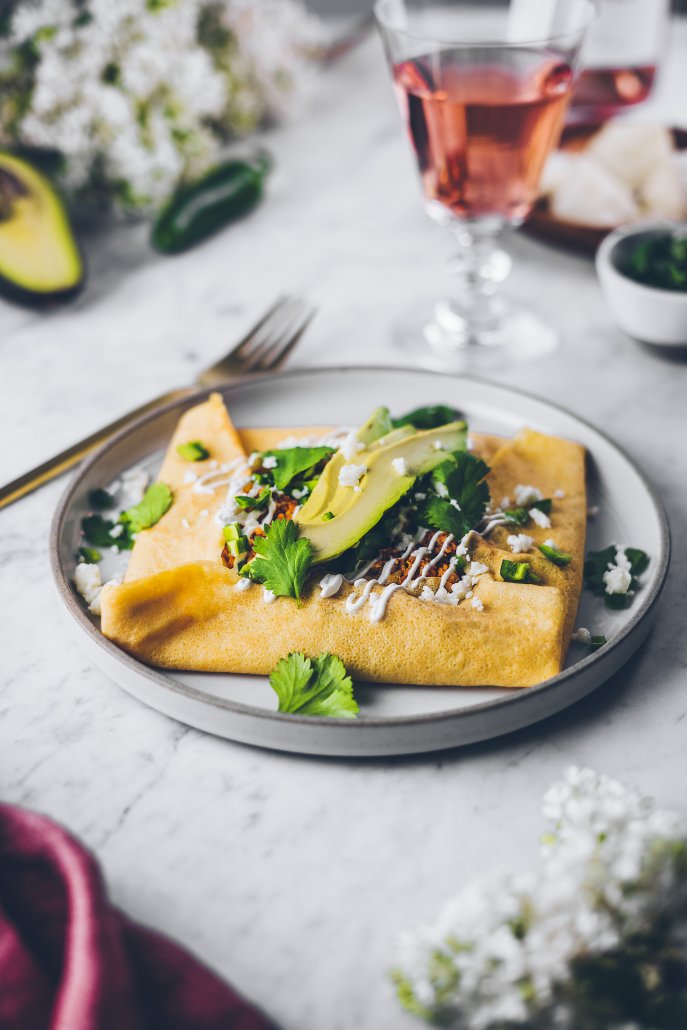 One of the keys to this dish is the style of chorizo, which is Mexican-style instead of Spanish-style. While the Spanish variant is cured and therefore pretty dry, Mexican chorizo is very wet and moist which makes it perfect for scrambling into eggs. Cilantro and jalapeno come alongside the chorizo quite well, as they enhance its spicy and herbal traits. Queso fresco, sour cream, and avocado provide a creamy, tangy contribution that goes perfectly with the buttery crepe.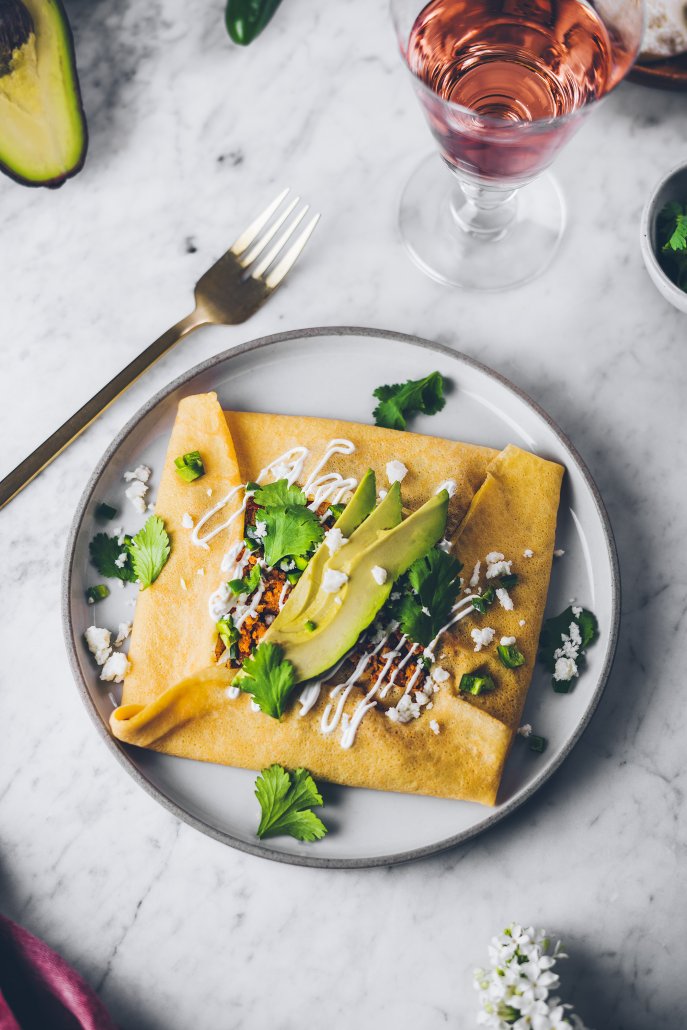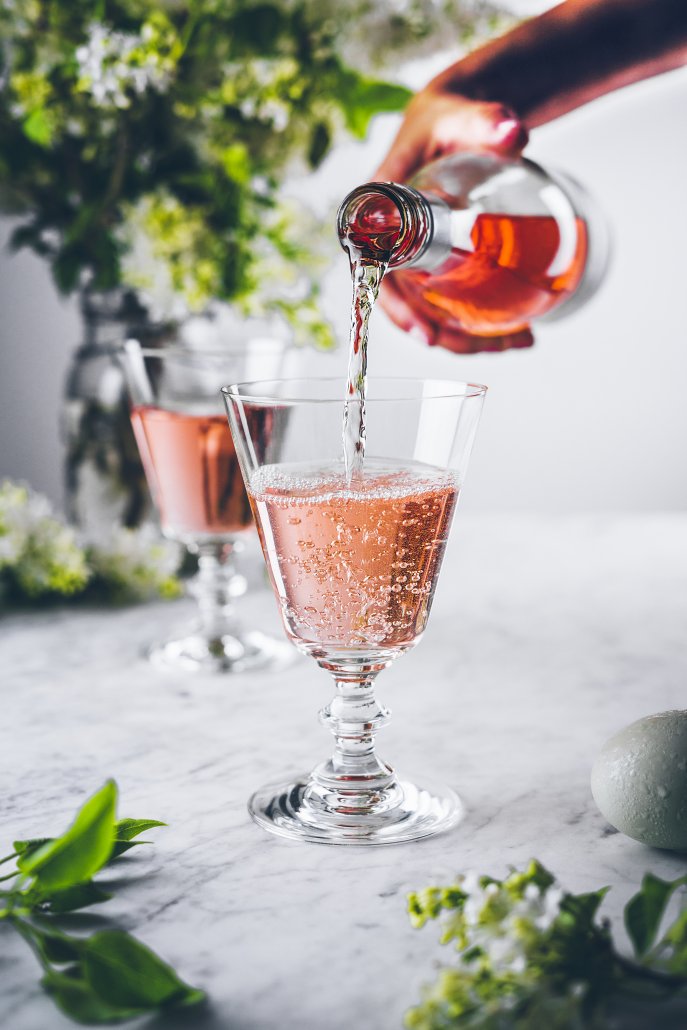 The perfect wine for brunch seems indisputably to be the rosé, and La Crema's Monterey Pinot Noir Rose is unique among them all. It has very fruity notes, by channeling loads of citrus and strawberry, but also features a delightful bitter minerality. Think of grapefruit lifted by consistent sweetness. It's a great wine, and it pairs well with the similarly dynamic elements of the savory chorizo crepes.
Savory Chorizo Crepes
Author: Kristan Raines
Recipe type: Entree
Cuisine: Brunch
Prep time:
Cook time:
Total time:
Serves: 4 servings
A delicious Mexican-style chorizo scramble wrapped in a buttery crepe and topped with avocado.
Ingredients
For the Crepes
3/4 cup whole milk

1 large egg

3/4 tbs melted unsalted butter, plus a bit extra

1/2 cup all-purpose flour

¼ tsp kosher salt
Chorizo Scramble
2-3 tsp olive oil

½ white onion, diced

pinch kosher salt

1, 9 oz link of Mexican chorizo

8 large eggs, whisked

sour cream, for garnish
diced jalapenos, for garnish
cilantro, for garnish
queso fresco, for garnish
sliced avocado, for garnish
Instructions
Place the ingredients for the crepes in the order listed in a blender container and pulse for 15 seconds. Use a spatula to scrape down the sides of the blender, then pulse a few more times. Pour the batter in a sealable container and place in the fridge for an hour (this helps create a more tender crepe). Alternatively, if needed right away, the batter can be used after a five-minute rest.

Set an 11-inch crepe pan over medium heat and lightly brush with a bit of melted butter.

Shake or mix the batter, then pour a ⅓ cup of it into the center of the crepe pan, then quickly tilt the pan as needed to coat the bottom with the batter.

Cook the crepe until the edges begin to turn slightly brown and loosen from the edge of the pan—this should take about 1 minute.

Using a spatula or an offset spatula, gently flip the crepe over. Cook the second side for an additional 30-45 seconds, then carefully transfer to a towel-lined plate.

Repeat this process until all crepes are made. Cover with a paper towel to keep warm.
For the chorizo scramble: Add the oil to a skillet set over medium heat. Once warm, add the onions and a pinch of salt and cook until translucent. Add the chorizo and cook for about 10 minutes, or until fully cooked, breaking it up a bit during the cooking time.

Once the chorizo is cooked, pour the beaten eggs over the chorizo and scramble until fully cooked. Taste the eggs and add any salt if needed.

To assemble: Place a crepe on a plate and top with ¼ of the chorizo scramble. Carefully fold the crepe by pulling the 4 edges towards the center at an equal distance to form a square. Garnish with sour cream, diced jalapeno, cilantro, and crumbled queso fresco. Repeat this process until all crepes are assembled and enjoy warm.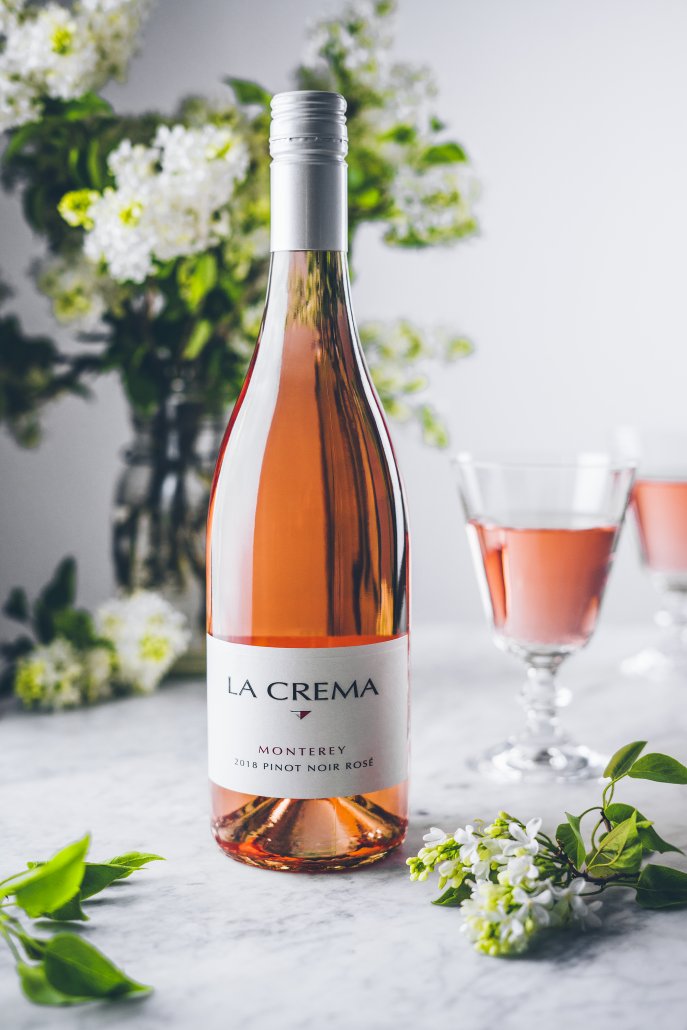 If you're looking to make your mother proud this coming Mother's Day, look no further and treat her to this fantastic dish. Enjoy!