Sheet Pan Chicken Fajitas
Chicken fajitas is one of those dishes to which I can never say no—if they're on the menu, the decision's made. The vibrant bell pepper, the sweet onions, and that unmistakable seasoning coating each bite of chicken come together in a way only fajitas can make possible. And thankfully, I've learned how to recreate this beloved dish right at home. But the best part is that this seemingly time-consuming dish can actually be created by using a single pan—sounds tempting, right?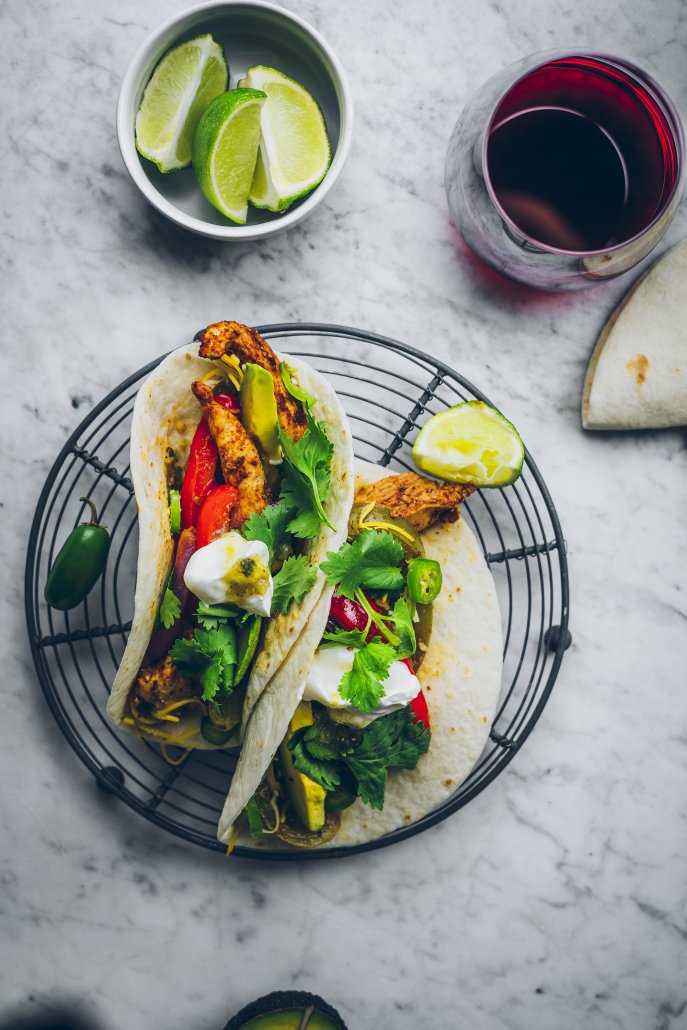 That's the beauty of a sheet pan meal. You can craft a dish that's both satisfyingly flavorful and conveniently simple. Chicken, peppers, and onion, simply sliced and tossed together, are bathed in a delectable combination of chili powder, smoked paprika, cumin, garlic, and oregano. It's this blend of straightforwardly great ingredients and intense spices that gives these fajitas their impressively distinct flavor.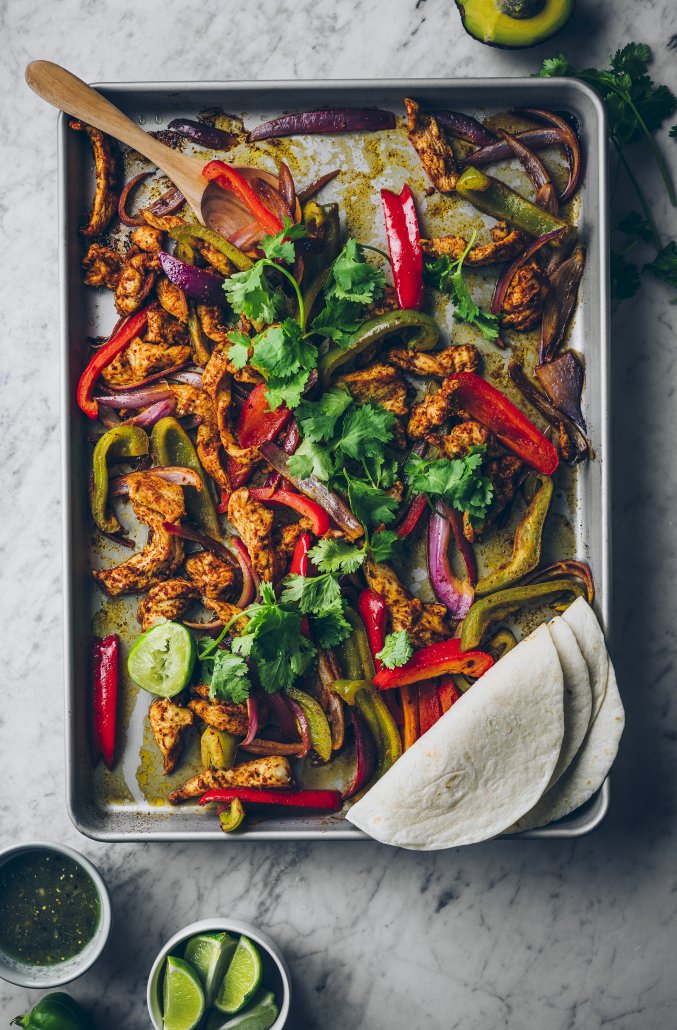 Although wine might seem like a unique drink to pair with this dish, La Crema's 2016 Pinot Noir is a welcomed contribution.
It's aromas of red cherry and tobacco immediately greets one's nose. Upon first sip your palate welcomes flavors of plum, raspberries, a hint of blood orange, and exotic spices. All these aspects complement the fajitas wonderfully, expanding and deepening the dish's flavors. The wine finishes off with a balanced acidity which excites the palate for another sip.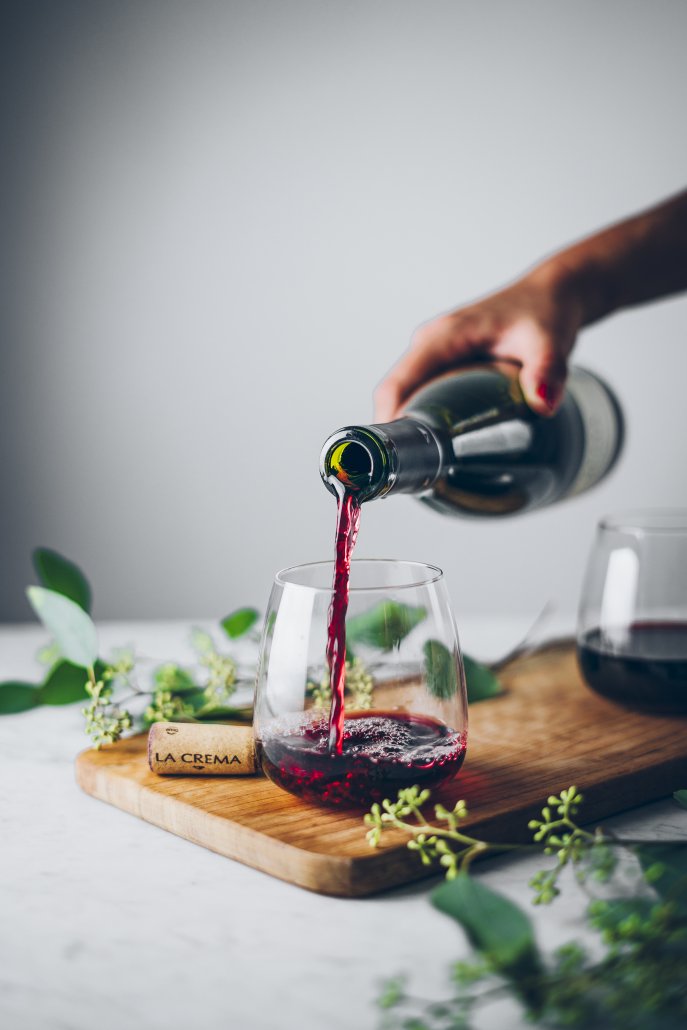 These fajitas are now a staple in my home, and I hope that they soon become one in yours as well. Happy cooking!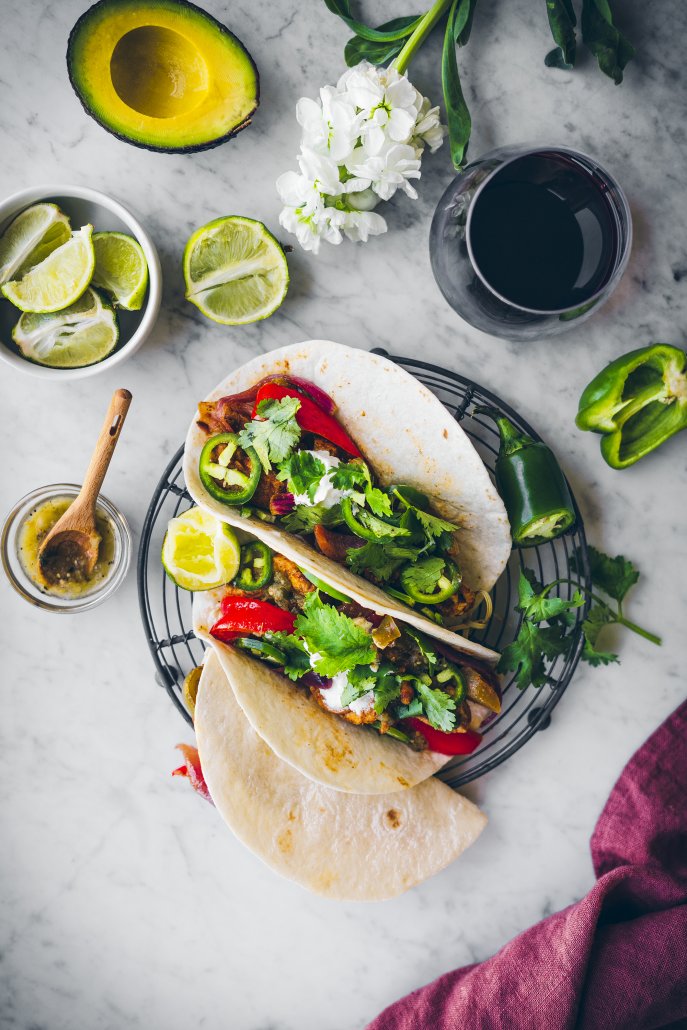 Sheet Pan Chicken Fajitas
Author: Kristan Raines
Recipe type: Dinner
Prep time:
Cook time:
Total time:
Serves: 3-4
Ingredients
1 lb boneless, skinless chicken breasts

1 tbs olive oil

1 tbs chili powder

1 ½ tsp cumin

½ tsp onion granules

½ tsp garlic powder

½  tsp smoked paprika

1 tsp kosher salt

1 lime, cut in half

1 red bell pepper, thinly sliced

1 green bell pepper, thinly sliced

½ a large red or yellow onion, thinly sliced

4 corn tortillas

For serving: sour cream, avocados, cheese, and salsa
Instructions
Heat oven to 400°F. Coat a large rimmed baking sheet with a little bit of oil.

Cut each chicken breast in half horizontally, then slice each half into thin strips.

To a large bowl add the oil, chili powder, cumin, onion powder, garlic powder, smoked paprika, salt, and juice from ½ a lime. Whisk everything together until combined. Add the sliced chicken to the bowl and toss to coat. Add the sliced peppers and onion and toss a second time until every looks evenly coated.

Place the chicken and veggies on the prepared baking sheet and spread in an even layer. Place the sheet in the middle rack of the heated oven and let for for 15-ish minutes, or until the chicken is cooked through.

To get a little char on the veggies set the broiler on to high. Broil for about 3-5 minutes. Remove the sheet from the oven and squeeze a lime over the chicken, toss to coat.

Serve the chicken in warmed tortillas with garnishes of choice!