Sips & Tips: Spring Picnic
Picnic-perfect recipes and pairing from Chef Tracey Shepos Cenami and Wine Educator Ben Fine for your next spring outing!
Fried chicken is picnic-perfect because it's great at any temperature. And we think fried chicken tenders are even better. You can fry up a whole batch in about 20 minutes just before you leave for the picnic.  We like to serve with a rich, mildly spicy romesco sauce on the side.
For a fresh room-temperature way to enjoy asparagus, we like to dress them with a sauce made with Castelvetrano olives which have a buttery richness that reminds us of hollandaise. In spring, we often reach for young nasturtium leaves. Before the plant flowers, the delicate leaves have a peppery, mildly bitter flavor that's great in salads and sauces.  If you can't find them, arugula makes a good substitute. Smoked almonds are another favorite "secret seasoning" in our kitchen. When finely chopped, they adhere well to food and add an irresistible bacon-y dimension.
Roasted Asparagus with Olive & Nasturtium Leaf Tapenade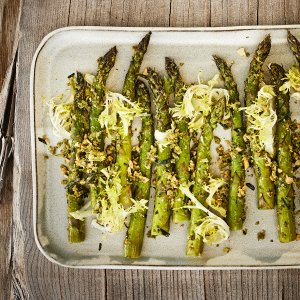 People say asparagus is hard to pair with wine.  We disagree. Think about what goes with it: butter, hollandaise, smoky flavors like ham. To us, that suggests a medium-bodied, buttery Chardonnay with a bit of toasty oak.
Wine Pairing: 2018 Los Carneros Chardonnay
Roasted Asparagus with Olive & Nasturtium Leaf Tapenade
Author: Chef Tracey Shepos Cenami
Serves: 8
Ingredients
4 lb large asparagus spears, tough ends trimmed
1 cup extra-virgin olive oil
1 teaspoon kosher salt
3⁄4 cup Castelvetrano olives, pitted
1 small clove garlic
1 small shallot, chopped
Leaves from 5 tarragon sprigs
6 small, young nasturtium leaves
or baby arugula leaves
Finely grated zest of 1 lemon
2 heads frisee
1⁄2 cup smoked almonds, very finely chopped
2 oz cold Point Reyes Toma cheese or aged manchego cheese, grated on a Microplane or other fine-rasp grater
Instructions
To roast asparagus: Position two racks evenly in the oven and preheat to 400°F. Place two sheet pans in the preheated oven for 5 minutes. Meanwhile, in a large, shallow bowl, toss the asparagus with 4 teaspoons of the oil and the salt.
Remove the hot pans from the oven, carefully spread the asparagus in a single layer on the hot pans, and then return the pans to the oven. Roast for 8 minutes, rotating the pans halfway through, until crisp-tender.
Meanwhile, make the sauce and prep the frisée: In a blender or food processor, combine the olives, garlic, shallot, tarragon, nasturtium leaves, lemon zest, and remaining olive oil and process until the mixture has the consistency of a chunky paste. You should have about 1 cup.
Trim the frisée, discarding the green tops and stems. Cut the pale white leaves that remain into 1-inch pieces.
To serve: Divide the almonds, cheese, and 1/2 cup of the olive sauce between the two sheet pans with the asparagus and toss to coat evenly.  Transfer to a serving platter and garnish with the frisée. Serve at room temperature, with the remaining olive sauce on the side (or reserve for another use, covering and refrigerating it for up to 3 days).
Fried Chicken Tenders with Smoky Romesco Sauce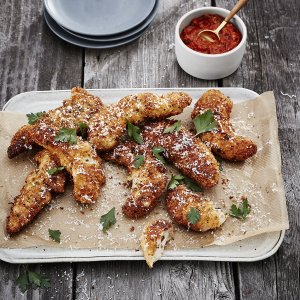 The fruity-smoky peppers and smoked paprika in the sauce play off the red fruit and spice notes in Pinot Noir. Its fresh acidity cuts through the richness of fried chicken.
Wine Pairing: 2017 Los Carneros Pinot Noir
Fried Chicken Tenders with Smoky Romesco Sauce
Author: Chef Tracey Shepos Cenami
Serves: 8
Ingredients
For the romesco sauce:
4 red bell peppers (about 1 1⁄2 lb total)
1⁄4 cup extra-virgin olive oil
4 cloves garlic
1⁄4 cup raw hazelnuts, skinned
1⁄4 cup Marcona almonds
Leaves from 1⁄2 bunch basil
1⁄4 cup loosely packed fresh flat-leaf parsley leaves
2 tablespoons sherry vinegar
2 teaspoons kosher salt
1 teaspoon smoked paprika
1⁄2 teaspoon harissa
1⁄4 teaspoon freshly ground black pepper
For the fried chicken tenders:
24 chicken tenders (about 4 lb)
Kosher salt
3 cups all-purpose flour
6 large eggs, lightly beaten
3⁄4 cup whole milk
6 cups panko (Japanese bread crumbs)
Leaves from 3⁄4 bunch flat-leaf parsley, chopped
3 tablespoons garlic powder
11⁄2 teaspoons onion powder
1 teaspoon freshly ground black pepper
4 1⁄2 oz Fiscalini Bandage Wrapped Cheddar cheese or romano cheese, finely grated
Rice oil or other neutral-flavored oil, for frying
Instructions
To make the romesco sauce: Roast the peppers over the flame of a gas burner turned to high for about 12 minutes, rotating until they are blistered and charred all over. Transfer to a bowl, cover with plastic wrap, and let sit for 12 minutes, until the skins loosen. Peel off the skin, then remove and discard the seeds and stem, rinsing briefly under warm water if needed to dislodge any stubborn skin or seeds. (Alternatively, halve the peppers lengthwise, place skin side up on a sheet pan, and roast under a preheated broiler until blistered and charred.)
In a small pot, combine the olive oil and garlic over low heat and cook for about 8 minutes, until the garlic is golden brown and soft.
In a small skillet, toast the hazelnuts over medium heat, moving the pan occasionally to ensure even coloring, for about 6 minutes, until golden.  Pour onto a plate to cool.
In a food processor, combine the roasted peppers, garlic and oil, toasted hazelnuts, almonds, basil, parsley, vinegar, salt, paprika, harissa, and black pepper and process until well mixed but still slightly textured. Taste and adjust the seasoning with salt and pepper if needed. You should have about 21/2 cups. Set aside at room temperature until ready to serve. The sauce will keep in an airtight container in the refrigerator for up to 1 week.
To prepare the chicken: Season the chicken on both sides with 1 tablespoon salt. Put the flour in a shallow container, then put the eggs and milk in a second shallow container and whisk to combine. In a third shallow container, combine the panko, parsley, garlic powder, onion powder, 2 tablespoons salt, the pepper, and half of the cheese.
One at a time, dredge the tenders in the flour, coating completely and shaking off the excess, and then in the egg mixture, allowing the excess to drip off, and finally in the panko mixture, again coating completely and shaking off the excess.
To fry the chicken: Pour rice oil to a depth of 1/4 inch into a 12-inch cast-iron skillet and heat over medium heat to 350°F on a deep-frying thermometer. Line a large platter with paper towels. Working in batches to avoid crowding, carefully add the tenders to the hot oil and fry, turning once, for about 3 minutes on each side, until just cooked through. Adjust the heat as needed. Using a slotted spoon, transfer to the towel-lined platter to drain and immediately sprinkle with some of the remaining cheese.  Repeat with the remaining tenders and cheese, adding more oil to the pan if needed to maintain the original level.