How to Make a Skillet Chicken Pot Pie
Chicken pot pie is certainly one of the quintessential meals to enjoy during this time of year. The concept is simple: a warm, creamy combination of carrots, celery, and chicken topped with a golden, flakey crust.While I love the simplicity of these ingredients, I've always wanted a little more to my filling. So once I started making chicken pot pie at home, I eventually came up with a recipe that pays homage to the original while taking it to the next level.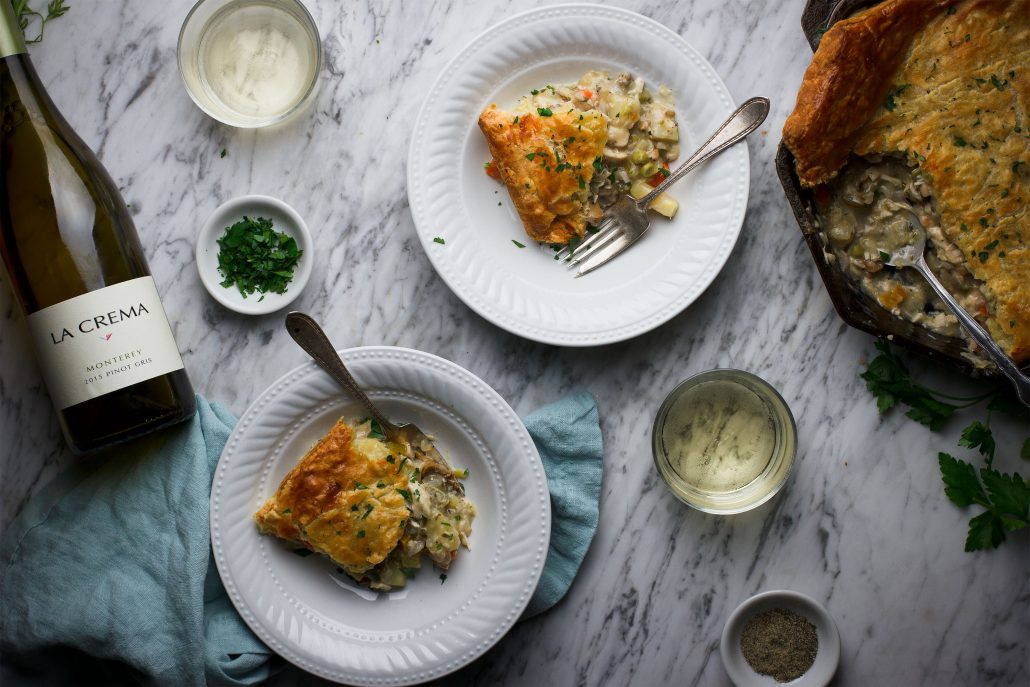 Potatoes, chanterelle mushroom, and fresh herbs are some of these ingredients I've found myself drawn to whenever I craft a chicken pot pie at home. Oh, and I also love swapping out a traditional pie dough crust with some store-bought puff pastry—not only does it save you some time in the kitchen, but the flakiness of a puff pastry crust really makes this classic meal feel refreshed. With the inclusion of these extra ingredients, a merely typical pot pie becomes something memorable. Each bite is packed with rich flavor and hearty satisfaction—more than enough to warm any belly on a cold fall night.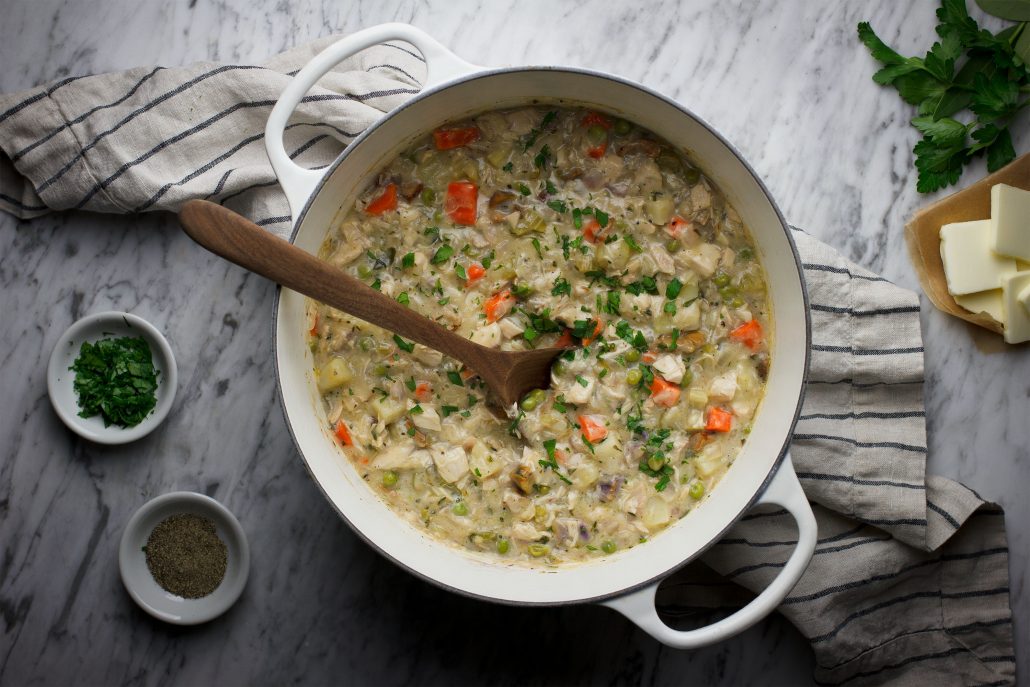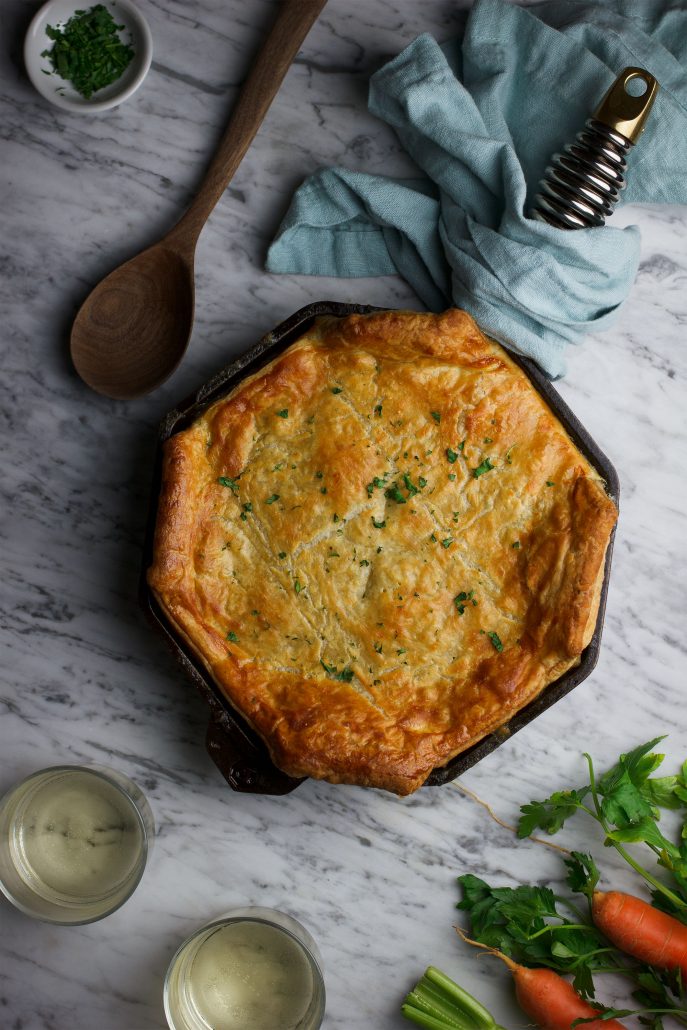 I decided to pair this recipe with La Crema's lovely Monterey Pinot Gris, where its citrusy bite generously cuts through the decadence of the pot pie while at the same time complementing its flavors. Notes of pear and honey quickly emerge at first while spices, pears, and apricots blend happily with the pot pie's faithfulness to fall.
I shredded rotisserie chicken in this recipe, but you can also poach it. Find tips on how to prepare the poultry on my blog.
Easy Skillet Chicken Pot Pie
Recipe type: Dinner
Prep time:
Total time:

Ingredients
4 tablespoons unsalted butter
3/4 cup celery diced
1/2 cup diced onion
1 cup diced carrots
1 cup diced yellow skinned potatoes
3/4 cup roughly chopped chanterelle mushrooms
2 bay leaves
1 1/2- 2 cups shredded chicken (rotisserie chicken works great)
1 tbs chopped thyme
3 tbs chopped flat leaf parsley
1/2 cup frozen peas
5 tbs purpose flour
2 cups chicken broth
1/4 cup pinot gris*optional
1/4 cup heavy cream cream
salt and pepper, to taste
1 sheet puff pastry, defrosted
1 large egg
1 tbs water
1, 8-inch cast iron skillet
Instructions
Heat oven to 400°F.
Melt 4 tablespoon of butter in a large pot set over medium heat. Once melted, add the onions, carrots, celery, potatoes, mushrooms, and a few pinches of salt and pepper. Cook the veggies, stirring occasionally, until the onions are translucent and the veggies are somewhat tender; about 8 min. Halfway through the cooking time add the bay leaves.
 Add the shredded chicken, peas, and flour to the pot. Stir everything around a few times to coat everything with flour, then add broth and wine. *if omitting the wine, add an additional 1/4 cup of broth.
Continue to cook the filling, and as it begins to thicken add the thyme, parsley, and heavy cream, adding salt and pepper to taste. Let the mixture simmer for 3-4 minutes. If the filling seems too thick add some more broth.
Pour the filling into an 8-inch cast iron skillet, remove the bay leaves, and set on top of a baking sheet as this will catch any filling that may bubble out. In a separate bowl whisk together the egg and tablespoon of water; set aside.
Carefully unfold the puff pastry and lay over the top of the skillet. If the corners hang over the skillet simply tuck them under, or leave them as is.
Use a pastry brush to coat the top of the puff pastry with the egg and water mixture. Using a sharp knife, cut a few slits into the puff pastry for ventilation.
Place the pot pie into the oven and bake for 25-30 minutes until golden brown. Serve warm.