Spicy Lemongrass Chicken Stock and Winter Veggies
We are in that mid-season funk where the weather is kinda nice, but not nice enough to put away your favorite blanket or give up on warming restorative soups and stocks like this Spicy Lemongrass Chicken Stock.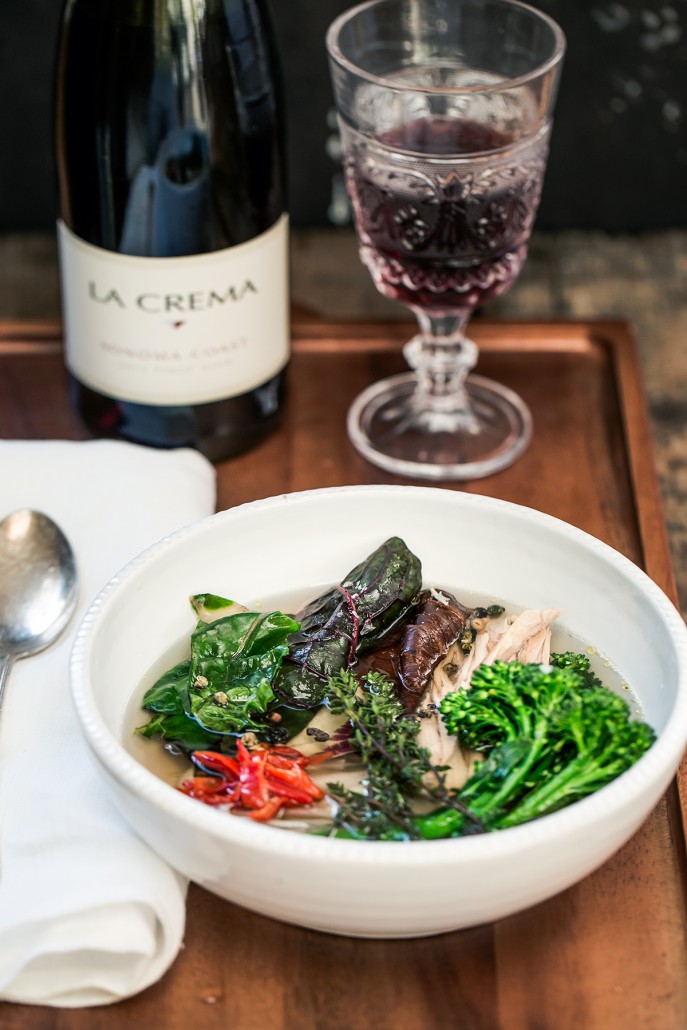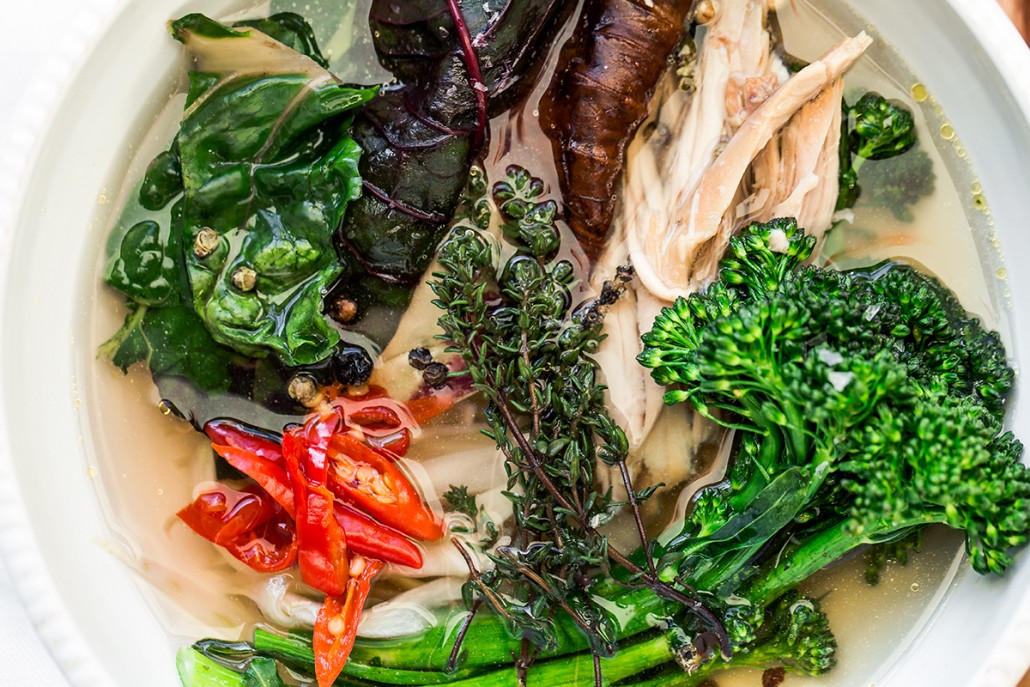 I know making stock from scratch seems quite a daunting task and totally unnecessary, but when you try a good homemade stock you'll never go back to the flavorless store-bought version. And seriously, it's not even that hard to make, you literally throw everything in a pot and let it simmer for a while. How hard can that be?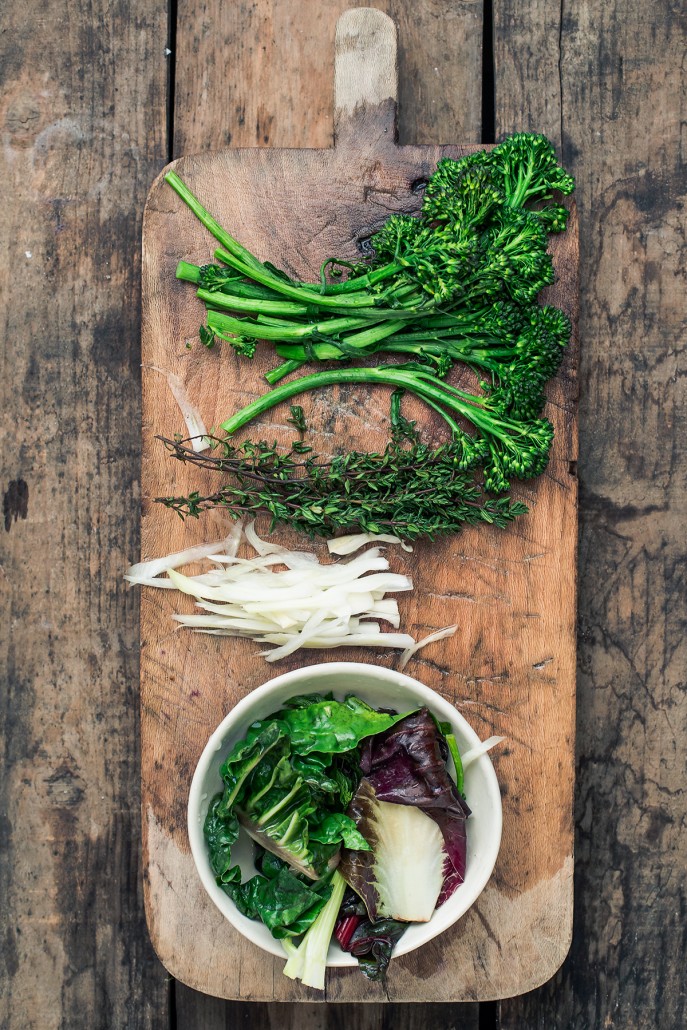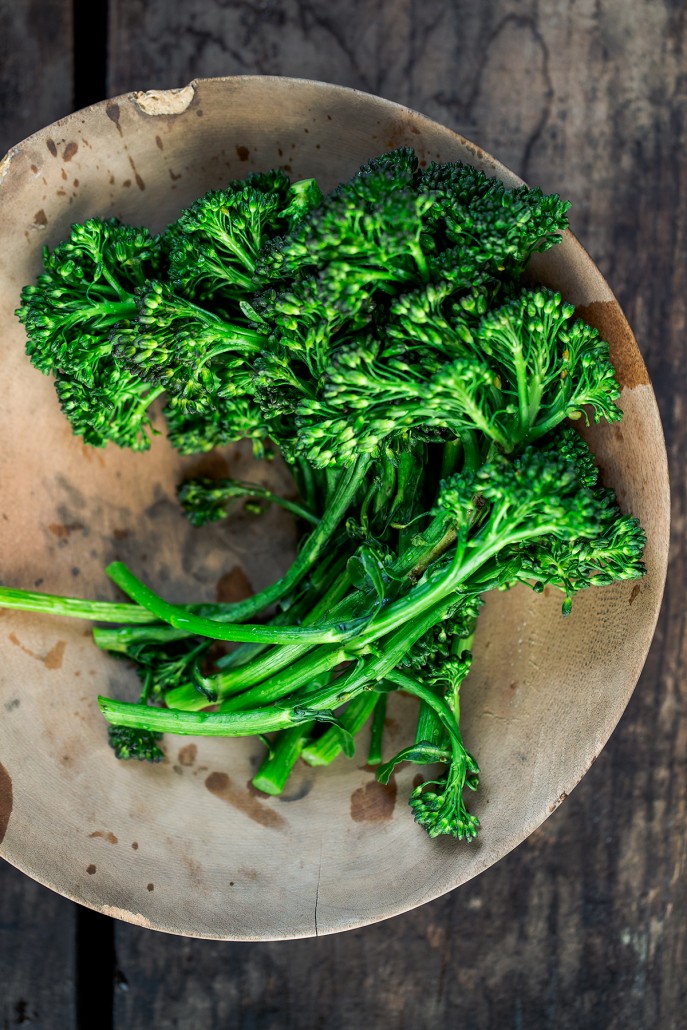 This Spicy Lemongrass Chicken Stock recipe can feed you for a few days (including lunch) or if you wish, you can freeze the liquid and use it whenever needed. Once you get the basics figured out, you can adjust your aromatics and other seasoning to come up with different versions of it. The one I'm sharing with you is quite spicy and lemon-y. One of my faves I must say.
Since we have a nice amount of heat going on, and some earthy flavors by way of winter greens, I thought it would be great to pair this up with La Crema's Sonoma Coast Pinot Noir (with notes of cocoa and plum). These two taste fantastic together. To make it even better, get a loaf of crusty french baguette or other rustic bread. Yuuuum!
Get the recipe right over here:
Spicy Lemongrass Chicken Stock and Winter Veggies
Author: Gabriel Cabrera
Recipe type: Basics
Serves: 4, Makes about 1L of stock
Ingredients
For the stock
1 small whole chicken (between 2.5 and 3 pounds in weight)
1 large onion, cut in quarters
1 head of garlic, top sliced to expose cloves
4 celery stalks, roughly chopped
3 large carrots, roughly chopped
1 ancho chile
2 jalapeño chillies, cut in half
1 small piece ginger (about 1 inch long), chopped
1 lemongrass stalk, trimmed, cut in half
1 teaspoon whole black peppercorns
1.5L water
For the winter veggies:
1 teaspoon olive oil
1 handful chard
1 cup broccolini, chopped
1 handful kale
1 sprig fresh thyme
Salt and pepper to taste
Instructions
Place all the stock ingredients in a large stock pot with a lid over low heat. Simmer on low heat for 2 hours (3 is better). Skim the stock every now and then using a ladle. Remove from heat and let it cool in the pot.
Carefully remove the chicken and veggies out of the stock. Shred the chicken and set aside (NOTE: you can eat the cooked veggies too, just toss out the lemongrass stalk).
Place a skillet in the stove over high heat, add the olive oil, then add the chard, broccolini, kale, and thyme and toss a few times to wilt them, about 2 minutes. Season with salt and pepper. Remove from the stove.
To serve: Heat up about 1 cup of the stock and add some of the shredded chicken. Place in a bowl, add the wilted winter veggies and squeeze some lemon on top of everything. Serve pipping hot with some crusty bread and a glass of wine.