Sumac Acorn Squash Soup with Parsley-Tahini Sauce
There is nothing quite like a warm bowl of acorn squash soup during the cold, winter months. I know there's a lot of gravitation towards heavy recipes and meals but I'm just as content with a big bowl of soup. There's something so comforting about a big bowl of creamy soup, a piece of crusty bread, and a crisp glass of wine. Add a side salad and you have the perfect dinner!
I find that every few days we make soup because it takes minimal effort and we can use whatever we have on hand. During the winter, that tends to be a mix of squash, sweet potatoes, carrots, or broccoli. It's rare that I follow a recipe but almost every soup has some type of roasted vegetables.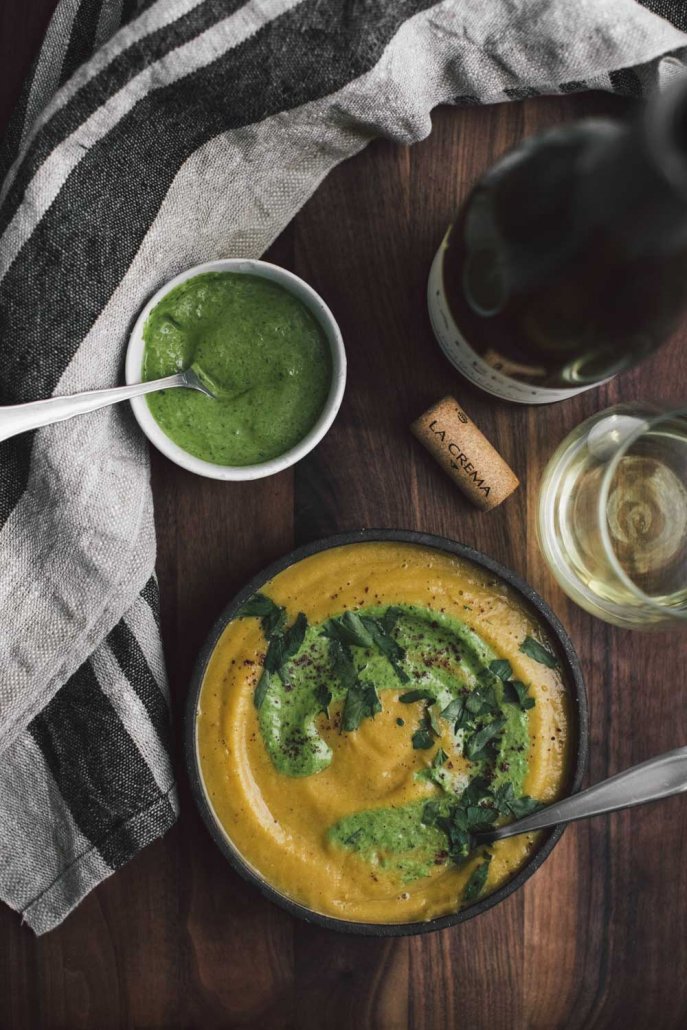 This roasted acorn squash soup features mostly pantry ingredients combined into a full-flavored soup. The white beans help keep the base creamy (and vegan!) and the parsley sauce rounds out the slight floral lift from the sumac. Best of all, if you pick up a small amount of sumac for this soup, you have a great start for making homemade za'atar. I occasionally like to brush flatbread with olive oil and add the za'atar, then toast until crisp (another wonderful soup accompaniment.)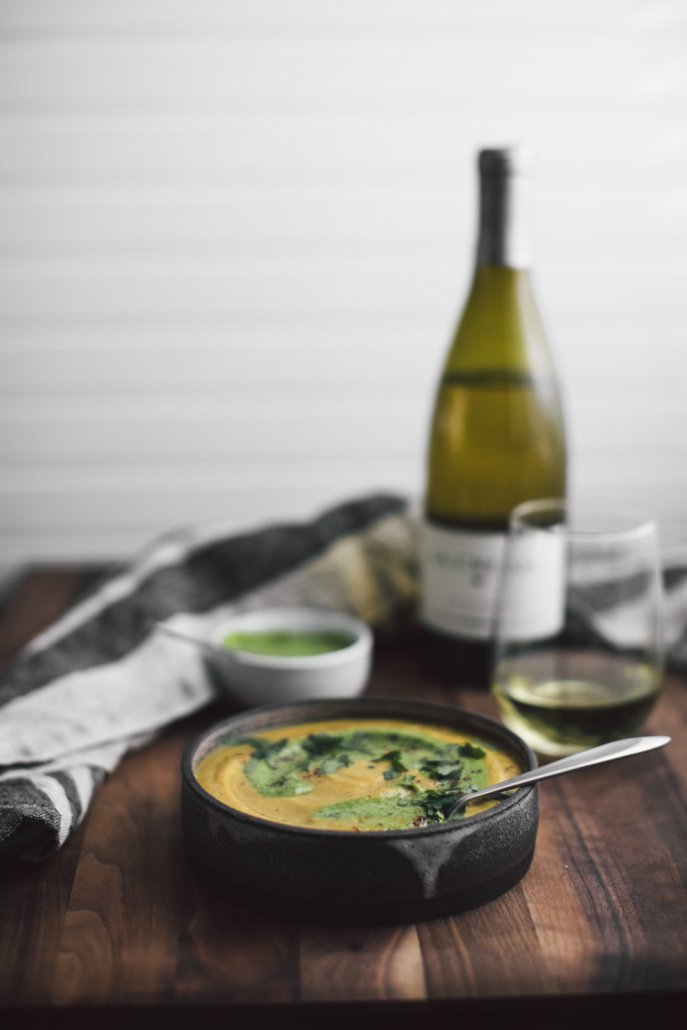 In terms of wine pairings, I find the crisp, light flavor of the Monterey Chardonnay cuts through the sweetness of the roasted squash and is the perfect companion to the lemon/herb sauce. Best of all, the combination of this soup works well with any squash, so feel free to sub the acorn out for butternut squash, kabocha squash or even sweet potatoes.
One other quick note: if you are unsure of beans in soup, I've made this soup without the beans and stir in a swirl of heavy cream. You can also keep this soup vegan by using cashew or sunflower cream. The nut/seed creams work really well with the squash and sumac.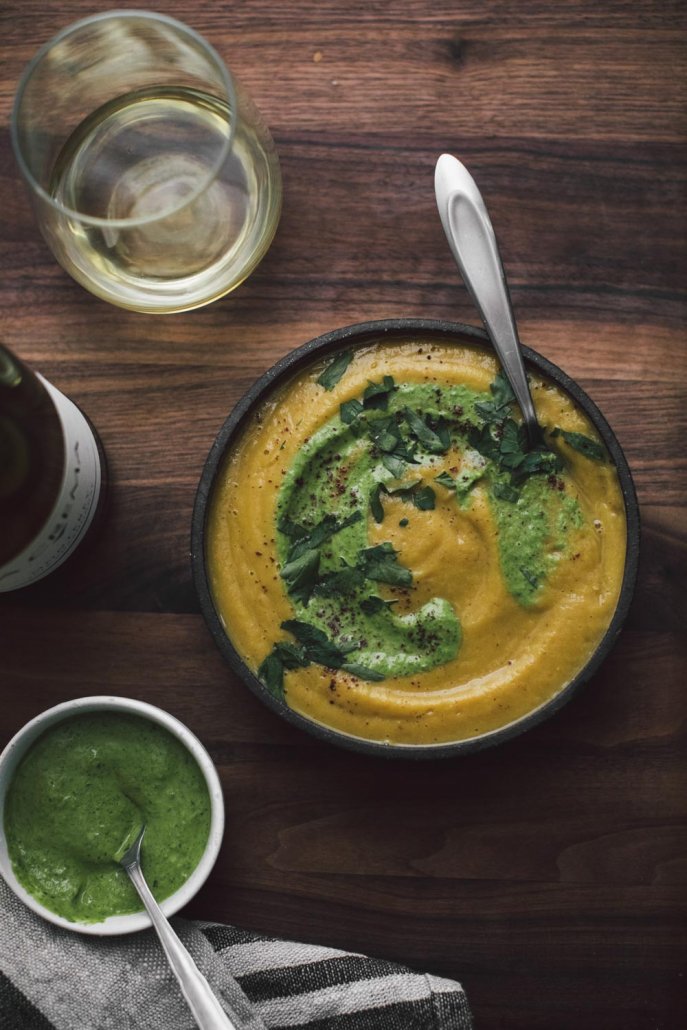 Sumac Acorn Squash Soup with Parsley-Tahini Sauce
Author: Erin Alderson
Recipe type: Main Course
Prep time:
Cook time:
Total time:
Serves: 2 servings
Ingredients
Soup

1 medium acorn squash

2 to 3 large shallots

1 tablespoon olive oil

1/4 teaspoon sea salt

1/4 teaspoon black pepper

1/2 cup cooked cannellini beans, drained and rinsed if using canned

1 ½ to 2 1/2 cups vegetable broth (see note)

1 teaspoon sumac

Parsley Sauce

2 teaspoons tahini

¼ cup fresh flat-leaf parsley

2 teaspoons fresh thyme

2 tablespoons lemon juice

2 to 3 tablespoons olive oil
Instructions
Preheat oven to 425˚F. Cut the acorn squash into roughly 6 to 8 wedges. Peel the shallot and leave in large chunks. Add both to a roasting pan and toss with the olive oil, salt, and pepper. Roast until the squash is browning and tender; 45 to 55 minutes.

Once the squash is done, let cool enough to handle then place in a blender with the beans, 1 ½ cups vegetable broth, and sumac. Puree until smooth, adding ½ cup of vegetable broth at a time until the soup is a good consistency. Transfer to a pot and heat until warm. Taste and add more salt as needed (see note).

Also while the squash is cooking, combine the tahini, parsley, thyme, lemon juice, olive oil, and a pinch of salt in a blender (I like my Blendtec Twister jar for this). Puree until well combined and smooth.

Divide the soup into 2 bowls and top with a large swirl of the parsley sauce, extra sprinkle of parsley, and a sprinkle of ground sumac.