Summer Entertaining Recipes: Panzanella Salad
Panzanella is a Tuscan salad of bread and tomatoes that's popular in the summer. Traditionally, it includes chunks of soaked stale bread and vine-ripened tomatoes dressed with a simple vinaigrette. This version ups the ante with two rockstar additions: mozzarella cheese and bacon.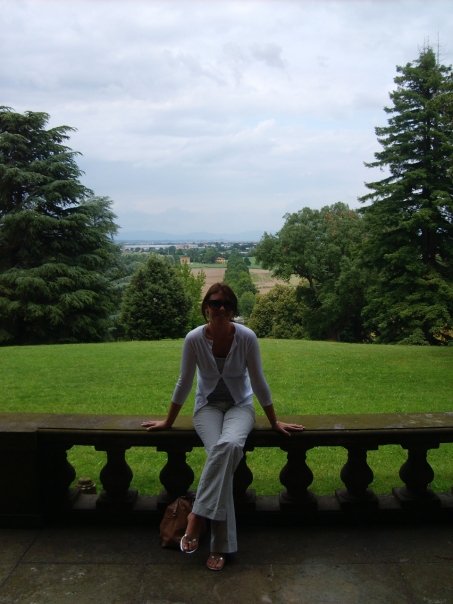 My husband and I spent part of our honeymoon in Tuscany and it was incredible. In fact, the photo above was taken at a family-owned winery and estate. What struck me most about Tuscan food was how incredibly simple yet amazing it was.
This is true all over Italy, but the Tuscans have a particularly fantastic way of combining the simplest and most rustic flavors to achieve the most delicious results. This salad is very true to that Tuscan quality, and is a real crowd-pleaser!
Summer Entertaining Recipes: Panzanella
Author:
Ingredients
4 cups Artisan bread, cut into ½-inch cubes
8 slices thick high quality smoked bacon, cooked and chopped into lardons, drippings reserved
4 cups red and yellow cherry tomatoes or diced Heirlooms
2 cups spring mix lettuces, washed & dried
½ cup basil leaves, lightly torn (small leaves left whole)
4 ounces bocconcini (small mozzarella balls)
Kosher salt and freshly ground black pepper, to taste
¼ cup red wine vinegar
4 Tbsp. fruity extra virgin olive oil
Instructions
Preheat oven to 350⁰F.
Toss bread cubes in melted bacon drippings.
Place on a baking sheet and toast for 10 to 12 minutes until crunchy on outside but still soft on the inside.
For the vinaigrette, add salt and pepper to vinegar and whisk until incorporated fully.
Slowly whisk olive oil into mixture to emulsify.
In a large bowl, add all ingredients and toss to coat evenly with vinaigrette.
Salt and pepper to taste. Serve immediately.
This recipe takes advantage of one of my very favorite summer crops — sweet tomatoes. The use of yellow and red tomatoes creates a striking and festive color palate with the bright greens.
The creamy bocconcini combined with the smoky flavor and crunch of the crispy bacon is just perfect. And the bacon flavor is carried through to the croutons, really driving home that rustic Tuscan quality. My mouth is watering as I type!
This salad is chock full of flavor, all it needs is a simple vinaigrette to finish it off and bring all of the flavors together in Tuscan harmony. You needn't forget the wine though! Enjoy a refreshing glass of La Crema Chardonnay alongside this dish to revel in a perfectly balanced tasting experience.
I hope you enjoyed this trip down memory lane with me as well as the easy and delicious recipe. I will be back with two more recipes to share with you for the perfect end-of-summer dinner party!
The Series
For more tips from this series, visit Camp Makery.