Summer Zucchini Salad
Zucchini is often overlooked in the midst of all our wonderful summer produce, but I've found that it's surprisingly special, especially in this summer zucchini salad. Culinarily treated as a vegetable, but botanically treated as a fruit, zucchini is very versatile. You can consume it cooked or raw, sliced or shredded, in soups or salads, in bread or soufflés, as part of an hors d'œuvre or as part of a main dish. And, with a spiralizer, you can enjoy zucchini like never before.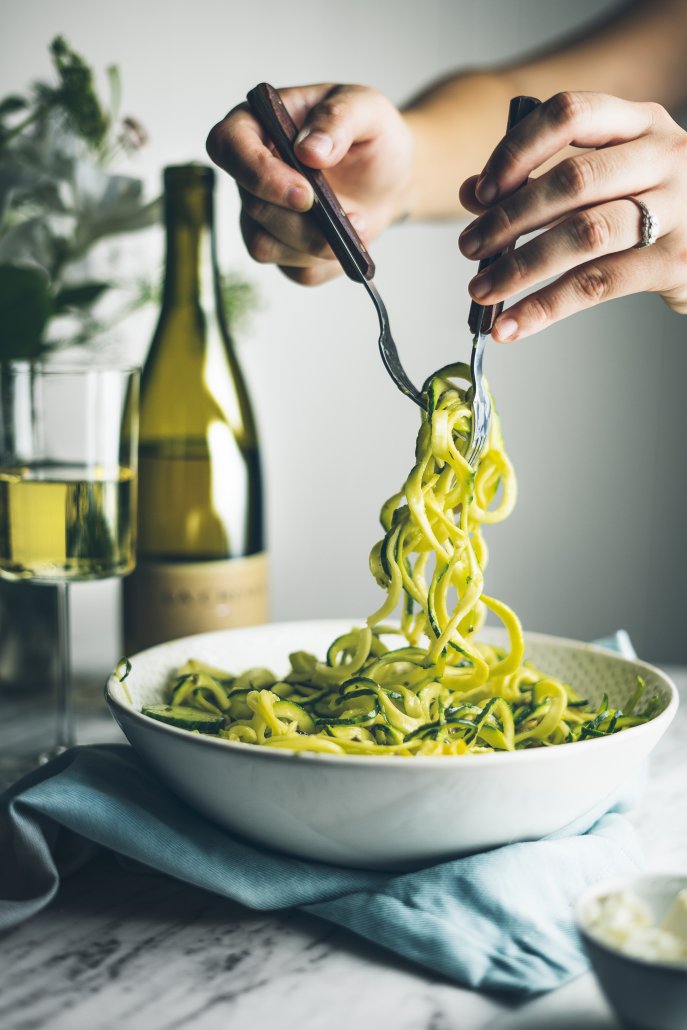 Typically, this salad would call for a pasta to complete its noodle texture that's so central. But using zucchini in place of noodles makes for a refreshing experience. Also, if you don't have a spiralizer, you can just cut thin slices of zucchini with a mandolin or simply with a knife—it's all about maintaining that long, thin texture.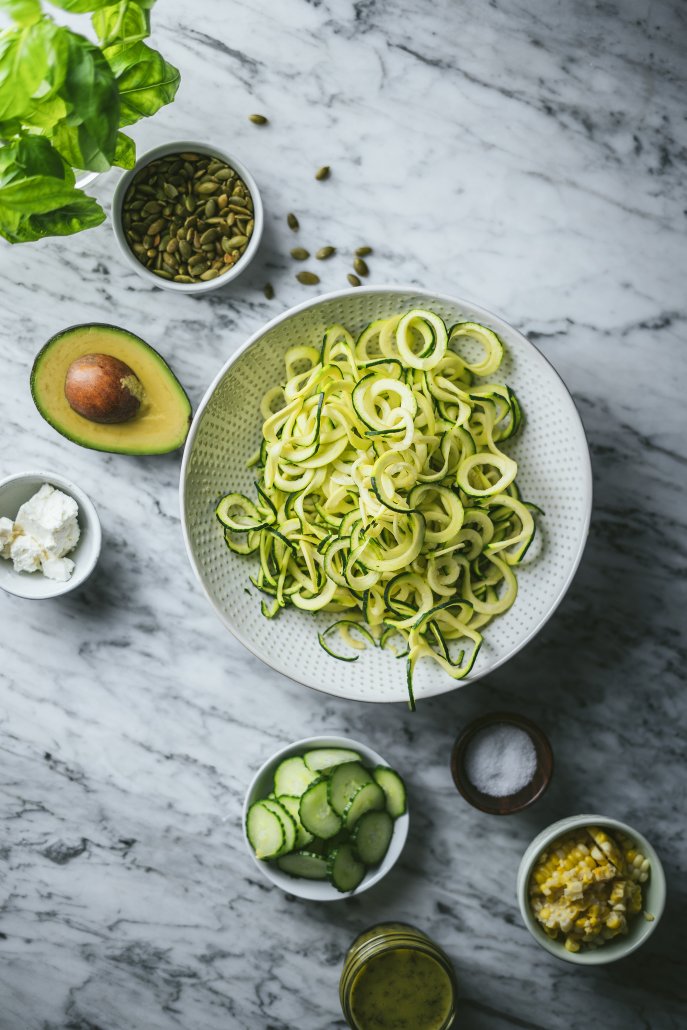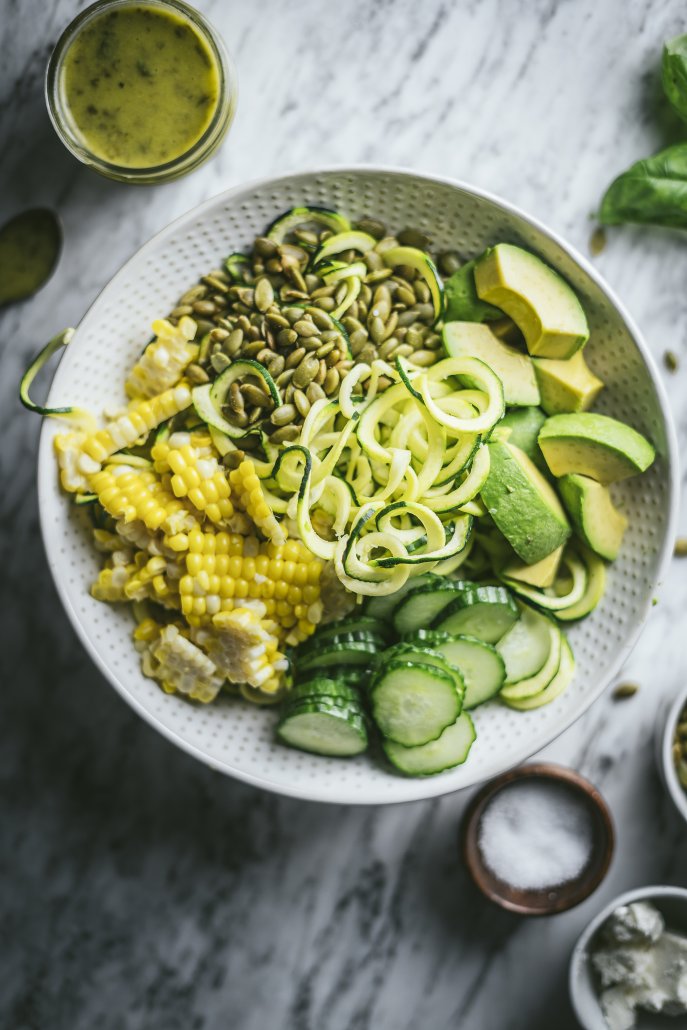 The zucchini provides the main structure for the salad, but it's the other components that bring the exciting tastes. Summer corn provides a pleasant sweetness balanced by bursts of salty feta. Pepitas bring some much needed crunch along with a toasted nuttiness, while the dressing finishes with a bright kick of citrusy acidity. All these come together so well! After all, summer is the time where the flavor of produce is magnified, making a seemingly simple salad into something really satisfying.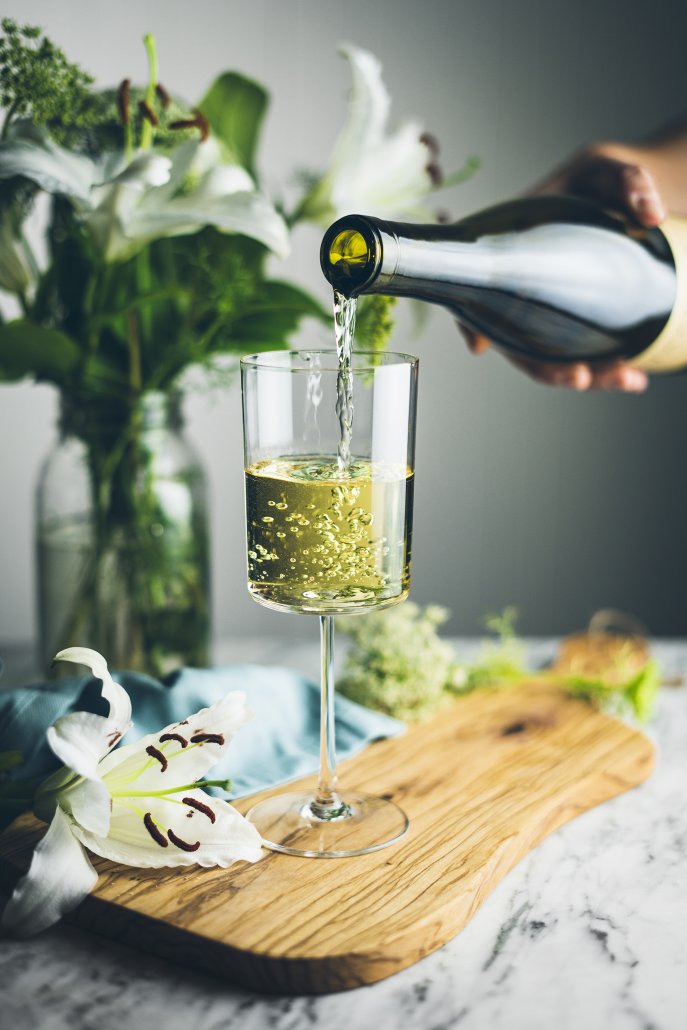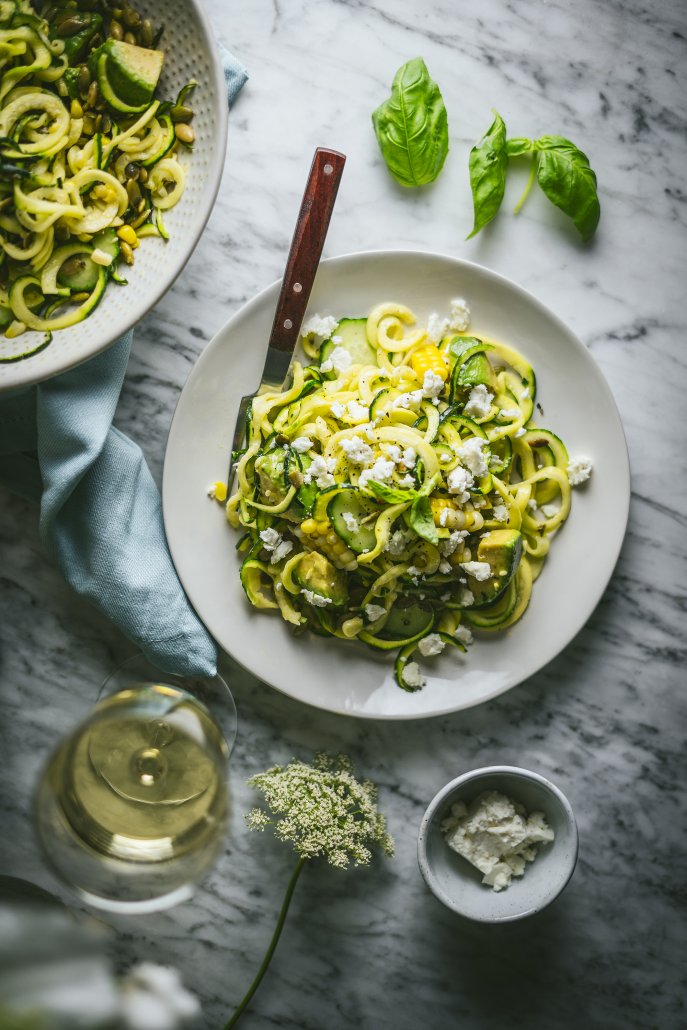 When looking for a wine to pair with this dish, I settled on La Crema's Monterey Chardonnay. The first sip bursts with bright pineapple and subtle caramel notes, moving into refreshing lemon overtones balanced by lovely baking spice notes. It ends quite like the salad: with a minerality made up of a hint of brine inseparably infused with tangerine. So while the sun still shines in all its splendor, this summer zucchini salad couldn't be any more timely.
Summer Zucchini Salad
Author: Kristan Raines
Recipe type: Lunch
Prep time:
Total time:
Serves: 2-3
Ingredients
1 lb (2 medium) zucchini, spiralized or cut into noodles

1 ear of corn, boiled, raw, or grilled

¼ cup of sliced persian cucumbers

1 medium avocado, cubed

¼ cup toasted pepitas

salt and pepper to taste

Feta cheese, for garnish
Lemon-Basil Dressing
2 tbs fresh lemon juice   

6 large  basil leaves
1 1/2 tsp dijon mustard
1 clove garlic
1 tsp honey
1/4 cup olive oil
salt and pepper, to taste
Instructions
For the dressing add the lemon juice, mustard, garlic, honey, and oil to a blender and blend for about 30 seconds, or until a thick dressing has formed. Taste and season with salt and pepper to taste.

Remove the corn kernels with a knife and add to a large bowl along with the zucchini, avocado, cucumber, and pepitas. Drizzle 1-2 tbs of the dressing over the salad and toss to coat, adding more as needed. Season with a pinch of salt and pepper and with a garnish of feta cheese. Enjoy right away!