Thai Coconut Vegetable and Noodle Soup
The experience of trying new food can be as striking as exploring a foreign landscape. Fresh tastes, obscure aromas, alluring textures—these are all capable of taking what is an ordinary affair and transforming it into something unforgettable.And along these lines, Thai food is certainly no exception, especially this dish for Thai Coconut Vegetable and Noodle Soup that I'm about to introduce you to. I absolutely adore and appreciate its use of exotic and vibrant ingredients. Citrus, ginger, cumin, garlic—all of it never fails to satisfy. And one of my favorite dishes is the Tom Kha Gai—a coconut soup with some dynamic and pleasant flavors.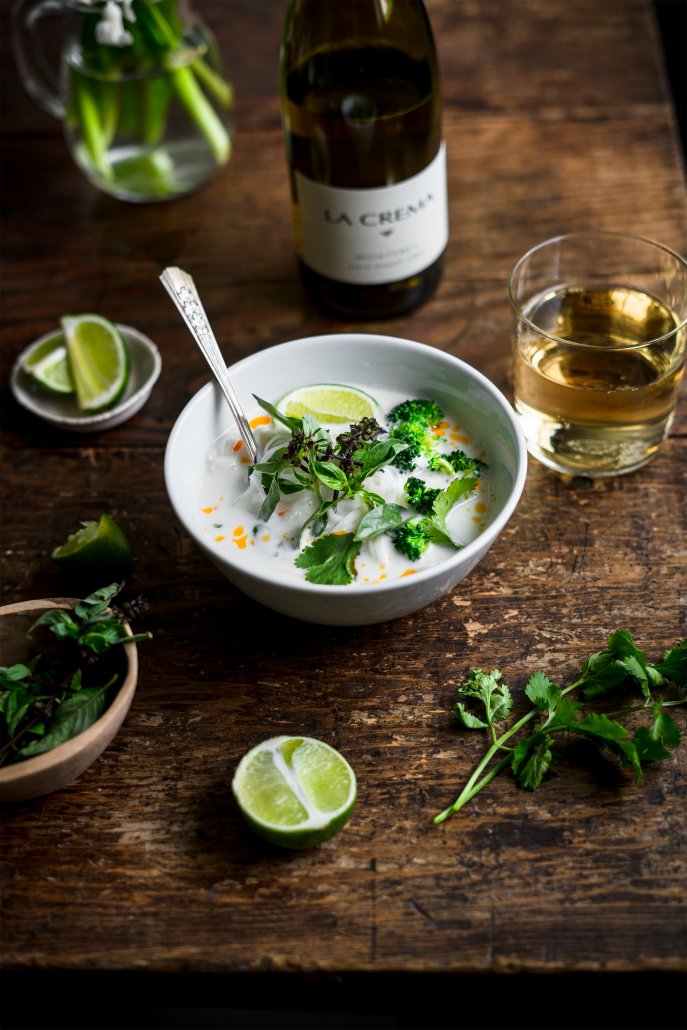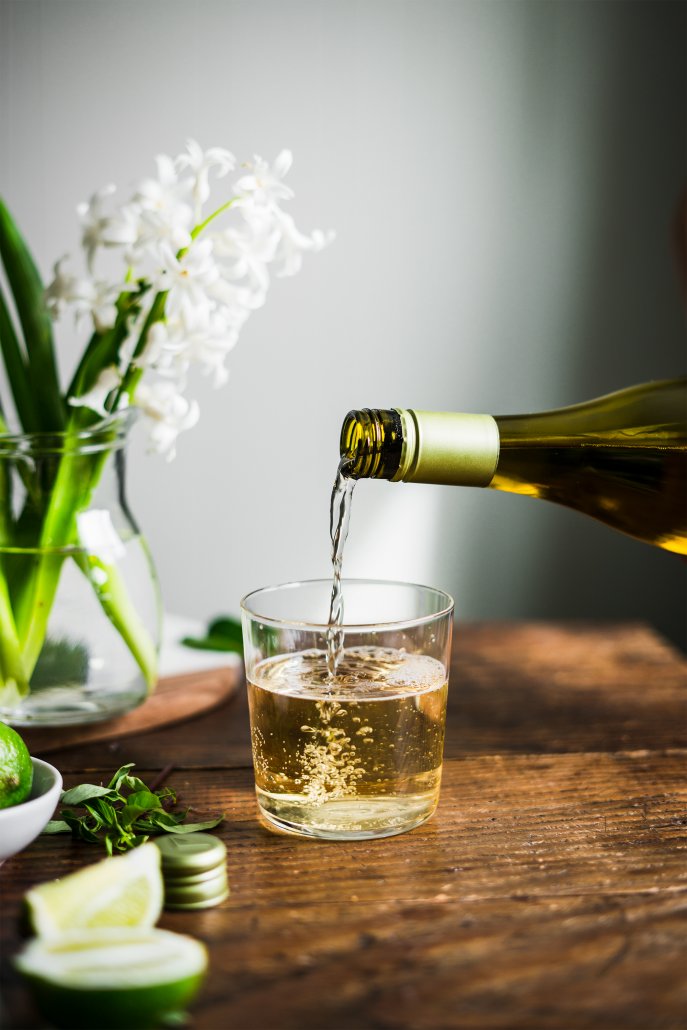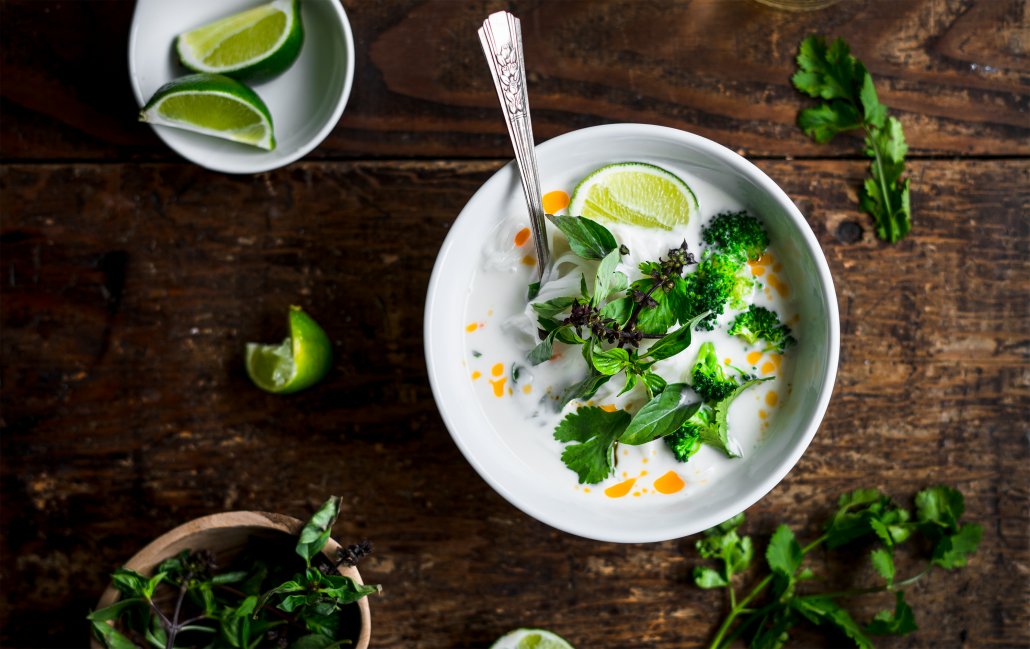 Having been inspired by this dish for so long, I decided to create a soup that honored the Tom Kha Gai's traditional flavors while moving in a new direction. So whereas the traditional soup is usually made with chicken and mushrooms, with this Thai Coconut Vegetable and Noodle Soup, I decided to keep the veggies in the spotlight for a fresh interpretation.
The result is so gratifying—coconut milk lends a wonderfully creamy texture, the lemongrass and kaffir lime leaves imparts that signature Thai touch, while the galangal provides a fragrant spice. I also found these elements are delightfully enhanced and complemented when paired with La Crema's Monterey Pinot Gris. Its bright citrus and acidity bring along a whole new set of lovely flavors and textures which really heighten the experience. This soup is seriously sure to hit the spot the next time you crave some Thai food—I hope you enjoy it! Be sure to head over to The Broken Bread to learn a bit more about some of these ingredients, plus a few tips on where to find them.
Thai Coconut Vegetable and Noodle Soup
Author: Kristan Raines
Recipe type: Soup
Prep time:
Total time:
Serves: 2-3 servings
Ingredients
2 stalks fresh lemongrass

6  fresh kaffir lime leaves

2 cups low-sodium veggie or chicken stock
1 oz of galangal, skin removed – can sub 1 1/2 inch piece ginger

3-4 birds eye chili, cut in half

2 garlic cloves, smashed

1 shallot, cut in half

5 oz dried rice noodles

1, 13.5-oz. can full fat coconut milk

half a bell pepper, cut into strips

1 tsp fish sauce (like viet huong)

3/4 tsp  brown sugar

2-3 limes

salt, to taste

1 1/2 cups blanched broccoli
Garnish with
chili oil
Fresh Thai basil leaves
cilantro
lime wedges
Instructions
Begin by cutting off the top green parts from the lemongrass and removing their tough outer layer; you only want to keep the fragrant white base. Bruise the lemongrass with the back of a knife until slightly cracked and fragrant; place in a medium saucepan.

Rip the lime leaves into smaller pieces and add to the saucepan along with vegetable stock, galangal (or ginger), chili, smashed garlic, and shallot. Depending on desired heat, add 2-3 chilies that have been cut in half to the saucepan as well.

Bring everything to a boil, then immediately reduce heat and let gently simmer for about 15 minutes, with the lid on. Strain broth into a clean saucepan; discard the solids.
Add the coconut milk, fish sauce, sugar, and bell pepper to the saucepan and allow everything to simmer for 8-10 minutes, or until the bell pepper is tender.
While the soup is simmering prepare the noodles. Fill a large pot with water and bring to a rolling boil. Place the noodles in the pot and let cook for 3-4 minutes, or until tender making sure to stir occasionally to help separate them. Strain the noodles and rinse very well with cold water. Place in a bowl until ready to use.
Once the bell pepper is tender, squeeze in 2-3 lime wedges, taste the soup and add additional lime juice and salt as needed.
Divide the soup among 2 -3 bowls. Add a portion of noodles and broccoli to each bowl, garnish with chili oil, fresh Thai basil leaves, cilantro, and lime wedges. Enjoy!