The Perfect Hostess Gift
The holiday entertaining season is in full swing! This is my very favorite part of the holidays, as you probably could have guessed. I'm usually sharing my tips and tricks for entertaining with grace and style. But everyone knows that grace and style can't go out the window just because you're not the one hosting! When invited to a get-together, especially in one's home, it is important to bring a small token of your appreciation for your host or hostess. Here is my favorite host(ess) gift idea, just in time for the height of your seasonal social calendar!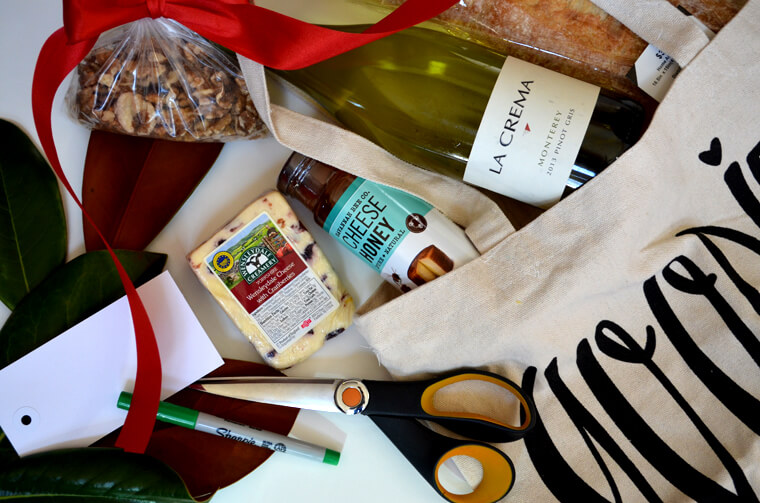 The traditional gift basket gets a fresh update by choosing a cute reusable tote to fill with goodies. Your host will appreciate the usefulness of this bag, because unlike a basket, they'll be able to reuse it regardless of whether it fits in with their home decor. Simply fill your tote bag with a baguette, some cheese infused with seasonal fruit (I chose a cranberry cheese), a small bag of nuts like walnuts, and a jar of local honey. Of course, don't forget the wine! I selected the crowd-pleasing Monterey Pinot Gris since my hostess .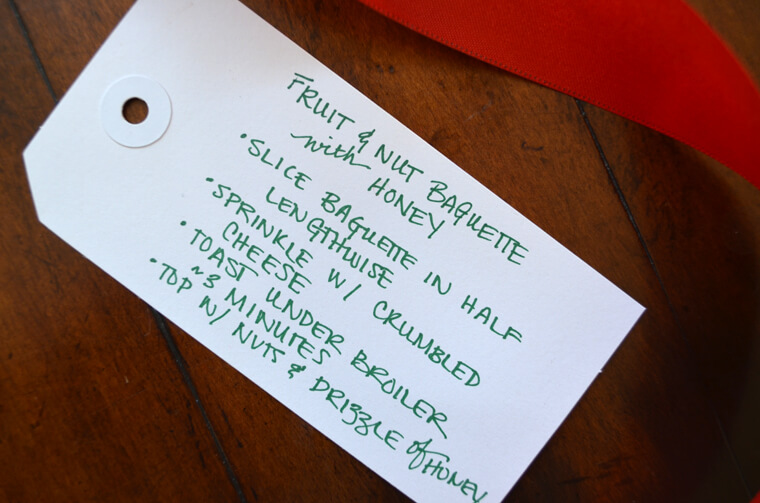 On a pre-made blank gift tag, write out the following instructions:
Slice baguette in half lengthwise
Sprinkle with crumbled cheese
Toast under broiler for less than three minutes
Top with nuts and a drizzle of honey
Enjoy!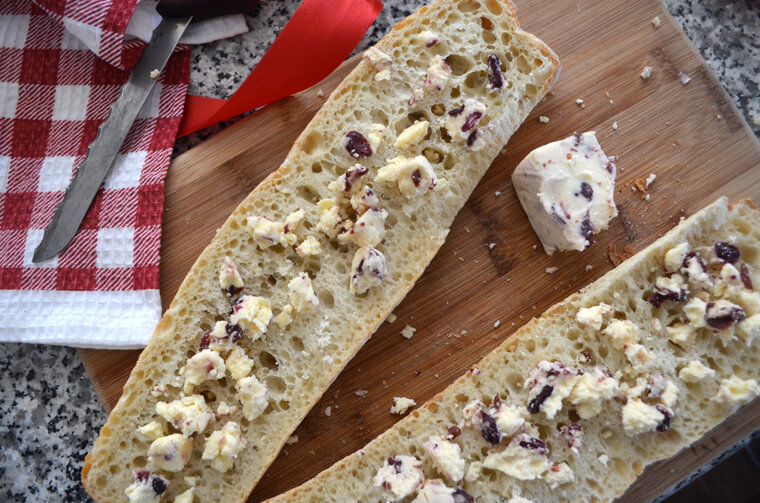 The tart cranberries in this cheese provide an excellent balance to the sweetness of the honey, but you can use any cheese that will crumble nicely. If you can't find cheese that has fruit right inside, consider adding some dried cranberries to the bag of nuts instead.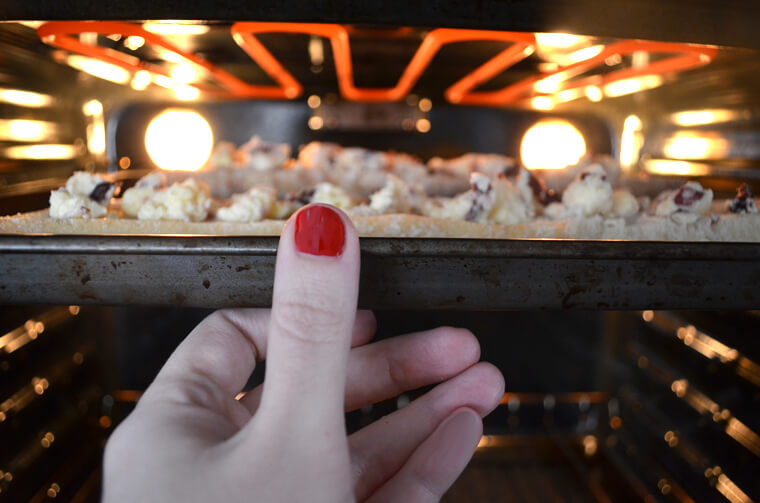 Every oven is different, and mine runs hot, so I only left the baguette under the broiler for about a minute and forty-five seconds. Just keep an eye on it. You want the cheese to be slightly bubbly and melted, but you don't want the edges of your bread to burn.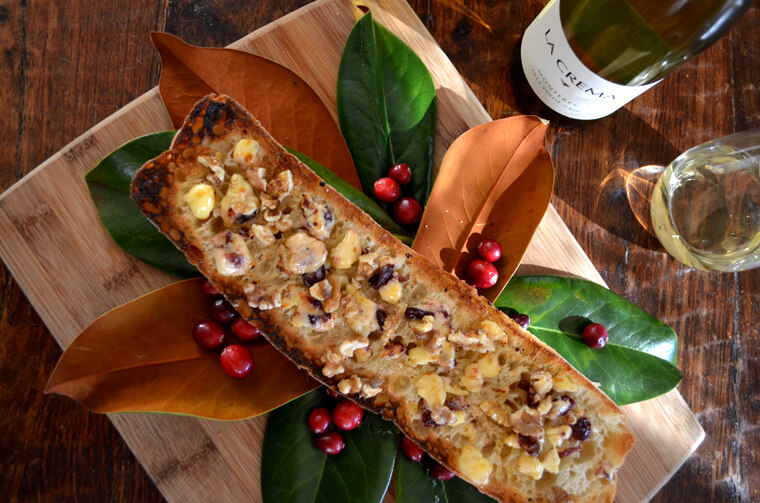 I added some magnolia leaves to the bag handle, along with the instructional tag. I tied both with a festive red satin ribbon. Your host(ess) can repurpose the magnolia leaves to create a beautiful display on a cutting board or serving platter. Simply layer the leaves, alternating between brown and green sides, and sprinkle with fresh cranberries.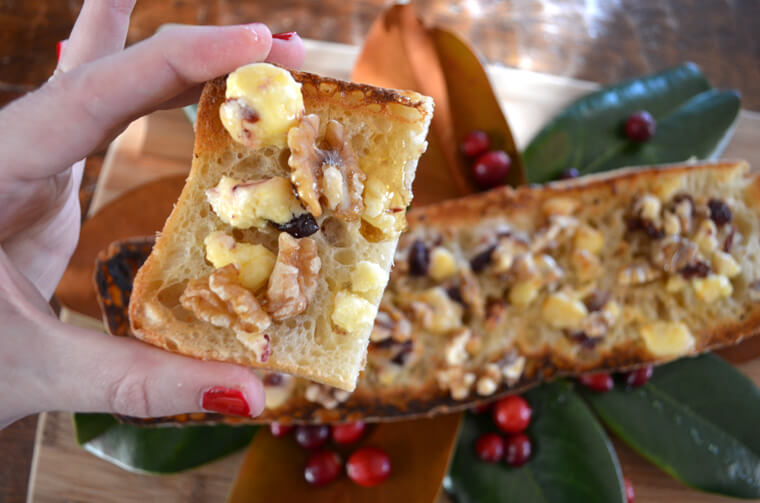 Local honey has wonderful health benefits as well as being delicious. However, if you can't find any local honey, any pretty jar of honey will do! I was able to find a honey that is made by the Savannah Bee Company and is specifically recommended to pair with cheeses!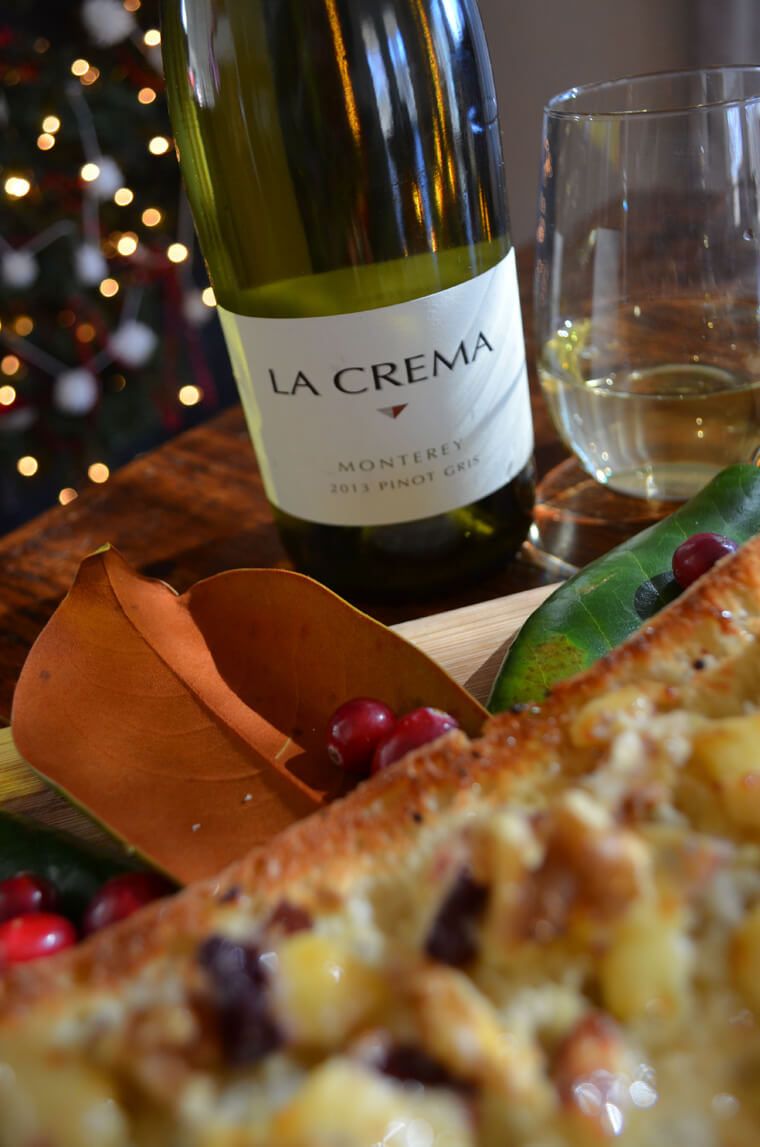 This hostess gift hits all the right notes. Your host can choose to pop open the bottle of wine and slip the baguette in the oven right away or save one or both for the next day when they need a treat after the stresses of throwing a party are behind them!