Turkey Chili on a Campfire
There is seriously nothing better than a campfire on a chilly fall evening, and they're even more magical when paired with some delicious food and wine. Last year I had a few friends over for a big s'mores party around the fire, but this autumn we kept it simple with just family, a big pot of turkey chili on the coals, and a couple bottles of La Crema.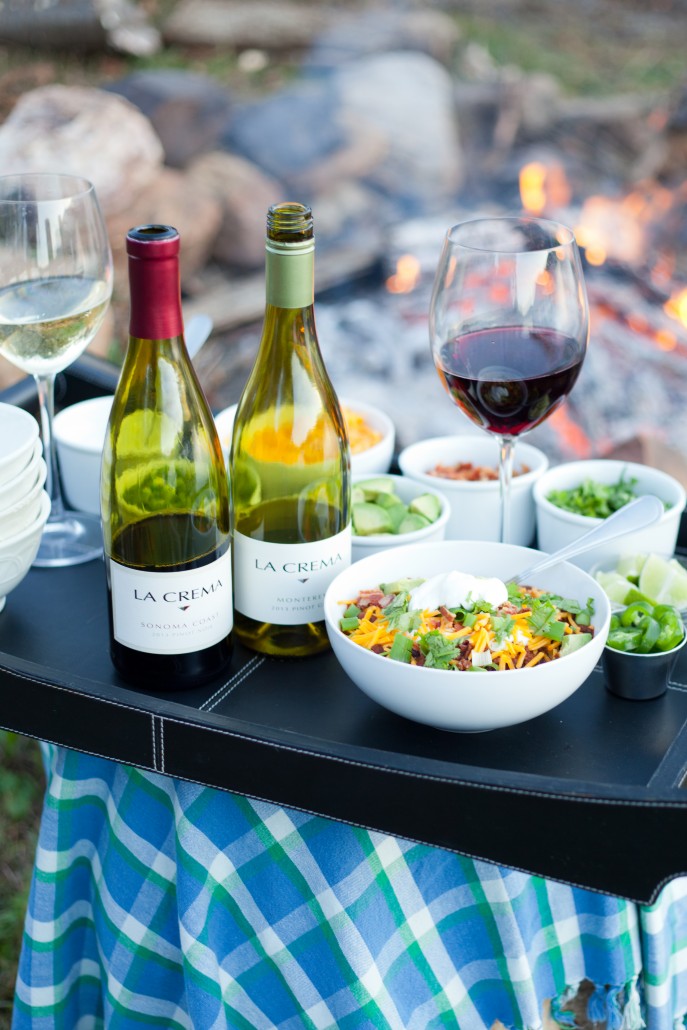 This chili is absolutely delicious, and pretty easy, even if it does need all day to simmer on the stove. We decided to go with ground turkey this time, but you could substitute beef, pork, or a combination of both, if you wanted an even heartier dish. We love it paired with both the Monterey Pinot Gris and the Sonoma Coast Pinot Noir –I always think it's fun to let people choose their own pairing. The white is perfect for cooling your palate between bites, and the red stands up to the robustness of the chili for a delicious balance.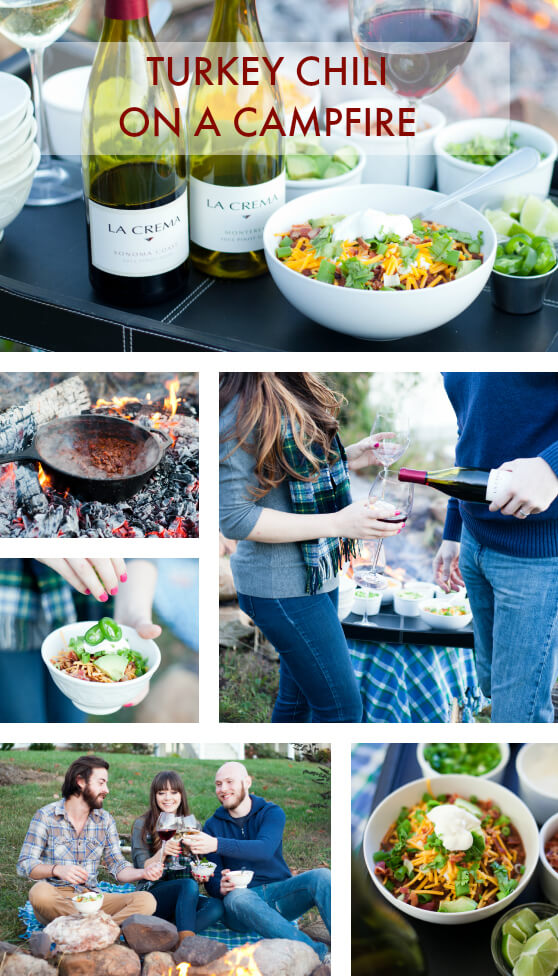 Campfire Turkey Chili
Serves: 4-6
Ingredients
1 large onion, diced
2-3 cloves garlic, chopped
2 tablespoons olive oil
1 medium red bell pepper, chopped
1 medium yellow bell pepper, chopped
1 28-ounce can of crushed tomatoes
2 pounds ground turkey
2 15.5 ounce cans of kidney beans
1.5 teaspoons crushed red pepper
1 tablespoon chili powder
1/2 teaspoon oregano
3/4 teaspoons mustard
3/4 teaspoons coriander
1/2 teaspoon allspice
1 teaspoon cumin
1 teaspoon paprika
1.5 teaspoons cayenne (more or less depending on how spicy you like it)
About two cups chicken stock
1/2 cup apple cider vinegar
Instructions
In a large cast iron pot, sautée onion, garlic, and red + yellow bell peppers in olive oil.
Once the vegetables are cooked down (about five minutes), add the ground turkey and allow it to brown. Stir with a wooden spoon and break up the larger pieces.
After the turkey is mostly browned, add the canned tomatoes. Give it a good stir and begin to add all the spices, leaving the cayenne powder for last.
Bring the chili to a low boil and reduce heat to simmer for at least two hours. Periodically add chicken stock and stir when it starts getting thick.
About twenty minutes before serving, add the beans, cayenne powder, and apple cider vinegar.
If you want to reheat your chili on a campfire like we did, just make sure you're using a real cast iron pot — the enamel ones don't do so well on direct flames like that. Reheating on a campfire helps to infuse nice smokey notes that you won't get from your stovetop, and really sets the mood for a warm outdoor meal.
Carefully place your pot on the coals of the fire (use oven mitts and/or a heavy towel to handle the pot) and let it sit there for 20-30 minutes, depending on how hot your fire is. Remember to keep water (preferably a hose) nearby and never let the blaze get out of control! If you start seeing sparks, hose it down a bit. (Visit my post on Freckled Italian for more campfire tips.)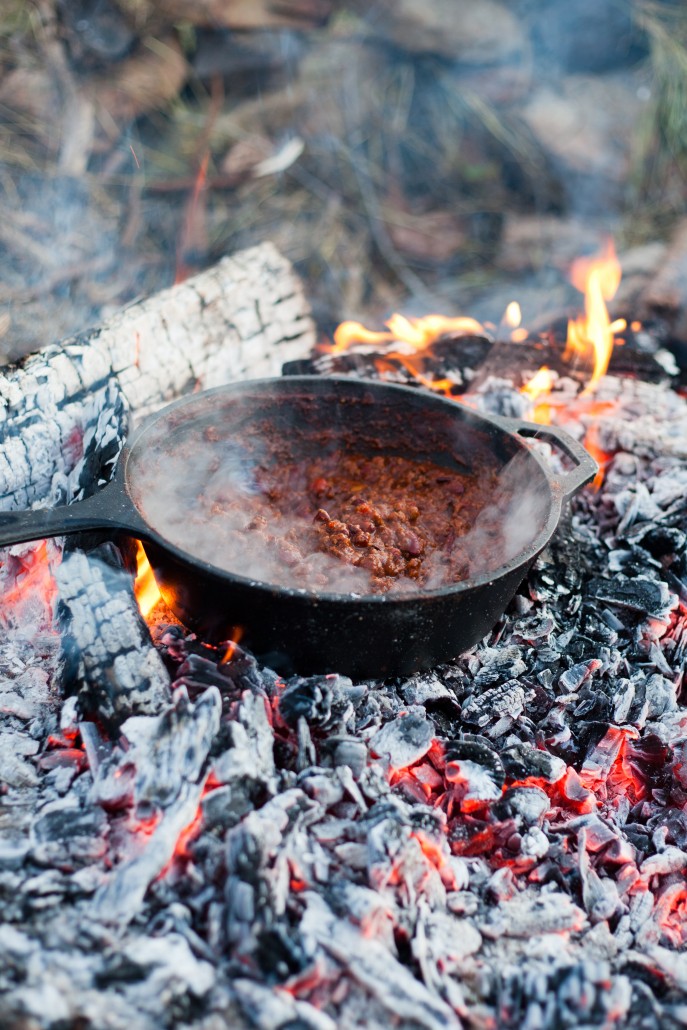 And last but certainly not least, don't forget the toppings! I like to put a bunch of different options into ramekins and place them on a large tray — it looks pretty and is still convenient, even if you're outside without a surface on which to place them. This time we found an old stump and just rolled it over into a makeshift table.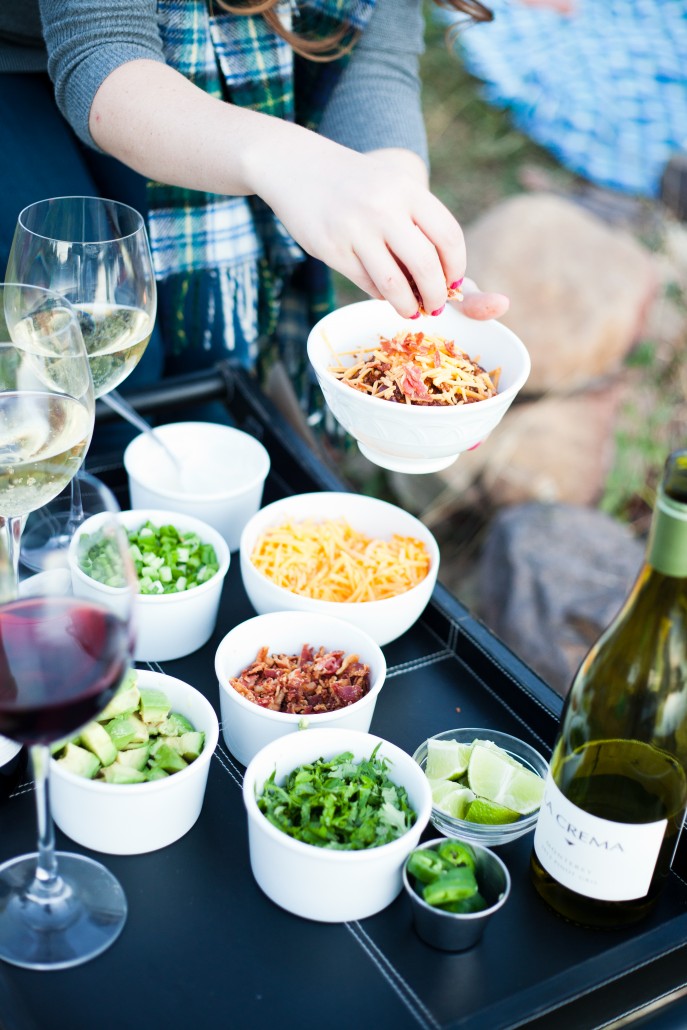 Enjoy! Wishing you a cozy fall full of delicious food and wine.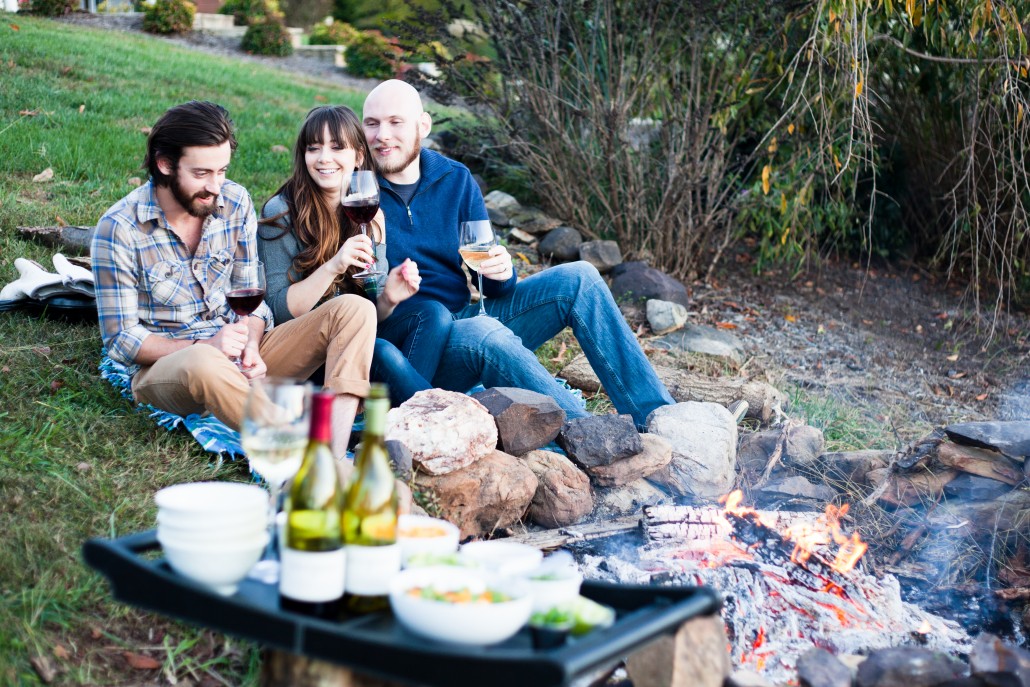 Photos by Sarah Gatrell.