White Wine Poached Shrimp, Citrus, and Fennel Salad
We're two weeks into January – is everyone hanging in there? January can be hard, especially when the days feel impossibly short and dark, the weather is cold, and all you want to do is get back in bed. It's tempting to eat comfort food all month, but I find that keeping my diet balanced (e.g. following that bowl of cheesy, comforting pasta at lunch with a lighter salad at dinner) can help me stay feeling energized and motivated. In that vein, I've got one more winter salad to share with you here, this time featuring lots of citrus (my favorite way to brighten up a dreary January day!), shaved fennel, and poached shrimp.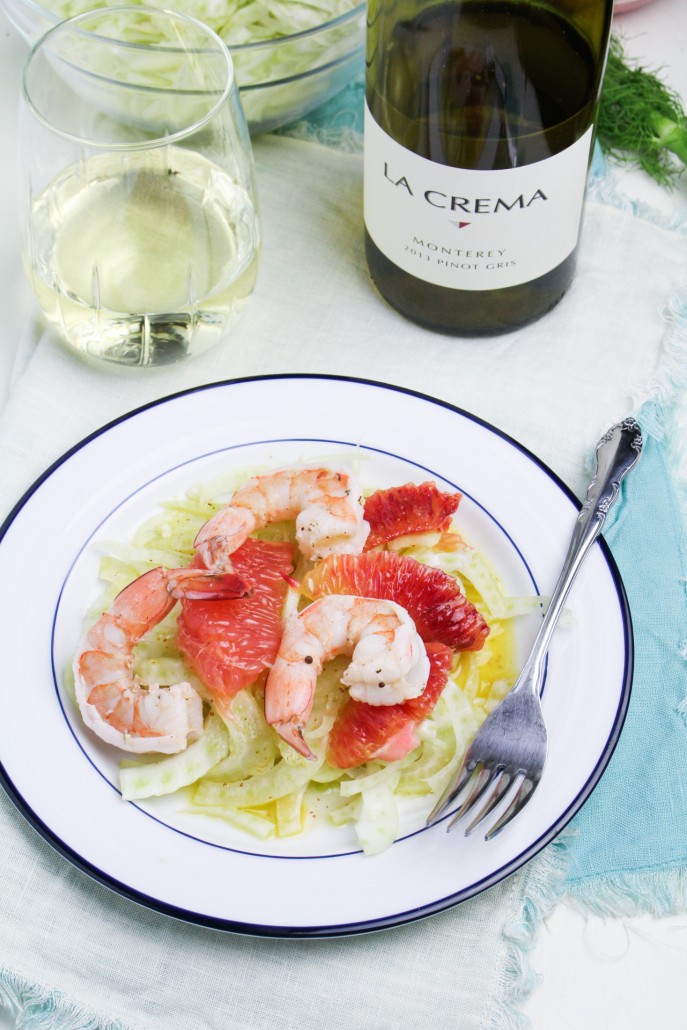 I loved all three salads I prepared for this winter salads series, but if I'm playing favorites, this one would win. It's super simple – just three main ingredients – but still very flavorful, light, and satisfying. It's one of the more refreshing meals I've had so far this winter. I also love this method for preparing shrimp. I have only been eating seafood for about a year, and I'm still a little wary of certain foods, shrimp included. But when they're poached in butter and wine the texture becomes creamier, and, well, they taste more like butter and wine, two ingredients I have no qualms whatsoever about.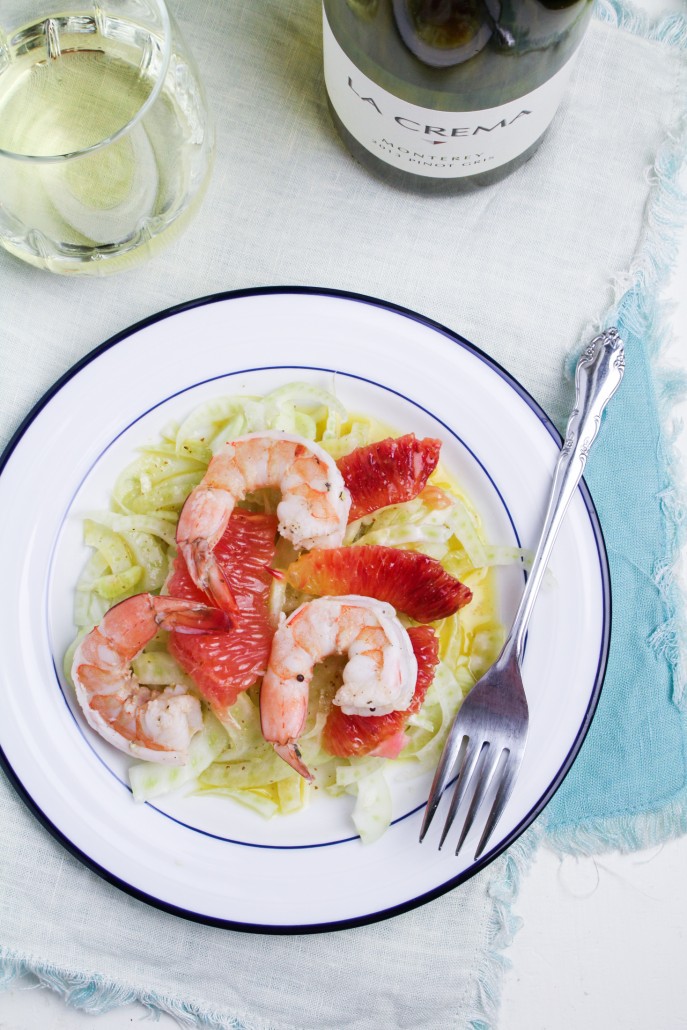 This salad is full of bright flavors – just the thing for a cold, dark day that needs a bit of color and freshness. I cleared my plate in no time, even swiping the last extra bit of fennel through the dressing left on the plate (eating extra vegetables is a sure sign that something was delicious in my house). The rich and buttery shrimp offset the fresh tang of the grapefruit and blood orange and the faintly sweet crunch of the fennel.
Serve this salad with a glass of La Crema Monterey Pinot Gris. Its clean brightness and slight acidity are the perfect match for the tangy flavors of the salad.
White Wine Poached Shrimp, Citrus, and Fennel Salad
Author: Katie Morris of Katie at the Kitchen Door
Prep time:
Cook time:
Total time:
Serves: 2
Ingredients
1 small bulb of fennel
1 grapefruit
1 blood orange
3 TBS grapefruit juice
2 tsp Dijon mustard
3 TBS plus 2 TBS olive oil, divided
Sea salt and pepper, to taste
1 TBS honey
1 pound shrimp, peeled and deveined
1 TBS butter
½ tsp mustard seeds
1 c. Pinot Gris or other white wine
Instructions
Remove the fronds from the fennel and discard. Cut the fennel in half then remove the tough core by cutting triangular slits on the interior of each fennel half. Turn the fennel halves so the flat sides are against the cutting board and slice as thinly as you can (use a mandolin if you have one). Place fennel in a bowl and set aside.
Cut the peel and white pith off of the grapefruit and blood orange, then cut into supremes (removing the skin on each segment). Set the citrus supremes aside in a bowl.
To make the dressing, add the grapefruit juice, mustard, 3 TBS of the olive oil, and honey to a mason jar. Place a cap on the jar and shake vigorously for 15 seconds. Set dressing aside.
To prepare the shrimp, place the shrimp in a bowl and toss with the remaining 2 TBS of olive oil and salt and pepper to taste. Let stand 10 minutes. Melt the butter over medium heat in a large frying pan. Add the mustard seeds and fry until they begin to pop, about 30 seconds. Add the white wine, then place the shrimp in a single layer in the wine. Cook shrimp in multiple batches if necessary to avoid crowding. Poach shrimp until just cooked through, about 2 minutes per side. Remove from the heat.
To serve, divide the fennel between 2 plates. Pour dressing over fennel, then top each plate with a handful of grapefruit and 4-5 shrimp. Serve immediately.