Winter White Salad
With Thanksgiving behind us, I've been feeling the need to cleanse my palate from the butter, cream, protein, bread, pies, and all the other indulgences we enjoy for a few days at the end of November. And what better way to cleanse than with a salad full of fresh fruit and veggies! While visiting the local grocery store I got inspired to craft this Winter White Salad —  it's hearty, crisp, and yes, healthy.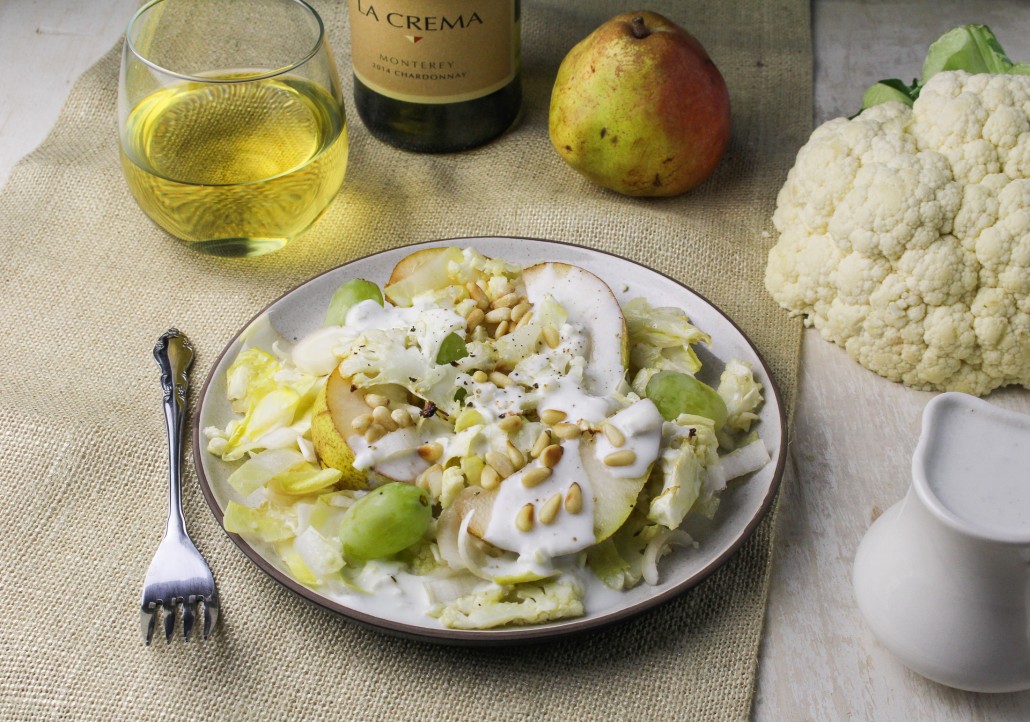 Let's start from the beginning though… I went to not one, but three Thanksgiving dinners last week. That's the danger of living so close to all our relatives — everyone expects us to make an appearance! Really it's not something to complain about; I love being close to our families and I love that we are so well cared for (and fed!) during the holidays. But, it does mean that I tripled the amount of over-eating, so a little detox this week is definitely in order, and salads are a great way to get started.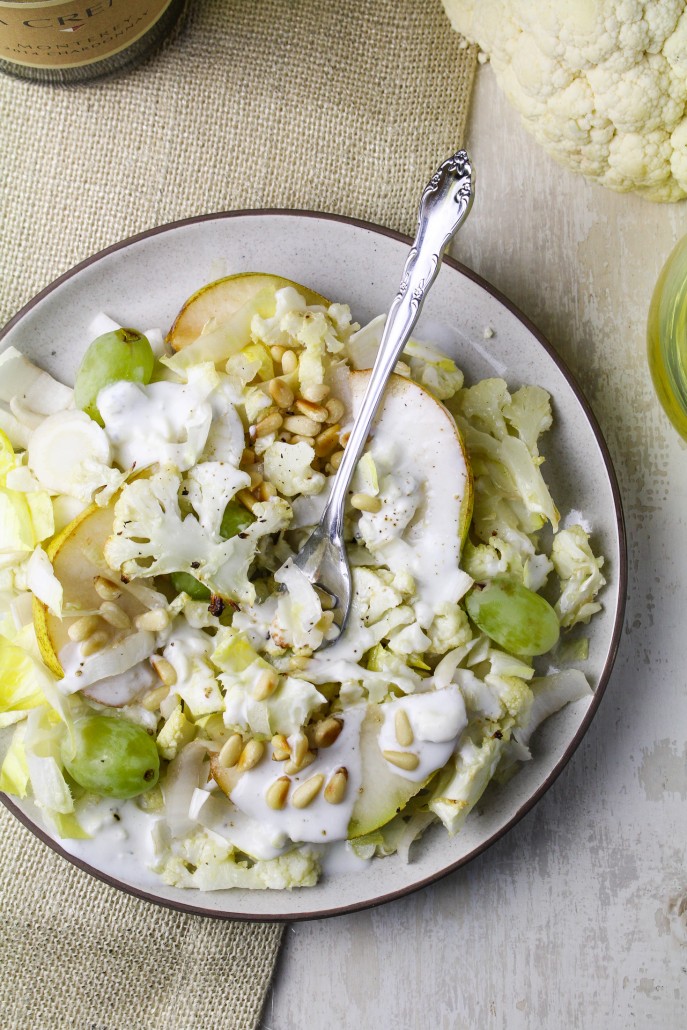 Salad can be sort of an unappealing proposition in the winter, when stews, roasts, and mulled drinks are the best suited foods for the weather. But during the holidays, it's more important than ever to find ways to consume fresh fruits and vegetables to offset all the heavy food and sweets we indulge in during parties and family meals. So I'm kicking off a series of winter salads here on the La Crema blog — healthy, fresh dishes that are still hearty enough to make a filling meal on a cold night.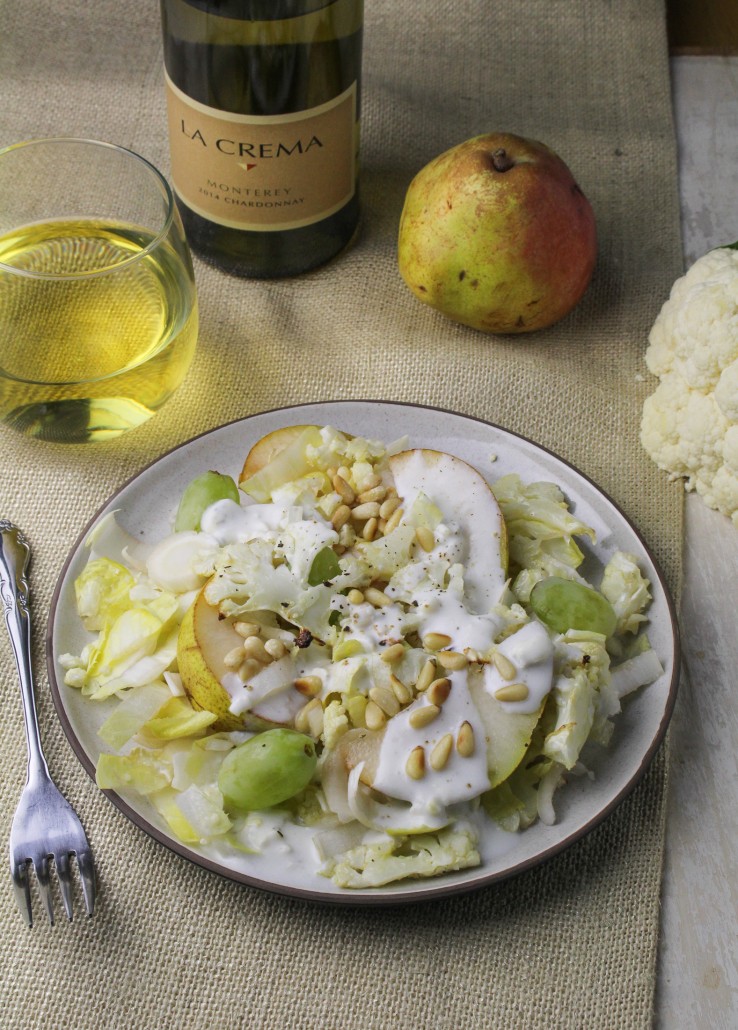 The first salad in this series is an all-white stunner. Roasted cauliflower, crunchy Belgian endive, sweet pears, grapes, and toasted pine nuts all come together with a blue cheese and buttermilk dressing to hit all the notes a salad needs: savory, bitter, sweet, and rich. The cauliflower adds some heft, but if you're looking to make this a heartier meal, a cup of prepared couscous stirred in definitely wouldn't be amiss. Served with a glass of La Crema Monterey Chardonnay, which has a buttery richness that complements the funky blue cheese and bitter endive really nicely, you have an elegant, veggie-based meal to keep your eating habits on track as we kick off the holiday season.
Winter White Salad
Author: Katie Morris
Prep time:
Cook time:
Total time:
Serves: 2
Ingredients
1/2 head cauliflower, florets cut into thin slices
1 tbsp olive oil
sea salt to taste
3 Belgian endives, cut into thin rounds
1 ripe pear, cored and thinly sliced
3/4 c. green grapes
2 tbsp pine nuts, lightly toasted in a dry pan
1 small clove garlic, finely minced or pressed
1/2 c. buttermilk
1/3 c. plain Greek yogurt
3 oz. blue cheese, crumbled
juice from 1/2 lemon
Instructions
Preheat the oven to 400F. Toss the cauliflower slices with the olive oil and sprinkle with sea salt. Spread on a metal rimmed baking sheet and roast until tender and lightly browned, about 20-25 minutes, flipping once halfway through.
To assemble the salad, toss the roasted cauliflower with the sliced endive. Divide between 2 plates and top each salad with a few slices of pear, a handful of grapes, and a sprinkling of pine nuts.
To make the dressing, whisk together the minced garlic, buttermilk, Greek yogurt, crumbled blue cheese, and lemon juice until thickness is consistent and a few chunks of cheese remain. Taste and adjust seasoning as desired. Drizzle dressing on top of each salad, refrigerating any extra dressing for another use.