All-Red Winter Detox Salad
This week between Christmas and New Year's, smack dab in the middle of "the holidays," is a particularly good time to be thoughtful about what we put into our bodies.
While the leftover roast beef, cheesecake, or stuffing hanging out in the fridge might be tempting, choosing a fruit-and-vegetable-heavy meal at least once a day for the next few days will have a big payoff. You'll certainly feel more energized, leaving you to enjoy one final night of indulgence this year guilt-free as we send-off 2015 with a bang.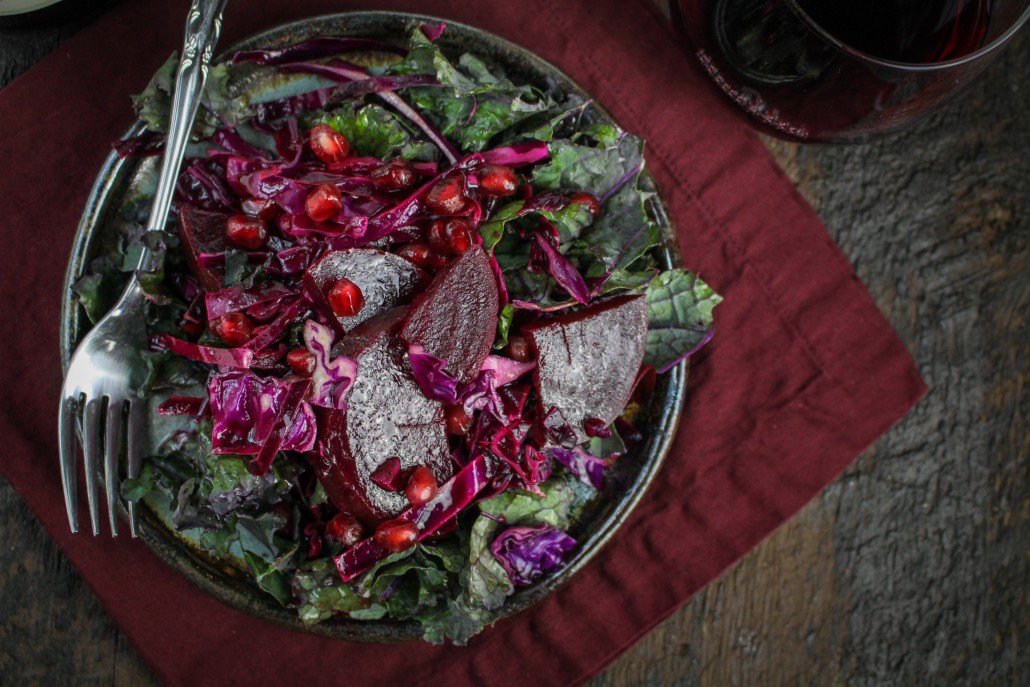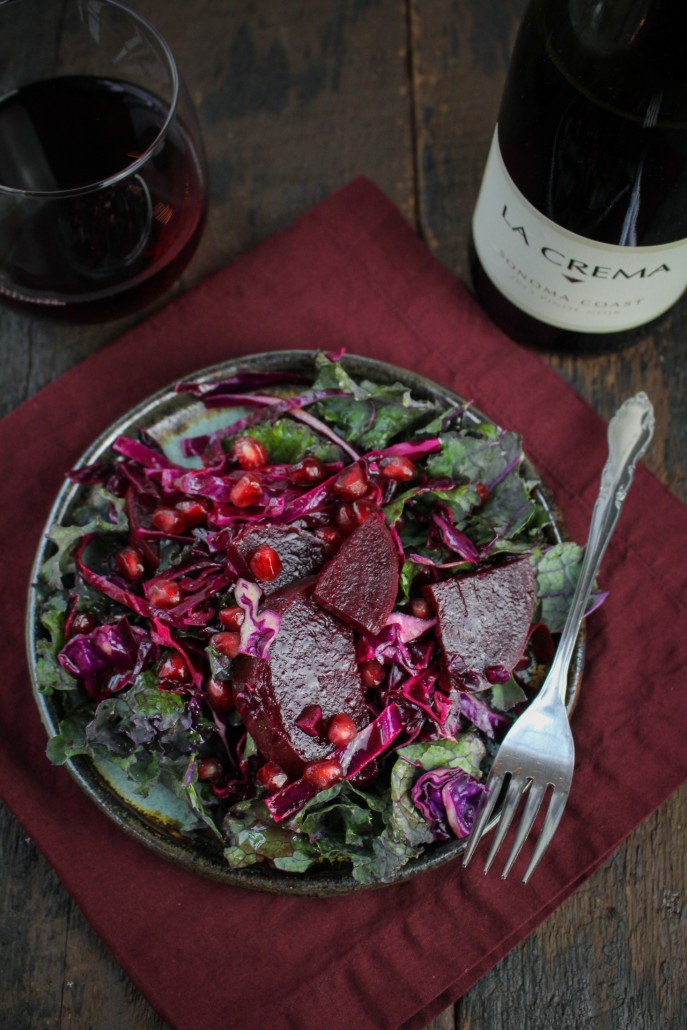 Right after Thanksgiving, I shared an all-white winter salad featuring roasted cauliflower, pear, Belgian endive, grapes, and blue cheese dressing. Sticking with the monochrome theme, this week I've got a festive, all-red stunner for you. With Russian red kale, beets, red cabbage, fresh pomegranate seeds, and balsamic vinaigrette, it's tangy, juicy, and really good for you.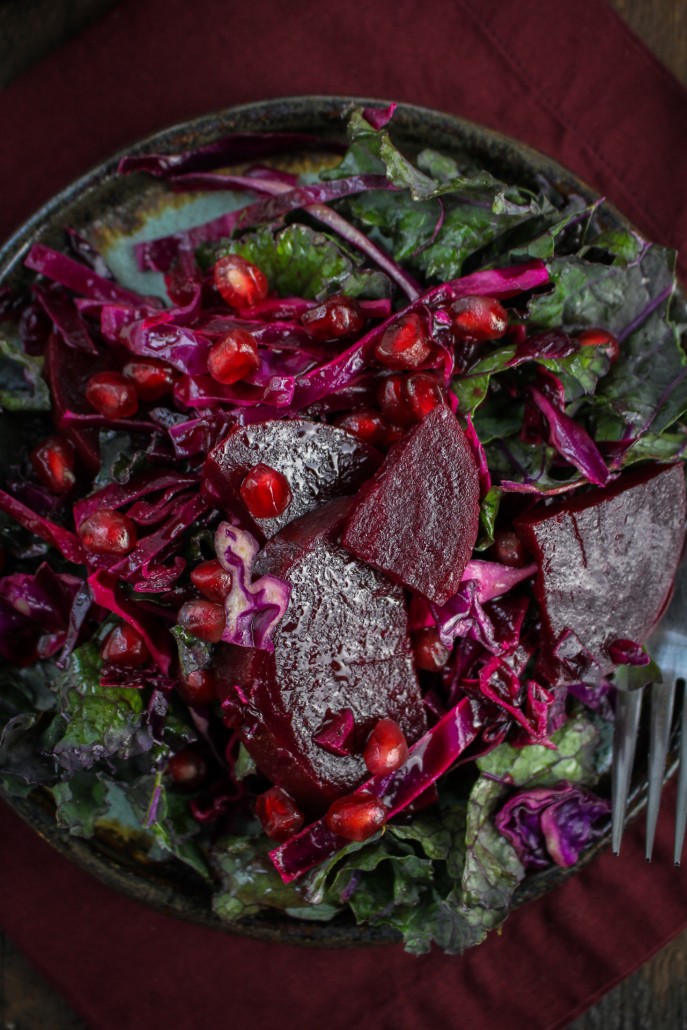 All those shades of red not only make for a visually stunning salad, they also signify an antioxidant powerhouse of a meal. Beets, red cabbage, and pomegranates are all rich in various types of antioxidants, and provide a large range of other health benefits as well. Served alongside a glass of La Crema Sonoma Coast Pinot Noir, it makes a light lunch or dinner that will leave you satisfied without feeling bogged down by heavy carbs and dairy.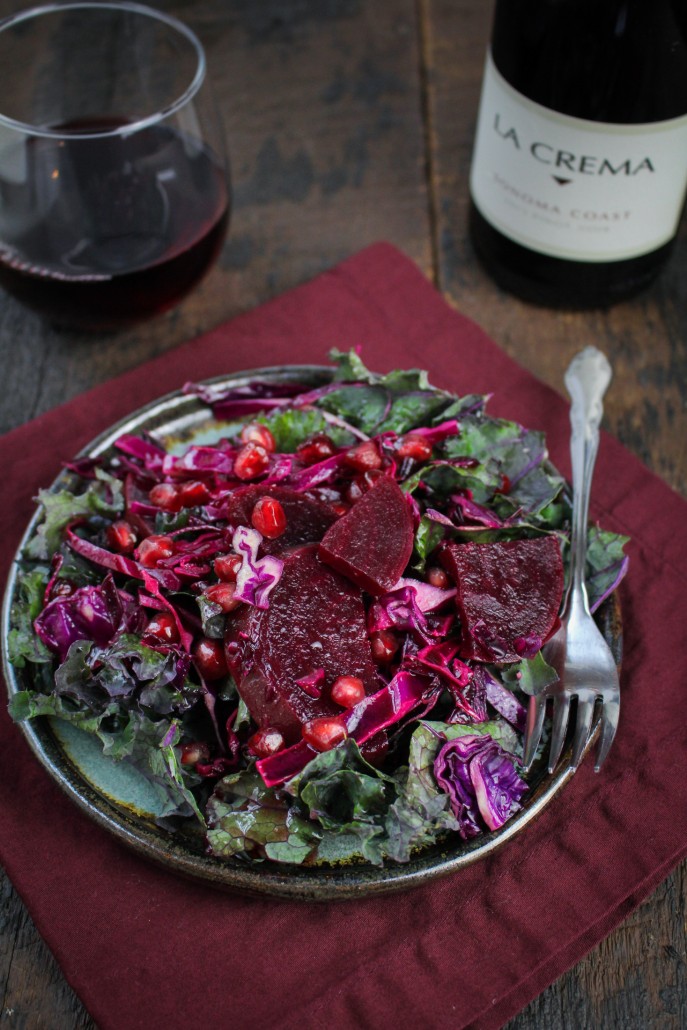 All-Red Winter Detox Salad
Author: Katie Morris of Katie at the Kitchen Door
Prep time:
Cook time:
Total time:
Serves: 6-8
Ingredients
4 large beets
1 small head Russian red kale, stemmed and roughly chopped
1 small head red cabbage, cored and thinly sliced or shredded
balsamic vinaigrette, to taste
seeds from 1 fresh pomegranate (about 1 1/2 cups)
Instructions
Cut the tops and tails off of the beets and place in a large saucepan. Cover with cold water and bring to a simmer over medium heat. Simmer, covered, until tender all the way through when poked with a knife, which should take 60-90 minutes. Drain the beets, let cool, and then remove the skin by rubbing or peeling it off. Thinly slice the beets and set aside
In a large bowl, toss the kale, cabbage, and sliced beets with the balsamic vinaigrette. Let sit for 30-60 minutes for the kale and cabbage to soften slightly. Divide between plates and top with the pomegranate seeds.