Cabbage and Kimchi Salad with Sesame-Miso Dressing
The last piece of our Korean-inspired dinner is a simple Cabbage and Kimchi Salad with Sesame-Miso Dressing. Every meal benefits from having some fresh, crunchy vegetables as part of it, and this one is no exception. The dressing, a mixture of tahini, miso, honey, ginger, and rice vinegar, is super flavorful and creamy. It's the kind of dressing that makes eating raw cabbage slightly addictive instead of slightly awful. The addition of kimchi, a funky, tangy, spicy fermented cabbage dish that's ubiquitous at any Korean meal, brings an unexpected heat and excitement to an otherwise sweet and mild salad. Kimchi can be an acquired taste, so start with a little bit and add more if you know you love it.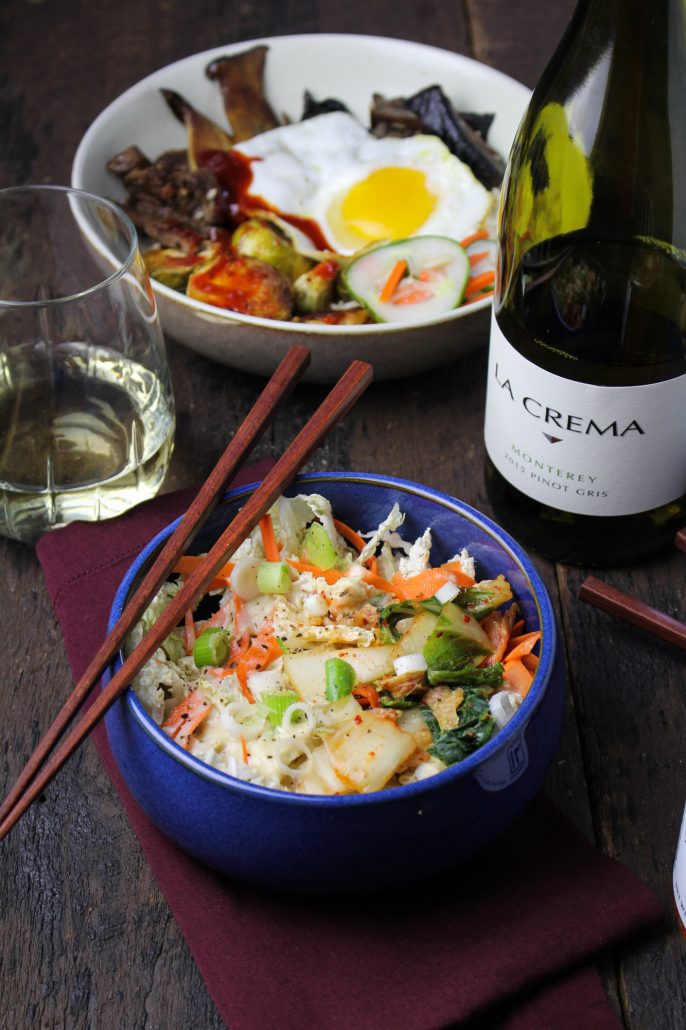 This salad could also make a nice, light standalone meal if you added some shredded rotisserie chicken or sautéed shrimp. Either way, a glass of La Crema Monterey Pinot Gris makes a nice pairing. Similar to the bibimbap, the crispness of the Pinot Gris tames the heat of the kimchi. Bright Pinot Gris, crisp cabbage, a zippy dressing, and the funky kimchi come together to make this a refreshing dish.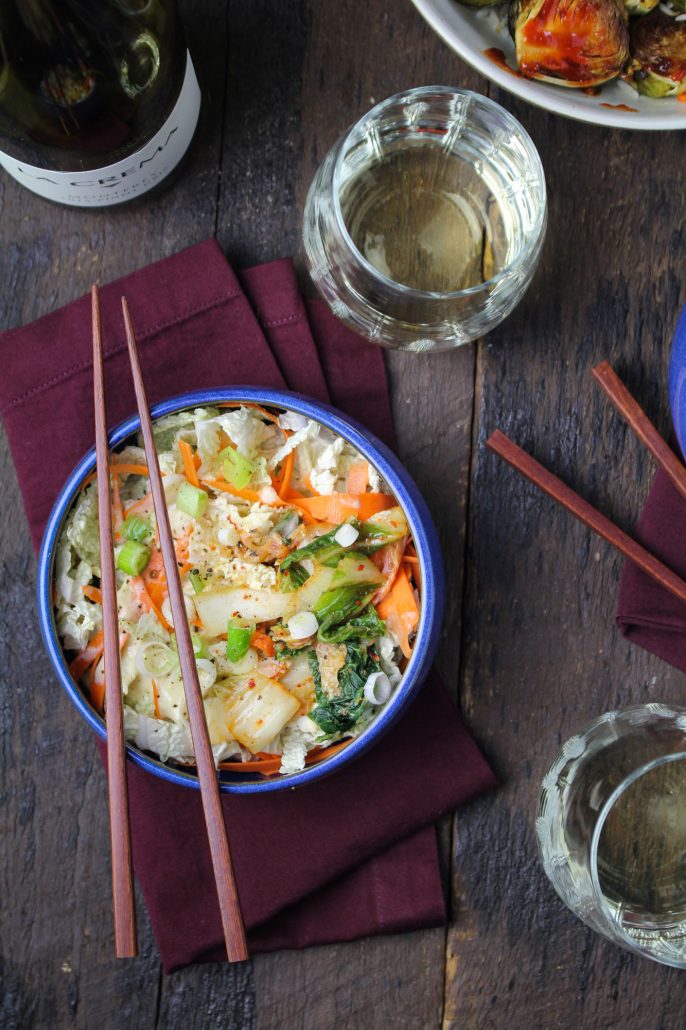 Cabbage and Kimchi Salad with Sesame-Miso Dressing
Author: Katie Morris of Katie at the Kitchen Door
Recipe type: Salad
Cuisine: Asian Fusion

Ingredients
4 c. shredded napa cabbage
2 carrots, peeled
½ cup kimchi
2 scallions, white and green parts sliced into thin rings, dark green tops discarded
1 TBS sesame seeds
2 TBS sesame oil
1 TBS honey
2 TBS rice vinegar
1 TBS miso paste
1 TBS tahini paste
1 inch fresh ginger, grated into a pulp
Instructions
Add the cabbage to a large bowl. Use a vegetable peeler to shave thin slices from the carrots, then cut the slices into fine matchsticks. Toss the carrot matchsticks with the cabbage. Add the kimchi, sliced scallions, and sesame seeds to the top of the salad.
To make the dressing, place the sesame oil, honey, rice vinegar, miso paste, tahini paste, and grated ginger into a jar with a lid. Close tightly and shake vigorously until the dressing is smooth. Alternatively, use a whisk or an immersion blender to blend the ingredients. Pour the dressing over the salad and toss gently to coat the cabbage with the dressing.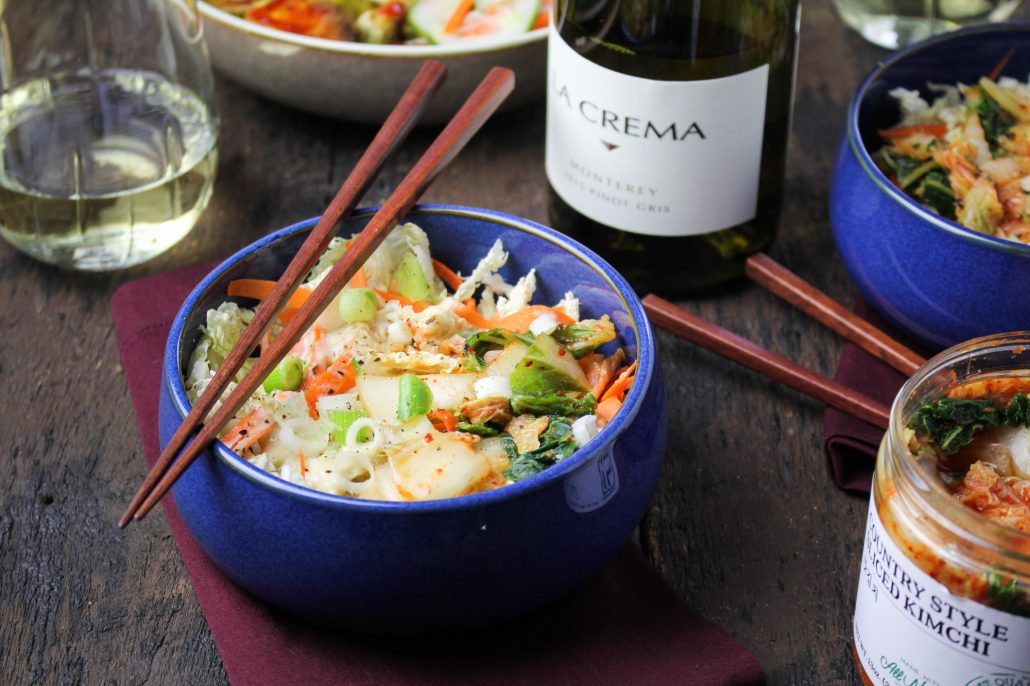 Korean-Inspired Dinner Series:
Vegetarian Lentil and Mushroom Mandu
Autumn Bibimbap with Gochujang-Roasted Brussels Sprouts and Tamari Portobello Mushrooms