Vegetarian Lentil and Mushroom Mandu
So many countries in the world have dumpling cultures, and the world is a better place for it. Turkey has manti. Poland has pierogi. Japan has gyozas and dango.  China has bao and dim sum and wontons and a plethora of other dumplings, and whole restaurants devoted to eating just dumplings. And Korea has mandu, a meat- and veggie-packed dumpling that falls somewhere in between Turkish manti and Japanese gyoza. Mandu can be boiled, fried, or steamed, be totally vegetarian or mixed, can be made with or without kimchi – and all the permutations are delicious.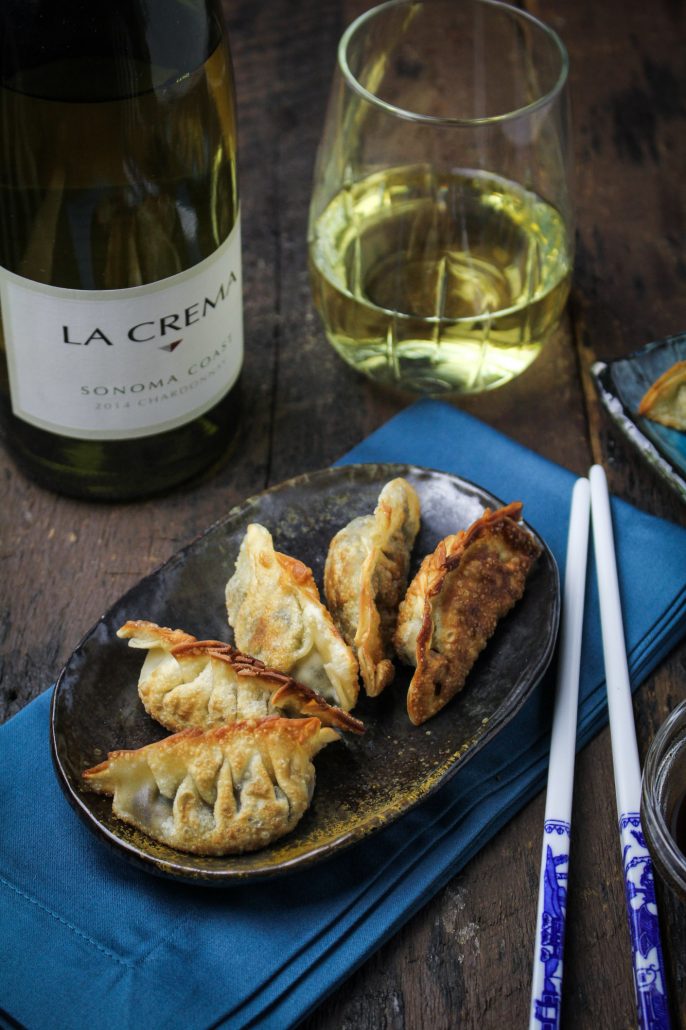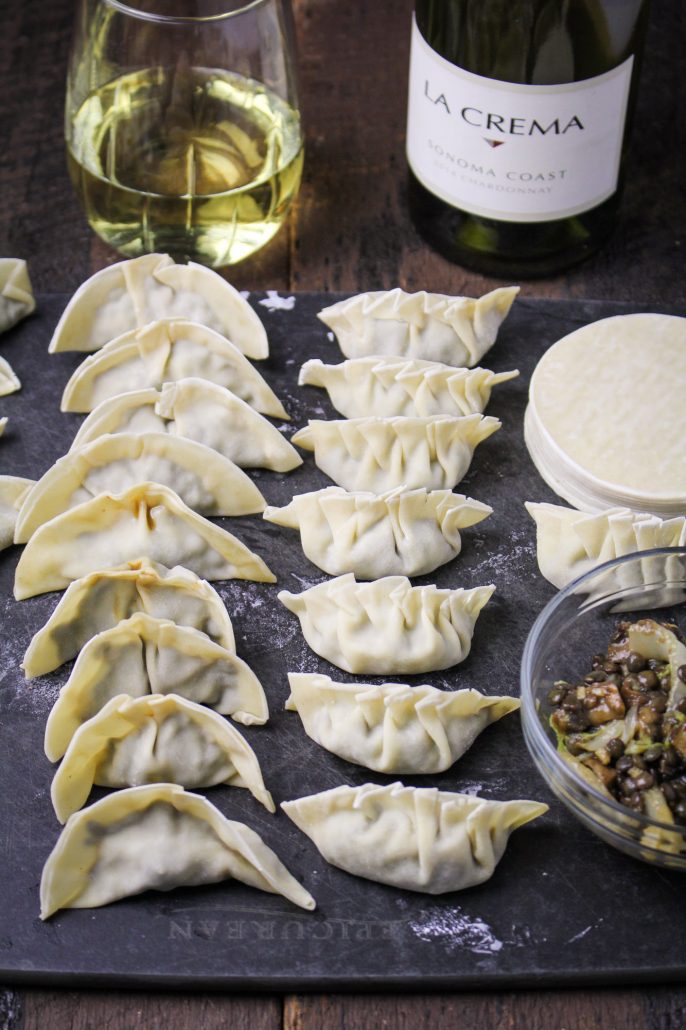 Now, I am not a dumpling expert, and I am also not a Korean-food expert. Not even close. So let's call a spade a spade and call this collection of recipes Korean-inspired, and not pretend that they are traditional. Starting with these Vegetarian Lentil and Mushroom Mandu. Yes, I know, lentils, not Korean. But bear with me, give these dumplings a chance. Because when my fiancé bit into one of these and murmured appreciatively, and then I told him a moment later that they were vegetarian, he looked at me with a mixture of shock and distrust. How could anything that savory, that meaty and addictive and delicious be vegetarian?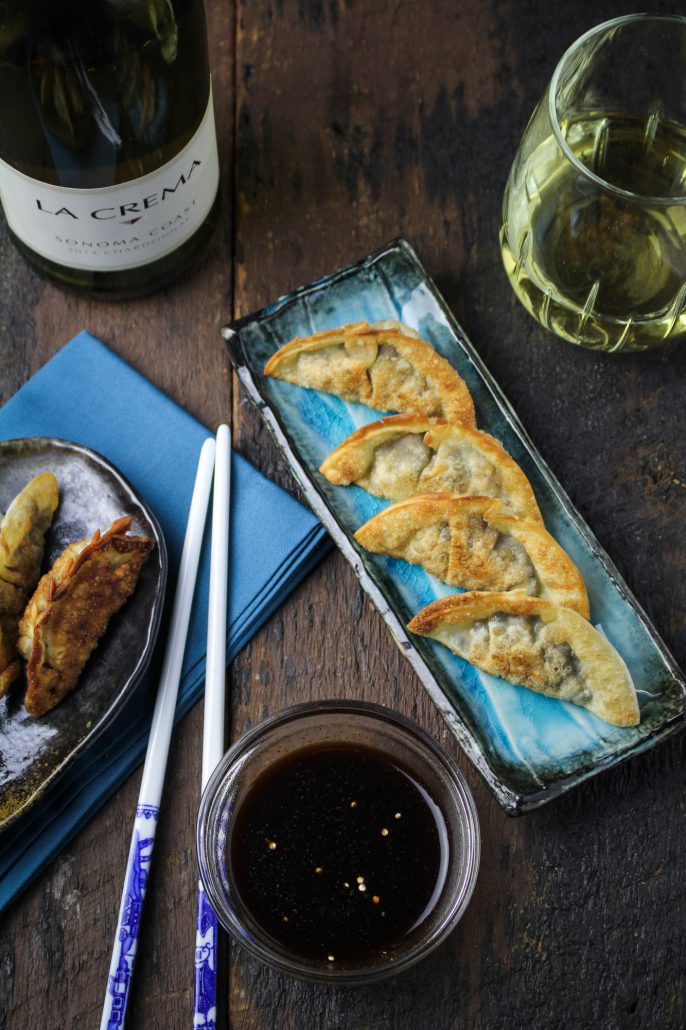 The answer is this: take lentils and cook them in a flavorful veggie broth. Sauté shiitake mushrooms in a mixture of butter, ginger, and garlic. Toss shredded Napa Cabbage with sesame oil and salt and pan-fry it until all the water is gone. Mix everything together with a spoonful of spicy-sweet gochujang and pack neatly into dumpling wrappers (if you need some help with this skill, like I did, I'd suggest YouTube). Fry until crisp and bubbly all over, then inhale them as quickly as you can (perhaps alternating bites with sips of La Crema Sonoma Coast Chardonnay, which is a perfect pairing). Now take a deep breath, sit back, and let it out. Dumplings, man. They are the best.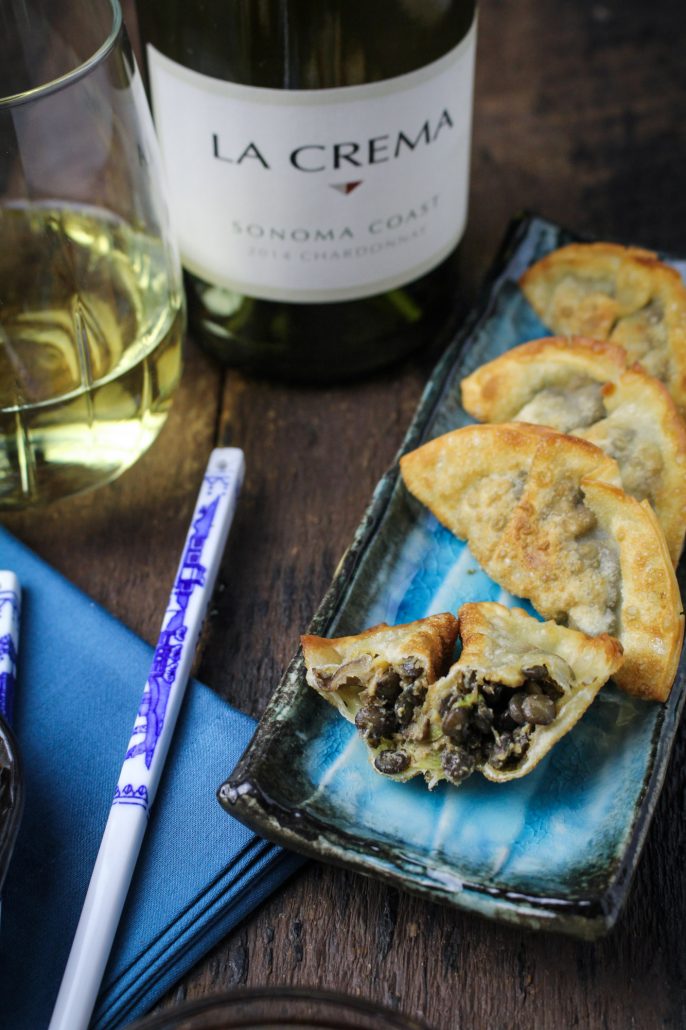 Vegetarian Lentil and Mushroom Mandu
Author: Katie Morris of Katie at the Kitchen Door
Recipe type: Appetizer
Cuisine: Asian Fusion
Serves: Makes 35-45 dumplings
Ingredients
¾ c. French puy lentils
2 c. vegetable stock
2 TBS butter
2 ½ c. roughly chopped shiitake mushrooms (in ½ inch pieces)
1 TBS canola oil
1 tsp sesame oil
2 tsp minced fresh ginger (from about 1 inch piece, peeled)
1 ½ TBS minced garlic (from 4-5 large cloves)
3 cups of shredded napa cabbage, white cores chopped into small pieces (from 8-10 large leaves, rinsed and patted dry)
Sea salt
1 tsp gochujang
35-45 gyoza wrappers
Small bowl of water
3 TBS canola oil, for frying
For the dipping sauce:
2 TBS soy sauce / tamari
1 TBS rice wine vinegar
1 tsp honey
1 tsp gochujang
Sesame seeds (optional)
Instructions
Rinse and drain the lentils, then add to a small saucepan with the vegetable stock. Bring to a simmer over medium heat. Cook until the lentils are tender but not falling apart and have absorbed most of the water, about 20-30 minutes (start checking them at 20). Drain any remaining liquid and set aside. Taste and add sea salt and pepper if desired (the flavor of the lentils will vary with the flavor of the stock you use).
Melt the butter over medium heat in a large frying pan. Add the chopped shiitake mushrooms and cook, stirring every 1-2 minutes, until golden brown all over and almost crispy. Remove from the heat and add the mushrooms to the lentils.
Heat 1 TBS of the canola oil and the 1 tsp of sesame oil over medium heat, in the same frying pan as you used for the mushrooms. Add the minced ginger and garlic and saute, stirring frequently, until fragrant and just beginning to turn golden, about 60-90 seconds. Add the shredded cabbage to the pan and season liberally with sea salt, then stir fry, stirring frequently, until the cabbage has released its liquid and the liquid has evaporated completely. This should take about 4-6 minutes, but try not to take it off the heat too early – the cabbage will reduce to about 1/3 of its original size and may start to brown slightly in the pan. You want the cabbage to be really dry to keep the dumpling filling from getting soupy. Stir the cooked cabbage into the mushroom and lentil mixture.
Stir the gochujang into the mixture, then season to taste with sea salt. Place the thawed gyoza wrappers on a flat surface. Working one at a time, place 1-2 teaspoons of filling in the center of a wrapper, dip your finger in the water and run it around the edge of half of the wrapper, then fold the dumpling into a half moon shape and pinch or pleat the dumpling closed, pressing firmly to seal the dumpling. Set dumpling aside on a tray. Repeat until you have used all of the filling.
Heat the canola oil for frying in a large saucepan over medium heat. Dumplings should immediately sizzle when you place them in the pan – if they don't, wait another minute for the oil to get hotter. Working a few at a time, fry the dumplings until they are golden brown all over, which takes about 30-45 seconds per side. Use tongs or a spatula to remove the dumpling to a paper-towel lined tray. Repeat until all the dumplings are cooked.
To make the dipping sauce, whisk all of the ingredients together. Serve with the hot dumplings.
Korean-Inspired Dinner Series:
Cabbage & Kimchi Salad with Sesame Miso Dressing
Autumn Bibimbap with Gochujang-Roasted Brussels Sprouts and Tamari Portobello Mushrooms