Citrus-Marinated Carne Asada Tacos
Cinco de Mayo is around the corner, and it's appropriately time to fire up the grill for some fantastic Mexican dishes. Carne Asada is one the quintessential elements of great Mexican cuisine, and these carne asada tacos definitely take it seriously.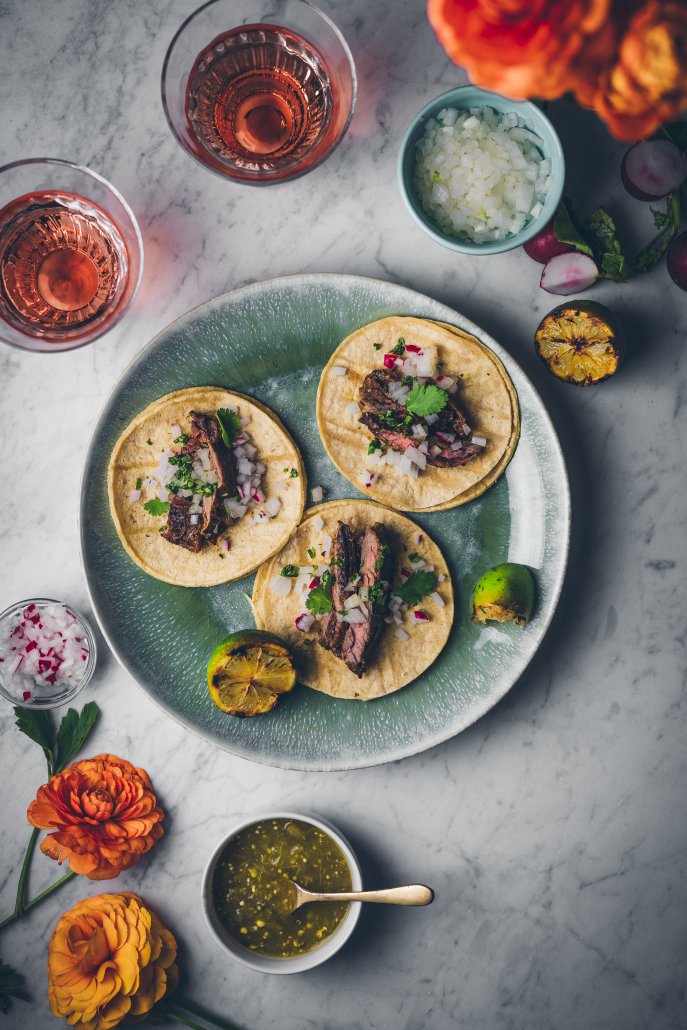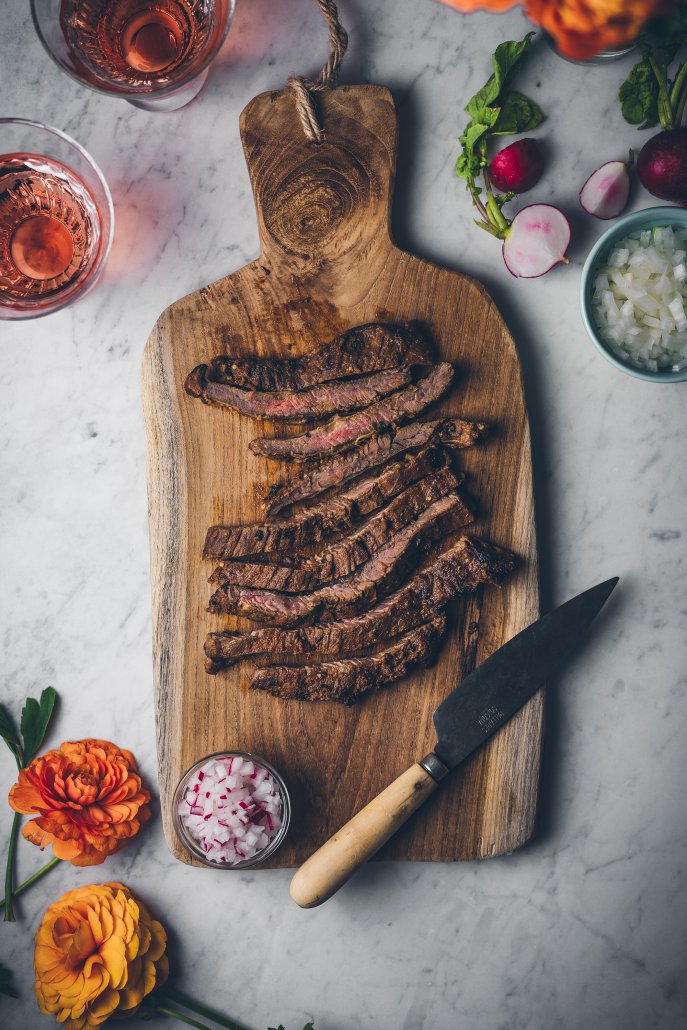 Though there are many styles of carne asada tacos, I've chosen to create a recipe that combines smoky flavors with a citrusy marinade, along with textured toppings and soft corn tortillas. Skirt steak is my personal favorite for this recipe, as it's tender, buttery, and very rich in flavor. The marinade starts off with the sweet and citrusy components of orange and lime for lightness and acidity. Next, a dynamic spicy layer is made out of garlic, ancho chili powder, black pepper, and jalapeños. Salt and oil happily come into play as expected, while chipotle peppers lend an aromatic preview to the smoky char that's to come at the grilling stage.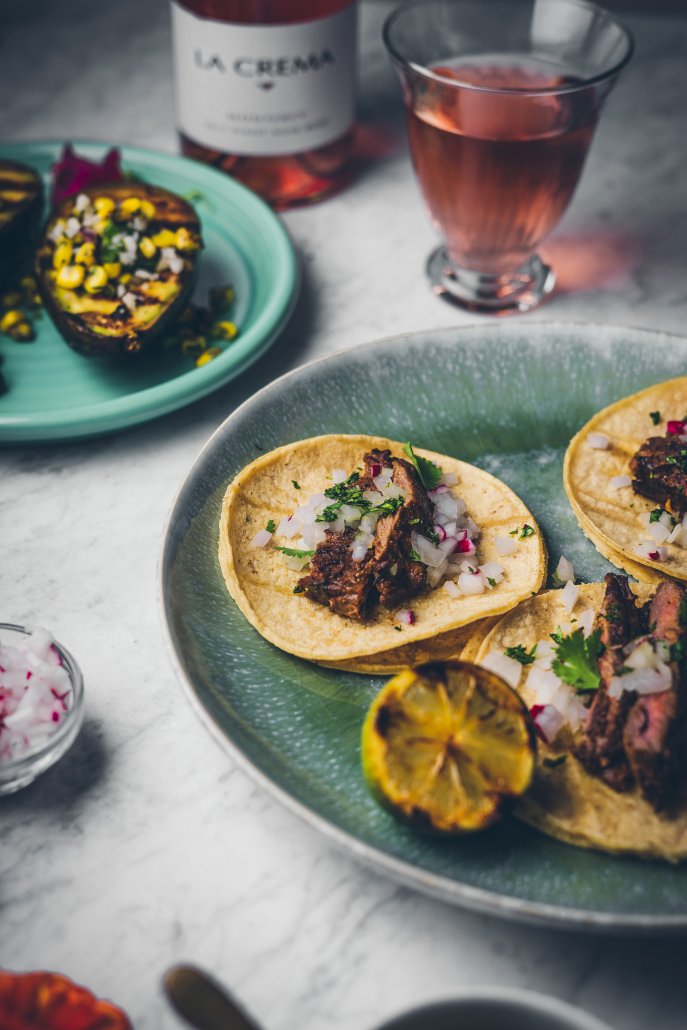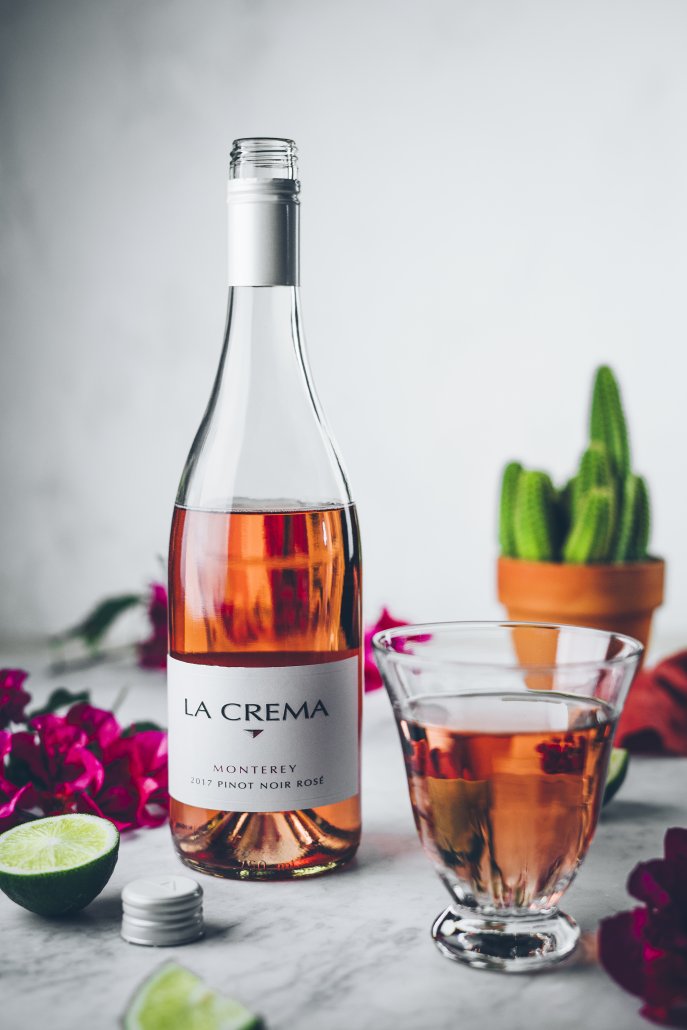 The grilling, toppings, and tortillas are straightforward but no less essential on account of their simplicity. Strips of skirt steak fit neatly in a lightly-toasted corn tortilla. White onion and radishes provide a wonderful crunchy texture while cilantro gives the dish an herbal lightness. It's finished off with some charred lime, which brings out the rich flavors of the marinade even more.
Citrus-Marinated Carne Asada Tacos
Author: Kristan Raines
Cuisine: Lunch/dinner
Prep time:
Cook time:
Total time:
Serves: 6-8 small tacos
Ingredients
Citrus Marinade
4 tbsp olive oil

4 tbsp fresh lime juice

4 tbsp fresh orange juice

1 tbsp light brown sugar

4 garlic cloves, minced

1/2 tsp freshly ground black pepper

1 tsp chipotle powder or sauce

1 ½ tsp ancho chili powder

1 1/2 tsp cumin

½ tsp Mexican oregano

3/4 tsp kosher salt

1/2 jalapeno, seeds removed and diced

1/3 cup cilantro, roughly chopped
For the tacos
16-20, 6-inch corn tortillas
3/4 cup diced white onion
1/2 cup diced radishes
1 bunch cilantro, chopped
5-6 limes, cut in half or quartered
Instructions
Whisk together all of the marinade ingredients in a shallow baking dish. Alternatively, you can also place the marinade ingredients into a large gallon sized ziplock bag. Seal the bag, then mix everything together by rubbing the bag between your hands.

Place the meat in the baking dish or ziplock bag, cover with plastic wrap/seal the ziplock bag, and place in the refrigerator. Allow the meat to marinate for a minimum of 45 minutes and for a max of 5 hours (the meat will break down if marinated any longer).

Preheat an outdoor grill, or a cast iron grill pan to medium-high. Place the meat on the grill and cook for 8- 10 minutes, about 4-5 minutes on each side, or until desired doneness is achieved. Let the meat rest for 5 minutes, season with a bit of salt, and then slice into strips. When slicing, make sure to cut against the grain.

While the meat is resting, place the cut limes on the grill and cook for about 1-2 minutes, or until nicely charred. While the limes are on the grill, begin to warm up the tortillas by placing them on the grill.

Assemble the tortillas by stacking two on top of each other for each taco. Divide the meat between the tacos, top with diced onion, radishes, chopped cilantro, and a squeeze of charred lime.

Enjoy!
As a side, we whipped up some grilled avocado cups which are absolutely delicious along side the carne asada tacos. Check them out!
If enjoyed properly, that is, on a sunny afternoon or warm summer evening, these carne asada tacos find a welcome friend in La Crema's Monterey Pinot Noir Rosé. Its play of ripe fruit and citrus complements the marinade perfectly, while its fruit-forward vibrance contrasts the kick off the tacos' spice. So pick up a bottle of La Crema, grab a couple pounds of skirt steak, and get to work!