Discover Latin Dishes and Wine Pairings
¡Salud a la vida! with La Crema
We are thrilled to welcome you to a truly delectable celebration as we raise our glasses to Hispanic Heritage Month. Here at La Crema, we believe that every sip of wine and every bite of food tells a story—and what better way to commemorate this special month than through the art of wine and cuisine? Salud a la vida with La Crema!  
Latin food and wine have always been an amazing combo, and we are honored to have joined forces with renowned Latinx food writer Marisel Salazar to design a pairing with one-of-kind recipes she created specifically for La Crema wines. Continue on to learn more about Hispanic Heritage Month, the amazing Marisel Salazar and celebrate life's flavor's with delicious Latin recipes to pair with La Crema wines. 
QUICK LINKS

TIME TO MAKE MAGIC HAPPEN
First thing is first, you'll need an appetizer. Marisel has made three salsa recipes so you can create your own salsa bar. And if you really want to show off your culinary mastery skills, make your own tortilla chips. Not only can you choose how you want them cooked (air-fried, baked, or fried), but you can also take pride in getting the perfect crunch consistency.
Salsa Bar
A Salsa tasting bar offers an array of ingredients that are mixed and matched to create a variety of unique flavorful bites. You can offer something sweet, slightly smoky, and (of course) SPICY. Those homemade tortilla chips just got a whole lot more delicious!
Homemade Tortilla Chips: Air-Fried, Baked, and Fried
With these three cooking options, you can choose the method that best suits your taste, dietary, and kitchen appliance preferences.
Main Dishes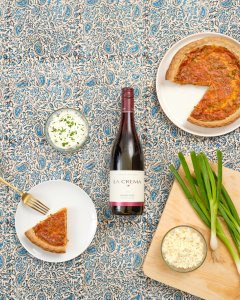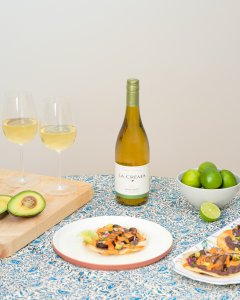 A (Very) Brief History
Hispanic Heritage Month starts on September 15th and ends on October 15th. The timing is linked to the Independence Day celebrations of some Latin American countries. On September 15th 1821, five nations—Costa Rica, El Salvador, Guatemala, Honduras, and Nicaragua—declared their independence from Spain. This month is a great opportunity to learn more about the rich history and traditions of our neighbors and celebrate the Hispanic community's influence and contributions to American culture.
A Perfect Partnership
We are incredibly honored to collaborate with the heart and soul behind this flavorful journey—the amazing Marisel Salazar. As previously stated, Marisel is a Latinx food writer, recipe developer, cocktail and wine specialist, and world traveler. Her passion for sharing her rich culinary heritage and creating mouthwatering dishes is contagious, and we could not be more excited to have her join us on this wine and foodie-filled adventure.
As we embark on this food and wine feast, our aim is simple: to create a space where Latinx flavors, Hispanic traditions, and La Crema wines harmoniously come together, inviting both seasoned wine aficionados and vino-curious newbies to savor a full-flavor experience that delights all the senses.
About Marisel Salazar
A Culinary Connoisseur
Marisel was born in Panama and is of Cuban descent. She grew up with a cooking-loving gastrónomo mom who was influenced by the greats like Martha Stewart, Julia Child, Jacques Pepin, and Marisel's grandmother. Her mom married an American military member which enabled Marisel to travel the world and be exposed to a variety of cuisines all before the age of ten.
Marisel's Early Years: How She Collected Her Vast Ingredient List
At three years old, Marisel's family moved to Hawaii. There, she experienced the island's cuisine, which is a fusion of Japanese, Portuguese, Puerto Rican, and American ingredients. At six years old, her family moved to Japan where she immersed herself in Japanese culture and food. While living in Japan, her family vacationed in South Korea, further expanding Marisel's culinary schema.
After Okinawa, they settled in northern Virginia. Virginia was a perfect place to settle for an up-and-coming food writer because it was a melting pot of cultures, including Latin American, Chinese, Vietnamese, and Ethiopian—all of which influenced and inspired Marisel.
From Foodie Lover to Food Professional
Originally, Marisel focused on a corporate career (despite taking and loving culinary and wine-tasting courses). The idea of being a full-time food writer wasn't a consideration for her until a single bite of an anchovy-stuffed olive in Madrid changed her life: "This single-serving culinary awakening was my Remy-the-rat Ratatouille moment, a full-body fireworks feeling that inspired my calling and career as a food, travel, and lifestyle writer and host. I was completely floored by the sublime umami, salty, savory meatiness of that mouthful."
In 2014, Marisel was laid off from her corporate job and she took the job loss as an opportunity to move to New York and start her own copywriting business.
While juggling afternoon chef interviews, late-night research, and learning about wine and cocktails, Marisel wrote hundreds of articles. All her hard work had paid off because editors and producers started reaching out to her for her expertise. As a go-to gastronomy expert, Marisel had not only become a trusted culinary and wine writer but also a household name.
Latin Dishes and Wine Pairings
Marisel took viticulture and enology classes while in college and later specialized in wine with a focus on non-traditional pairings like vegan cheese, Mexican cuisine, and sushi. Her expertise drew the attention of wine groups and tourism boards, taking her to iconic wine regions including Chablis, Côte de Bourgogne, Sicily, Champagne, and Napa. She contributed her insights to esteemed publications like the Michelin Guide, VinePair, Wine Enthusiast, and INSIDER. With all of her accolades, we are honored that Marisel has partnered with us to create amazing recipes to pair with La Crema wines.
Now it's time to let your taste buds be your guide and celebrate Hispanic Heritage Month with Marisel's food and wine pairing.
TIME TO START COOKING!
Let's raise a glass to these amazing flavors and give a special, virtual cheers to Maria for teaming up with us to create such a delicious meal and pairing in honor of Hispanic Heritage Month. Take your time enjoying every bite and sip, and really soak in the experience as it creates a unique sensory story of history, creativity, and culture.
Now go try it for yourself! You can find all three recommended wines here. And don't forget to tag us in your photos @LaCremawines, so we can see how you're celebrating this special month and so we can hear your stories!
THE WINE FOR THE PAIRINGS

İSalud a la Vida! Wine Pack
Cheers to life with La Crema and celebrate life's flavors with this special wine pack that pairs seamlessly with the delicious Latin-inspired dishes curated by culinary expert Marisel Salazar.
2022 Sonoma County Sauvignon Blanc, 2022 Monterey Chardonnay, and 2022 Monterey Pinot Noir