DIY Halloween Pumpkin Wine Cooler
Sure cauldrons are great for making a witch's brew, but for keeping your Halloween Chardonnay cold, we thought a fun, glittery pumpkin wine cooler was a perfect trick for our liquid treats. Courtney, from Sweet C's Designs has the easy instructions.
We're going to make a glitter pumpkin cooler. This is one of my favorite Halloween crafts—and it is so incredibly easy! We're even using a method that helps to reduce glitter residue from getting everywhere. The entire project takes about 10 minutes of active work, with just a little drying time.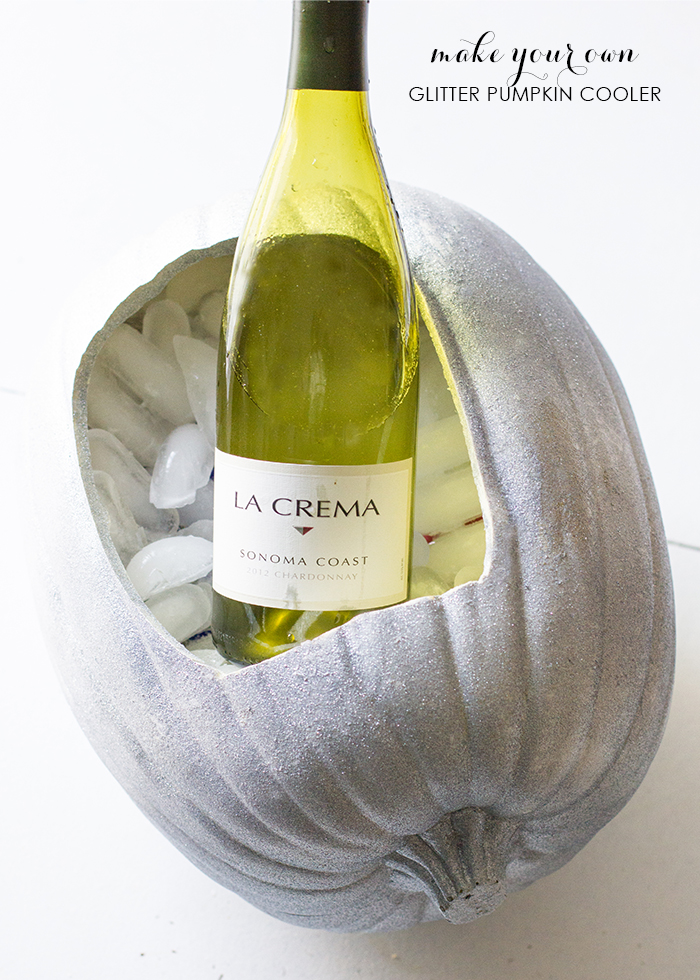 DIY Pumpkin Wine Cooler
Materials
1 large funkin foam pumpkin (preferably white as it allows you to use less glitter spray)
1 can Glitter Blast spray paint (you need the "Glitter Blast", and not just glitter spray- or it will not be very visible.)
1 can clear sealant spray paint
Knife
Spray paint mask
Instructions:
Start off by cutting a large hole into the side of your funkin. I didn't really go with any set design- but you could cut ridges or scallops into it if you'd like. Just make sure it's big enough to fit a couple of bottles of wine in!
Next, spray generously with glitter blast. Get the sides, the inside rim (dont worry about too much inside the pumpkin) and all around the pumpkin. I also let it dry a bit and painted the bottom too- just to avoid any unpainted bits showing.
When the pumpkin is coated with glitter paint, let dry 40 minutes.
Spray with a generous coating of clear sealant spray paint – anywhere you painted with glitter spray. This helps glitter from getting everywhere.
Let dry overnight.
When dry, add bottles of wine before party and fill with ice.

Glam Glass Decals
There's nothing scarier than not knowing which glass of wine belongs to you. Avoid this horror with an easy DIY for these fun, removable,  adhesive "charms."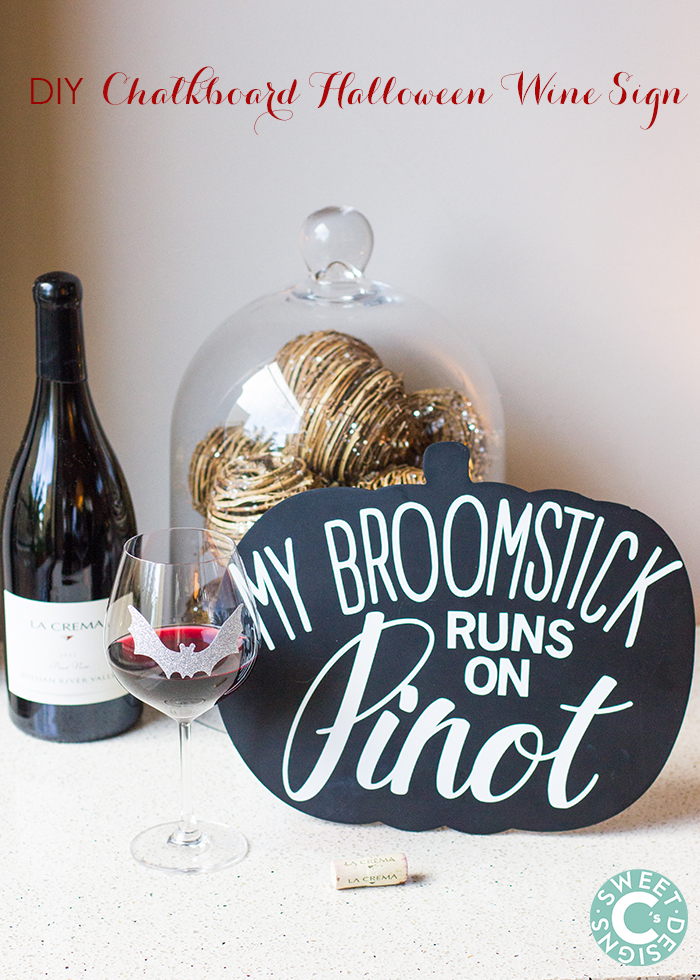 DIY Chalkboard Halloween Sign
To make your own DIY Chalkboard Halloween Wine Sign, head over to Sweet C's Designs to get the full tutorial and download information. It also comes as a cute printable chalkboard sign, so you don't have to make the decals if you would rather just print and pop into a frame for a party!
Share this on Pinterest!