Fall Al Fresco Dinner Party Styling Tips
Alas, fall is here — one of my favorite times of the year! I am such a sucker for cozy sweaters, hot tea, the leaves changing, and autumn-themed parties, like this fall al fresco dinner party I'm going to share with you.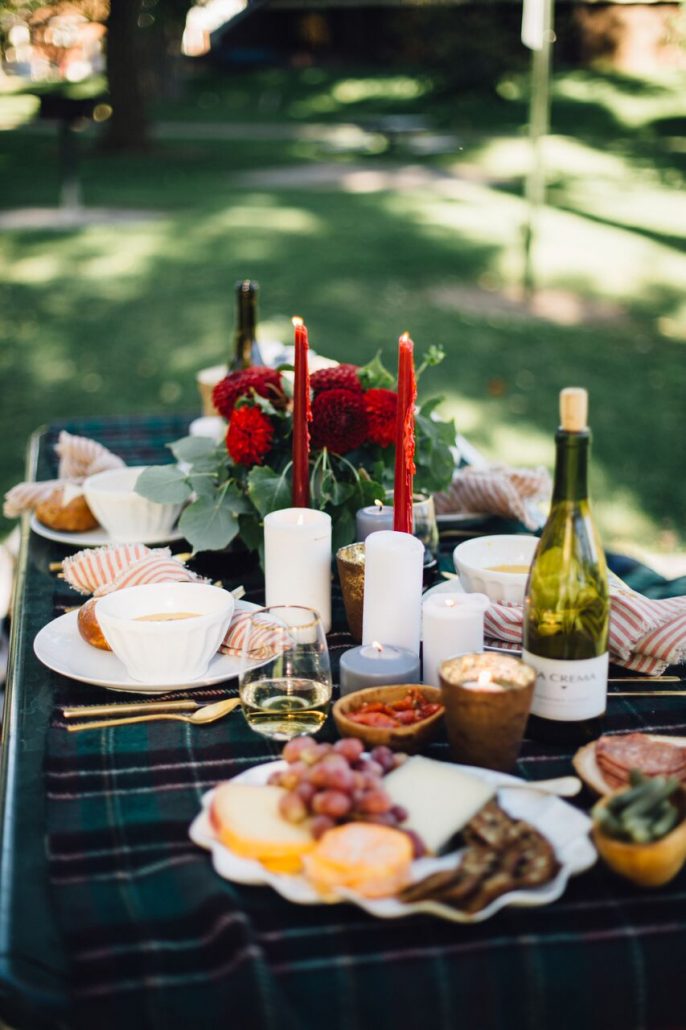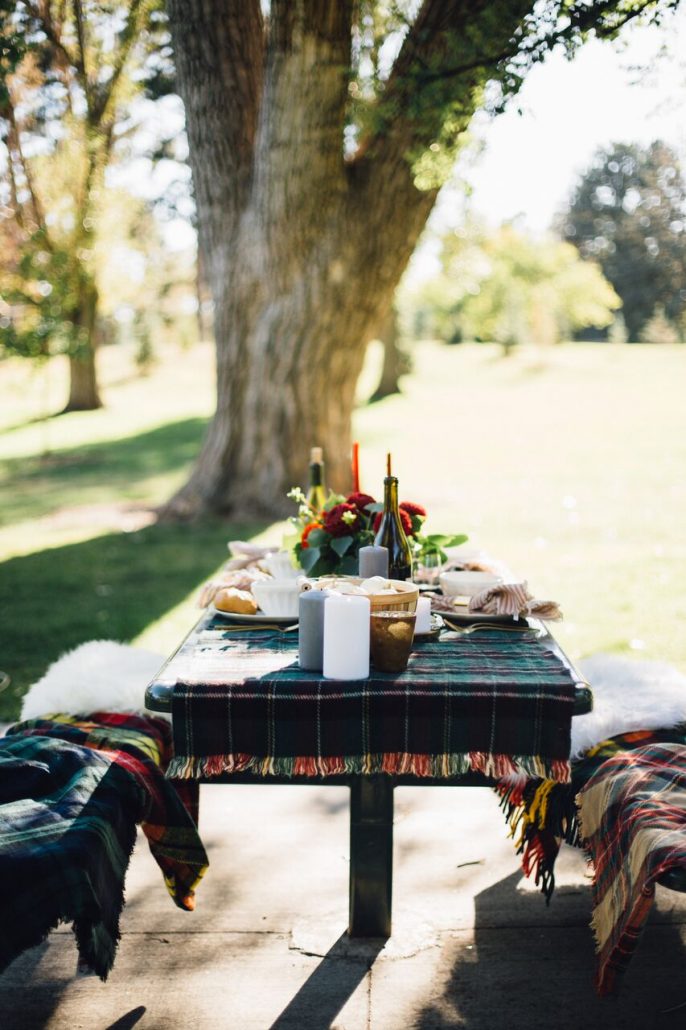 Living in Colorado the weather does not usually get colder until the end of October. The sun here is very strong so even when it is in the 50's it still feels warm out. That being said, our time spent outside throughout the fall is much more frequent here in Denver and what better way to kick off celebrating this magical season than with an al fresco dinner party.
From warm fall colors to plaid blankets for each guest, this party is nothing short from fall feeling. Dahlias are at the end of their season, however if you do come across them (I found these ones at my local grocery store), they make a great addition to any fall table. I love the bright red ones! A simple plaid table cloth and striped napkins makes for a great mix of patterns in your table setting. A touch of gold in the silverware and napkin rings gives this the perfect pop of vibrance and sparkle during golden hour.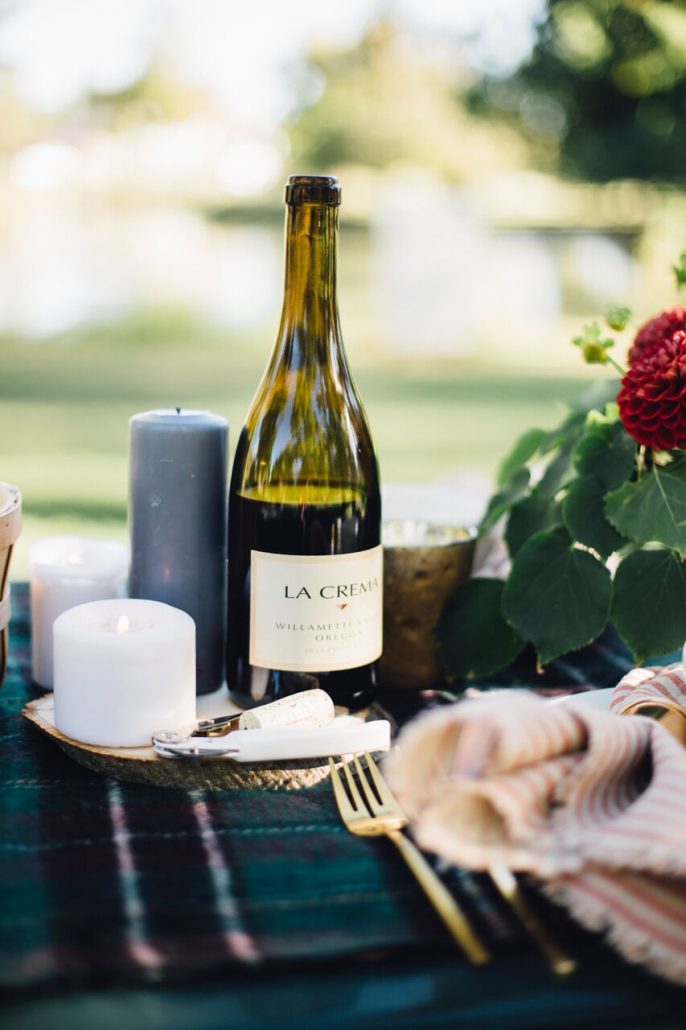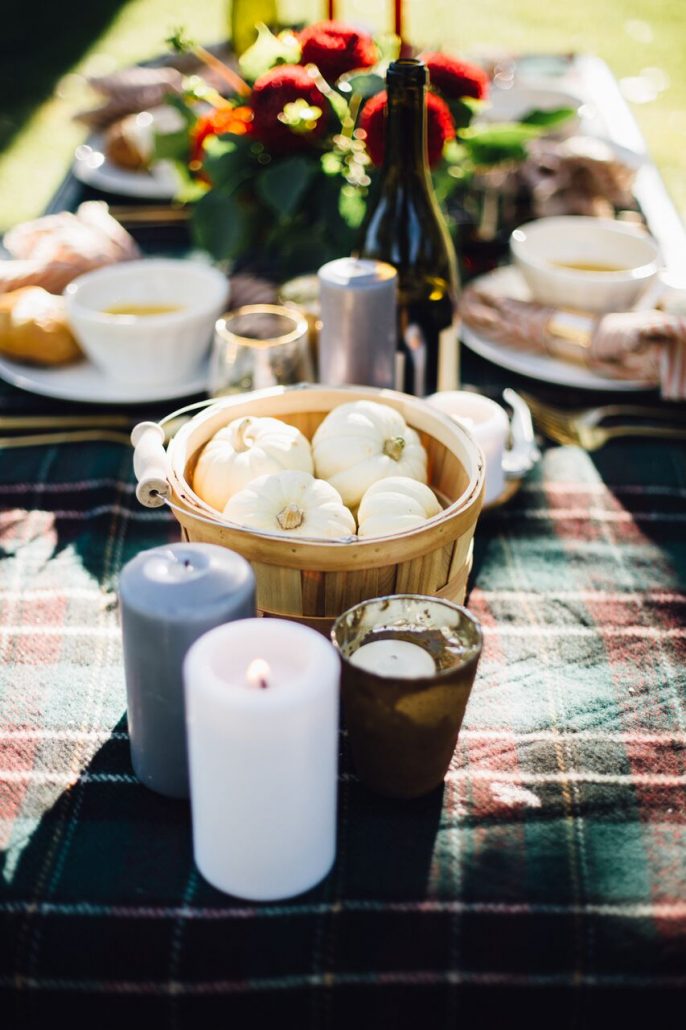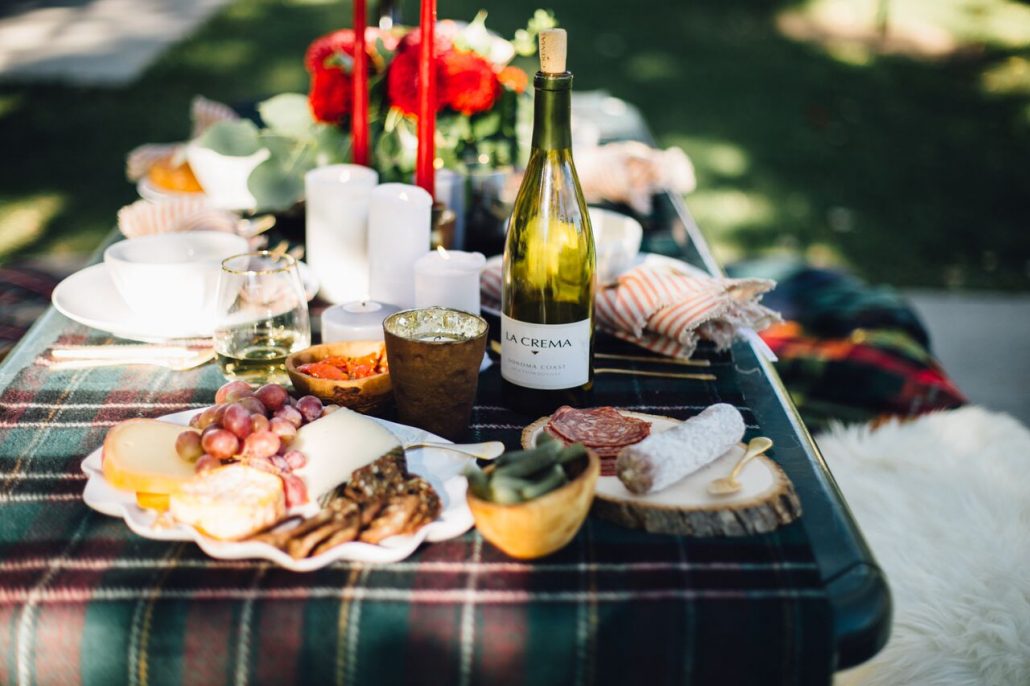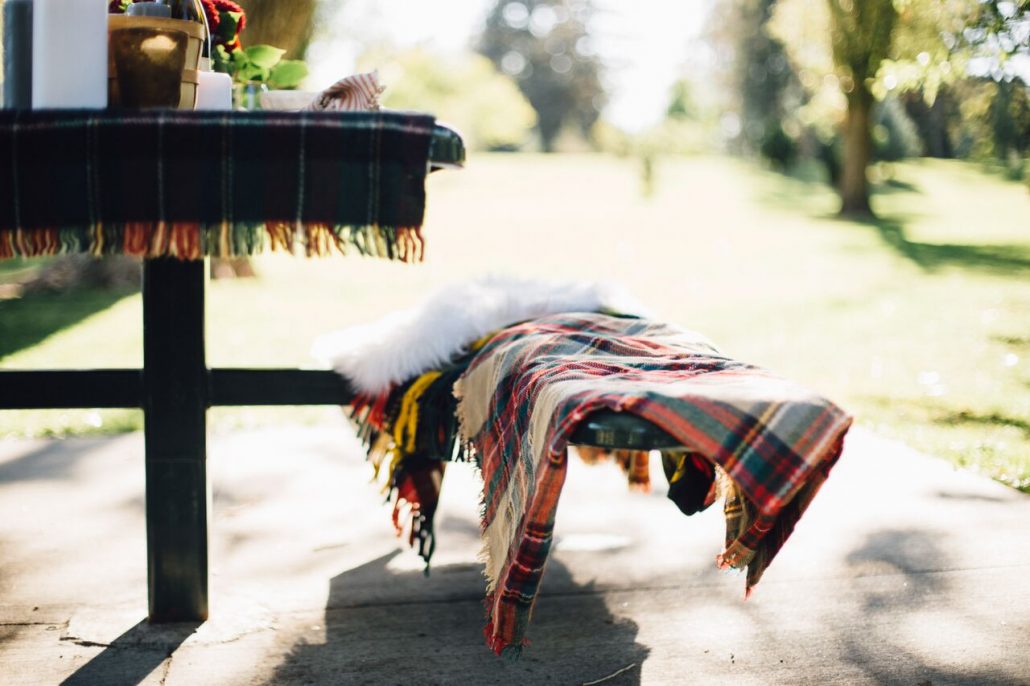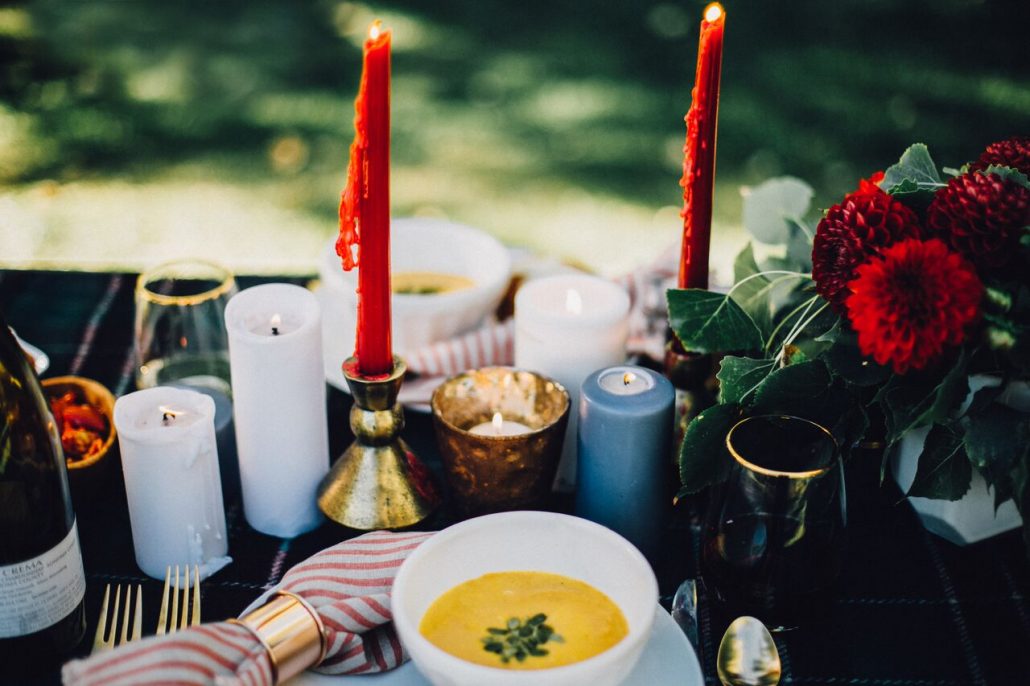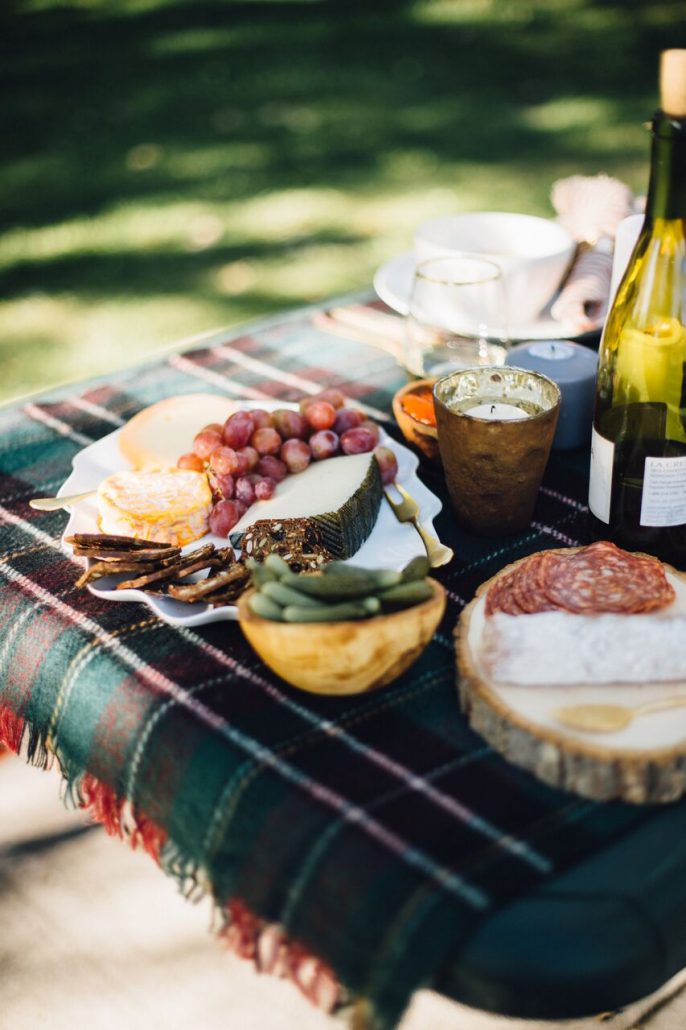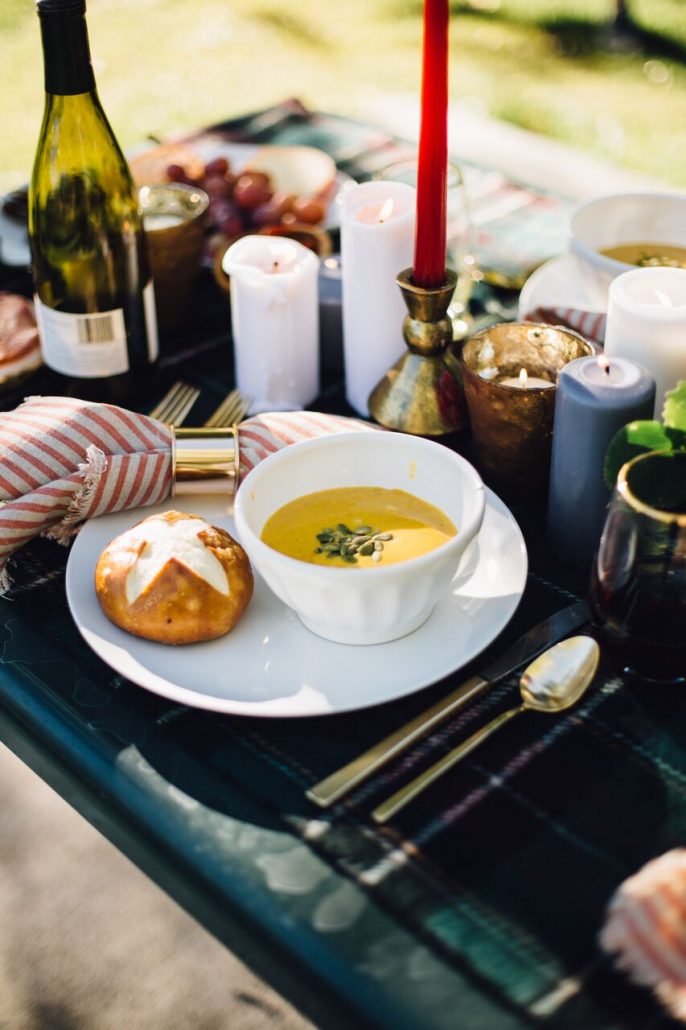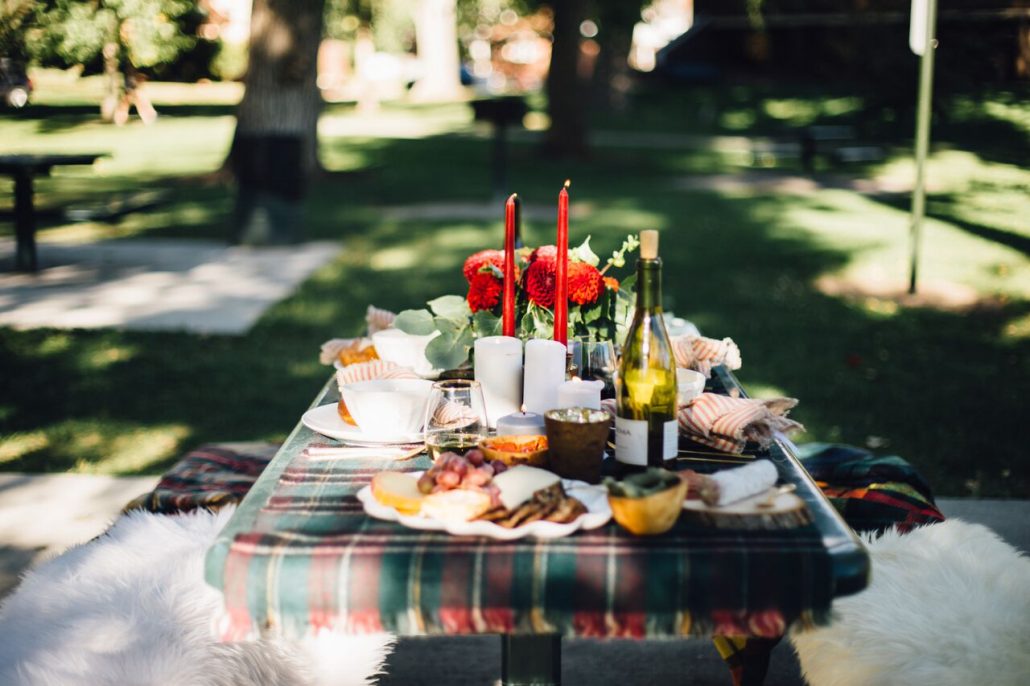 For this party I thought it was fitting to serve soup with a warm pretzel roll to pair perfectly with La Crema Willamette Valley Pinot Noir and the Sonoma Coast Chardonnay. Both pleasing to your guests fall-craving palates. In addition, there is nothing more pleasing than a fall-inspired charcuterie spread. Adding heavier cheeses like a gouda or a merlot goats milk adds variety and a more weighty tasting when paired with pears and red grapes. If you haven't figured it out by now, I am a cheese lover!
Butternut squash soup is the perfect meal to serve at any fall party, and especially an al fresco dinner party. This soup is full of so much flavor from the butternut squash to the nutmeg. If you plan to serve this al fresco, make sure to serve it to your guests immediately. I recommend bringing the soup pot out on the table covered so everything is served warm. Sprinkle roasted pumpkin seeds on top to give a little extra fall flavor!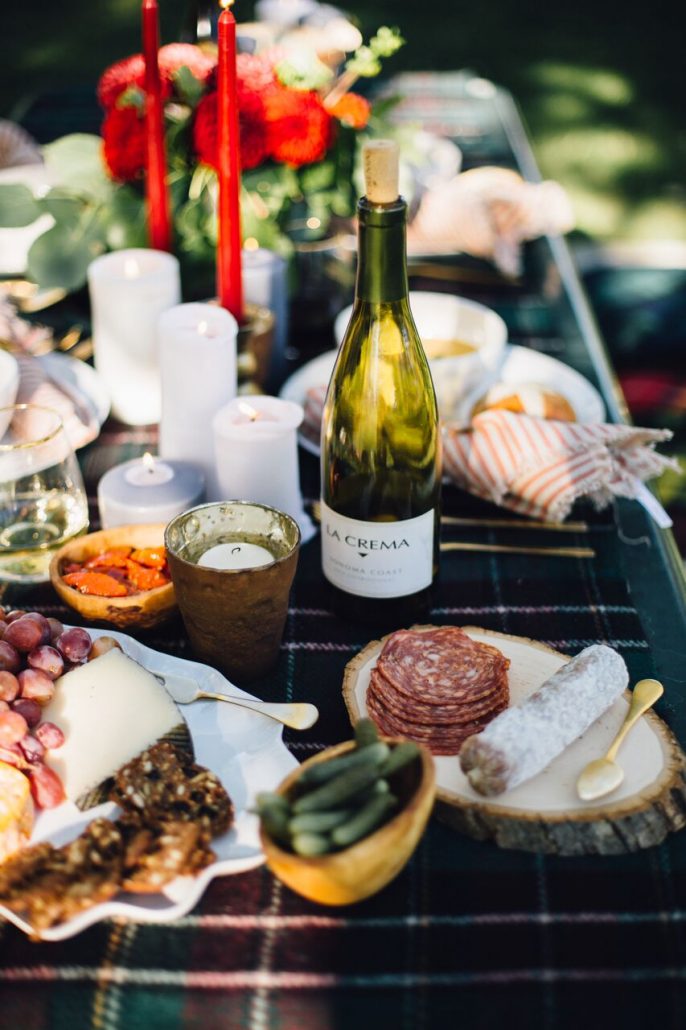 Butternut Squash Soup
Author: Food Network
Recipe type: Soup

Ingredients
1 (2 to 3 pound) butternut squash, peeled and seeded
2 tablespoons unsalted butter
1 medium onion, chopped
6 cups chicken stock
Nutmeg
Salt and freshly ground black pepper
Instructions
Cut squash into 1-inch chunks. In large pot melt butter. Add onion and cook until translucent, about 8 minutes. Add squash and stock. Bring to a simmer and cook until squash is tender, about 15 to 20 minutes. Remove squash chunks with slotted spoon and place in a blender and puree. Return blended squash to pot. Stir and season with nutmeg, salt, and pepper. Serve.
Recipe borrowed from here.