Sips & Tips: Winter Treats
Recipes and wine pairings from Chef Tracey Shepos Cenami and Wine Educator Ben Fine to keep your belly warm this winter.
Crab & Artichoke Dip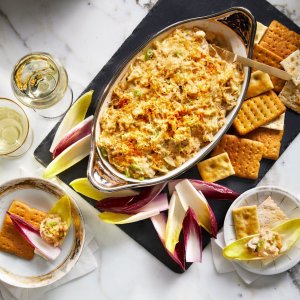 Wine Pairing: 2018 Anderson Valley Chardonnay
Crab & Artichoke Dip
Ingredients
8 ounces fresh crab meat
8 ounces cream cheese
¼ cup sour cream
2 Tbsp. mayonnaise
½ lemon, zested and juiced
1 tsp. Worcestershire sauce
½ tsp. Coleman's mustard powder
1/8 tsp. garlic powder
Dash of Tabasco sauce
2 tsp. kosher salt
Pinch of white pepper, finely ground
¼ cup Bellwether Farms Carmody cheese or other mild cow's milk cheese, grated
12 ounces artichoke hearts ,rough chopped
1/8 C. melted butter
1 cup panko bread crumbs
Instructions
Preheat the oven to 350 degrees F.
Pick through the crab and remove any cartilage.
In a large bowl, mix cream cheese, sour cream, mayonnaise, lemon zest and juice, Worcestershire sauce, mustard, garlic powder, Tabasco, salt and white pepper. Mix until smooth.
Fold in cheese, crab and artichokes to the cream cheese mixture, being careful not to break up the crab meat.
In a separate bowl, combine the melted butter and bread crumbs.
Transfer the crab mixture to a small casserole dish and top with bread crumb mixture. Bake for 15 to 20 minutes until the dip is bubbling and golden brown.
Mushroom & Sunchoke Soup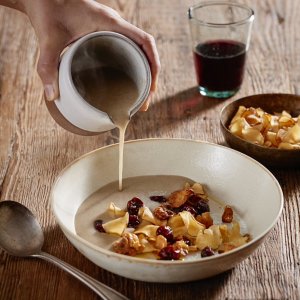 Wine Pairing: 2016 Green Valley Pinot Noir
Mushroom & Sunchoke Soup with Sweet-Sour Cherries
Serves: 4 to 6
Ingredients
For the mushroom & sunchoke soup:
1 lb sunchokes, scrubbed clean
2 1⁄2 tablespoons extra-virgin olive oil
Kosher salt
1 1⁄2 lb button mushrooms with stems intact, cleaned
1 medium yellow onion (10 oz), julienned
2 cloves garlic, sliced
5 fresh thyme sprigs, tied together with kitchen twine
For the sweet-sour cherries:
1⁄2 cup red verjus
1⁄4 cup dried cherries
For the sautéed mushrooms:
1 tablespoon extra-virgin olive oil
3 oz mushrooms (such as hedgehog or chanterelle), cleaned
1⁄4 teaspoon kosher salt
For the Sunchoke Chips:
Rice oil or other neutral-flavored oil, for deep-frying
1⁄4 lb sunchokes, scrubbed clean and very thinly sliced crosswise on a mandoline
Kosher salt
Instructions
To make the soup: Preheat the oven to 350°F convection (375°F conventional). Put the sunchokes on a quarter sheet pan, drizzle with 1 tablespoon of the oil, sprinkle with 3/4 teaspoon salt, and toss to coat evenly. Spread the sunchokes in a single layer and roast, tossing occasionally, for 45 minutes to 1 hour, until dark brown and tender. Set aside.
Grate the mushrooms in a food processor fitted with the grating blade or by hand on the large holes of a box grater. Transfer the grated mushrooms to a nonreactive pot and place over low heat. Sprinkle with salt and sweat the mushrooms for 5 to 7 minutes, until they have released their liquid. Add 1 cup water and allow the mushrooms to steep slowly, stirring occasionally, for 30 minutes. Remove from the heat and strain through a fine-mesh sieve placed over a small heatproof bowl. Press against the mushroom pulp with the back of a spoon to force out as much liquid as possible. You should have about 2 1/2 cups of mushroom tea. Discard the pulp.
In a medium pot, combine the onion and the remaining 1 1/2 tablespoons olive oil over medium heat. Sprinkle with salt and cook, stirring occasionally, for about 7 minutes. Add the garlic and continue to cook, stirring, for about 3 minutes longer, until the onion is soft and translucent. Add the roasted sunchokes, thyme bundle, reserved mushroom tea, and 3 cups water and bring to a simmer. Cook, stirring occasionally, for 10 minutes, until the sunchokes soften.
Remove from the heat, remove and discard the thyme bundle, and let cool slightly. Working in batches, transfer the soup to a blender and process until smooth, pouring the puree into a clean medium pot as each batch is ready. Season with salt and reserve.
To prepare the cherries: In a small pot, bring the verjus to a boil over medium-high heat. Add the cherries and remove from the heat. Let cool to room temperature. The cherries will keep in their liquid in an airtight container in the refrigerator for up to 1 week.
To prepare the sautéed mushrooms: In an 8-inch sauté pan, heat the olive oil over medium-high heat just until smoking. Add the mushrooms and salt and cook, stirring occasionally, for about 3 minutes, until golden brown and the liquid starts to cook-off. Remove from the heat.
To prepare the Sunchoke Chips: Pour the oil to a depth of 2 inches into a 4-qt pot (or use a deep-fryer) and heat to 350°F on a deep-frying thermometer. Line a plate with paper towels and set near the stove. Working in batches to avoid crowding, carefully place the sunchoke slices in the hot oil and fry for 6 to 9 minutes, until golden brown. Using a slotted spoon, transfer to the towel-lined plate and sprinkle with salt. Repeat with the remaining sunchokes.
To serve: Prepare the chips just before serving. Bring the soup just to a simmer over medium heat. Meanwhile, place the sautéed mushrooms in the bottom of individual serving bowls, dividing them evenly, and top with the cherries and some of the sunchoke chips. Pour the soup tableside and serve the remaining sunchoke chips on the side.