Holiday Dinner Menu with Oregon Wines
The holidays are officially here! It is such a fun time of year – days and nights filled with events, parties, and holiday happenings. This month just seems to whiz by. But, if you are like me, sometimes it is nice to slow down and really enjoy the season. Every year I love to throw a small holiday dinner party with some of my nearest and dearest.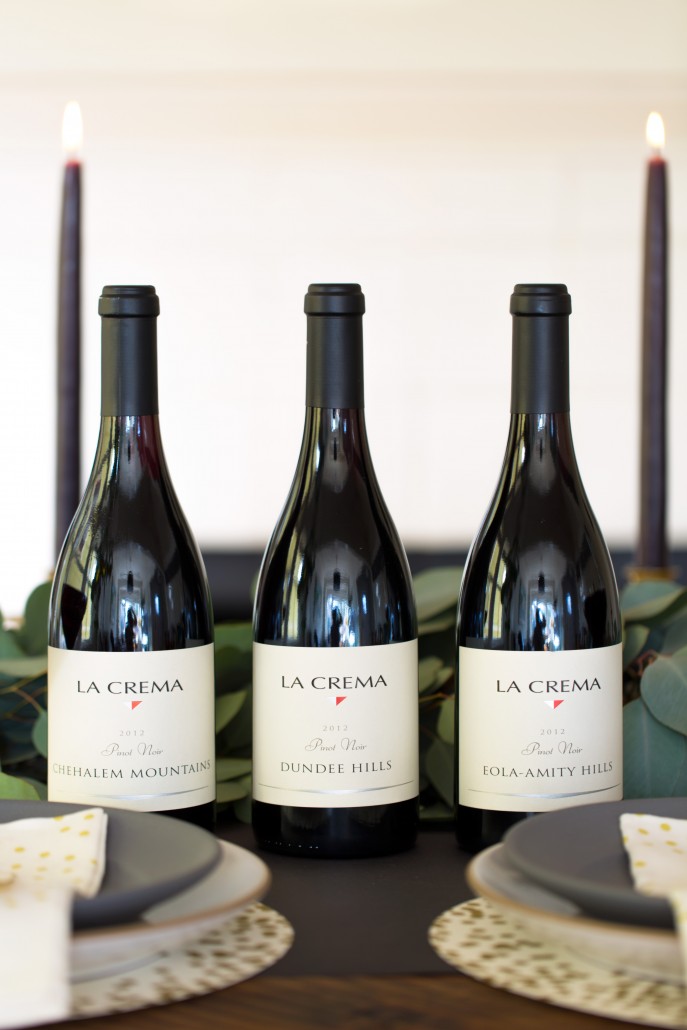 This year I partnered with La Crema to come up with the perfect holiday dinner menu paired with the perfect holiday wines. This menu is great for an intimate dinner served to friends and family who love good food and of course delicious wine. Conveniently, La Crema has an amazing gift set of Oregon wines giving you the best adventure for your tastebuds through some of the Willamette Valley's best AVAs. California Pinots are spectacular of course, but taking this detour through Oregon created a fun conversation starter and introduced my guests to something different. Plus the wines provided some great inspiration for the menu!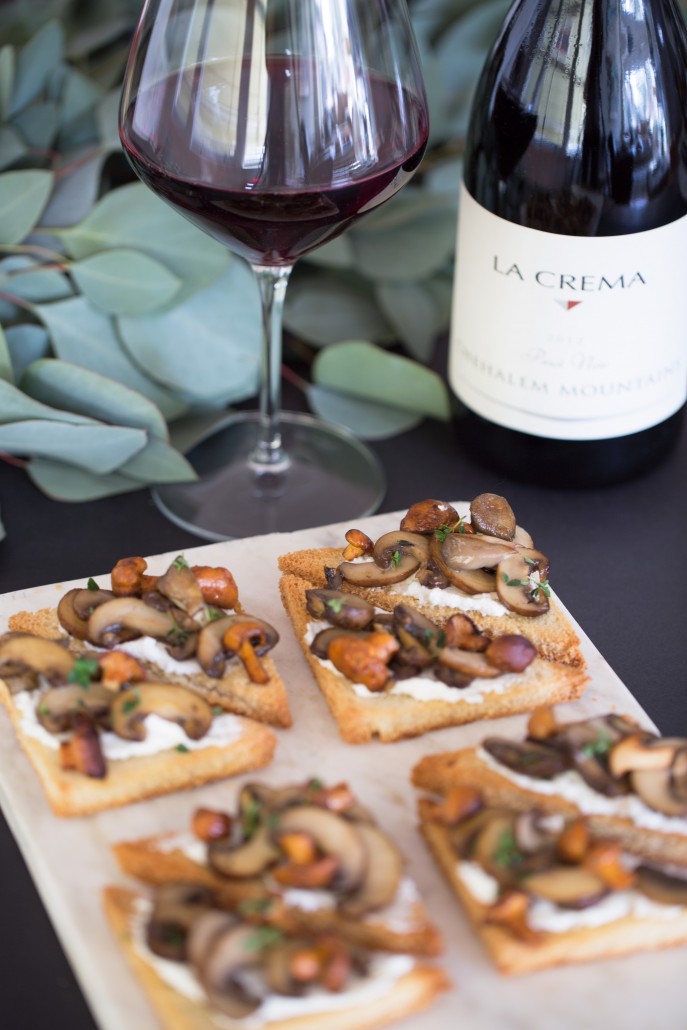 First up on our menu are wild mushroom toast points. Full confession, I love anything on toast points – (It seems so 80's Martha Stewart to me). Especially mushrooms that have been sautéed in madeira (a fortified wine) with a little cream and fresh thyme. So good I could eat just that! Pair this dish with the La Crema Chehalem Mountains Pinot Noir which is full of all sorts of yummy earthy and savory pairing notes that are a perfect complement to mushrooms. Also, the genius thing with mushrooms is that they can be cooked the day before then warmed up before being served. Truly one of my favorite appetizers.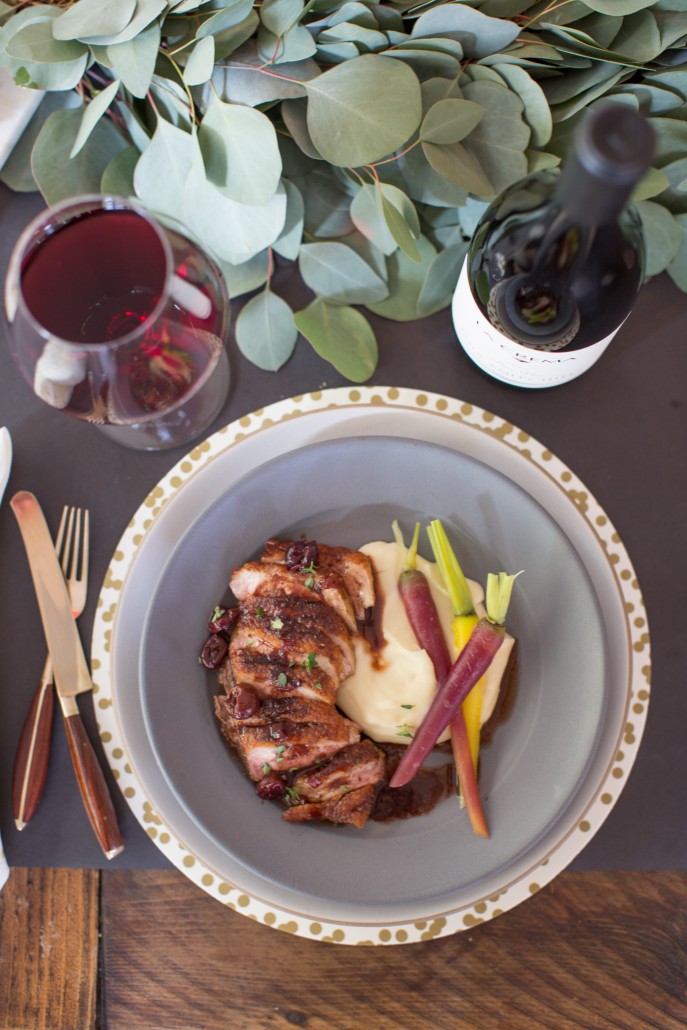 For the main course I went a little outside the box with a non-traditional Chinese Five-Spice Duck Breast topped with a Cherry Balsamic Glaze. Duck is one of the most underrated meats in my opinion. It is rich and delicious and the breast is really easy to cook. (Duck confit, however is a whole other story!) I rubbed mine with a little Chinese five-spice powder which is a blend of cinnamon, cloves, fennel, star anise, and Szechwan peppercorns, and then drizzled it with a glaze made from cherries and balsamic vinegar. A non-traditional but delicious dish to celebrate the holidays. Pair the duck with the La Crema Eola-Amity Hills Pinot Noir which is lush and structured and a perfect compliment to the rich duck breast.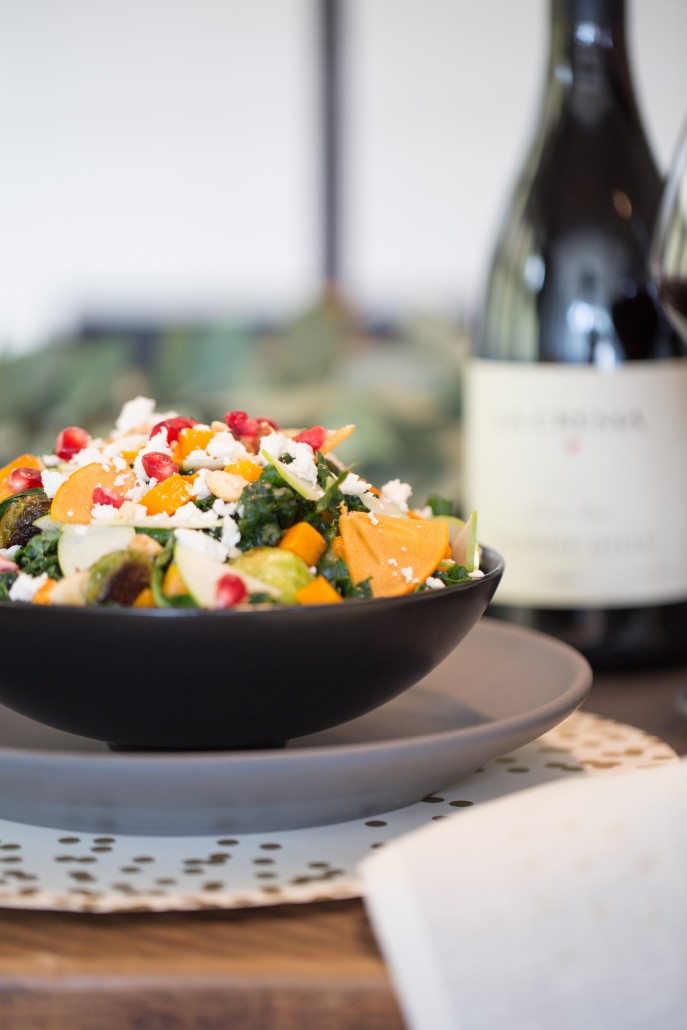 Since you have to have vegetables at every meal, (right?), serve the salad that I have been eating non-stop this fall and winter. A hearty roasted root vegetable and kale salad. This salad has roasted butternut squash and Brussels sprouts, tender leafy kale and is topped with persimmons, apples, feta cheese, hazelnuts and pomegranate. It is so delicious you will forget how good it is for you! Pair this salad with the La Crema Dundee Hills Pinot Noir where its juicy, earthy and refined flavors go really well with the savory and sweet flavors in the salad.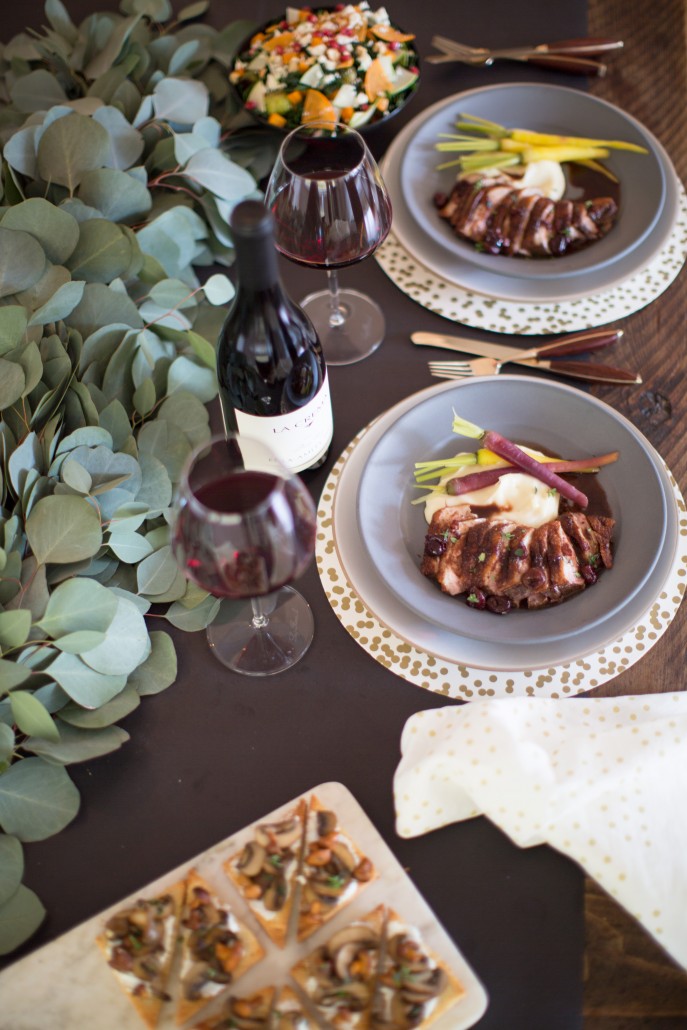 I also discovered another great resource for you when you are planning your holiday dinner party, Chairs and Cups which services the San Francisco Bay Area.  This service provides everything from napkins, to dinnerware to flowers, making your holidays even easier (lets just hope they expand nationwide soon!).
Here's to your holidays, may they be filled with lots of good food and of course, delicious wine.
Happy Holidays!!
Wild Mushroom Toast Points
Author: Amanda Frederickson
Recipe type: Appetizer

Ingredients
2 tsp. unsalted butter
1 Tbs. olive oil
1 shallot, minced
1/2 lb. assorted mushrooms, such as cremini, shiitake, oyster and/or chanterelle, stemmed and halved or quartered
¼ cup madeira or sherry wine
1 Tbs. heavy cream
4 oz. soft fresh goat cheese
1 Tbs. thyme, divided and chopped
6 slices white bread, crusts removed and quartered
salt and pepper to taste
Instructions
Warm a sauté pan over medium-high heat. Add the butter and olive oil and heat until the butter melts. Add the shallots, mushrooms, half of the thyme and large pinch of salt and pepper. Sauté, stirring often, until the mushrooms begin to release their juices, 2 to 3 minutes. Deglaze the pan with the madeira and cook until the madeira is almost completely evaporated. Remove from heat and toss with cream.
Toast the bread and arrange on a platter. Spread each piece with a thin layer of goat cheese.
Top the toasts with the mushrooms, dividing evenly. Sprinkle with remaining thyme and season lightly with salt and pepper. Serve immediately.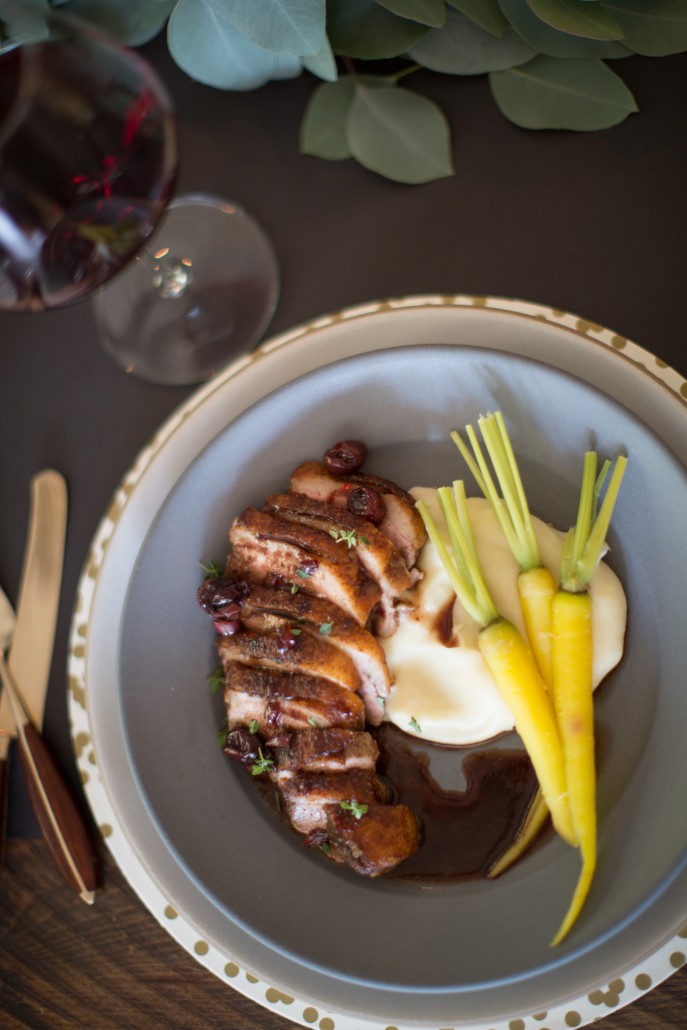 Chinese Five-Spice Duck with Cherry Balsamic Glaze
Author: Amanda Frederickson
Recipe type: Main

Ingredients
6 duck breasts (about 6-ounces each)
3 tsp. five spice powder
Pinch of salt and pepper
4 Tbs. butter, divided
1/4 cup finely chopped shallot (about 1 large)
½ cup sweet red cherries, halved and pitted (frozen cherries are preferred)
6 Tbs. balsamic vinegar
2 Tbs. orange blossom honey
salt and pepper to taste
Instructions
Using sharp knife, score skin in 3/4-inch diamond pattern (do not cut into flesh) on the skin side of the duck breast. .
Melt 1-tablespoon butter in heavy large skillet over medium-high heat. Sprinkle duck with 5 spice powder and salt and pepper. Add duck, 2 to 3 breasts at a time, skin side down, to skillet and cook until skin is browned and crisp, about 5 minutes. Turn duck breasts over, reduce heat to medium, and cook until browned and cooked to desired doneness, about 4 minutes longer medium-rare. Transfer to work surface, tent with foil to keep warm, repeat with remaining duck breasts. Let rest 10 minutes.
While the duck is resting pour off all but 2 tablespoons drippings from skillet. Add shallot to skillet and stir over medium heat 30 seconds. Add cherries, vinegar, and honey. Increase heat to high and reduce sauce to a glaze, stirring often, about 3 minutes. Whisk in 2 tablespoons butter and season sauce to taste with salt and pepper.
Thinly slice duck on the bias. Fan slices out on plates. Spoon sauce over and serve with a parsnip puree and roasted carrots.
For recipe details on how to make the parsnip purée and roasted carrots, head over to my blog!
Roasted Root Vegetable and Kale Salad
Author: Amanda Frederickson
Recipe type: Salad

Ingredients
1 cup butternut squash, diced into 1" cubes
¾ cup olive oil, divided
Salt and pepper
1 cup Brussels sprout, halved
1 bunch lacinato or Tuscan kale, stemmed and leaves julienned
1 Granny smith apple, thinly sliced
1 Fuyu persimmon, thinly sliced
3 oz. feta cheese crumbled
¼ cup hazelnuts, toasted and chopped
¼ cup pomegranates seeds
1 shallot, minced
1/4 cup white wine vinegar
2 tsp. Dijon mustard
1 tsp. honey
Kosher salt and freshly ground pepper
Instructions
Pre-heat oven to 400F.
In a bowl, toss the squash with 2 Tbs. of the olive oil. Spread in a single layer on the prepared baking sheet and season well with salt and pepper. Roast, stirring once, until tender and caramelized, 30 to 35 minutes. Set aside.
To prepare the brussels sprouts, in a large saucepan over high heat, bring water to a rapid boil. Add the brussels sprouts and blanch until tender but not fully cooked, about 2 minutes per batch. Transfer to a bowl of ice water, then drain and dry on towels.
In a large nonstick fry pan over medium-high heat, warm 2 Tbs. olive oil. Add the Brussels sprouts, salt and pepper. Cover and cook, stirring occasionally, until the sprouts are just tender and lightly browned, about 11 minutes. Set aside.
In a large bowl, combine the butternut squash, Brussels sprouts, kale, apple slices, persimmon slices, goat cheese, hazelnuts, pomegranate seeds and a large pinch of salt and pepper.
In a small bowl whisk together shallot, white wine vinegar, mustard, honey and remaining olive oil. Taste for salt and pepper.
Pour dressing over kale salad and toss well to combine.
Finish with a large pinch of salt and pepper.