A Homemade Grilled Pizza Party
What better way to celebrate summer than with a pizza party? Our friend Katie Meyers ups the ante with a Homemade Grilled Pizza that turns up the heat on flavor while keeping your kitchen nice and cool.

Last summer, I lucked out and had the trip of a lifetime. I got to travel, eat and drink my way through Italy while studying with world-renowned chefs, butchers and sommeliers and simultaneously filming a TV series that showcased simple approaches to cooking. Though I had been to Italy once before, this time around I truly "lived like a local" and experienced the culture through such an organic lens that it forced me to view life (and food!) in a completely different way.
I was reminded how fulfilling it is to be in the kitchen and base an entire meal strictly around simple ingredients. A dish doesn't need to have a long list of items to feel "special"… it can be just as amazing (and in most cases, even better!) when we bring it back to basics and eliminate hard-to-find ingredients that take away from the brilliant flavors found in natural foods.
Inspired by summer's warm temps and La Crema's refreshing wines, I couldn't resist marrying my love for entertaining with the lessons I learned abroad and decided to host an al fresco pizza party! The festivities were in full swing the moment the corks popped off and everyone loaded their pizza with fresh, healthy ingredients.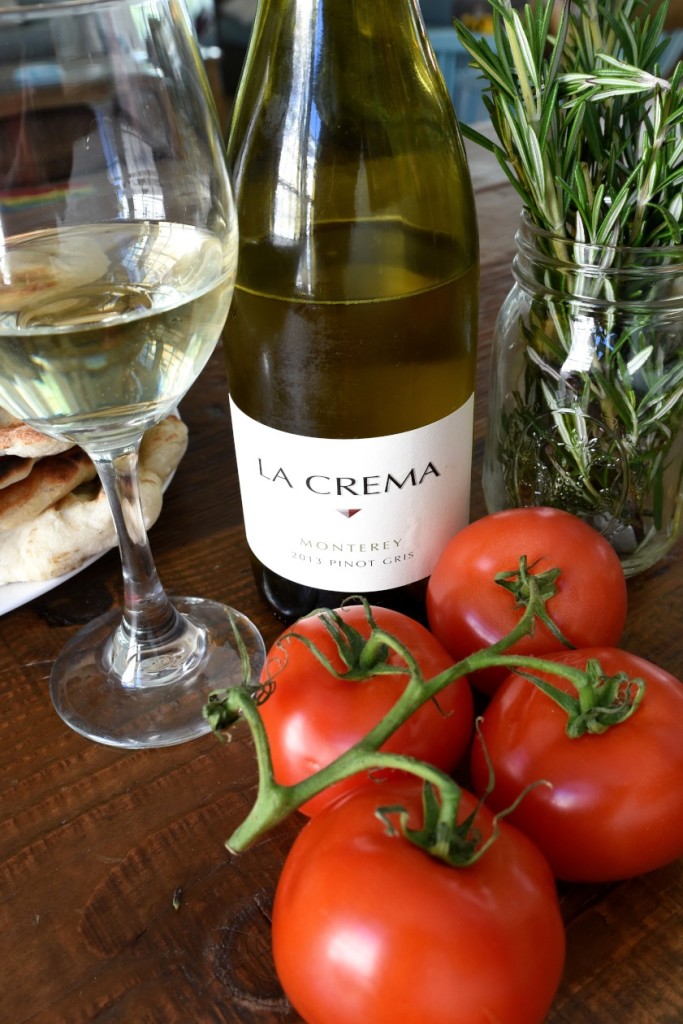 There is no better time of year to enjoy a stress-free soirée so follow these steps to pull together an at-home pizza party of your own! Ciao!
1.  Perfect pairings.
Map out the blends of wine you'll serve with your pizza in advance. We knew La Crema's Sonoma Coast Chardonnay would add the perfect sophisticated touch to our meal and La Crema's crisp Monterey Pinot Gris would hit the perfect note of fruity and refreshing. Guests will not want to wait until pizza is served to enjoy their first glass, so offer everyone something to sip on while prepping together in the kitchen.
2.  Create a simple menu.
We decided to make homemade pizza and a grilled romaine salad. I don't know what it was about the beauty of the natural grill marks on these items, but when their rustic flavors balanced out with our wine, it truly made each bite worth celebrating.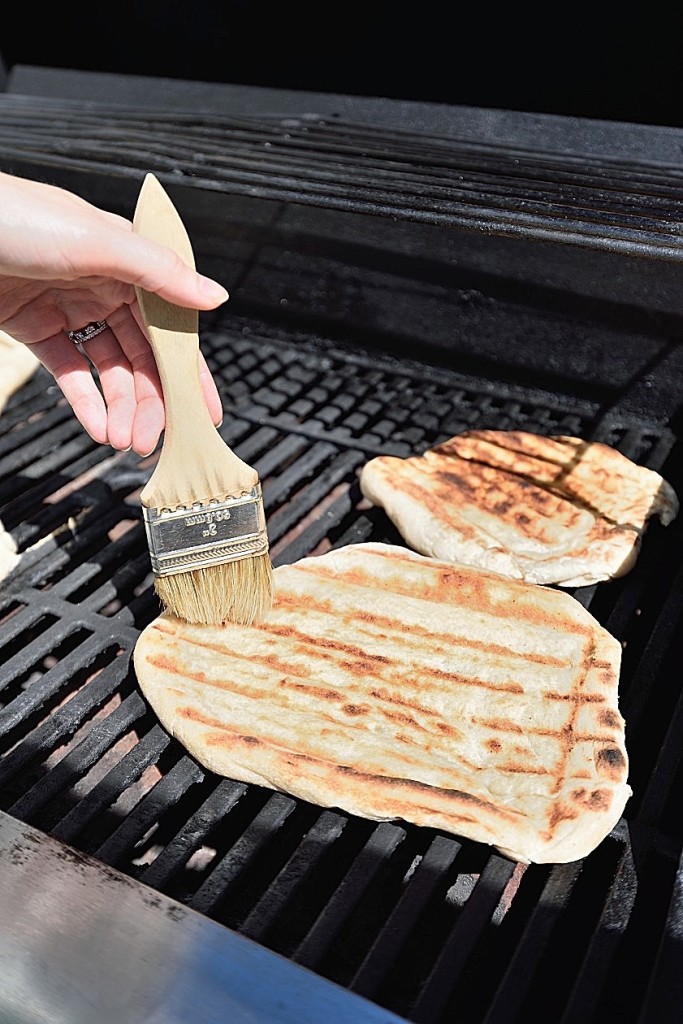 Homemade Grilled Pizza Dough
Author: Katie Meyers
Serves: Approx (5) 10-12" pizzas
Simple homemade grilled pizza dough
Ingredients
1 envelope (2.5 teaspoons) active dry yeast
2 cup warm water
2 teaspoon sugar
3 tsp kosher salt
1/2 cup finely ground whole wheat flour
4 tablespoons olive oil, divided
5 cups all purpose flour
Instructions
Insert dough hook into electric mixer. Stir yeast into warm water and sugar. Once it starts bubbling up, stir in salt, whole wheat flour & 1 1/2 tablespoons of olive oil.
Add flour (about 1/3 cup at a time) and continue stirring on low speed until dough forms a ball in center of bowl. (Add in flour or water to get the right consistency.)
Let dough rest in bowl for 15 minutes.
Remove dough from bowl and divide into 5 small balls. Gently round each piece into a lightly firm ball and brush heavily with olive oil before placing ball into a plastic storage bag. Refrigerate dough overnight or at least for a few hours.
Remove from fridge 2 hours before making pizzas on grill.
Once dough is at room temperature, roll each ball to form a flat circle on top of a floured surface. (Remember, you're not going for perfection… the more 'rustic,' the better!)
3. Top it off.
After following the recipe above (or even if you buy store-bought dough, of which – don't worry, we won't tell!) roll dough out into individual circles and gently brush one side of crust with Extra Virgin Olive Oil. Place it on the grill, oil side down. When bottom of dough is heated (about 6 minutes and grill marks appear) flip crust to the other side and heat. If crust bubbles, it will eventually flatten once flipped.
While crust is on the "second side" and still heating up, add sauce, toppings, and cheese. Tis' the season to take advantage of summer's fresh produce so set out a large variety of healthy, fresh toppings for guests. I tend to keep my pizza basic (mozzarella, basil, and tomatoes), but some guests may prefer to load up their crust with colorful, vibrant veggies and herbs.
Allow toppings to heat through and cheese to melt. Then it's time to….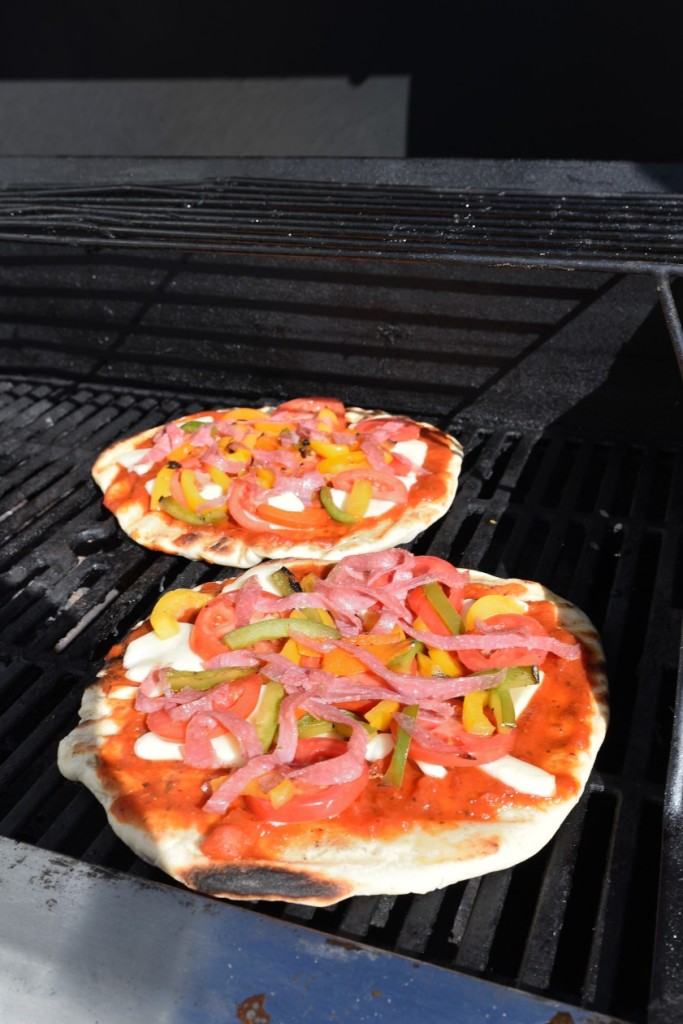 4. Mangia! Mangia!
Toast to friendship, the delicious wines and food you're about to enjoy, and then encourage everyone to dig in!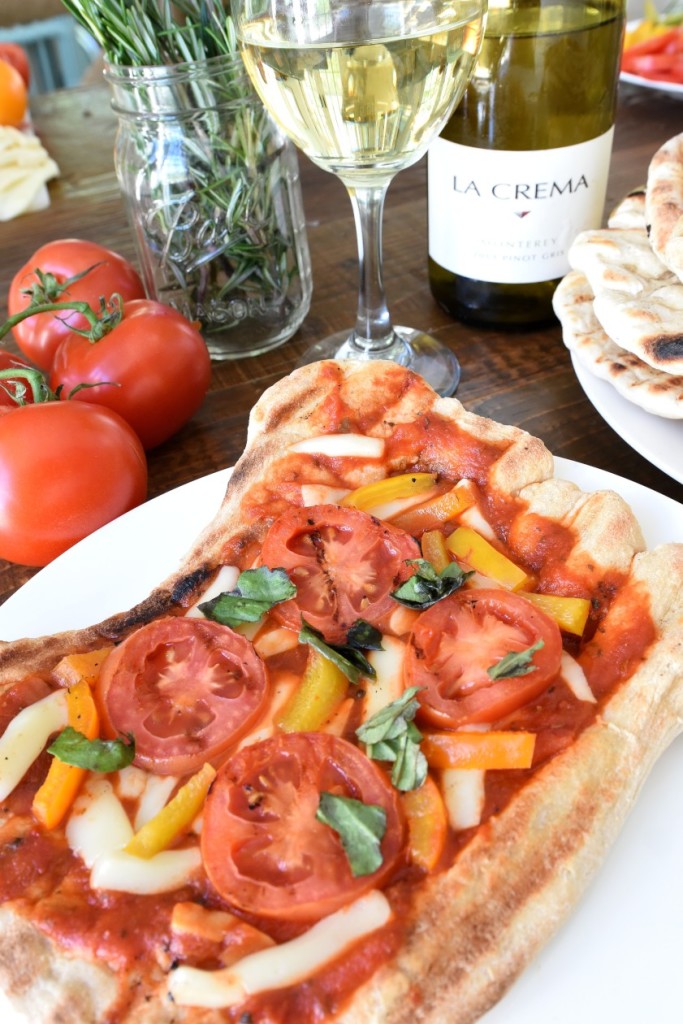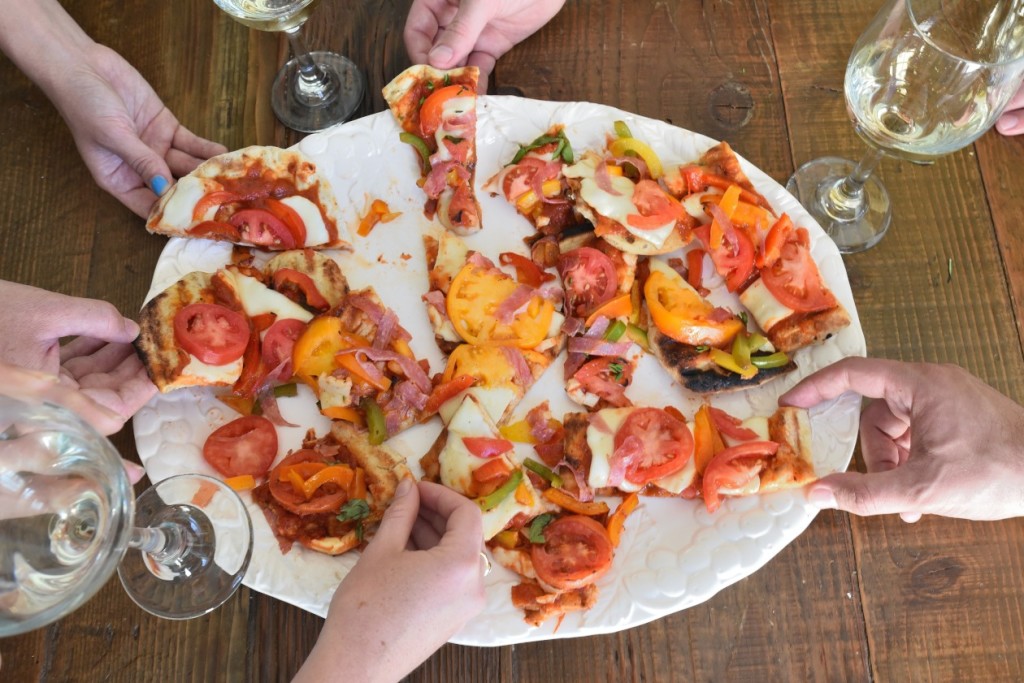 5. Fantastic Favors
If desired, send guests home with your favorite pizza sauce recipe along with and a stem of fresh herbs such as rosemary or thyme. It will serve as a perfect reminder of the fantastic evening they had and hopefully be inspired to create a meal of their own using simple, fresh ingredients.