Homemade Pho with Meatballs
When it's chilly and grey out, like it so often is in January, there's nothing I love more than a big bowl of pho. The fragrant, steamy broth and succulent rice noodles are one of my all-time favorite dishes, and it became a bit of an almost-weekly lunchtime tradition for me back in Charlotte, North Carolina. Now I'm living on the other side of the country in California, and while there is absolutely no lack of amazing, authentic Asian restaurants in the Bay Area, I challenged myself to make some homemade pho over the holidays while my brother was visiting.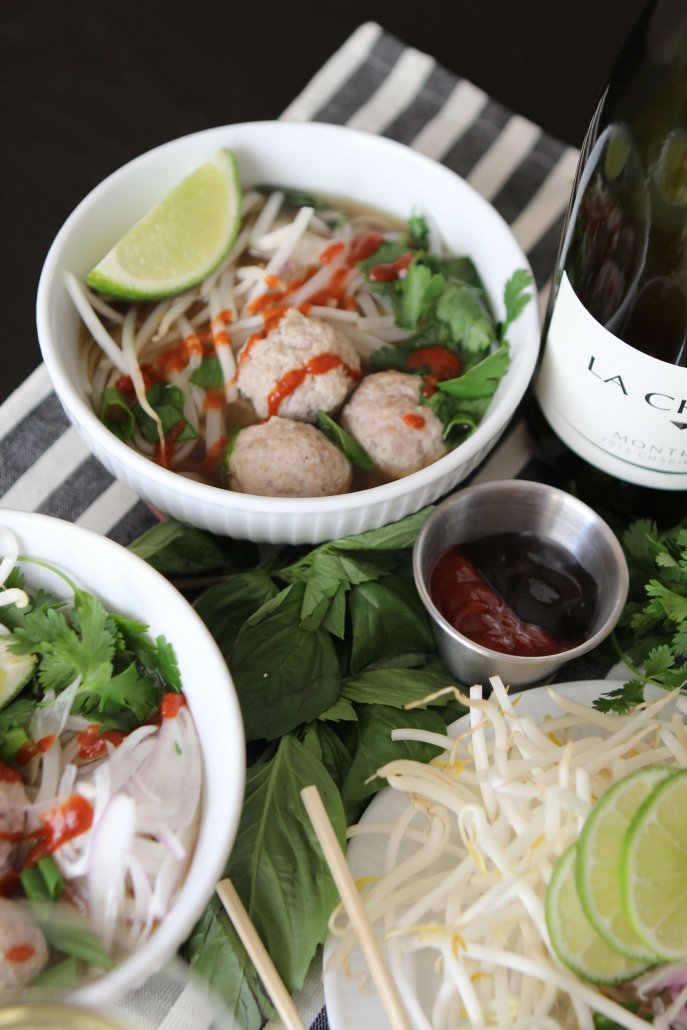 I can say now with absolute certainty that there's nothing more comforting on a chilly winter's day than a big pot of aromatic pho broth simmering away on the stove, complete with all the toppings. I usually order sliced beef but decided this time to go with some pork meatballs, and the result was absolutely delicious. Paired with a glass of La Crema Monterey Chardonnay, this winter lunch or light dinner was exactly as delicious as I hoped it would be.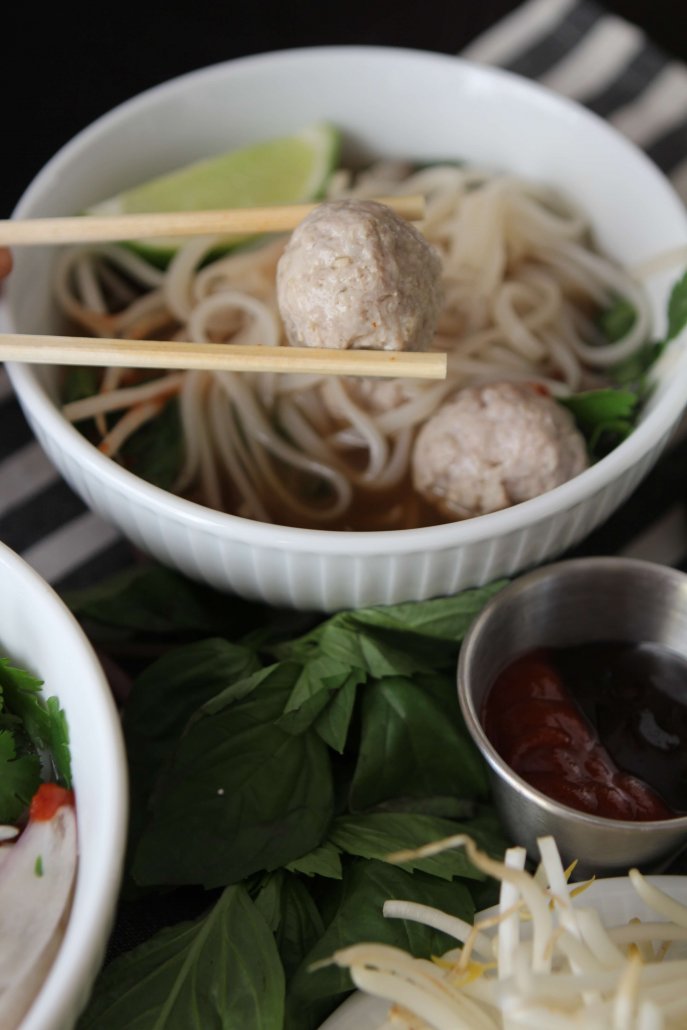 Making the broth is not nearly as intimidating as I thought it might be. You can get most of the ingredients at your regular grocery store, however, you might have better luck if you hit up a local Asian market. I always hate having to shop around for one recipe at multiple stores, so I opted to get all the ingredients at an Asian grocery store in my neighborhood. Don't be daunted by ingredients like oxtail and beef shin, you need good beef bones to create the stock. Just ask someone at the meat counter for help if you don't know what you're looking for.
Once you get everything you need, it's really as simple as simmering the ingredients together for as long as possible. 4 hours is okay, but closer to 8 or even more is ideal. You could do it in a crock pot overnight if you have time for it, but we put everything together in the morning and it was ready by lunch (and the leftovers were even better at dinner!).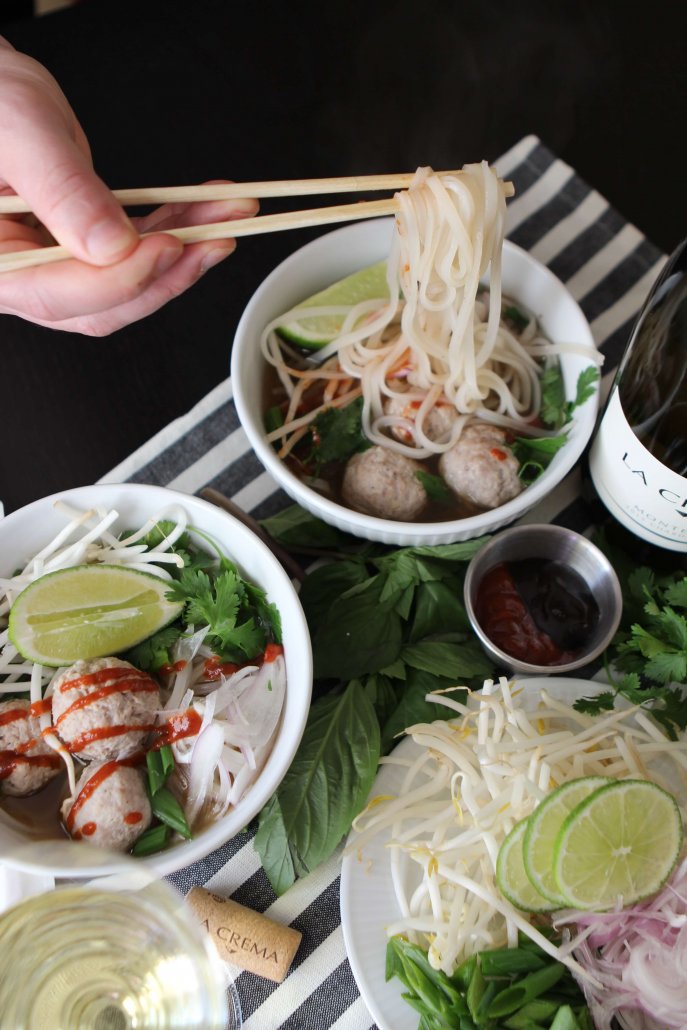 Pho with Vietnamese Meatballs
Prep time:
Cook time:
Total time:
Serves: 6-8 servings
Ingredients
2 whole onions
1 large whole piece of ginger
About 3 pounds of beef bones (neck, shin, oxtail, etc.)
3 star anise pods
1 cinnamon stick
1 teaspoon fennel seeds
4 cloves
1 teaspoon corriander seeds
Enough water to cover everything and fill a large stock pot
Salt and pepper, to taste
6-8 servings of rice noodles, cooked according to package directions
Soup toppings: bean sprouts, lime wedges, cilantro, Thai basil, Sriracha, hoisin sauce
Instructions
Turn the broiler of your oven on high and broil onions and ginger on a large sheet pan until nice and charred, about 25 minutes (turning frequently).
While you're broiling the onions and ginger, place bones in a large pot and cover with cool water. Bring to a boil and add onions, ginger, and spices. Reduce heat to low and simmer for at least 4-6 hours (longer if possible), skimming occasionally. As broth reduces slightly, feel free to add more water and continue cooking.
Remove from heat and carefully drain broth into a container, leaving behind bones and spices. Season with salt and pepper to taste.
Cook rice noodles according to package directions and drain. Add noodles to serving bowls and ladle broth overtop. Serve with Vietnamese meatballs and your desired toppings, alongside a glass of La Crema Monterey Chardonnay.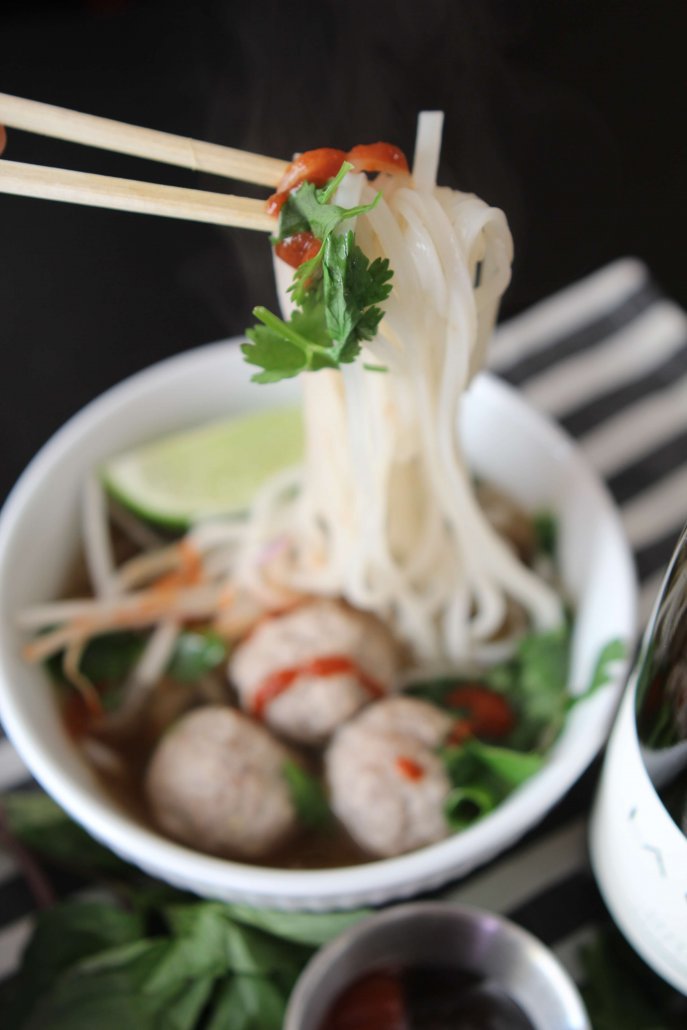 This recipe isn't difficult, but it is a little time-consuming, so I like making a huge batch of broth and freezing it in silicone muffin molds for later. That way you're always ready for pho, whether you're satisfying a random craving or entertaining family and friends on a cold evening. Either way, it's a delicious dish made even better with a glass of wine and someone to share it with. Happy new year!