Entertaining with La Crema: Hosting a Summer Pool Party
Summer is such a lovely time for entertaining. There are endless options of parties to host and all can be outdoors. One of my favorite ways to entertain is gather friends and family for a summer pool party. Stock up on La Crema's Monterey Rosé, Monterey Pinot Gris and delicious snacks, and this party will come together in no time.
Pool snacks are very important, because your guests should stay satiated while having fun in the sun. Though choose something light and easy to munch on that doesn't require a plate or utensil. I like to make this greek yogurt garlic dip–it's so easy to make and is oh so delicious! Simply cut up vegetables and put them into a little basket to serve by the pool. Another delicious pool snack to serve is sliced watermelon–the perfect summer staple!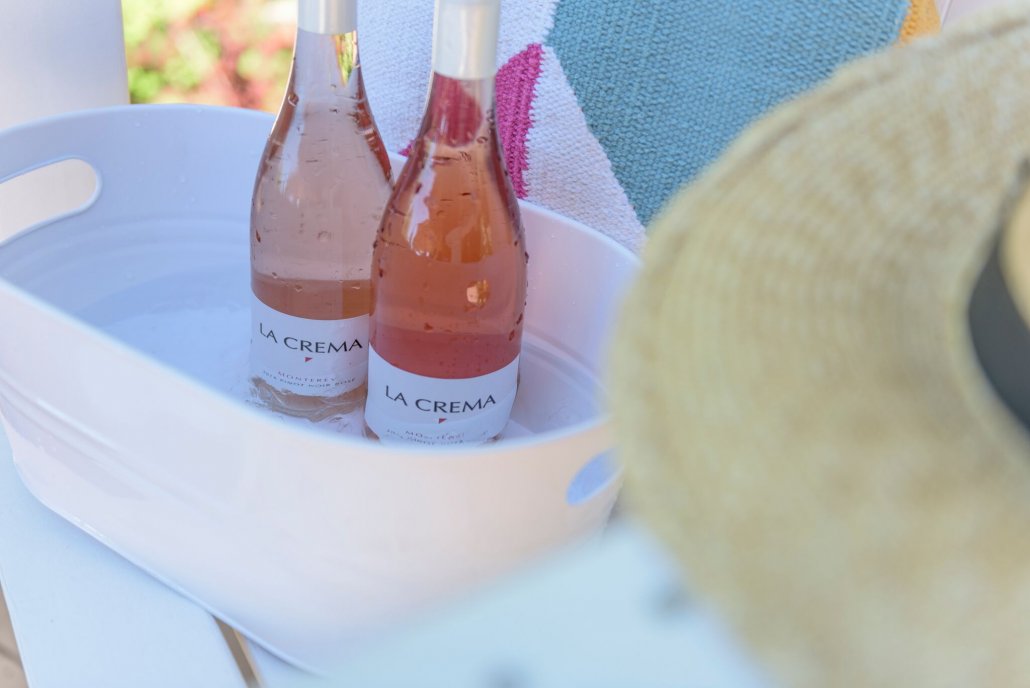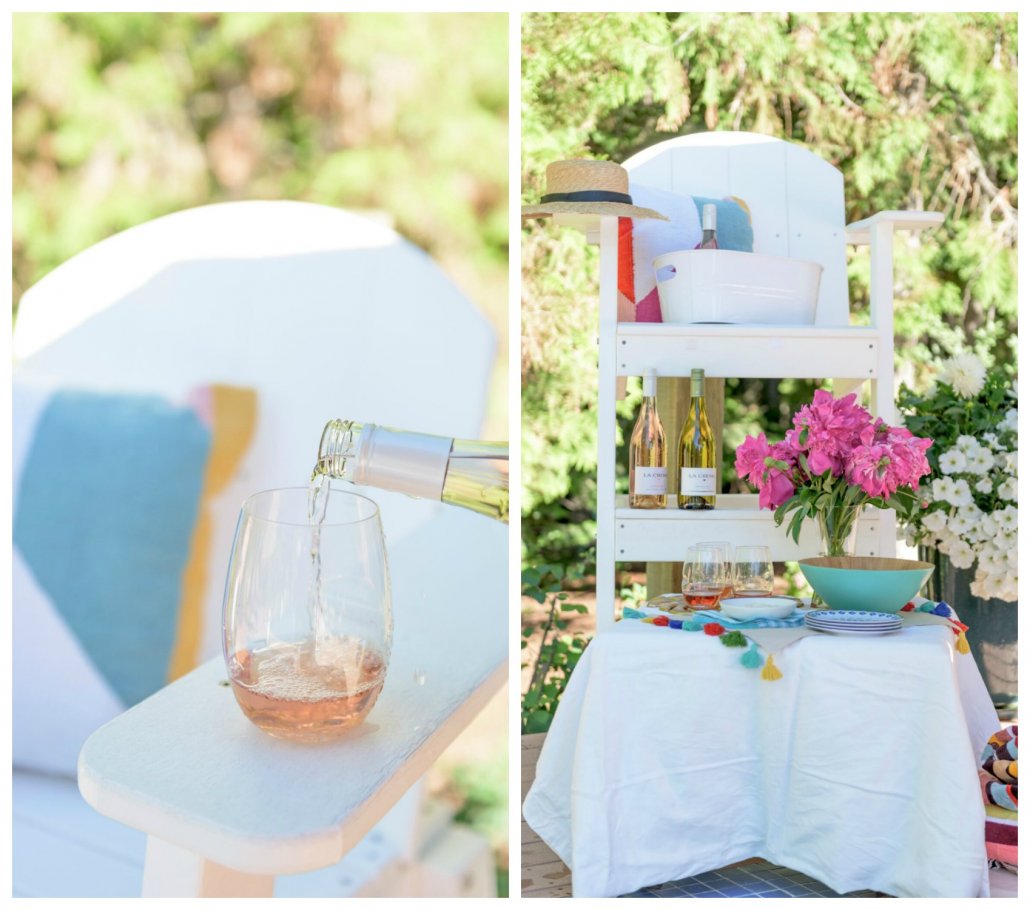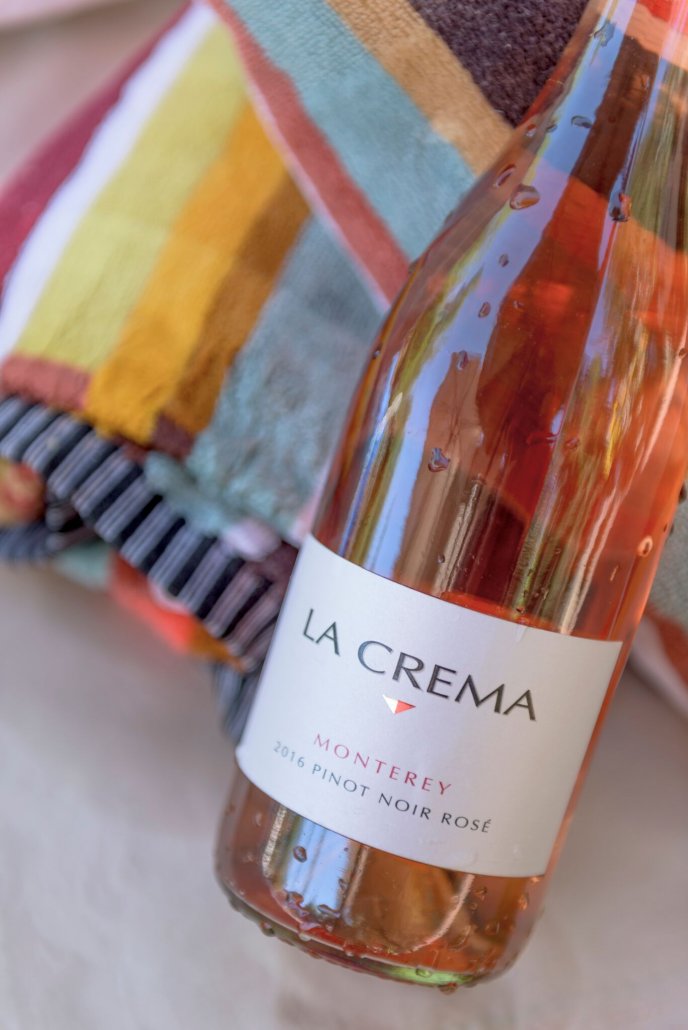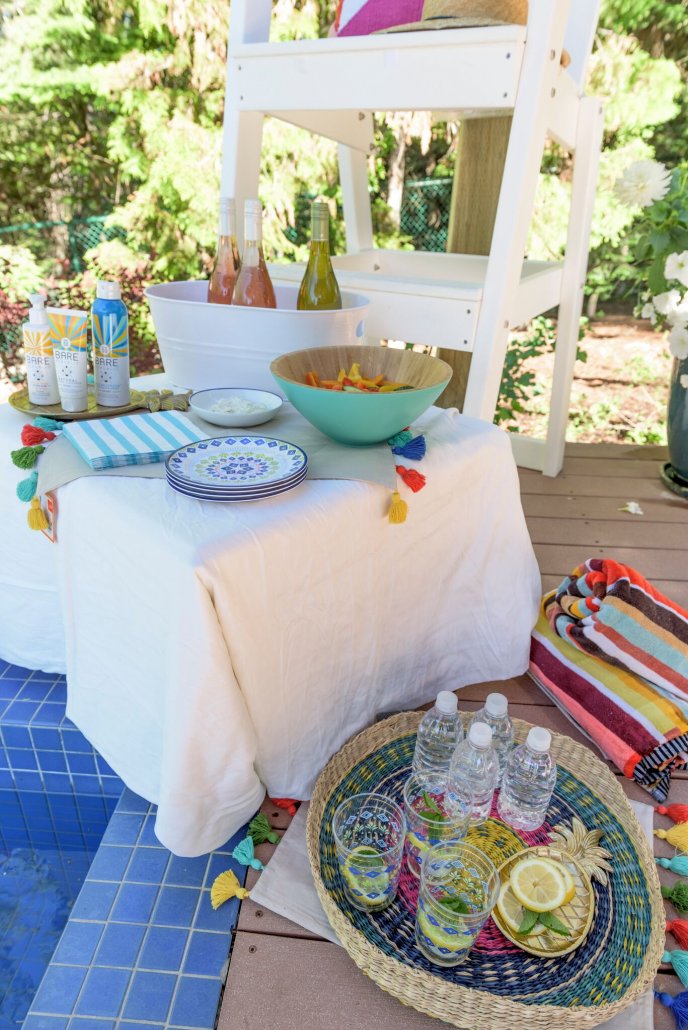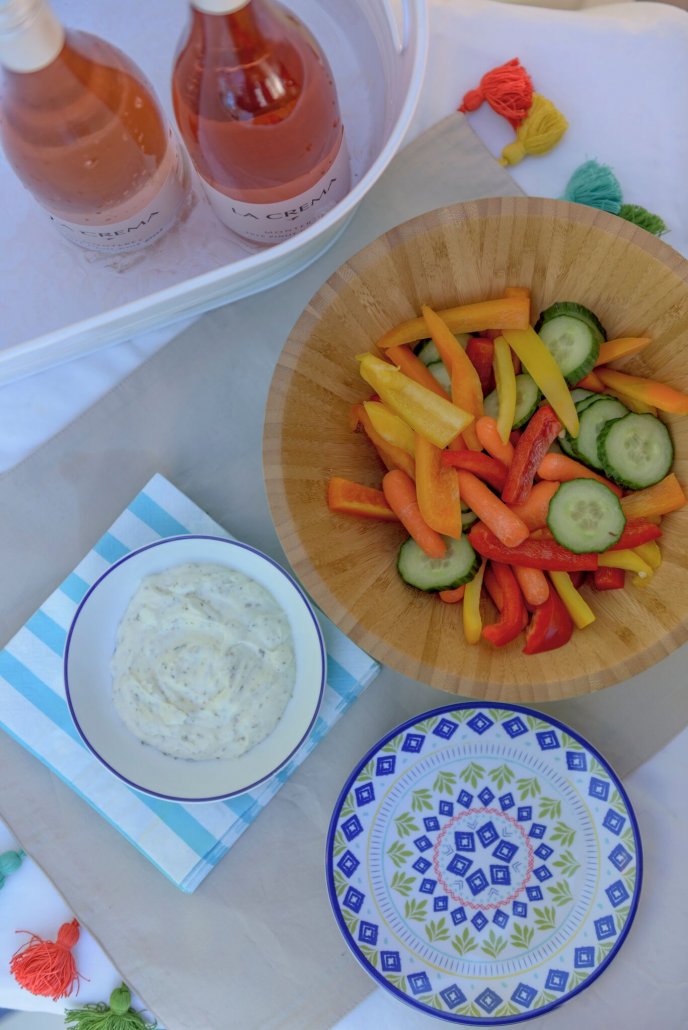 Greek Yogurt Garlic Dip
Recipe type: Snack
Prep time:
Cook time:
Total time:

Ingredients
1 teaspoon chopped garlic
1/2 teaspoon kosher salt
1 cup plain yogurt (preferably whole-milk)
1 tablespoon fresh lemon juice
Instructions
Mash garlic to a paste with salt using a mortar and pestle (or mince and mash with a heavy knife). Stir together garlic paste, yogurt, and lemon juice.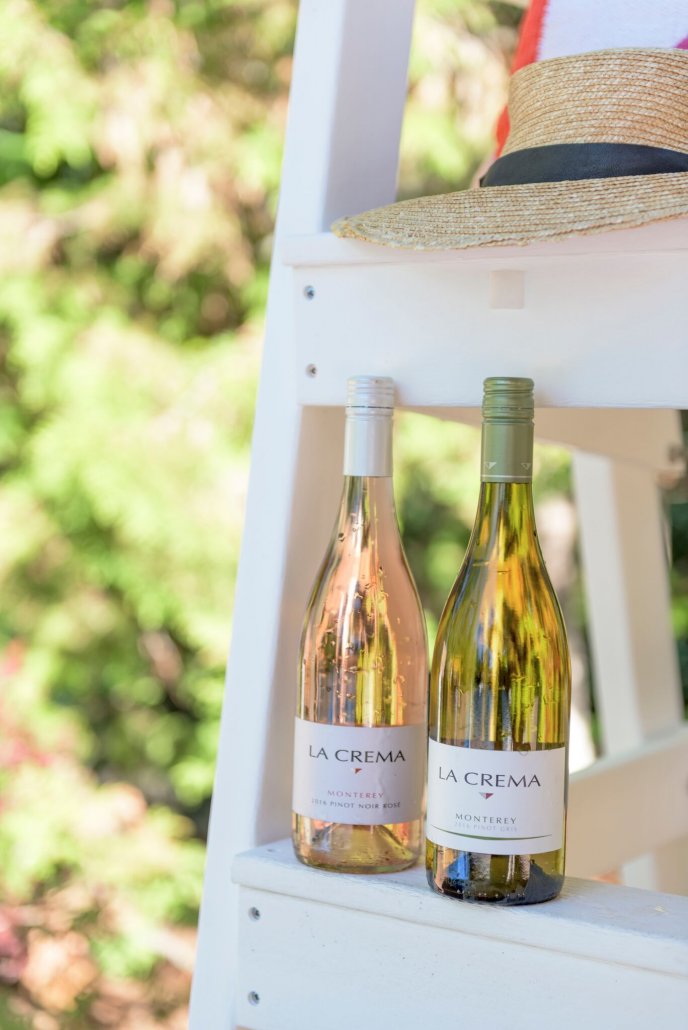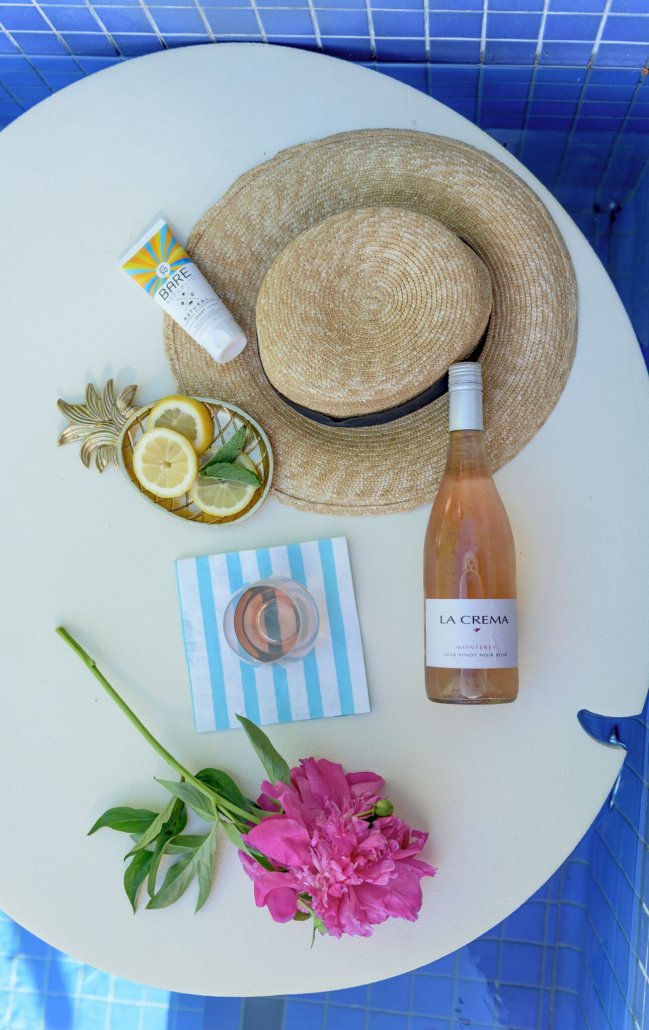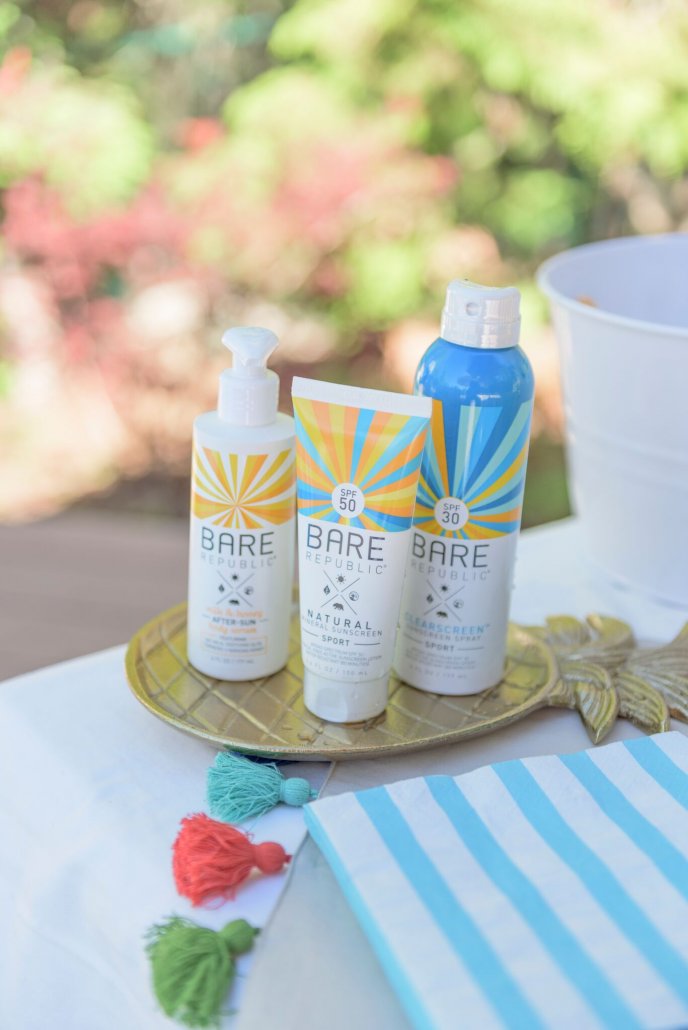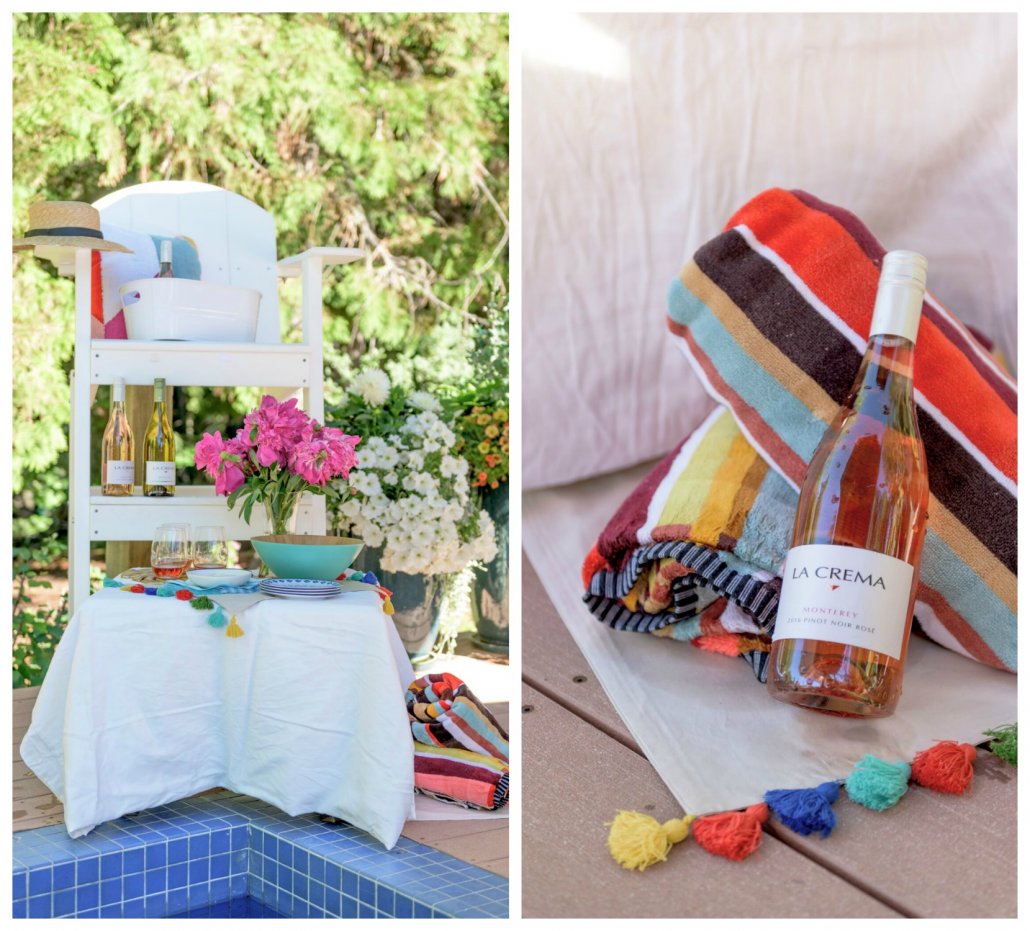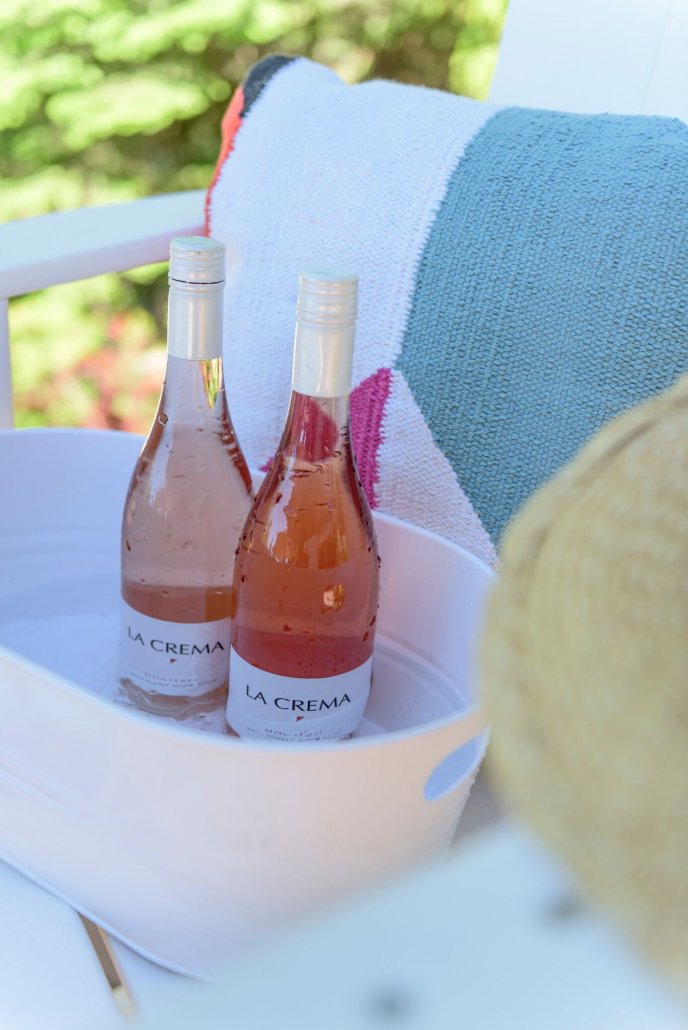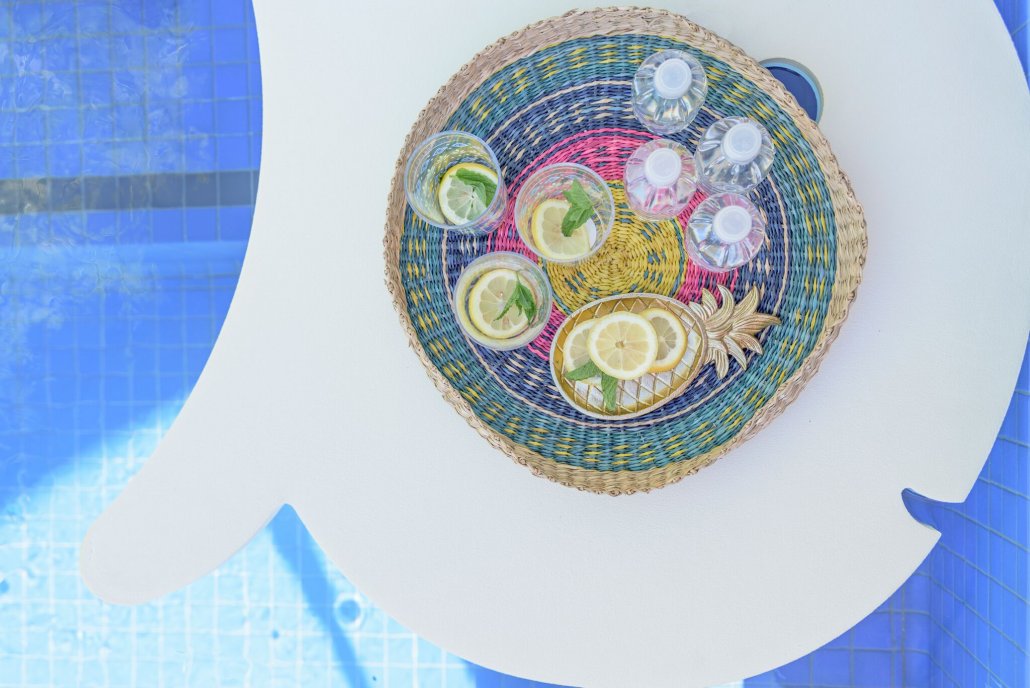 For a simple poolside set up, don't forget to put out all the necessities:
Have sunscreen out on a tray so your guests know it is always available.
Roll up towels and set them near the pool (even in a basket) for easy access when guests are hopping in and out of the water.
These GoVino wine glasses are the best poolside accessory. They're plastic so you don't need to worry about glass breaking.
Make sure you have a water dispenser or several water bottles available so guests stay hydrated. Tip: Flavor your water with citrus or mint to make it extra refreshing.
Place the wine in a cooler or wine bucket so it's always cold.
Lasly, a simple arrangement of bright pink peonies will wow your guests and brighten up the atmosphere.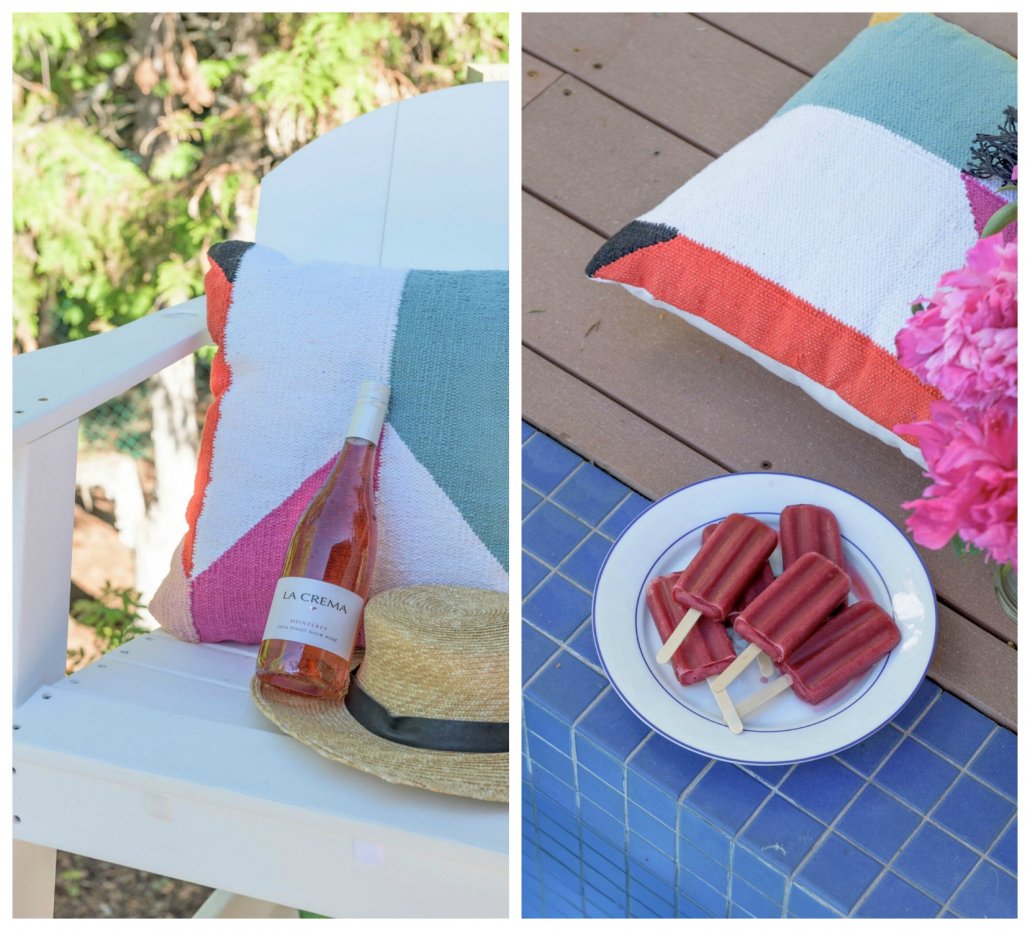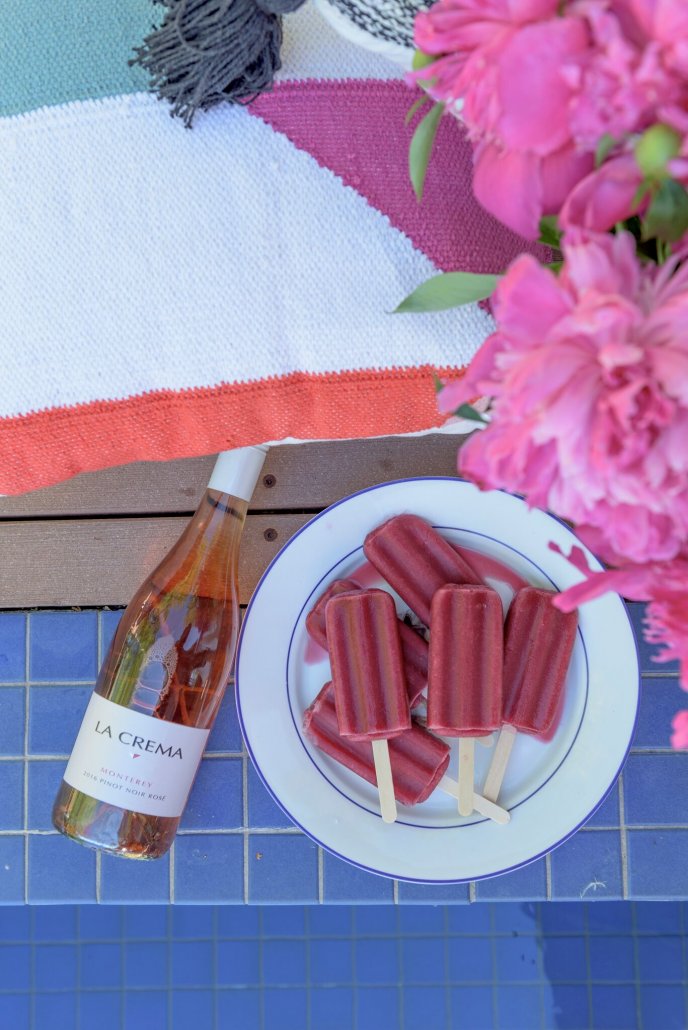 My summer sip is rosé (obviously)! Especially on a hot day by the pool, nothing is more refreshing to enjoy. The La Crema Monterey Rosé is my go to and all time favorite rosé. One way to make your rosé go the extra mile is to whip up these rosé popsicles. They are SO easy to make and an extra refreshing way to enjoy rosé by the pool!
Rosé Popsicles
Prep time:
Cook time:
Total time:
Serves: 6
Ingredients
La Crema Monterey Rosé
2 tbs sugar
optional: fruit
Special Equipment
10 (2.5-ounce) freezer ice-pop molds and sticks
Instructions
If adding fruit, blend all the ingredients in a high speed blender until pureed.
Divide the mixture among ice-pop molds, leaving about 1″ space at the top. Freeze until slushy, about 1 hour.
Cover molds, insert sticks, and freeze until ice pops are solid, at least 4 hours.
Enjoy!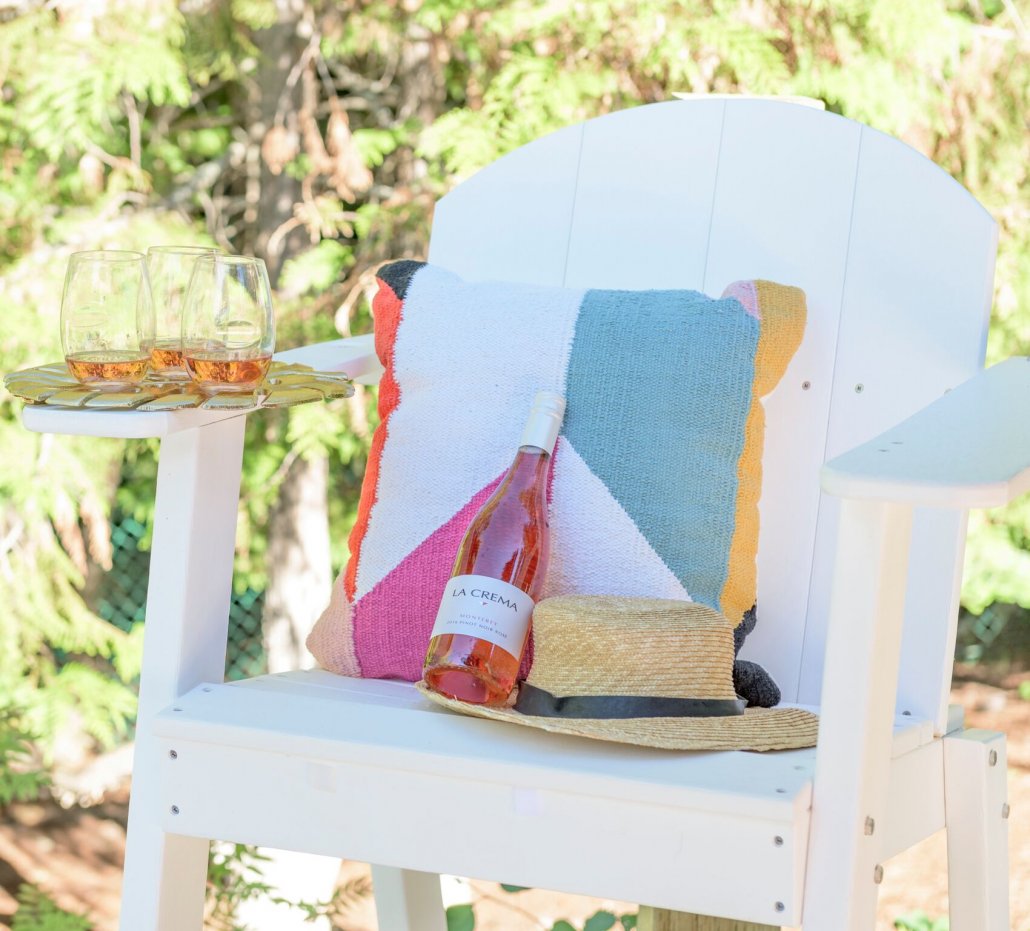 Share this post on Pinterest!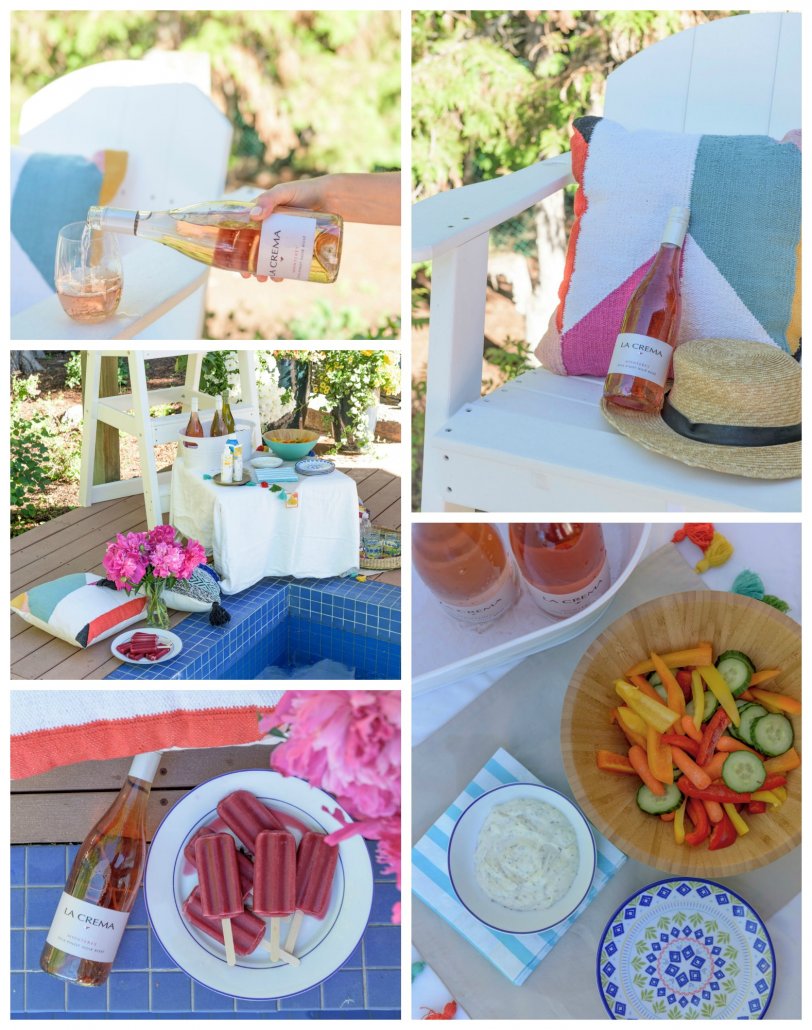 What are your favorite ways to host a summer pool party? Let us know in the comments!