Flower Design: How to Host a Flower Arranging Party
"Florals for spring? Groundbreaking." Though Miranda Priestly was the queen on fashion, I have to disagree with her sarcasm, who doesn't think of florals when it comes to spring! There is so much blooming around us and it is the opportune time to get into the warm weather spirit. When it comes to the many parties to be had during spring, my choice has everything to do with beautiful flower arrangements.
Hosting a flower arranging class is a perfect way to get you friends and loved ones together for a spring fling. This party idea can also be for a bridal shower, baby shower or even a birthday party. As much as I wish you could all have the ladies of Plum Sage Flowers in Denver, CO come and teach your flower arranging class wherever you are, they are very busy women. However, there are a few simple tips we wanted to share to help you host your own flower arranging class without an expert around.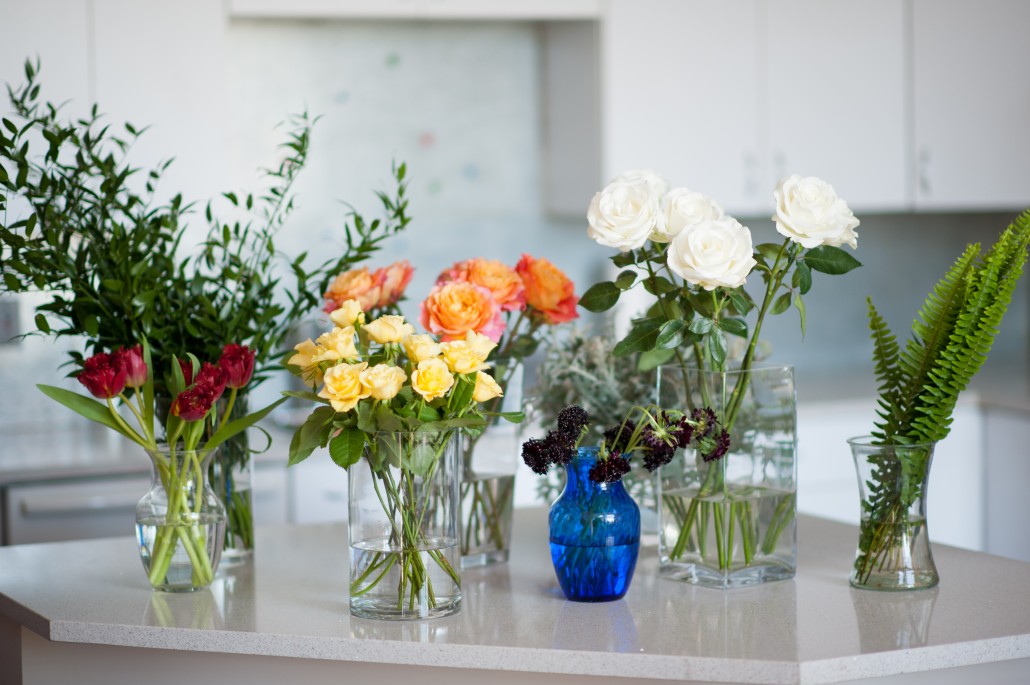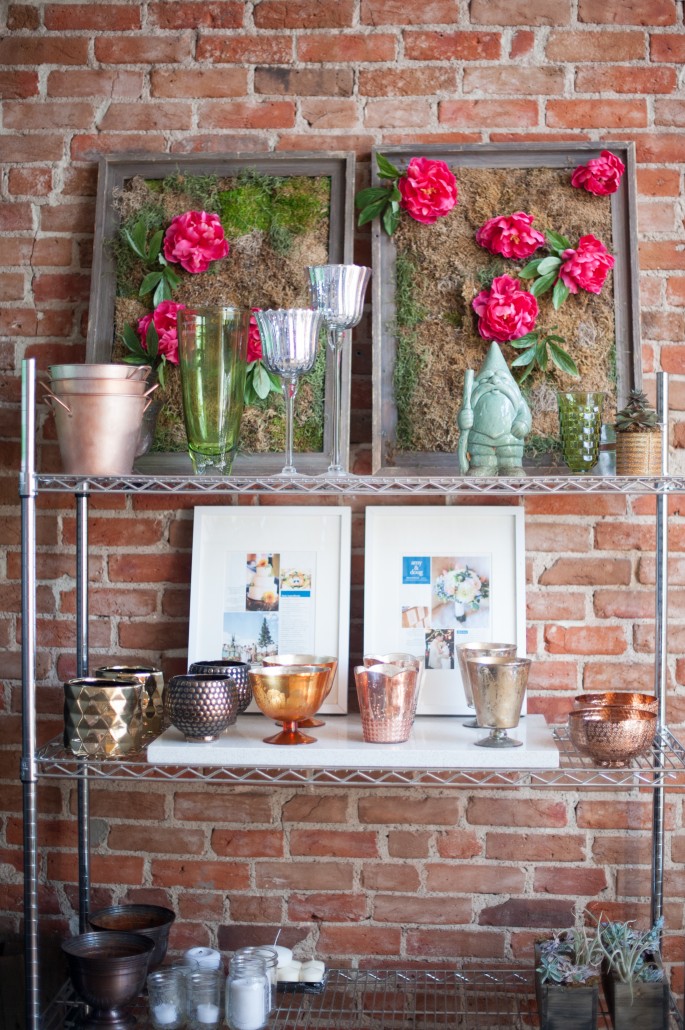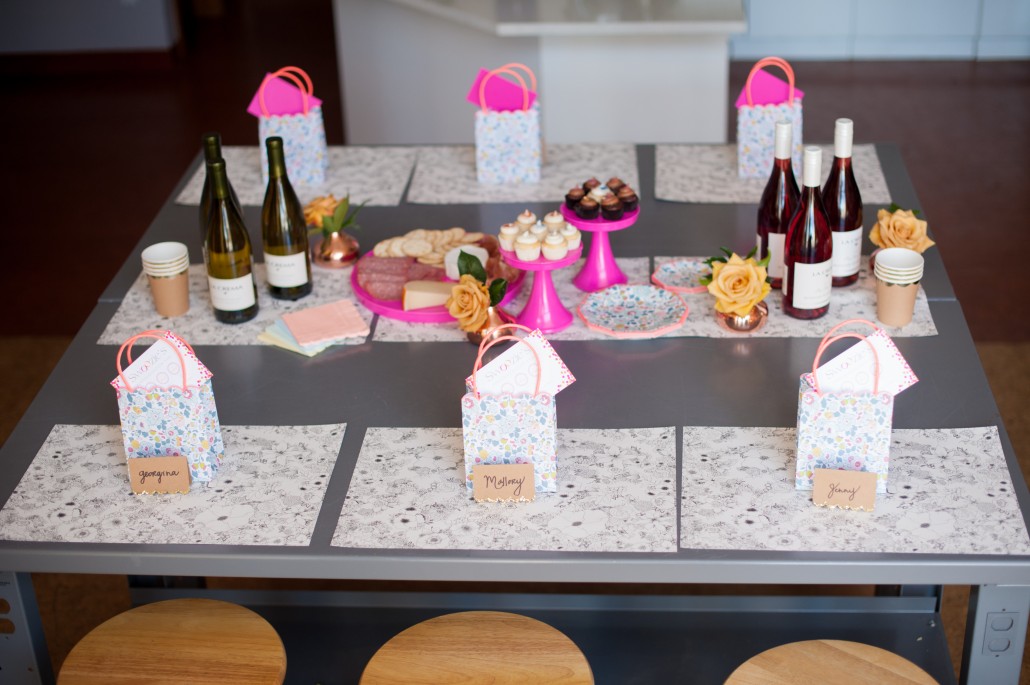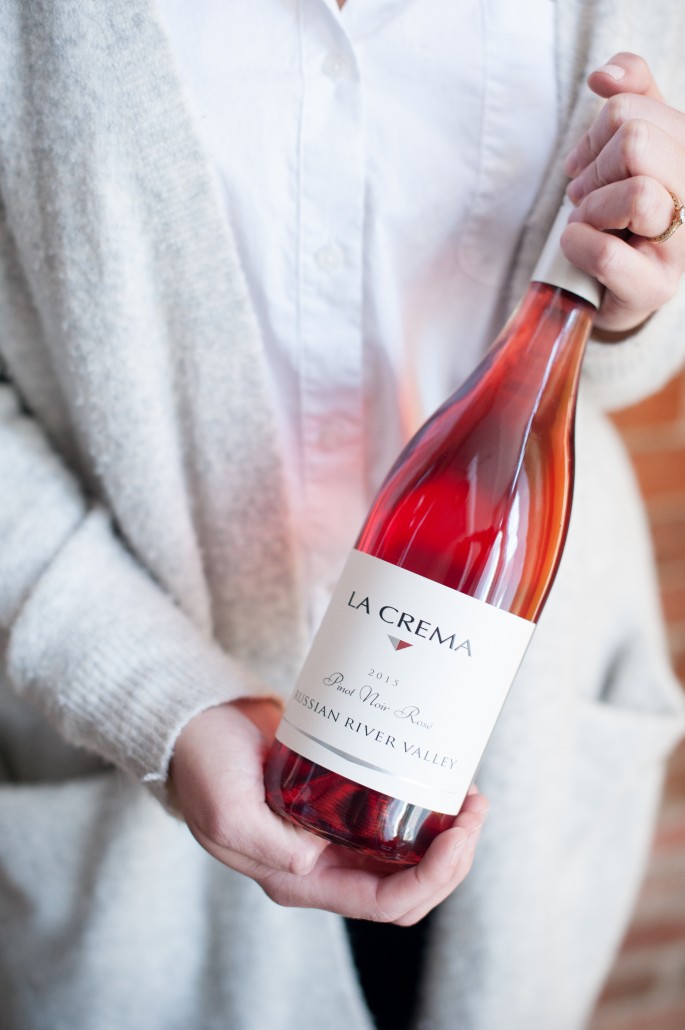 1. Food and drink are oh so important when it comes to hosting a party. I am IN LOVE with La Crema Pinot Noir Rosé! It is so refreshing on a warm day and pairs great with a small meat and cheese plate for guests to much on while creating. Sweet treats are also a must and there's nothing quite like a pedestal full of creamy, delicious cupcakes from Yours Truly Cupcake.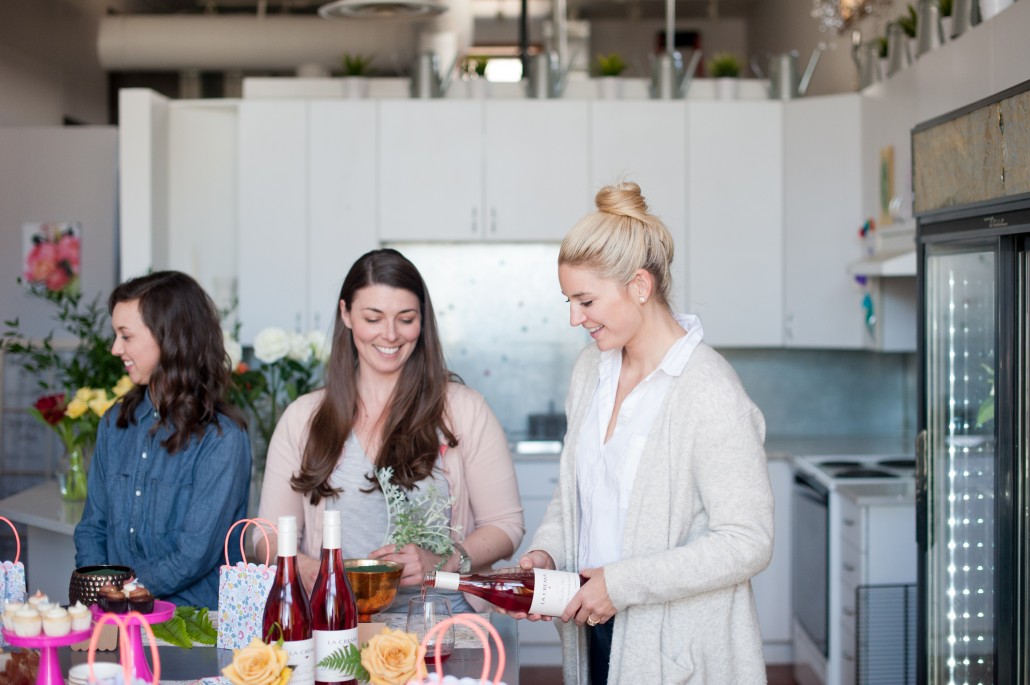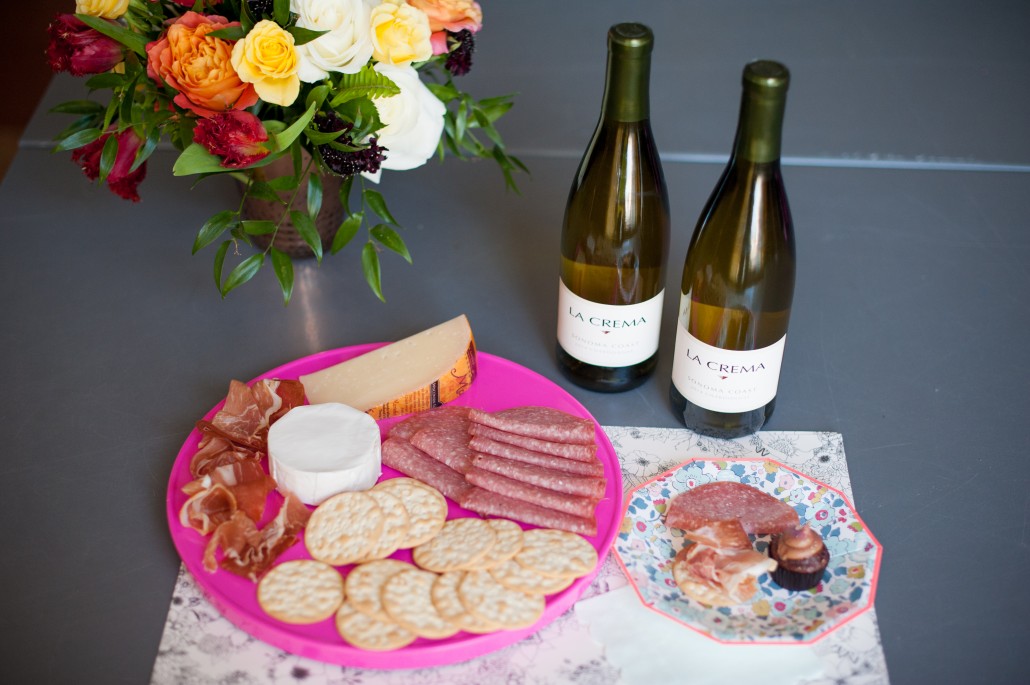 2. When it comes to decor keep your palette bright and floral. I love these flower-design place mats from Swoozies for each guest's spot. They are also so fun to color on, especially since adult coloring is all the rage these days. I added place cards for each so the guests knew where to sit. Lastly, have gift bags with little trinkets for guests to take home with their arrangement and to remember the event.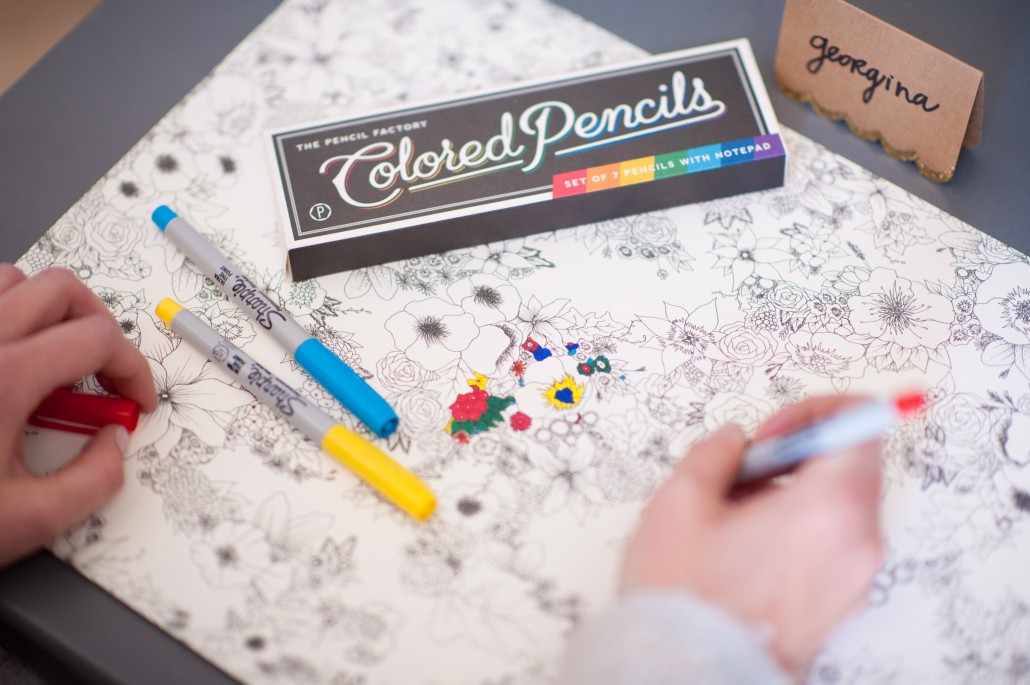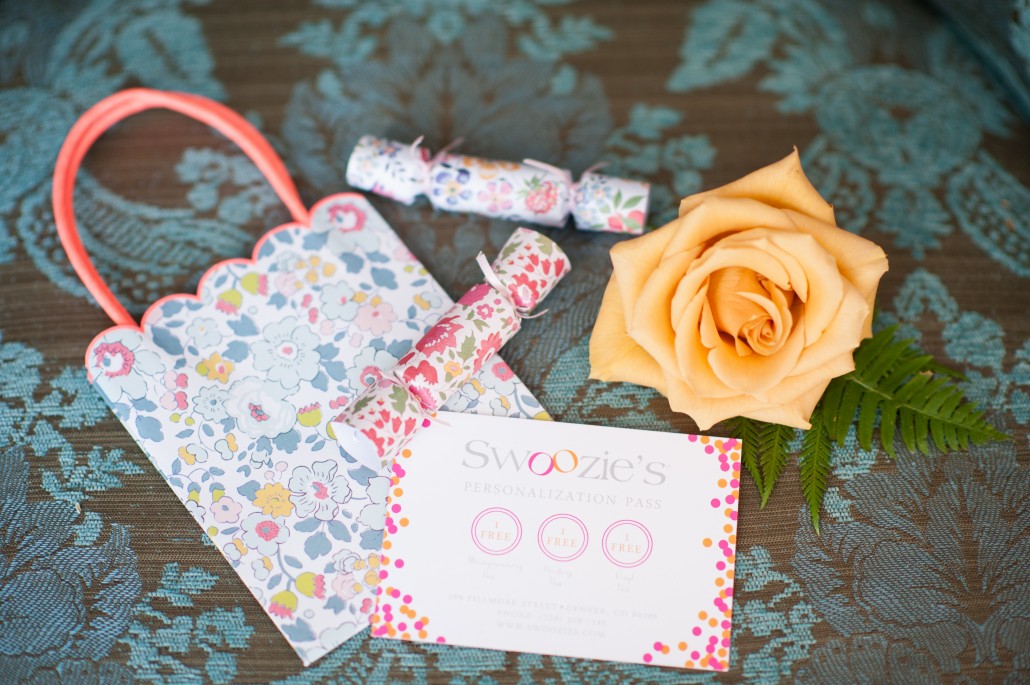 3. There are a few ways to arrange flowers — my favorite way is using Floral Foam. It's easy to use and keeps your flowers in place. This can get pricey if you are buying all the supplies. Another (cheaper way) is to use tape making a grid across the vase. I recommend small vases like these for each guest to use to arrange in and take home, plus they are under $4! You will also need Floral Shears – these can get expensive too so I recommend buying a couple to share between your guests.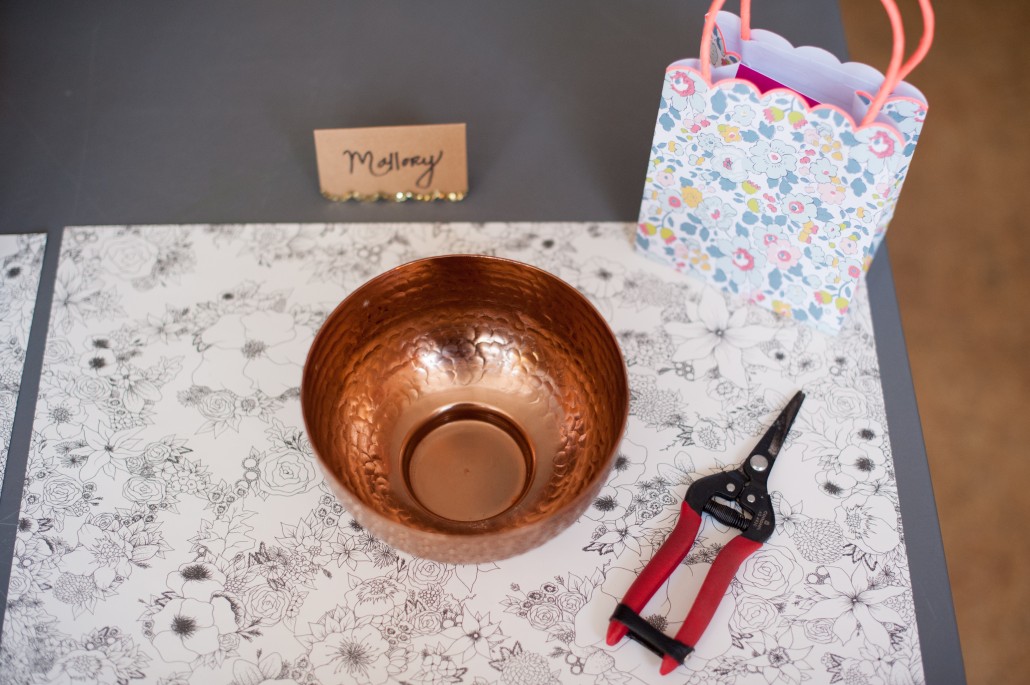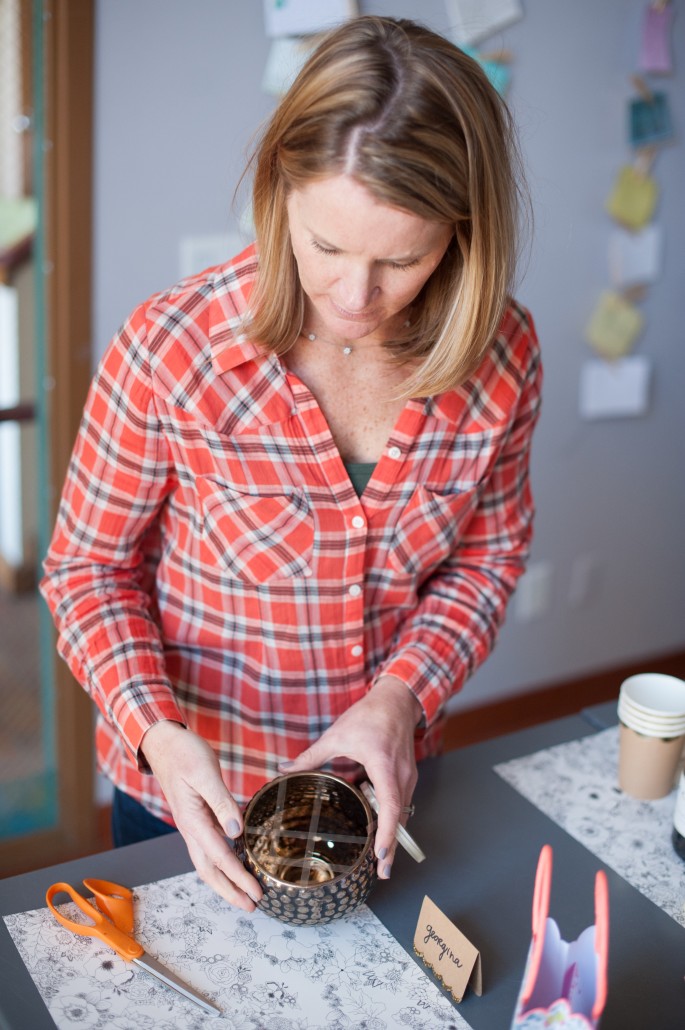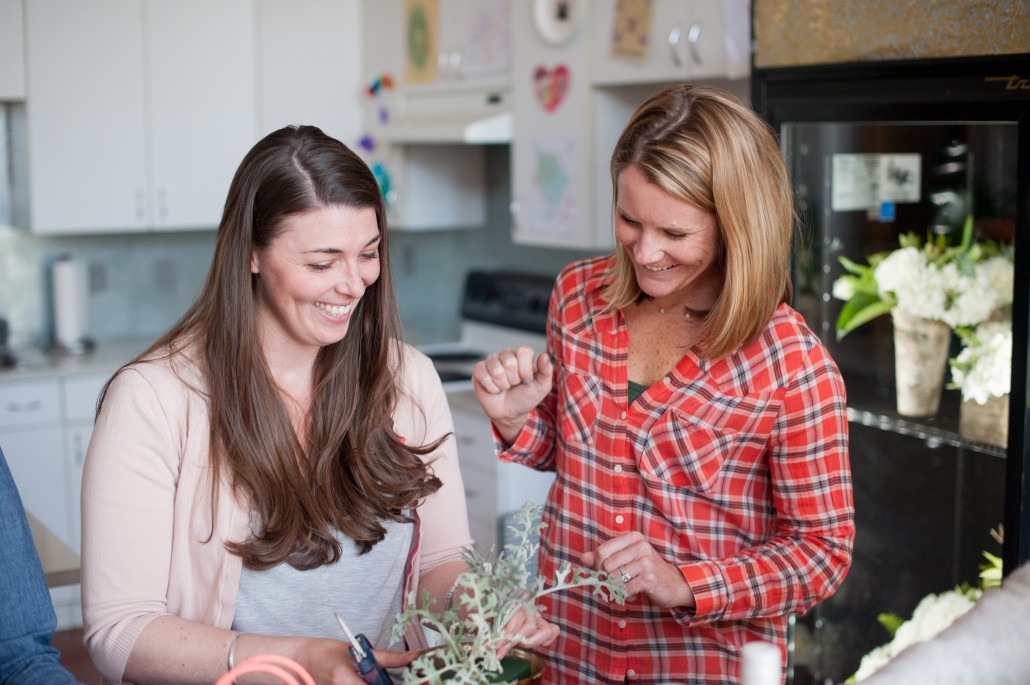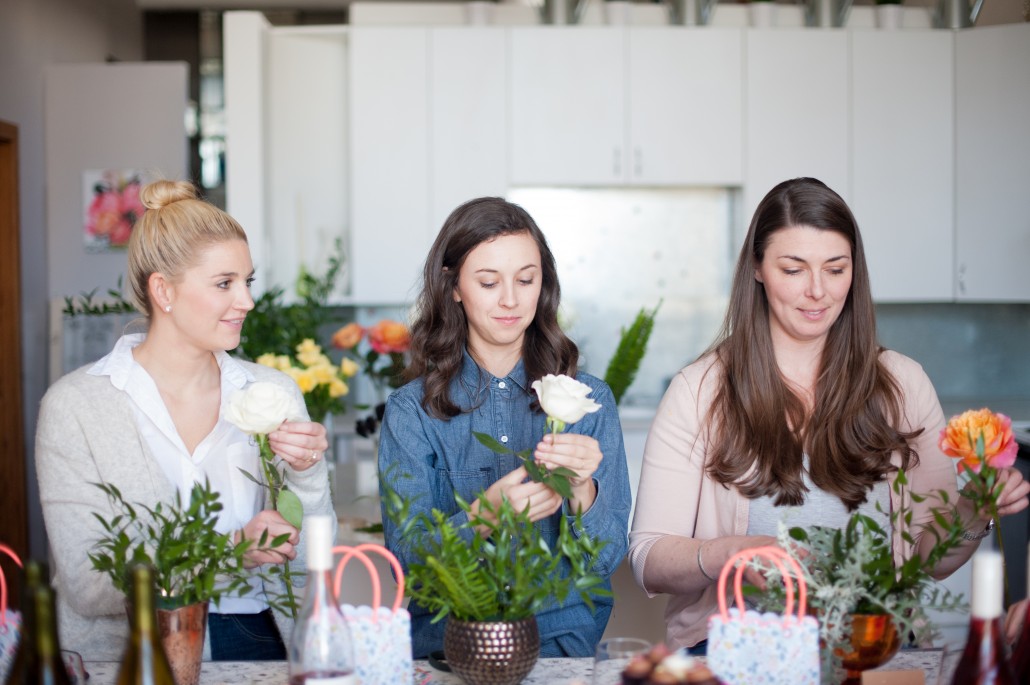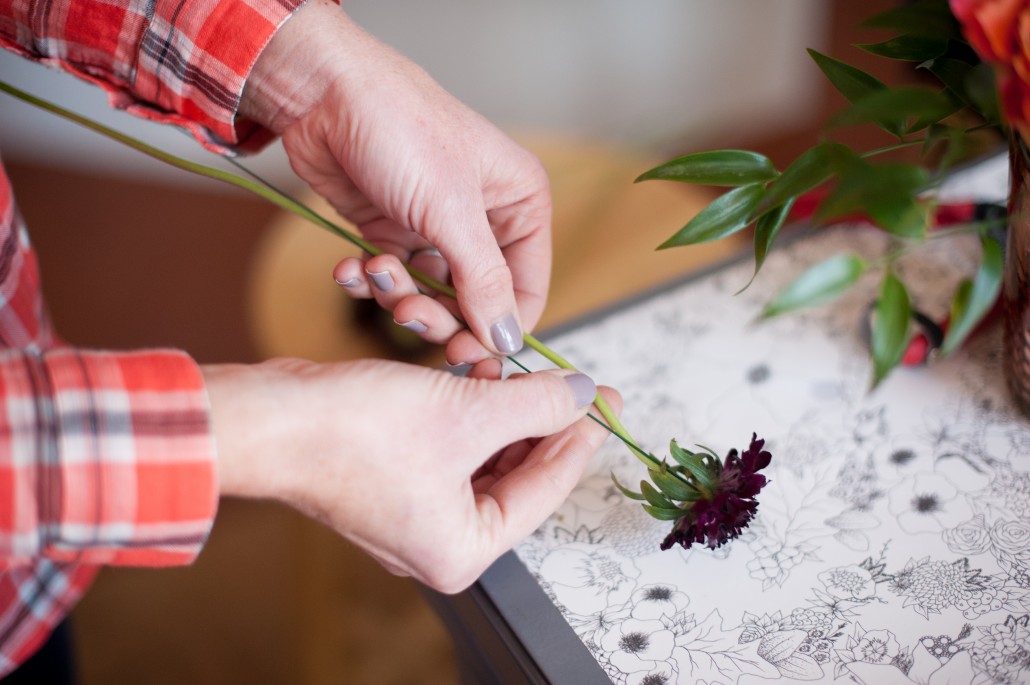 4. If you are not a floral design expert, are hosting the party and cannot find an expert, that's ok! Flower arranging should feel organic, but there are a few simple ways to help guide your guests (or shall I say students) when designing:
Start with your greens! You always want to add the greens first before any flowers. Always remember to pull off any leaves that will be in the water – this prevents your water from getting moldy (this includes the leaves off of each flower).

Pick one focal flower and put it in next. The world is your oyster when it comes to where it should go, so don't be afraid to place it anywhere. However, this will determine the way your arrangement will go – big and full, to one side, etc..

The next flowers that go in are the second focus to the arrangement. Feel free to play around with how they're placed, you're the designer!

A simple trick when it comes to the droopy flowers in the bunch? Use floral wire and stick it in the top of the flower wrapping the wire the rest of the way down then covering with floral tape!
Remember to have fun, enjoy the snacks (and the wine!) and take a beautiful bouquet home when it's all over. Enjoy!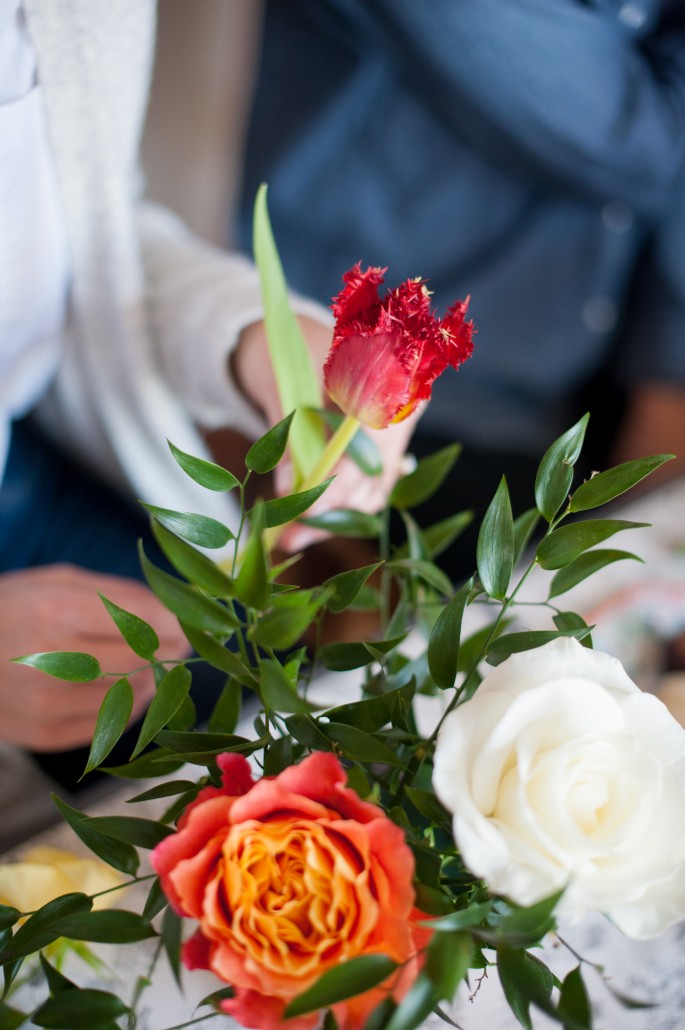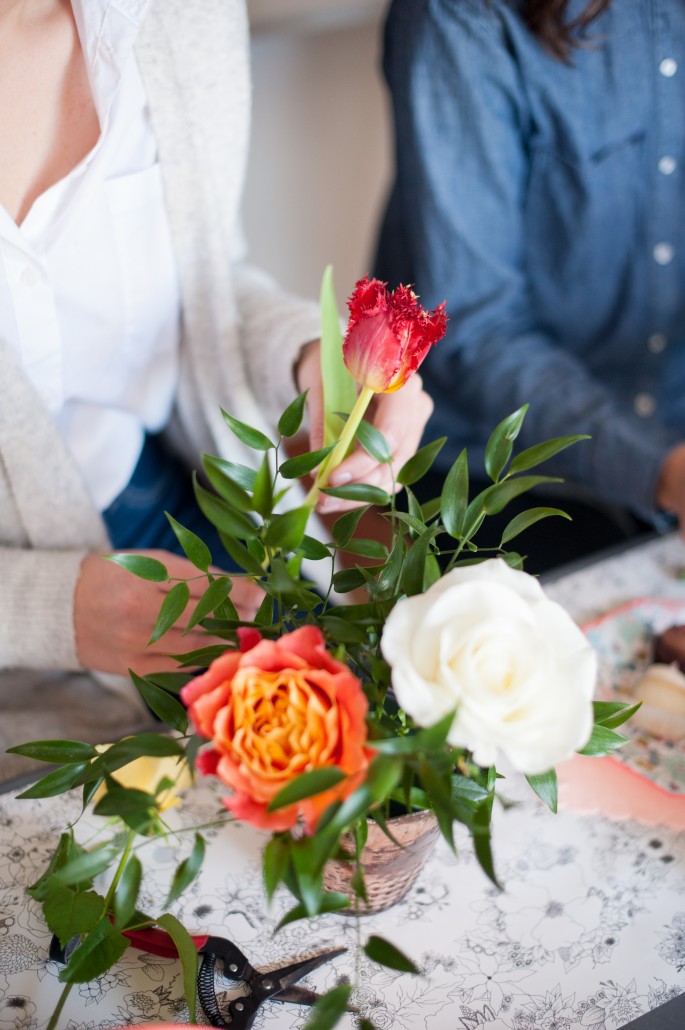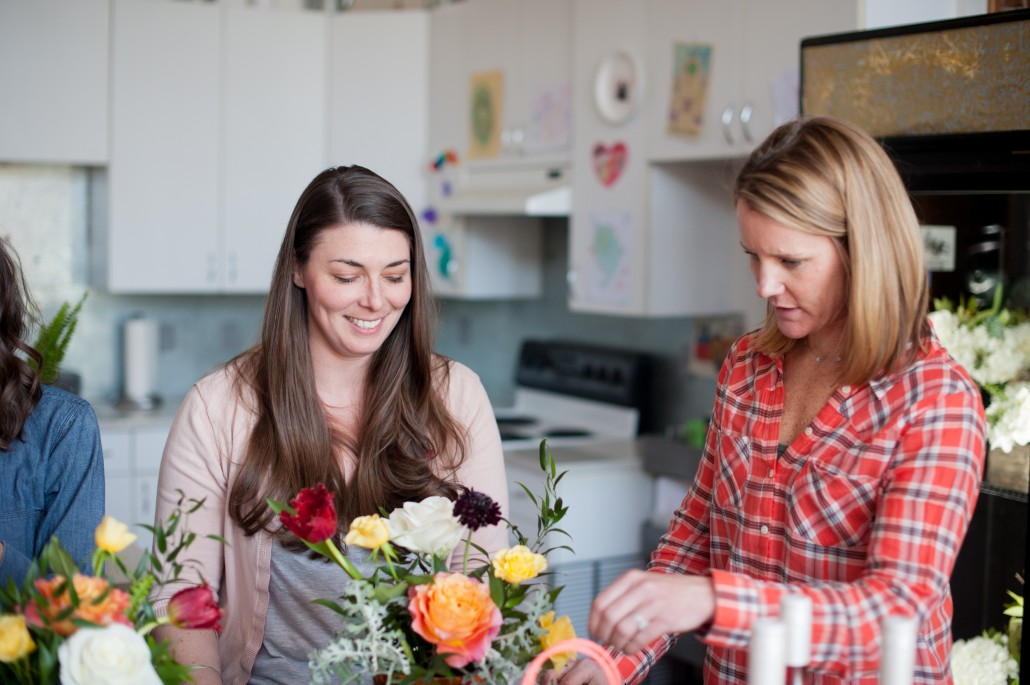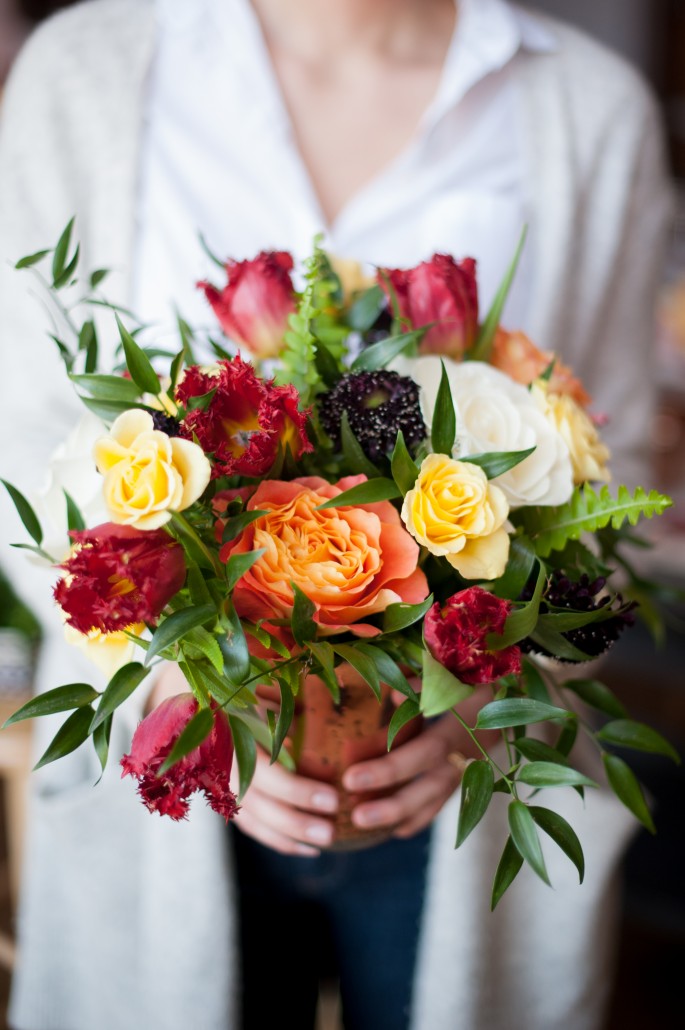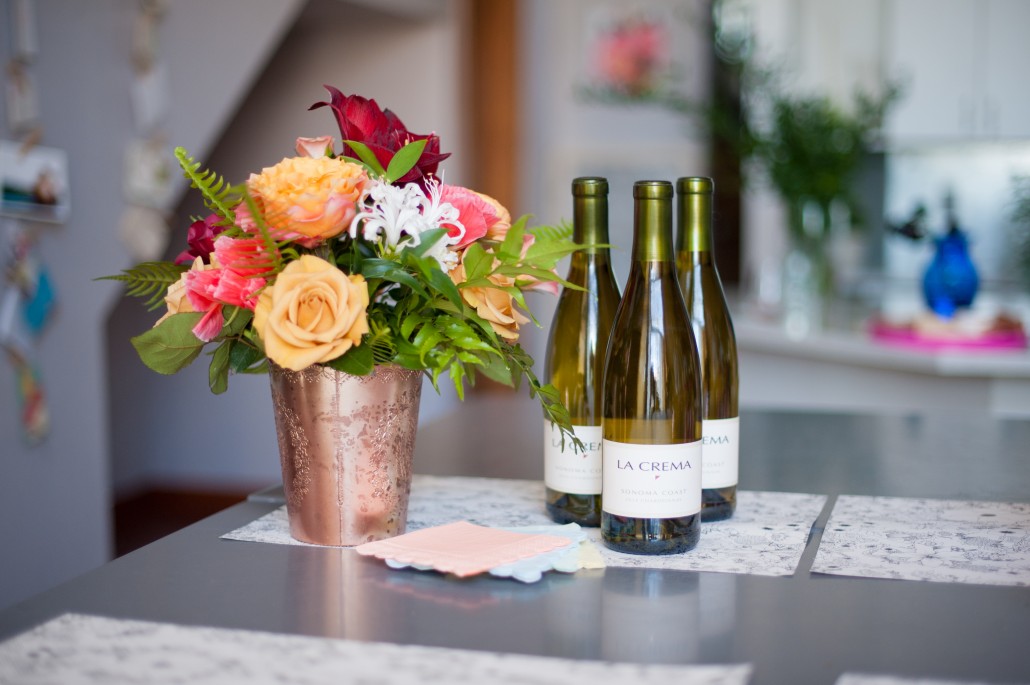 Share this event on Pinterest!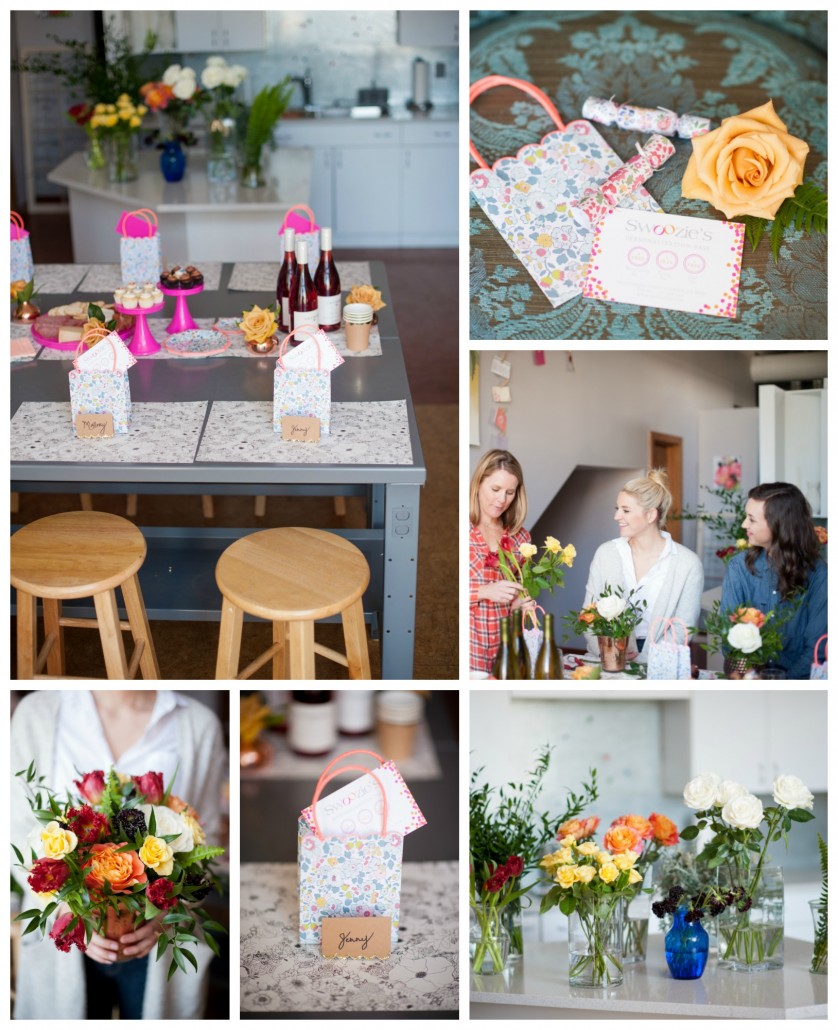 Photos by Colby Elizabeth Photography
Flowers by Plum Sage Flowers
Decor from Swoozies
Cupcakes by Yours Truly Cupcake