Sips & Tips: New Year, New Inspo
Warm Spinach & Potato Salad with Smoked Bacon Vinaigrette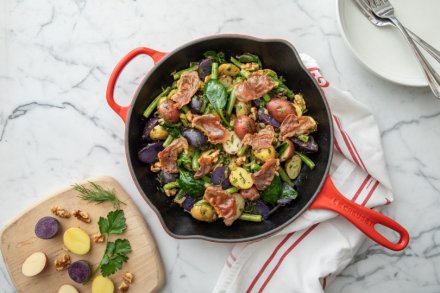 Wine Pairing: 2018 Willamette Valley Pinot Noir

Warm Spinach & Potato Salad with Medjool Dates, Hazelnuts & Smoked Bacon Vinaigrette
Author: Chef Tracey Shepos Cenami
Serves: 6
Ingredients
For the vinaigrette:
2½ ounces smoked bacon, cut in ½-inch pieces
2 small shallots, cut in half
2 Tbsp. Dijon mustard
4 Tbsp. red wine vinegar
1 Tbsp. honey
6 Tbsp. oil
For the salad:
4 strips bacon, cooked until almost done
4 fingerling potatoes, cut in ½ -inch discs and boiled until just tender
2 medjool dates, cut into sixths
4 cups baby spinach leaves
¼ cup hazelnuts, toasted and cracked
Kosher salt
Freshly ground black pepper
Instructions
Preheat the oven to 350ºF.
On a rimmed baking sheet, add the bacon and shallots and cook for 16 minutes, until the shallots are soft and the bacon is rendered.
In a blender, carefully add the bacon, shallots and the remaining ingredients and blend until smooth.
Cut cooked bacon into 1-inch pieces and place in a sauté pan with the potatoes and dates. Cook on medium heat until bacon and dates are crispy and potatoes are golden.
Remove from heat and immediately stir in 1/3 of the vinaigrette to warm.
Mix with spinach, hazelnuts and season with salt and pepper.
Everything Bagel & Lox Crostini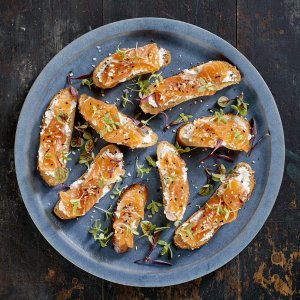 Wine Pairing: 2015 Willamette Valley Sparkling Blanc de Blancs
Everything Bagel & Lox Crostini
Author: Chef Tracey Shepos Cenami
Serves: 12
Ingredients
For the lox:
1⁄4 cup kosher salt
1⁄4 cup sugar
2 tablespoons chopped fresh fennel fronds
2 tablespoons chopped fresh dill leaves
1⁄2 lb skin-on center-cut salmon fillet
For the everything seasoning:
1 tablespoon black sesame seeds, toasted
1 tablespoon white sesame seeds, toasted
2 tablespoons poppy seeds
1 teaspoon dried minced onion
1 teaspoon dried minced garlic
1 teaspoon Maldon sea salt
For serving:
2 everything bagels (unsliced)
Extra-virgin olive oil, for brushing
Kosher salt
1 cup (about 1⁄2 lb) Delice de la Vallee cheese, or 1⁄2 cup (about 1⁄4 lb) each fresh goat cheese and cream cheese, at room temperature, lightly whipped together
Fresh fennel fronds and dill leaves, for garnish
Instructions
To prepare the lox: In a small bowl, stir together the salt, sugar, fennel, and dill for the cure mix. Lay a piece of plastic wrap large enough to wrap the salmon securely on a work surface. Place the salmon fillet on the plastic wrap and sprinkle with half of the cure mix. Flip the fillet over and sprinkle with the remaining cure mix. Wrap the salmon tightly and place it in a glass dish. Refrigerate for 12 hours. Flip the fillet and return to the refrigerator for 12 hours longer. The salmon will feel firmer after this 24-hour cure. Unwrap the fillet, rinse off the cure with cold running water, and pat dry with a paper towel. The lox can be rewrapped and refrigerated until ready to serve. It will keep for up to 1 week.
To make the everything seasoning: In a small bowl, stir together all of the ingredients, mixing well. Transfer to an airtight container and reserve at room temperature until ready to use. It will keep for up to 1 month.
To toast the bagel slices: Preheat the oven to 325°F. Slice the bagels vertically (the opposite direction of how you would typically slice a bagel) 1/8 inch thick. You should get about 18 slices from each bagel. Arrange the bagel slices in a single layer on a sheet pan. Brush one side with oil and sprinkle with salt. Bake the slices for 6 to 8 minutes, rotating the pan 180 degrees halfway through baking, until golden brown and crispy. Let cool before using.
To serve: Place the salmon on a cutting board and cut away the skin, slicing as close to the skin as possible to keep the fillet intact. Slice the fillet into thin ribbon-like strips.
Spread some of the cheese on each crisp bagel slice and top with a ribbon of salmon. Garnish with a generous sprinkle of everything seasoning, fennel fronds, and dill. Arrange on a platter and serve.