Lemon Garlic Roasted Rack of Lamb
Juicy, flavorful racks of lamb are a stunning addition to any dinner party, and perfect addition to fall inspired meals. We're updating this classic recipe with a quick, easy take that is full of flavor and easy enough for beginner cooks!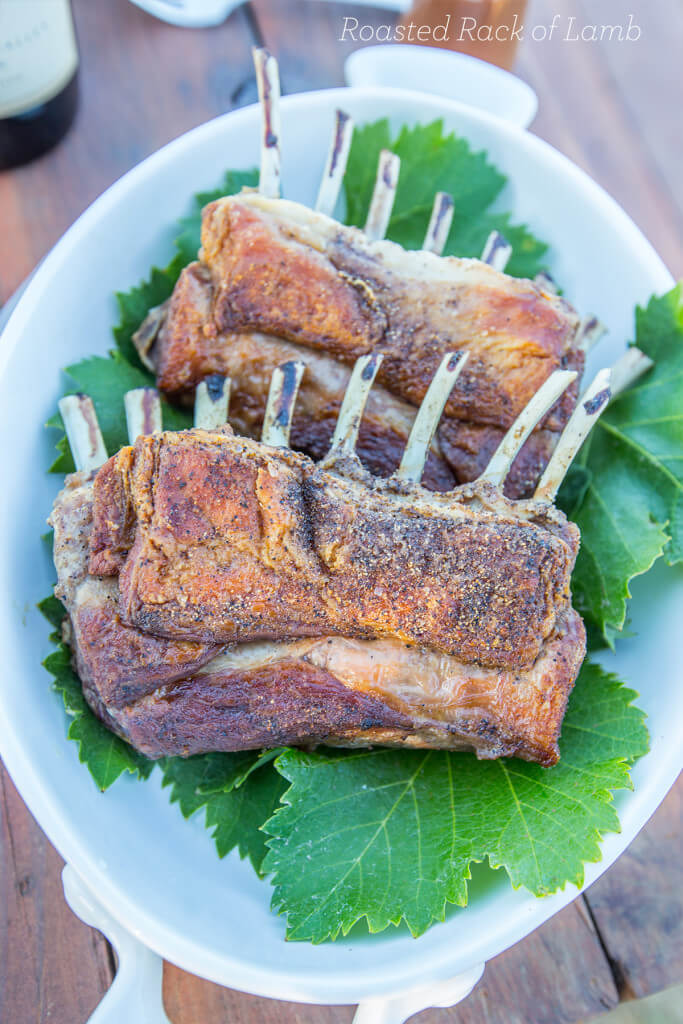 Today I am sharing my tips to cooking a perfect rack of lamb, as well as this delicious, foolproof recipe for a Garlic and Lemon Rack of Lamb. This rich, flavorful main dish is a perfect match for the complex plum, cocoa, and violet notes in La Crema's Monterey Pinot Noir. This lamb was a showstopper at our recent Farm-to-Table Harvest Dinner, a night dedicated to bringing local ingredients home in simple, but stunning dishes that are best shared with people you love and some great bottles of wine.
Eating locally often means eating fresh, seasonal food. This menu thrives on delicious foods perfect for celebrating a rich bounty from early autumn harvests, and lamb is actually a fabulous pick for fall. Many people think of lamb as a springtime dish (lamb is most tender in spring), but it develops a rich, nutty, more developed and complex flavor in fall that pairs well with distinct flavors like garlic and lemon, as well as lots of seasonal herbs.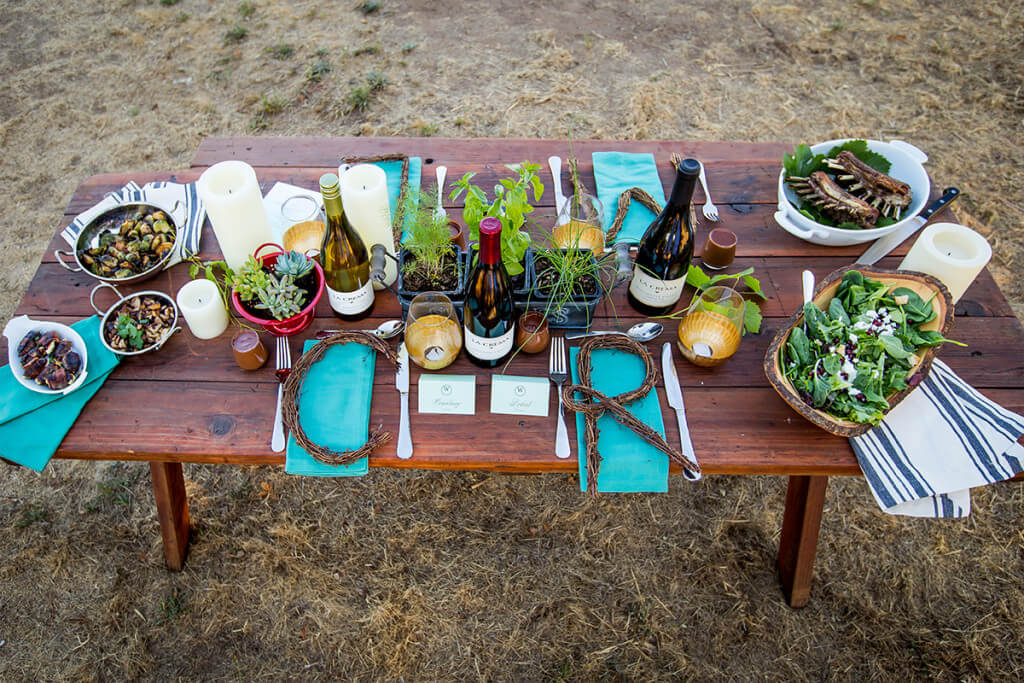 Tips for a perfect rack of lamb: 
Forget fussy traditional settings! Rack of lamb is a stunning dish no matter how it is prepared, but traditional presentations can be fussy and overly formal for an intimate dinner party. Opt for easy and spend more time with your guests than preparing your meal. Roasting brings out lamb's delicious, savory flavors and couldn't be easier!
Don't skip the browning. While this recipe is incredibly easy, don't be tempted to skip the browning step before roasting the lamb in the oven. Browning meat gives a buttery, caramelized flavor and helps to seal in the meat's juices so it doesn't dry out. Browning can also help cook down fat on a rack of lamb, and take away a bit of the "game-y" flavor some people dislike when eating lamb.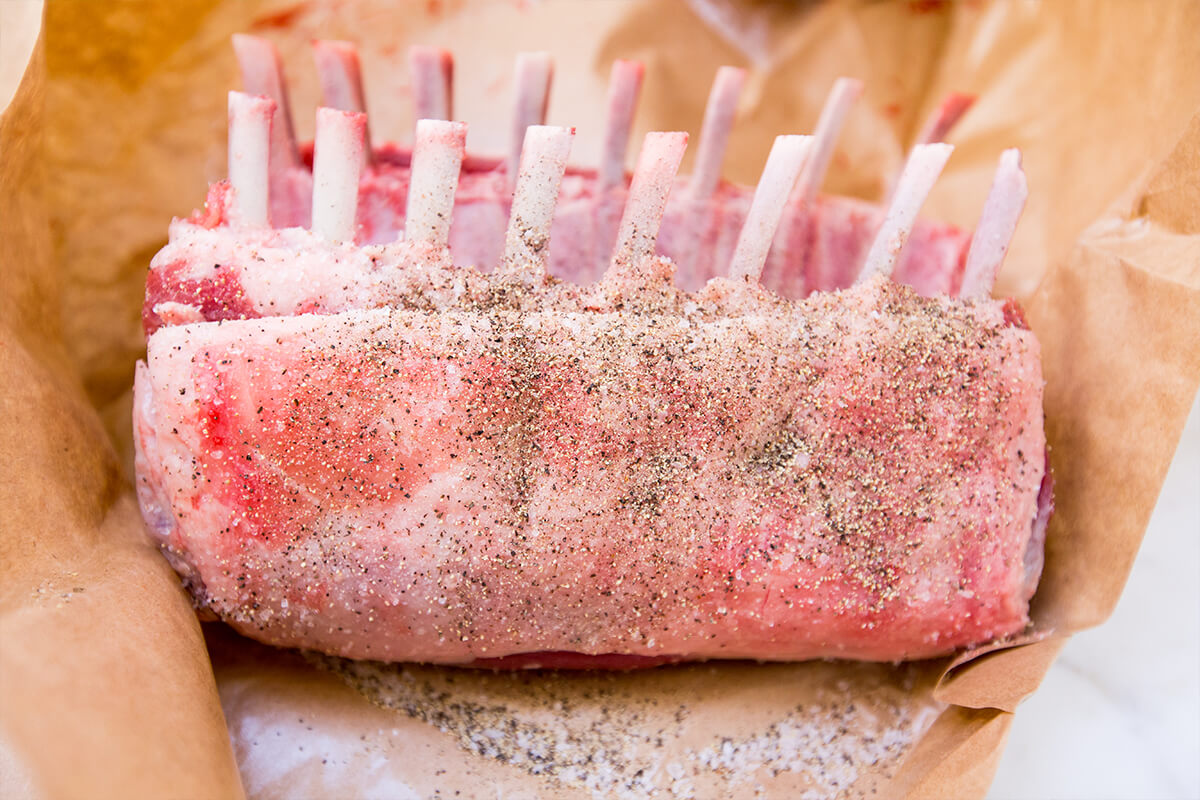 Slightly undercook, and let it carry-over as the meat rests. For medium rare lamb, it should be cooked to 130 degrees internally. However, I pull the lamb out at 125 degrees and cover with foil (don't make it too tight so condensation doesn't build, making the meat soggy) to help the meat continue cooking to 130 degrees. If you're going for medium lamb, remove at 135 degrees, and 145 for well done (though I recommend medium rare for the best flavor and texture.)
Don't cut too early. Like any other meat, lamb needs to rest before cutting, or the juices will all run out and you'll be stuck with dry meat.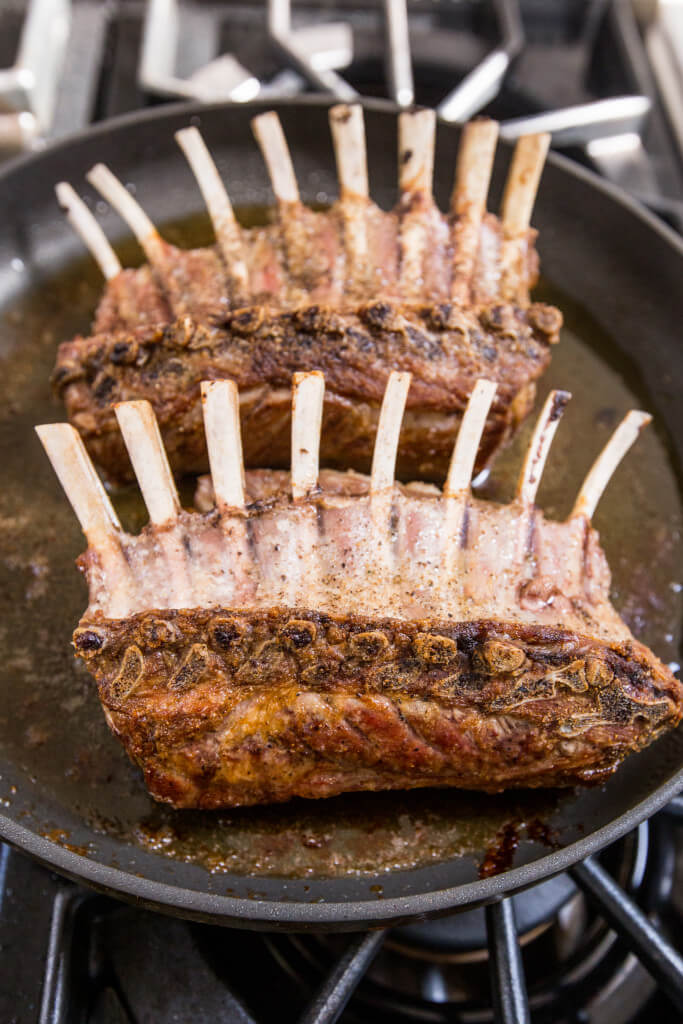 Leave the frenching to the pros! It's a personal choice to french the rack of lamb or not, but I prefer the clean, classic presentation of frenched tips. While not hard to do on your own, most meat departments will do it for you in a fraction of the time at no cost. It's one less thing to do before a party, and your guests will love the look!
Vary your recipe. Love rosemary, oregano, mint, or thyme? Don't be afraid to toss them in and try new combinations. This recipe is a great base to build flavor. Go ahead and use up whatever herbs you have on hand and try out bold new flavor combinations!
Lemon Garlic Roasted Rack of Lamb
Author:
Prep time: 10 mins
Cook time: 45 mins
Total time: 55 mins
Elegant and easy, this recipe for lemon and garlic roasted rack of lamb is an impressive dinner party main course that will stun and delight your guests.
Ingredients
2 racks of lamb, frenched
2 tbsp olive oil
6 cloves of garlic, finely diced
juice of 1 lemon
salt and pepper, to taste
Instructions
Generously season rack of lamb with salt and pepper.
In a large bag, add lamb and olive oil, garlic, and lemon juice.
Let marinate at least two hours, or overnight.
Preheat oven to 350 degrees.
Heat a heavy cast iron pan on the stovetop at medium-high heat.
Remove lamb racks from marinade, pat with towels to remove excess oil and liquid (doesn't need to be bone dry, just not dripping.)
Add racks to pan and brown on each side, about 4 minutes per side.
Move pan to oven and let roast for 15 minutes, fat side down.
Flip racks on other side, and roast an additional 10-15 minutes, until internal thermometer reaches 125 degrees for medium-rare, then remove from oven.
Let stand for 10 minutes before carving.
3.2.2708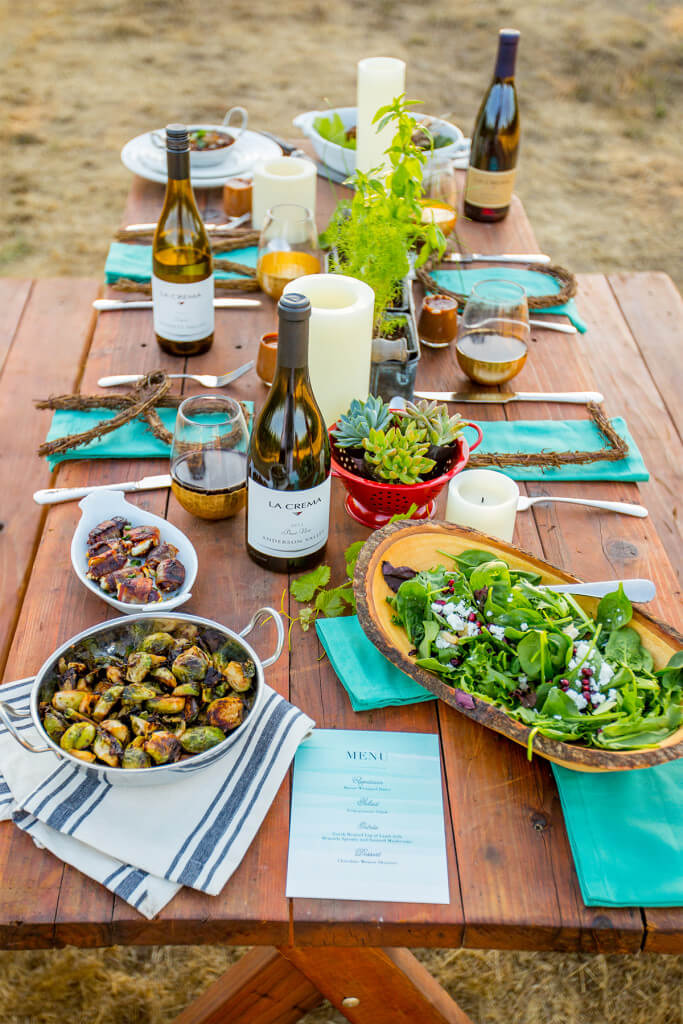 Follow along with our farm-to-table harvest dinner and get full recipes for each dish on Sweet C's Designs, Freckled Italian and the La Crema Winery blog here:
Farm-to-Table Harvest Dinner
Pan Fried Brussels Sprouts with Ghee
Garlic and Lemon Roasted Rack of Lamb
Fall Inspired Tablescape with Succulent Centerpieces