Bacon-Wrapped Stuffed Dates
If you're throwing a party, there's no better appetizer than bacon-wrapped stuffed dates. We filled these with creamy goat cheese, wrapped them up in salty and savory bacon, and baked them until they were nice and crispy. Topped with fresh green onions they make a lovely and delicious hors d'oeuvre that will perfectly complement all of your fall dinner parties!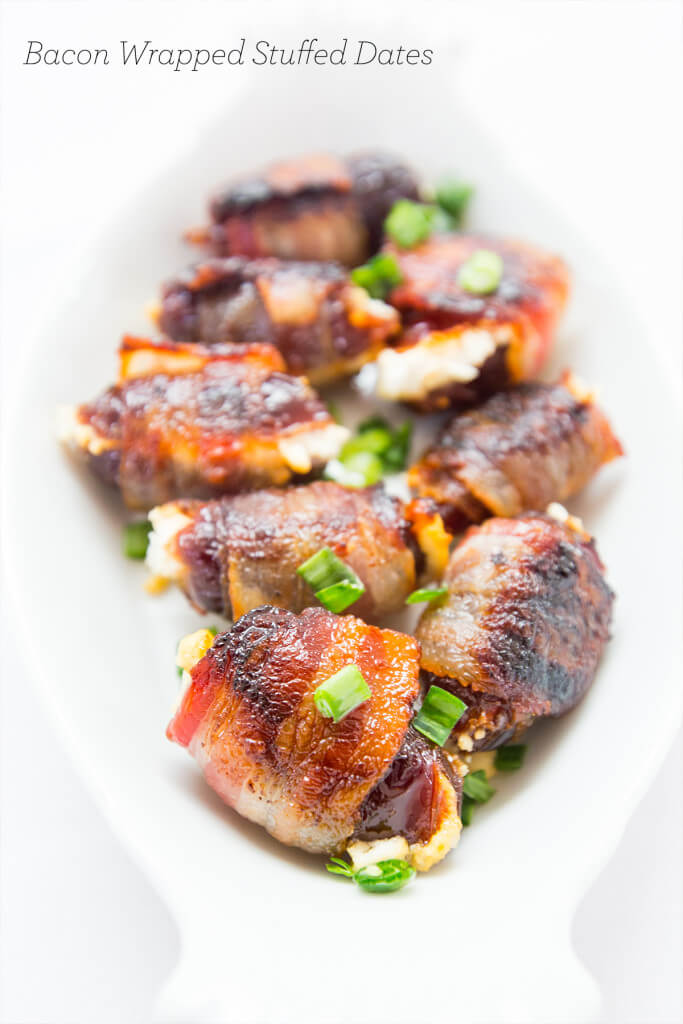 We recently threw a really fun Farm-to-Table Harvest Dinner on location in California's wine country and couldn't resist adding these bacon-wrapped, goat cheese-stuffed dates to the menu. They're delicious all year long, but are such a treat in the fall when dates are fresh and in season.
The dates paired lovely with La Crema's Viognier since the wine's juicy tropical fruit and sweet spice balance the tart, creamy goat cheese and salty bacon. We also enjoyed them alongside the Sonoma Coast Pinot Noir where the bold red fruits in the wine really played well against the salty bacon and savory, but sweet dates. There are just so many wine pairing options!
Bacon-Wrapped Stuffed Dates
Author:
Ingredients
16-20 dates
8-10 strips of bacon
4 ounces of soft goat cheese
Instructions
Pre-heat the oven to 400 degrees.
With a paring knife, make a small cut in each date without slicing the entire thing all the way through (you just want to leave enough room to add goat cheese to the inside). If there are pits, remove them.
Use a small spoon to fill each date with goat cheese.
Cut each piece of bacon in half (width-wise) and wrap each stuffed date with half a piece of bacon.
Bake for 20-30 minutes or until the bacon is cooked all the way through and starting to get crispy around the edges.
Serve hot and enjoy!
3.2.2708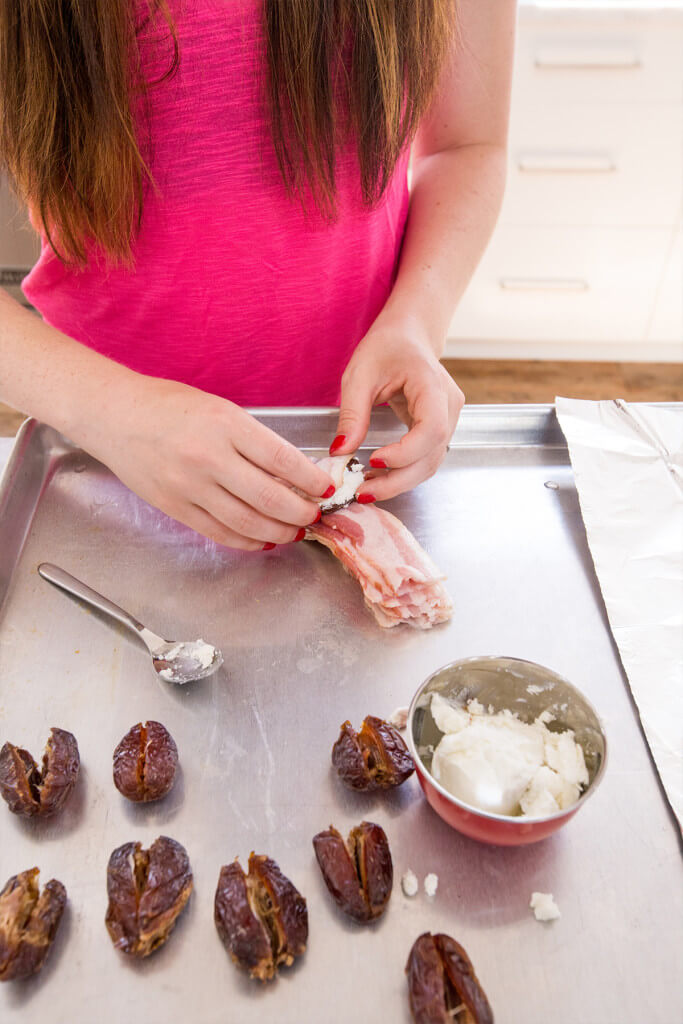 This appetizer can be a little labor-intensive, but it's really not difficult; and it all comes together really quickly once you get the hang of it. Here are a few tips to make it even more manageable:
Let the goat cheese come to room temperature before you try to stuff the dates. It will be much easier to work with if it's on the softer side.
Spoon some of the goat cheese into your hand and actually roll it into an elongated ball if you find that spreading it with a spoon isn't working very well.
This is one dish where you might want to pass on the thick-cut, artisan bacon–thinner pieces do a much better job.
Wrap the bacon around the stuffed date as tightly as you can–use a toothpick to secure if you want. They should stay in one piece as long as you place them "seam side" down, i.e. sitting on top of the edge of the piece of bacon.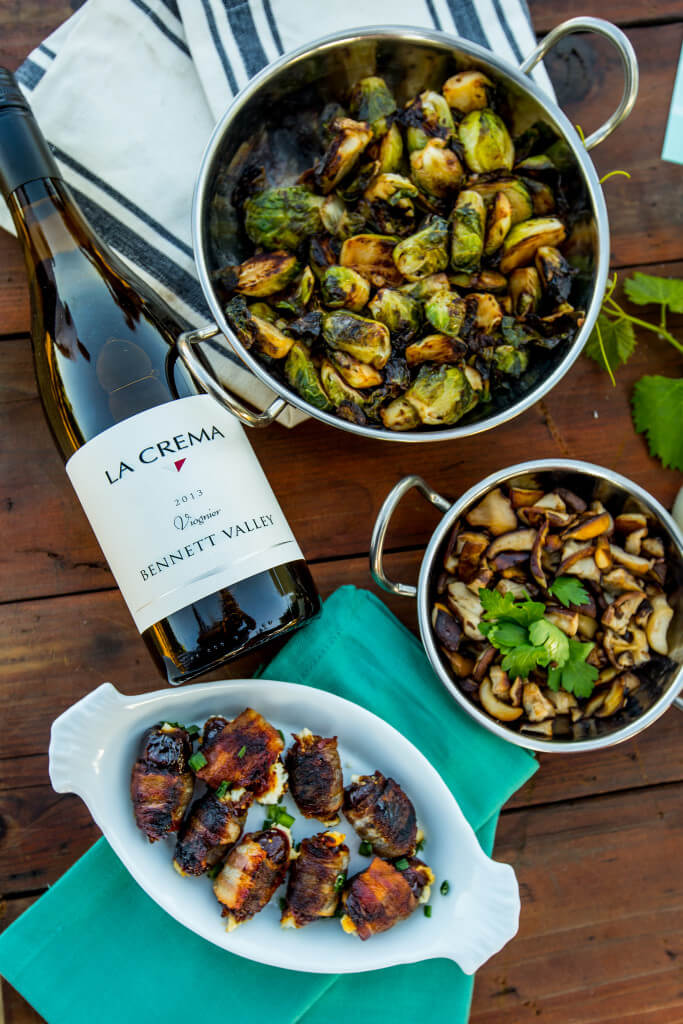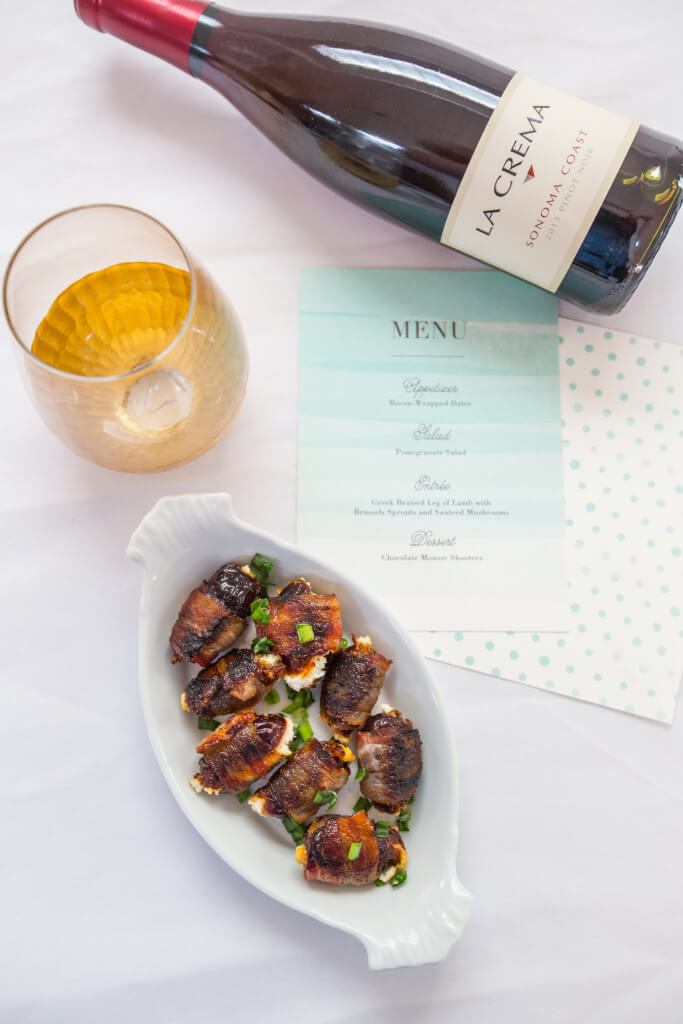 Follow along with our farm-to-table harvest dinner and get full recipes for each dish on Sweet C's Designs, Freckled Italian and the La Crema Winery blog here:
Farm-to-Table Harvest Dinner
Pan Fried Brussels Sprouts with Ghee
Garlic and Lemon Roasted Rack of Lamb