New (or Old) Traditions: Chinese Food for the Holidays
My family has a tradition of eating seafood on Christmas Eve (see this cioppino recipe from last year), and it's one of my favorite holiday rituals.This year, however, my husband and I are staying put and celebrating a quiet (i.e. sleep-deprived) holiday with a new baby, and it seems like the perfect time to introduce a new tradition (and one that's a little easier to throw together than a traditional holiday dinner with all the fixings): Chinese food for the holidays.
We usually spend Christmas on the east coast with our families and celebrate in a lot of the same ways we have for years–making cookies, some fun cocktails, egg sandwiches for breakfast, plenty of delicious La Crema wines, and a big Christmas Eve and Christmas Day dinner with friends and family. But this year, we're certainly excited for something different!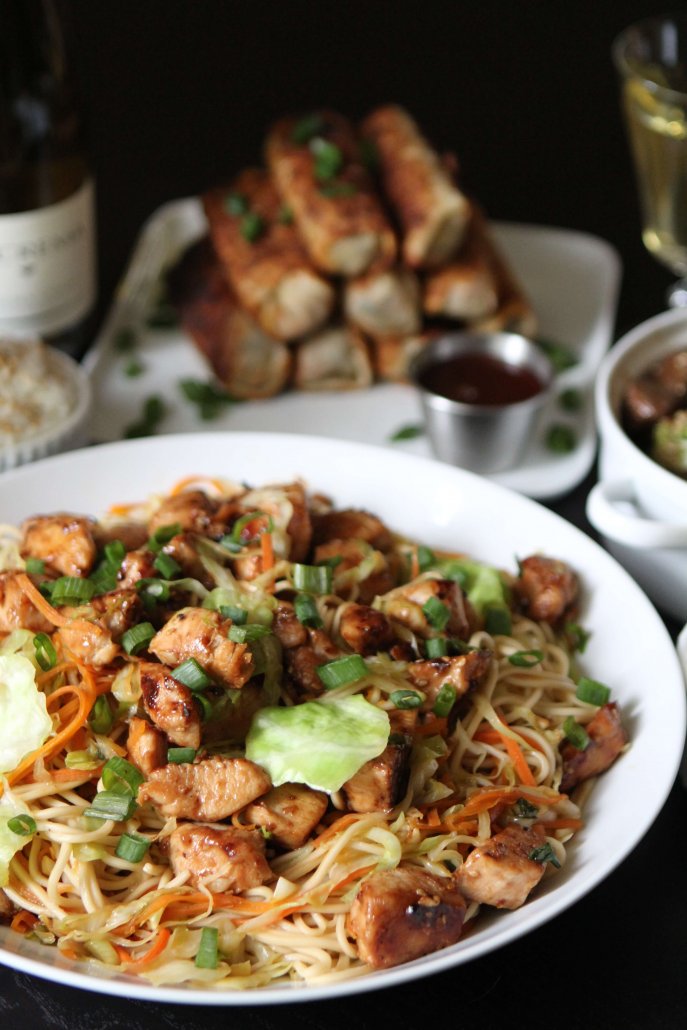 I've always loved the idea of doing something different for the holidays, and I know a lot of people enjoy eating Chinese food over the holidays, so I put together a menu of some of our favorite Chinese dishes to make this year on December 25th including beef with broccoli, chicken chow mein, and some crispy veggie egg rolls with a spicy dipping sauce to start the party off. Paired with a glass or two of chilled La Crema Sonoma Coast Chardonnay, this low-key dinner is the perfect way to celebrate a holiday at home.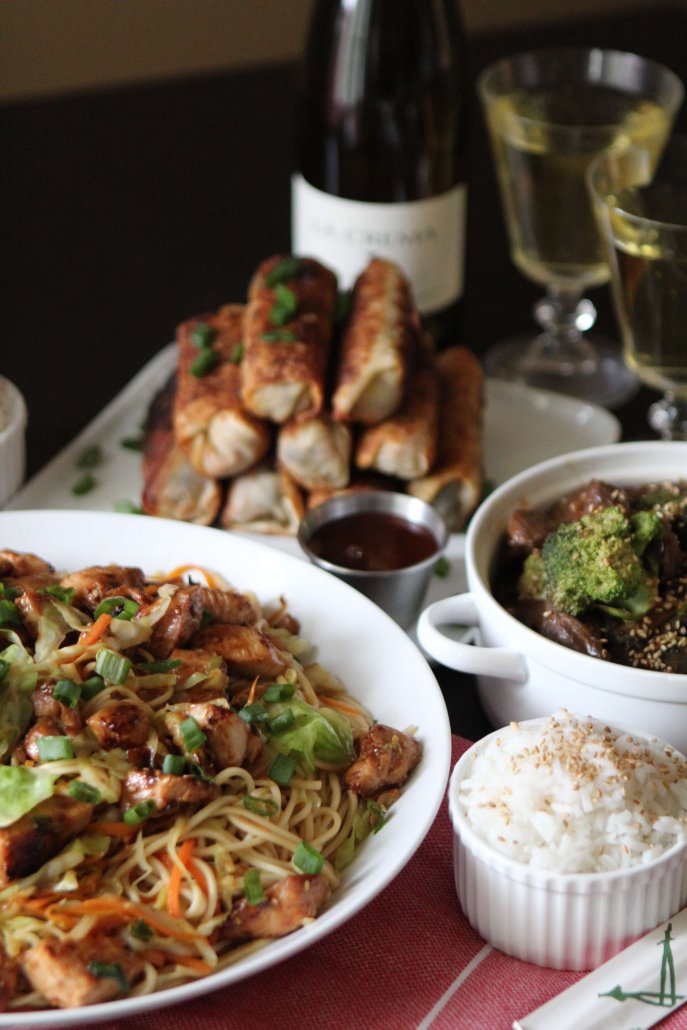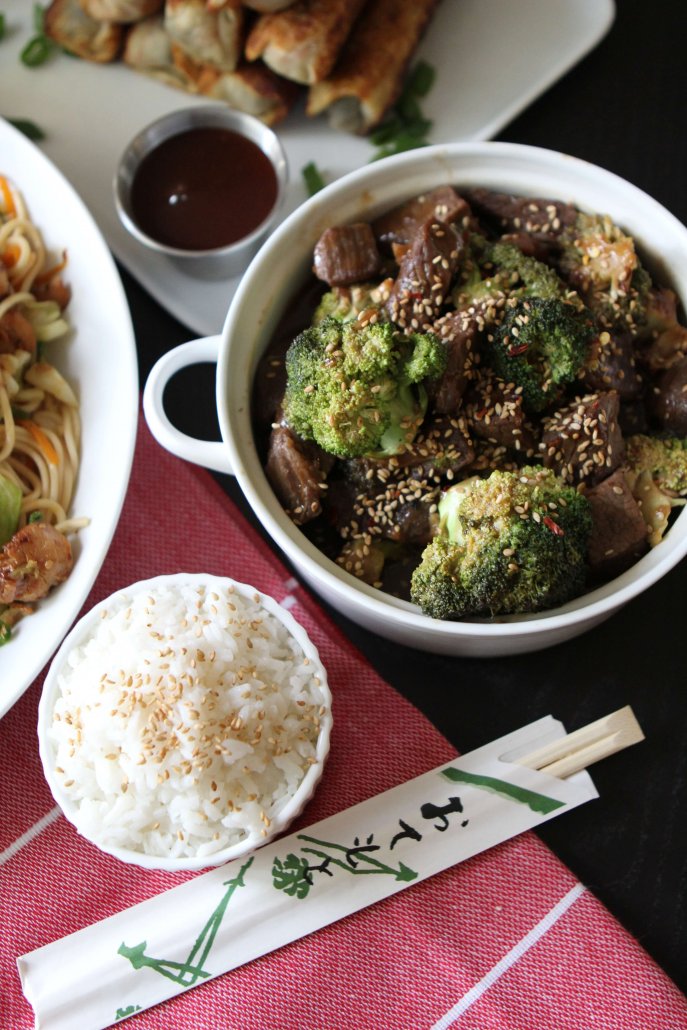 Beef and Broccoli
Author: Megan Flynn Peterson
Cuisine: Chinese
Prep time:
Cook time:
Total time:
Serves: 4 servings
Ingredients
1 pound flank steak or beef stew meat
2 heads of broccoli, florets removed
1/2 cup soy sauce
1/4 cup cornstarch
2 tablespoons brown sugar
2 cloves of fresh garlic, minced
1 tablespoon of fresh ginger, minced
3 tablespoons cooking oil
1/4 cup oyster sauce
1/4 cup beef broth
Salt and pepper, to taste
Instructions
In a small bowl, mix together the soy sauce, cornstarch, sugar, ginger, and garlic. Pour half of the liquid over the beef and reserve the rest for cooking.
Heat the oil in a large skillet over high heat. Add a bit of the cooking oil and cook the broccoli for about 2 minutes, just until it starts to get tender and turn brighter green. Remove from heat.
Add the meat to the pan and spread out into a single layer, allowing it to brown evenly. After about 1-2 minutes, stir and cook for another minute or two. Remove from heat.
Pour the reserved sauce into the skillet with beef broth and oyster sauce. Stir well to combine and cook over medium-high heat until it starts to thicken. Add the beef and the broccoli back in and cook for a few more minutes, tossing well to combine well with the sauce. Season with salt and pepper as needed and serve with rice.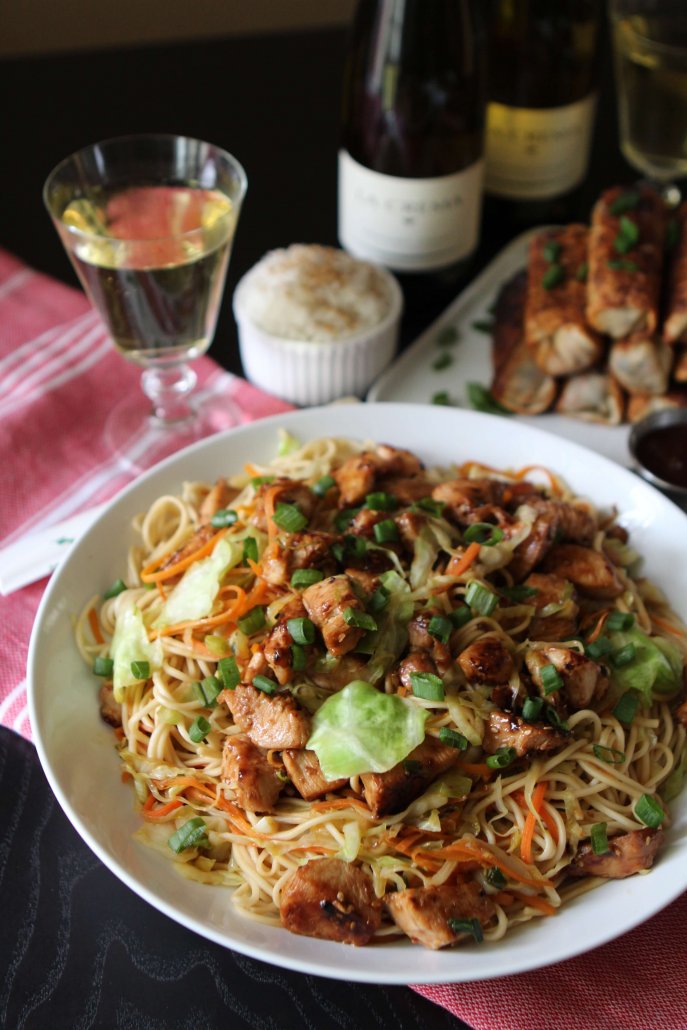 Chicken Chow Mein Noodles
Author: Megan Flynn Peterson
Cuisine: Chinese
Prep time:
Cook time:
Total time:
Serves: 4 servings
Ingredients
2 chicken breasts, diced
2 tablespoons cooking oil
2 cloves of garlic, minced
1 teaspoon fresh ginger, minced
About a cup of shredded cabbage
2-3 carrots, julienned
2 green onions, chopped (plus more for garnish)
2 tablespoons oyster sauce
1/4 cup soy sauce
1 tablespoon corn starch
2 teaspoons sesame oil
1 teaspoon rice wine
1/4 teaspoon red pepper flakes
Salt and pepper, to taste
1-2 tablespoons of water
10 ounces of chow mein or egg noodles
Instructions
In a medium bowl, whisk together the oyster sauce, soy sauce, sugar, cornstarch, sesame oil, and rice wine. Season with salt and pepper and add red pepper flakes. Add a splash of water to thin everything out and reserve most of the sauce for later. Use about a tablespoon as a marinade for the chicken.
Cook noodles according to package instructions. Meanwhile, heat cooking oil in a large pan over medium-high heat and stir-fry the chicken for 5-6 minutes or until browned. Remove from heat.
Add the garlic, ginger, and green onions to the pan and sauté for 1-2 minutes. Add the cabbage and carrots and cook for another 4-5 minutes. Drain the noodles and add to the pan, adding the reserved sauce and tossing everything together to combine. Add the chicken back in and cook over low until everything is heated through. Serve hot topped with more green onions.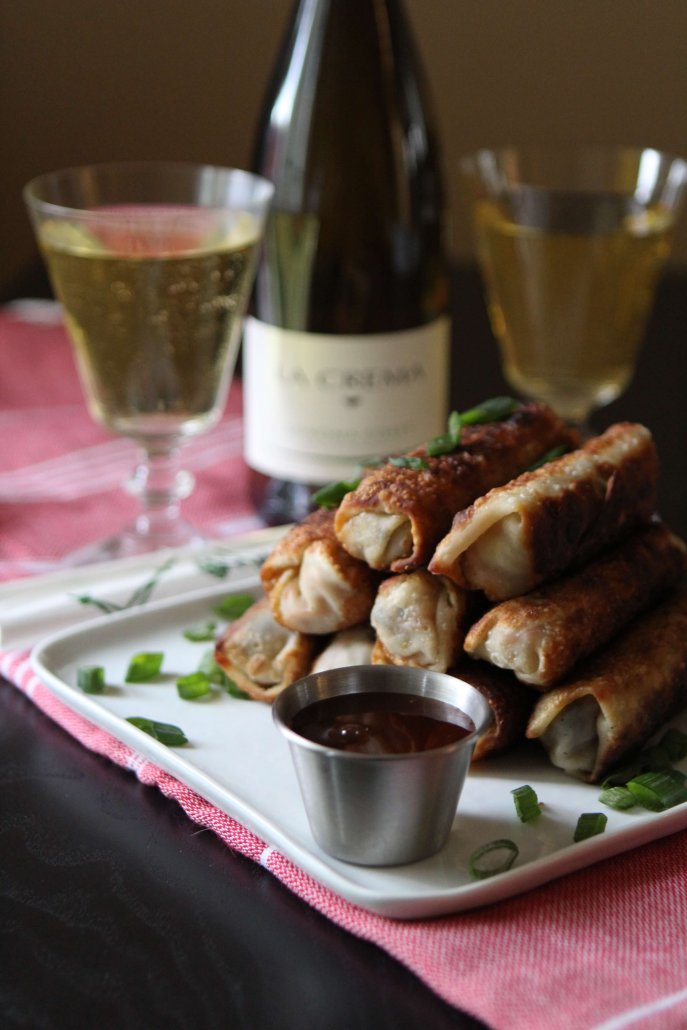 And don't forget to start with the egg rolls! You can find that recipe for veggie egg rolls with spicy dipping sauce on my blog, Freckled Italian. No matter who you're celebrating with or where you are this year, we wish you a happy, healthy holiday full of cheer (and maybe some chopsticks).