Rustic Wine Barrel Table DIY
My husband and I recently moved a town over, and have been dying to host a small housewarming party to celebrate our move to his family's small farmland. We love the new area we moved to, and cherish it even more because it has been in my husband's family since his grandfather built this home by hand.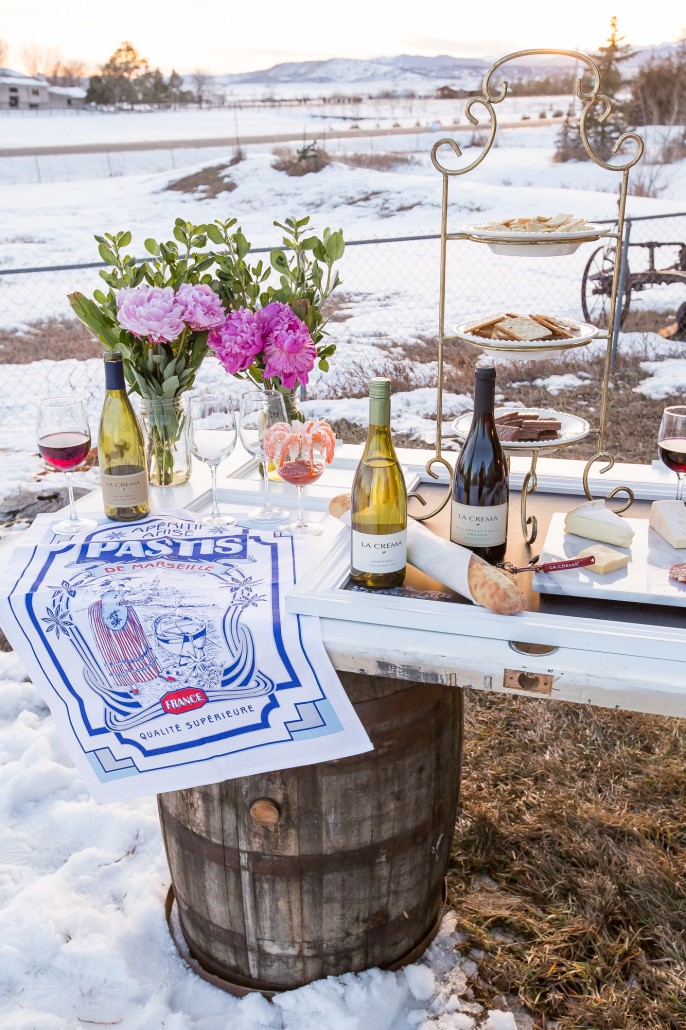 We've been dying to throw a little gathering once our moving was mostly complete, and we really wanted to have some gorgeous appetizers, our favorite La Crema wines, and some simple, but elegant vintage-inspired décor to celebrate our new-to-us home.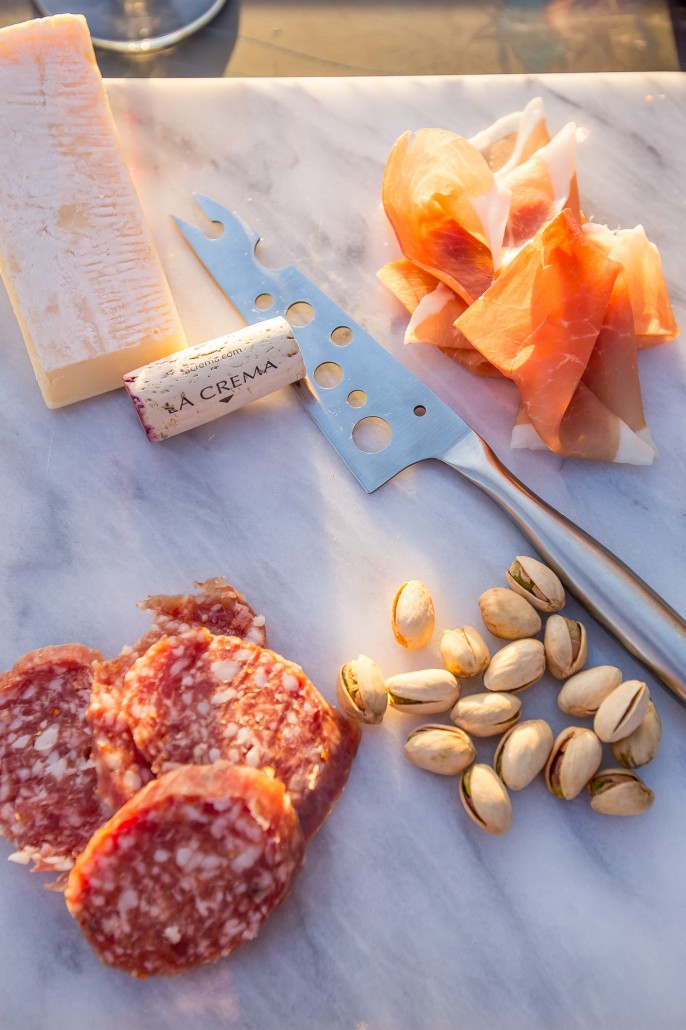 After setting up a gorgeous (and incredibly easy) wine barrel table, I set out heavy appetizers including a cheese and charcuterie plate, shrimp cocktail, fresh baked bread, and some chocolates my sister in law brought us back from Australia.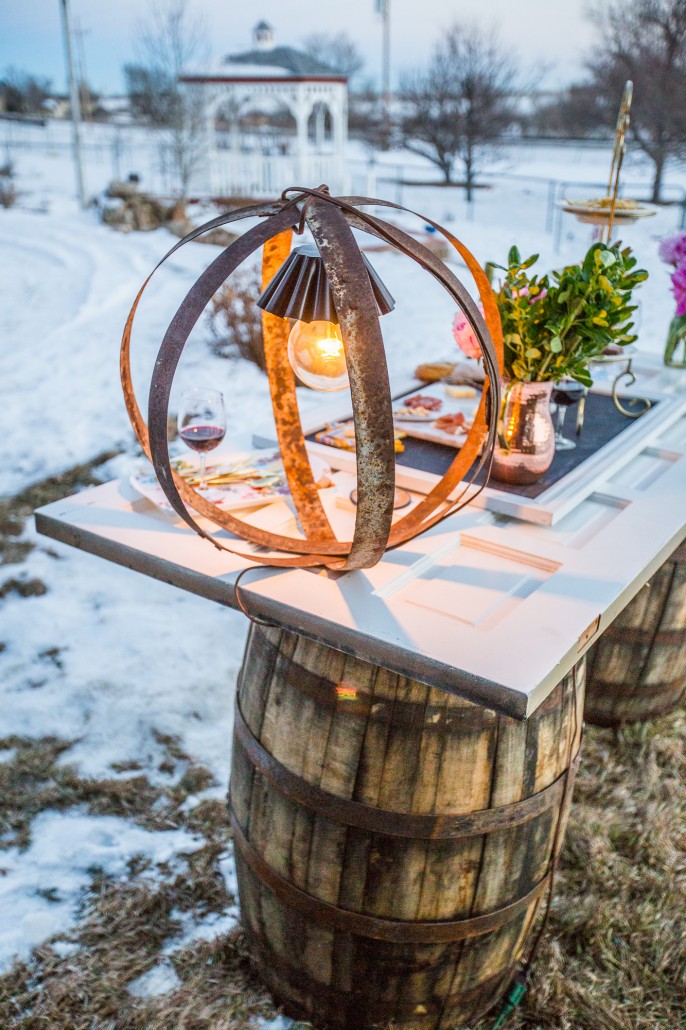 For decoration, I put together incredibly simple bouquets with peonies (they aren't in bloom in Colorado yet, but the property here has some of the most gorgeous peony bushes I have ever seen) that I arranged in mason jars and a large copper pitcher.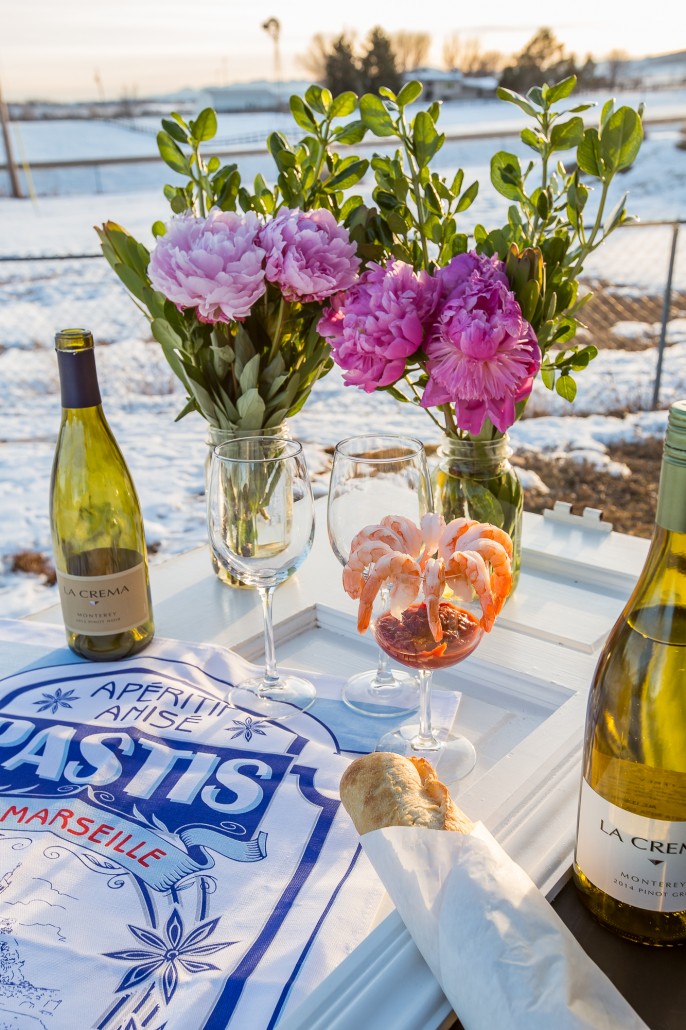 I laid out some vintage French linens, served everything on a large framed chalkboard, and set some French country themed printed paper napkins.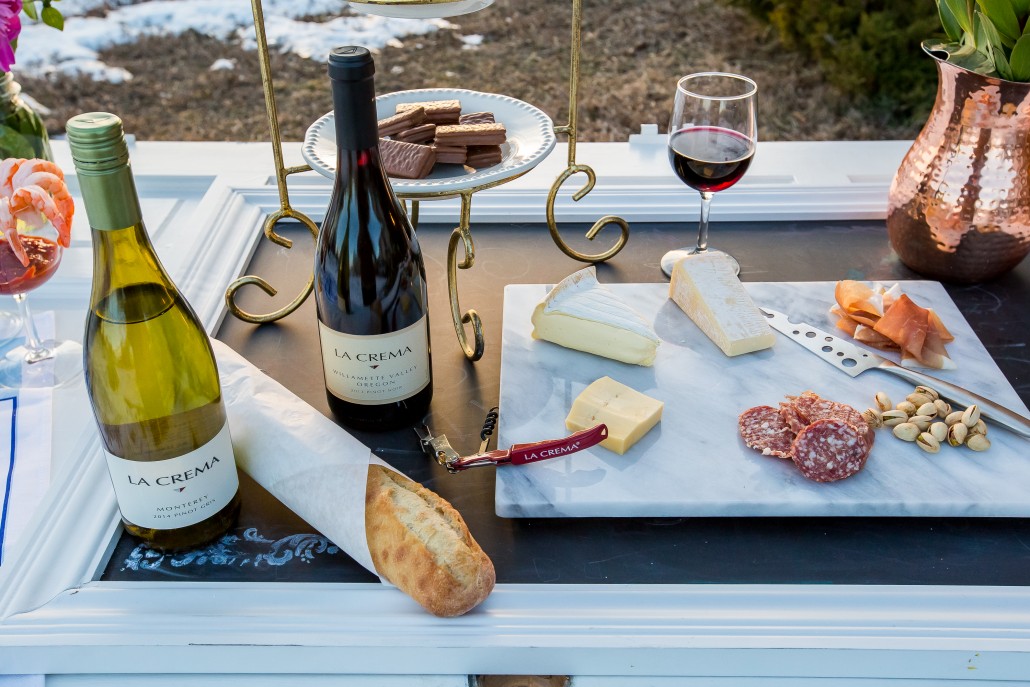 It was a simple, easy, but elegant setup, and a perfect way to show off the gorgeous Rustic Wine Barrel Table we just made!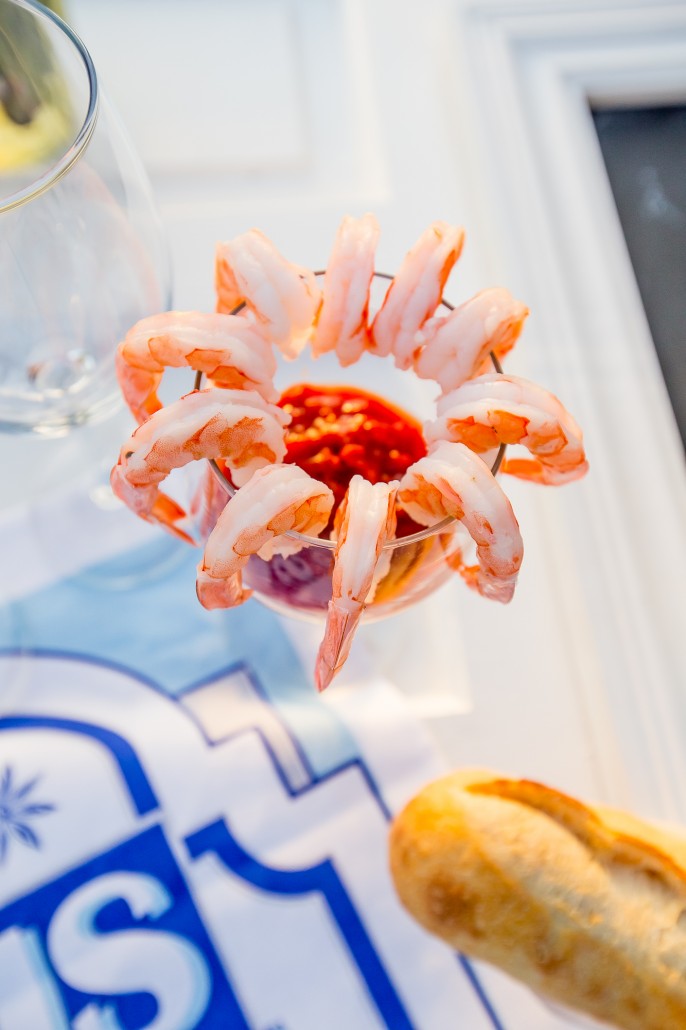 I've had some old wine barrels I have wanted to make a table with for a long time, and after recently moving, I knew I needed to set them up in a part of our yard that overlooks the Rocky Mountain National Park and Longs Peak for one of the epic sunsets we have been loving since moving further west.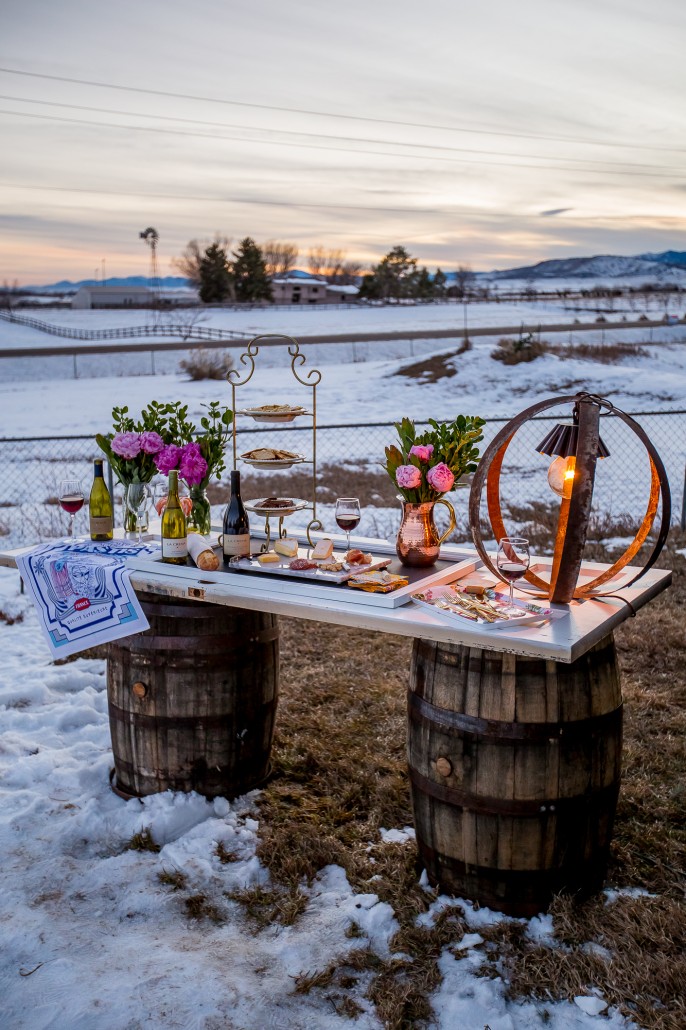 This project is perfect for any skill level, because you don't need any tools, but you can use a drill to make it a permanent table too if you'd like.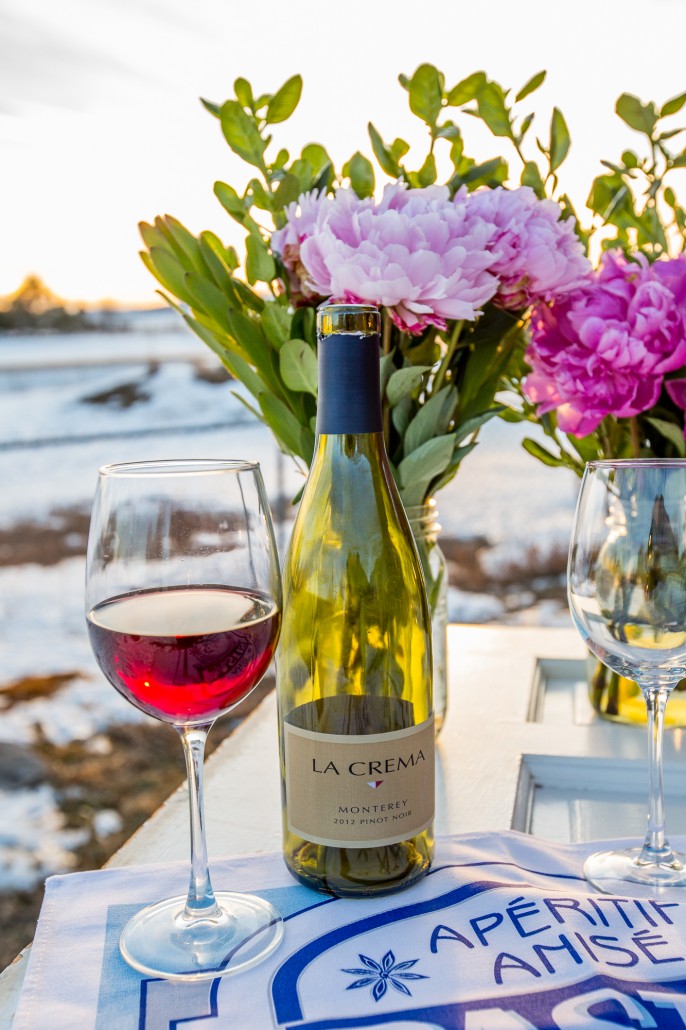 To make this Wine Barrel Table, you'll need:
Two old wine barrels of the same size (be sure they both sit fairly even on the ground)
A heavy, strong, old door (outside doors work best as they are much heavier – heavier doors are sturdier and easier to keep in place if you aren't making this as a permanent table.
Anti-skid chair pads
First, you'll need to measure the door and the size of the barrels. Space the barrels out as far as you can from each other while still fitting underneath the door.
Place anti-skid pads around the ring of the barrel.
Place the door on top of the barrel.
Use a level to be sure the door is level so you will have an even tabletop.
If you need to adjust the barrel, use shims underneath the door to get it to an even height.
If you're making this table a permanent outdoor feature, and not just using it for an event, you can drill the tabletop into the top of the barrel with a couple long screws.
This will cause permanent damage to the top of the barrel, so don't do this unless you're absolutely sure you want the table to be up at all times (and not moved around the yard easily, like we do with ours).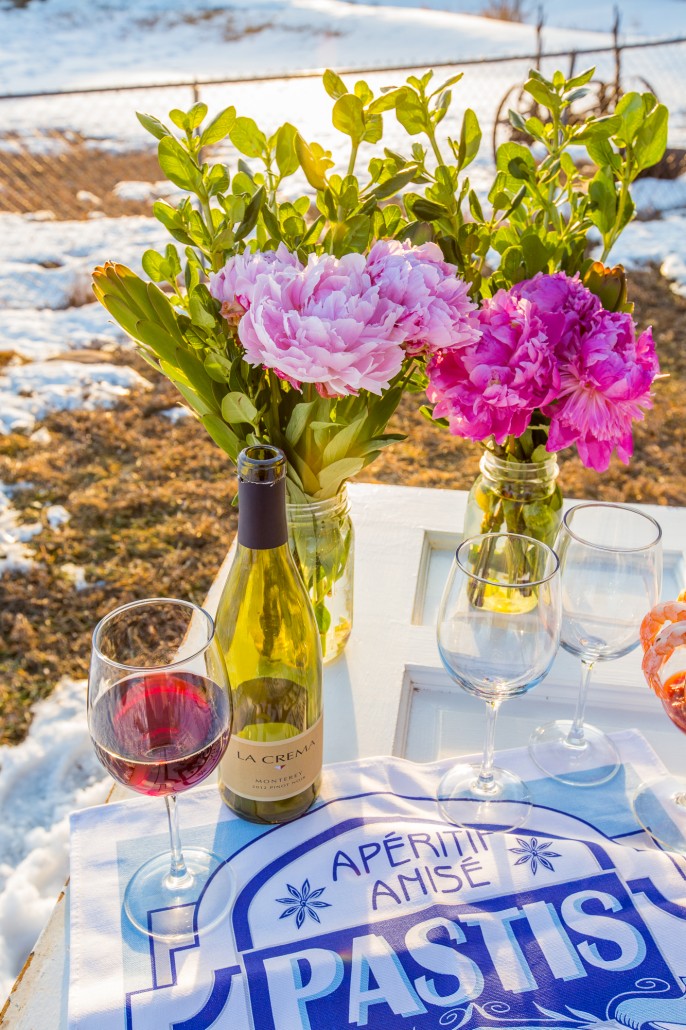 You can also mount a sheet of plexiglass or glass over the top of the table and keep it securely in place with mirror mounting clips, which you can just screw in to the top of the door when your plexiglass is in place.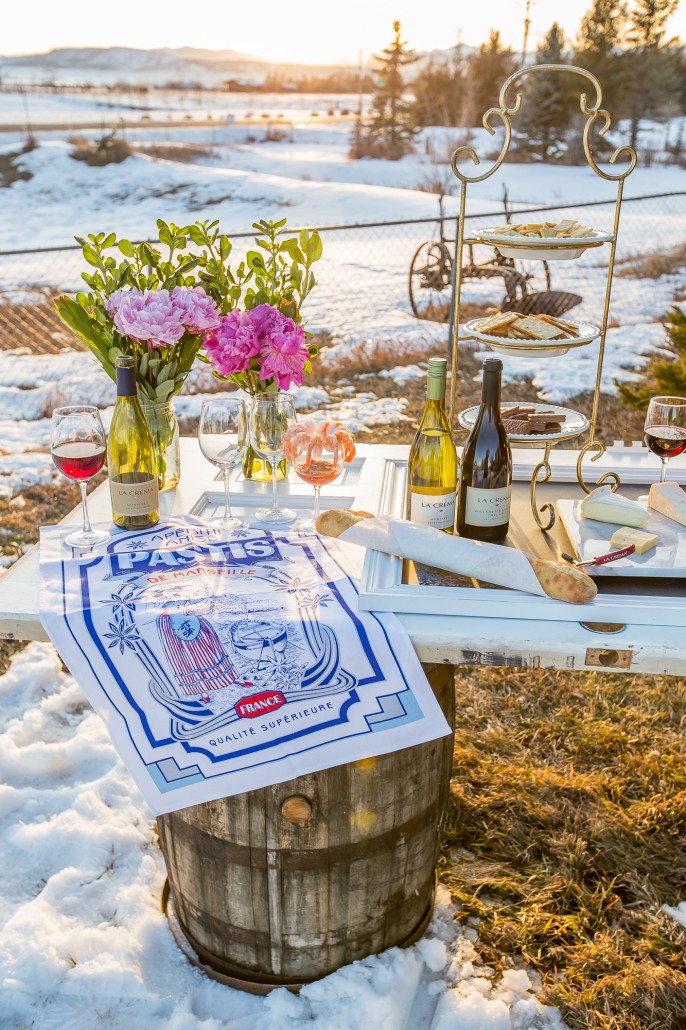 If it is just for one occasion, you can add the plexiglass to the top of the table without anything adhering it on, just be sure to have some heavy items on top of the table and use some clear silicone dots (in the furniture protection section of a local hardware store) to keep it from sliding off the door table top.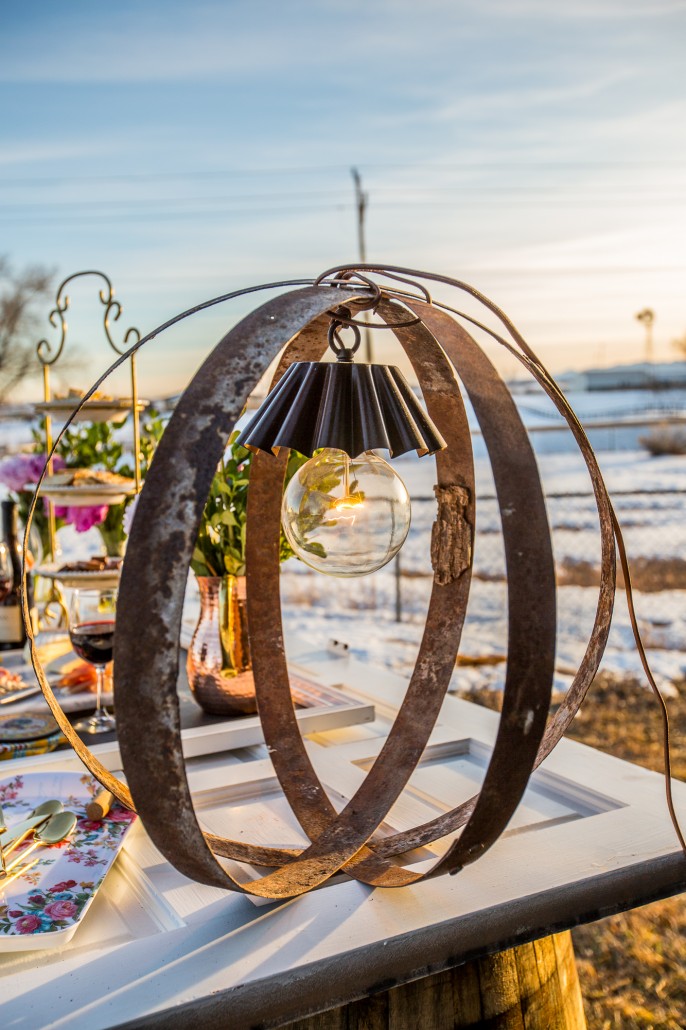 This table is so easy to customize with lots of different options, you can find a sheet of glass or plexiglass and mount it to the table for an even surface, you can paint the door you are using, you can sand off some of the paint for a cool, aged look, or even use some crackle paint treatments to give it a lovely antique look.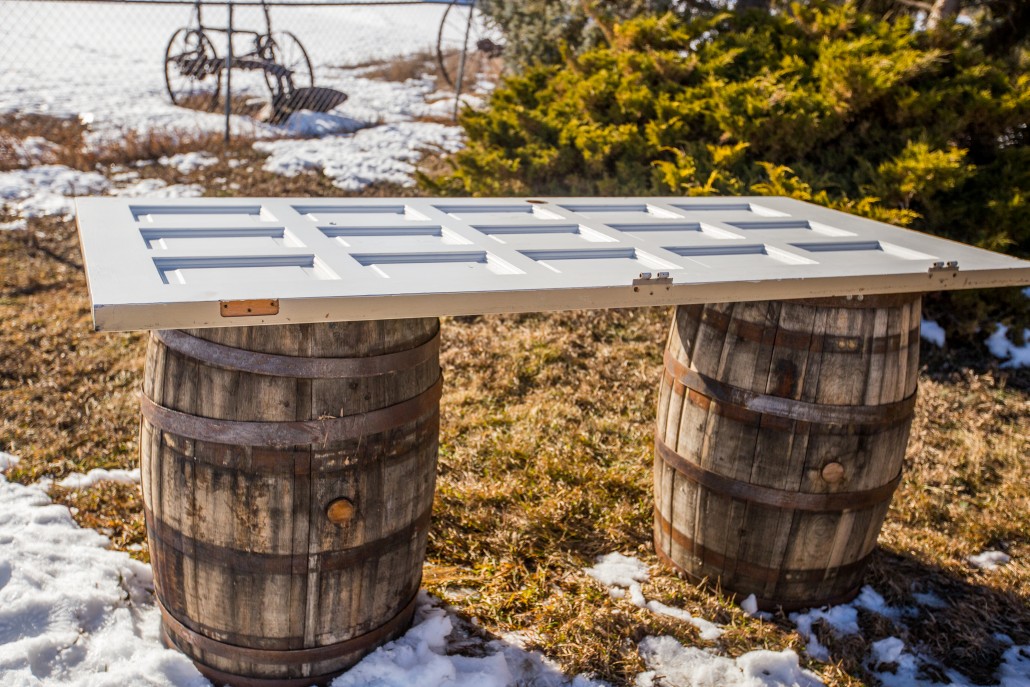 We found our door at a local builders salvage shop for $30 – an amazing steal for a heavy, sturdy table-top.
This project should take you less than 15 minutes, and then it's time to start decorating!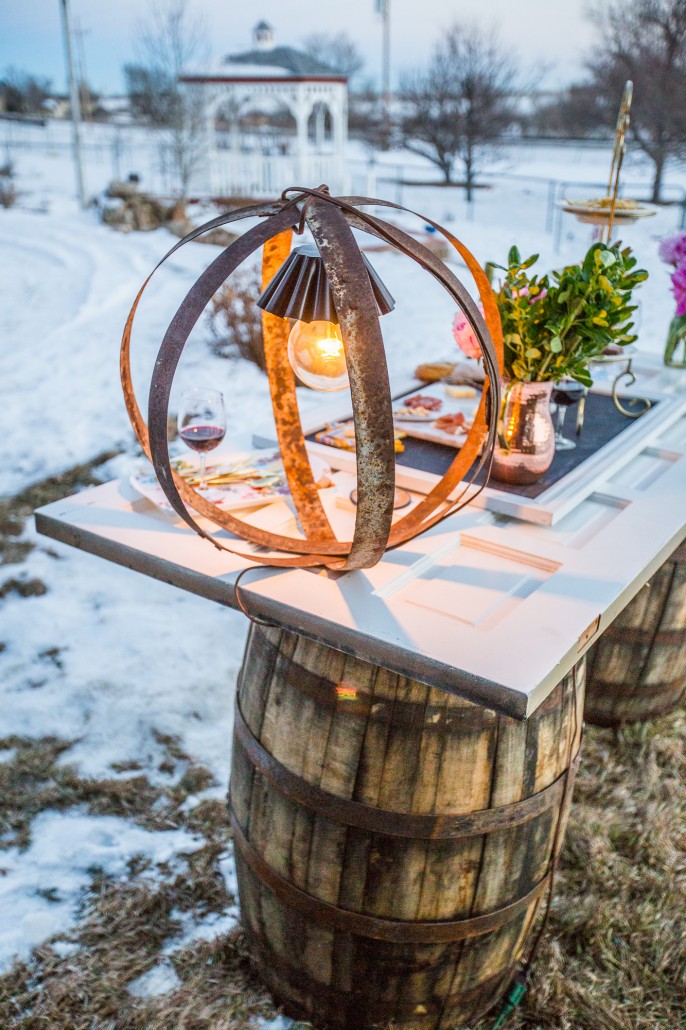 To find out how to make this adorable (completely tool-free) rustic wine barrel lamp, as well as for information on our décor and how to set up your own perfectly chic vintage-inspired wine party, head to Sweet C's Designs for the full DIY.