Spicy Lemon and Mint Cous Cous
Now that calendars have flipped to fall, it's time to find new delicious, comforting dishes that effortlessly pair with your favorite wines for cozy nights in. This Spicy Lemon and Mint Cous Cous is truly one of the easiest and most versatile side dishes you can make. This dish is as easy as boiling water and stirring ingredients, making it the perfect pick for a dinner party. Wow your guests with an addictive, delicious side that doesn't tie you to the kitchen, and enjoy time sipping your favorite La Crema wines instead!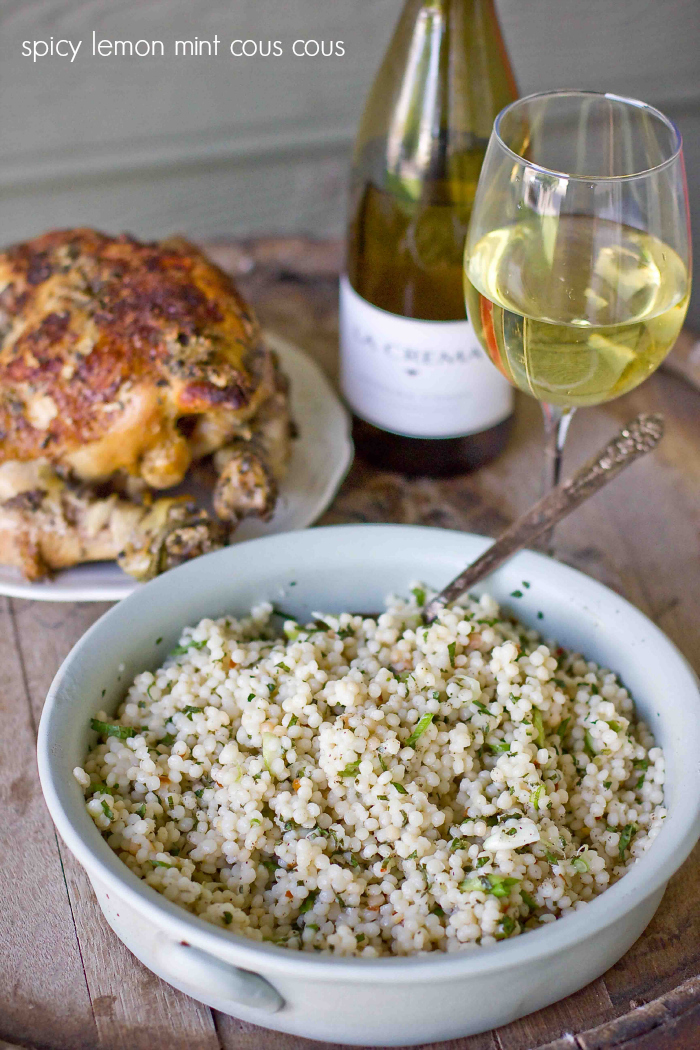 This recipe calls for pearl or Israeli cous cous (instead of the much smaller cous cous). If your local grocery store only stocks the kind of cous cous that comes with packages of spices mixed in–try their Kosher section (which is usually in a different aisle in Ethnic food sections). You should be able to find Israeli cous cous there! If you can't find large cous cous, you could substitute orzo. Do not try and make this dish with regular cous-cous.
Spicy Lemon and Mint Cous Cous
Author: Courtney O'Dell
Recipe type: Side
Cuisine: American
Serves: 6
A light, delicious and easy way to prepare side dish- spicy lemon and mint cous cous
Ingredients
1 1/2 cups pearl couscous
5 tablespoons extra virgin olive oil
1/4 cup fresh mint leaves, sliced thin
3 tablespoons lemon juice
1/3 cup pine nuts, toasted
Freshly ground pepper, to taste
1/8 teaspoon red-pepper flakes
1/4 cup fresh grated parmesan
zest of 1 lemon
Instructions
Bring a large stock pot with water to boil.
Add a few pinches of sea salt
While water is boiling, add cous cous.
Cook until tender, about 8 minutes.
Drain water and add cous cous to large bowl or platter.
Toss with olive oil to evenly coat.
Add all other ingredients, toss.
Let sit until room temperature or cool, about 20 minutes.
Serve!
I'm also sharing my own version of the most surprisingly delicious way to roast a chicken: Curried Chicken in Milk, over on Sweet C's Designs.
Come find out why this unique preparation makes the most flavorful, juicy chicken ever- the perfect pair with some La Crema Chardonnay! It sounds weird- but you're actually cooking chicken in milk. You'll be shocked how delicious this odd preparation is!