Spruced Up Spirits: Packaging the Perfect Hostess Gift
'Tis the season to be hosted! Between holiday cocktail parties, family gatherings, New Year's Eve celebrations and ugly sweater contests, chances are you'll be invited to join friends or family for a celebration at least once this season. Don't let your host or hostess's kindness go unnoticed–bring along a gift!
A bottle of wine is the perfect present for this situation as it can be opened right away and will contribute to the jovial spirit of the evening. After all, the only thing better than a well-chosen bottle of wine is a well-chosen bottle of wine that's shared among friends.
To avoid seeming too informal or last minute, put some thought into selecting the perfect wine. To me, this La Crema Sonoma Coast Pinot Noir seems just right. You will also want to dress up your drink with a little holiday cheer to show that you didn't just grab it thoughtlessly on the way.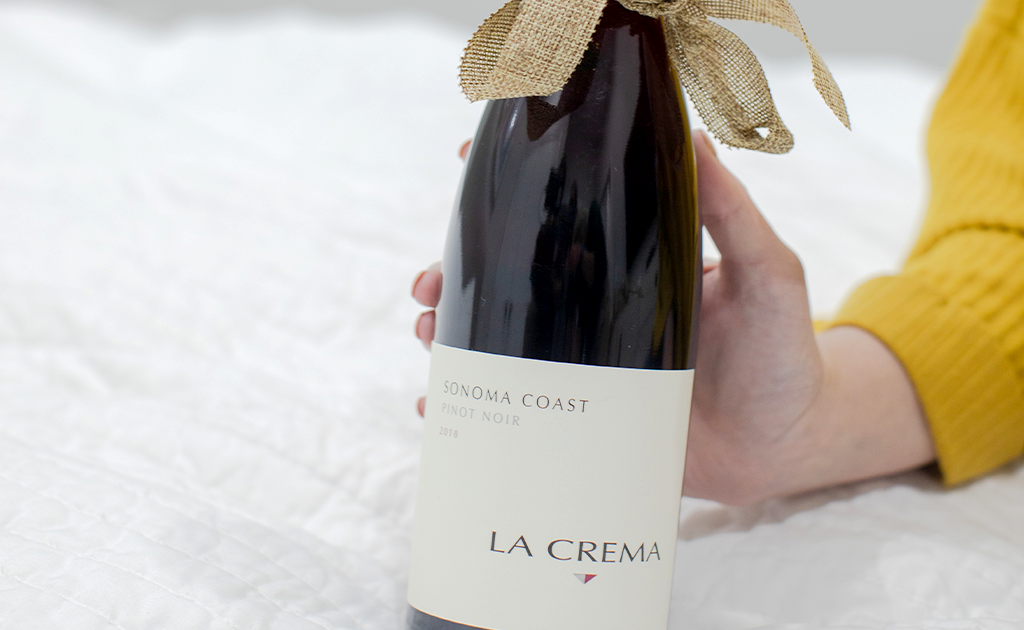 Here are three ideas for simple, yet stunning, wine bottle packaging:
1. Wine Bottle Wrap with Tissue and Evergreen
With just a touch of tissue, a twist of twine and a few sprigs of rosemary or evergreen, this bottle is ready for a classy affair. Tying on a bit of your own Christmas tree is a really sweet and personal way of saying "from our house to yours" and surely won't go unnoticed.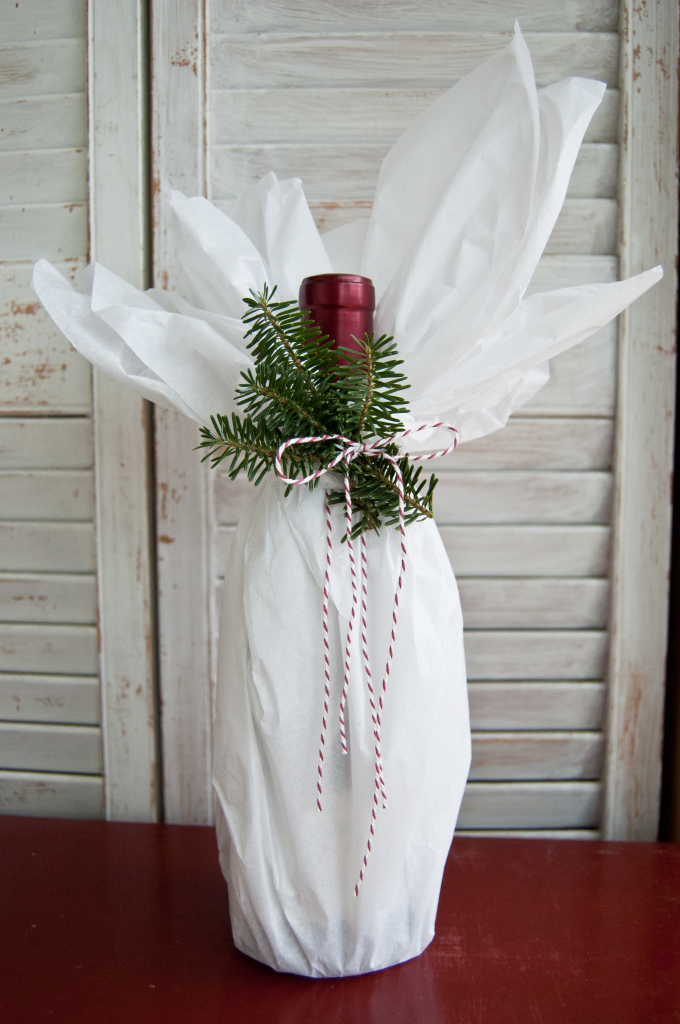 2. DIY Pom Pom Wine Bottle Adornment
Feeling crafty? Create a couple of pompoms to spruce up those spirits. These, along with a burlap bow and this downloadable tag, will embellish your wine bottle without hiding the label – perfect for hosts who are wine connoisseurs.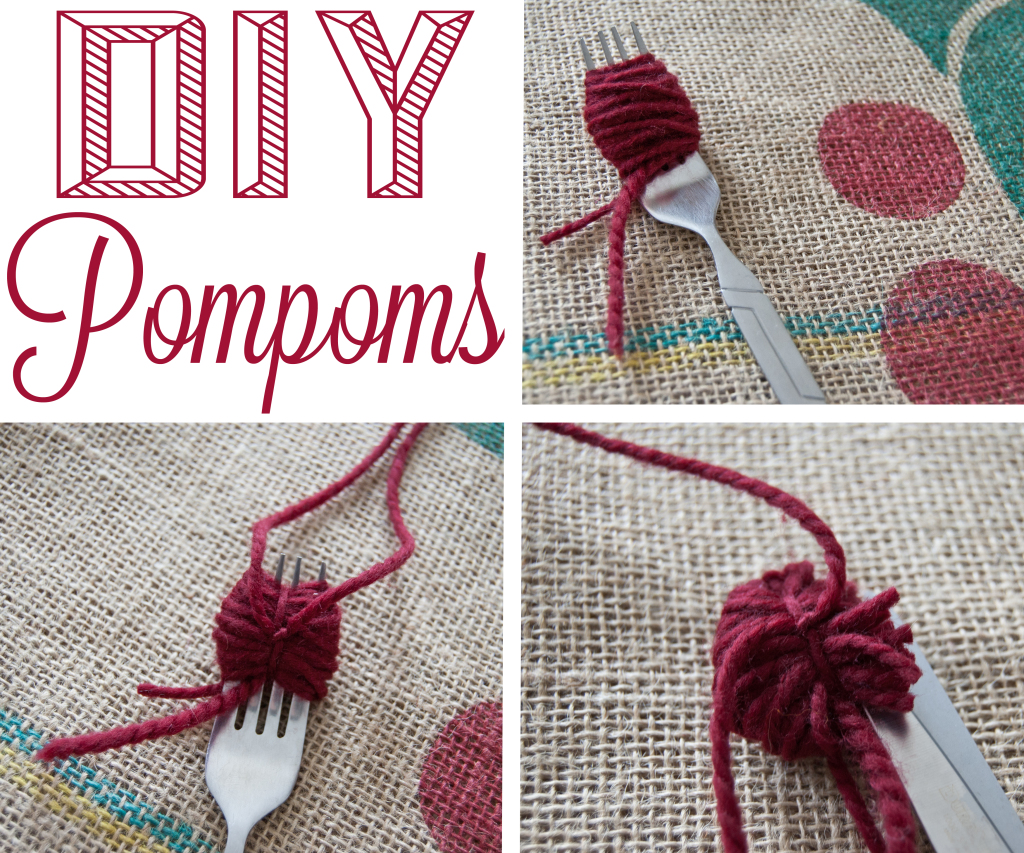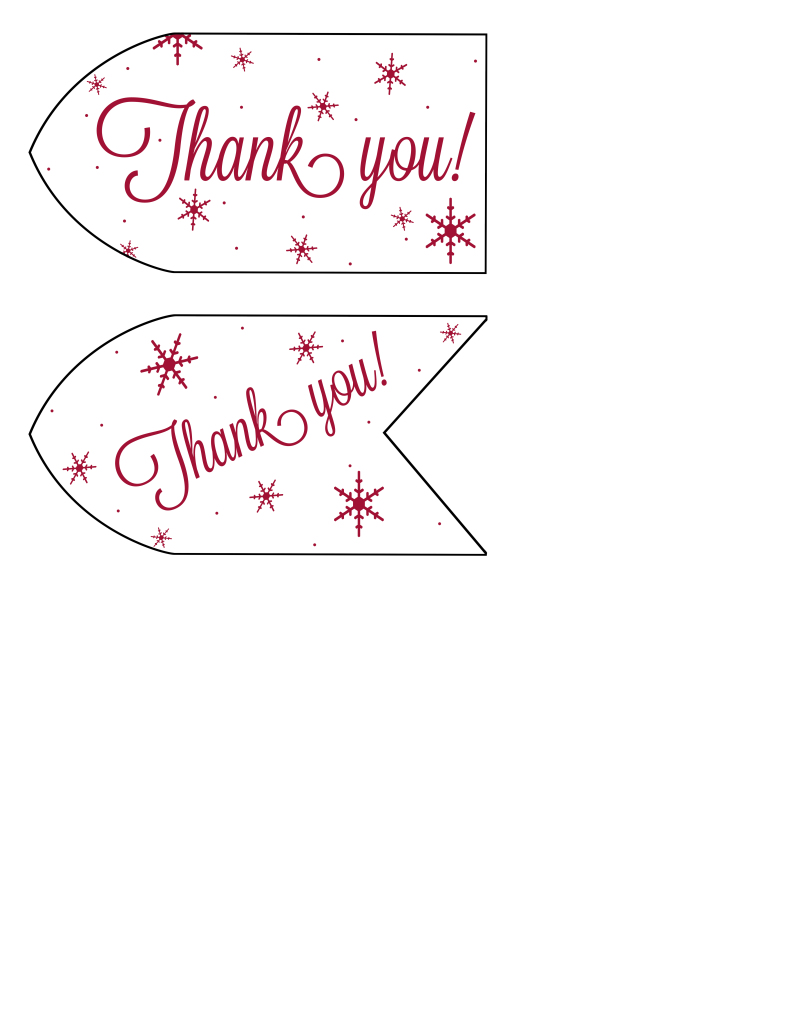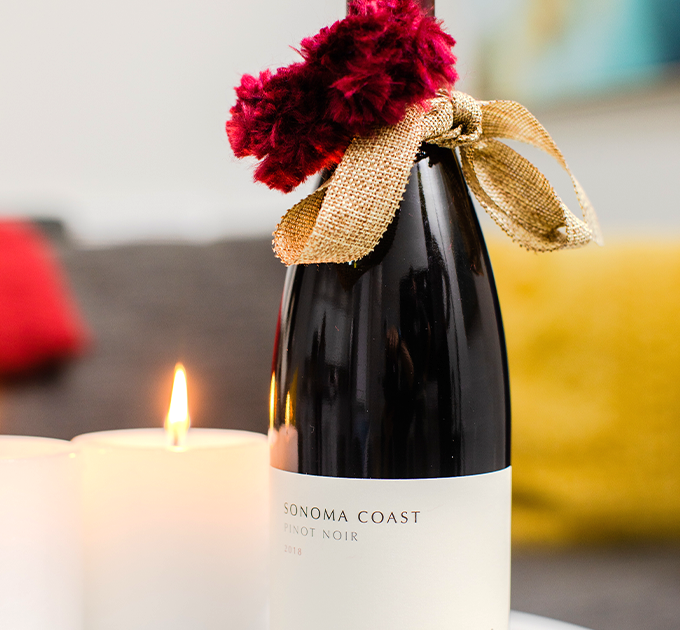 3. DIY Custom Paper Bag with Handles
Make your own perfectly sized paper bag. Customize it with ribbon to match your bottle of wine and attach this year's Christmas card so your host is sure to know whom it's from. This is a great way to spread joy to anyone who didn't otherwise get your card – and you save a stamp! It's also perfect for larger gatherings where you may not have much time to spend with the host, but would still like to thank them for the invitation.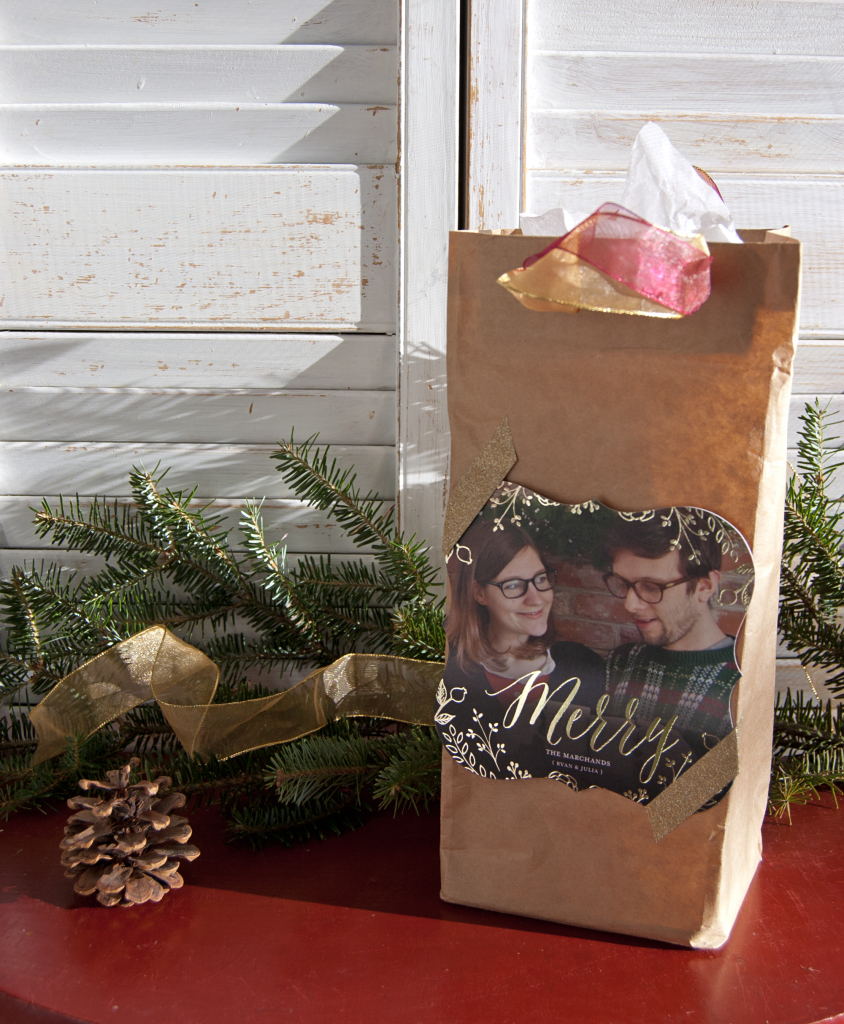 Here's how to do it: (A more detailed tutorial can be found here)
1. Find a cardboard box (or make one from scraps) to perfectly fit your wine bottle.
2. Trace the bottom of this box onto two scrap pieces of cardboard and cut them out.
3. Cut one of those scraps right up the middle. You should now have a box that is the right size for your wine bottle, a rectangle of cardboard that fits the bottom of that box perfectly and two narrow pieces of cardboard that will be used to reinforce the handles. See below: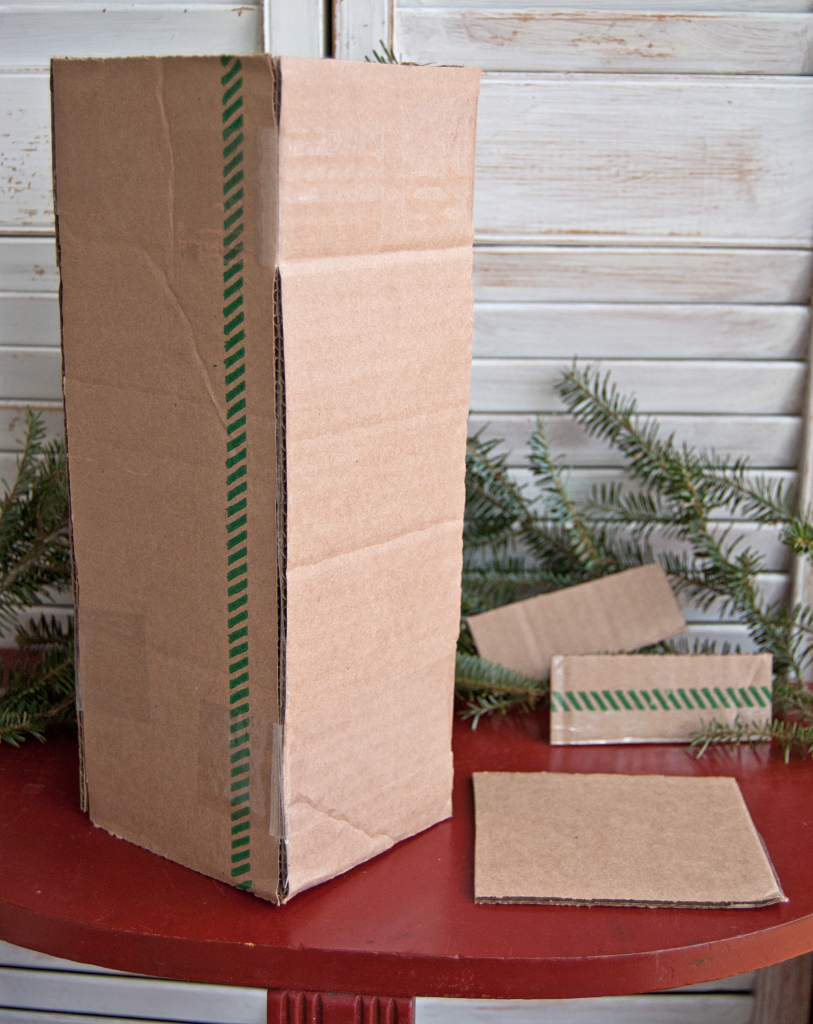 4. Lay the box on its side on top of some kraft paper or a paper grocery bag that you've cut into one big sheet.
5. Trim the paper so that it is three inches wider than the circumference of the box and three inches taller than the height of the box.
6. Fold the paper down about an inch and a half on the top edge. Crease it well.
7. Wrap the box with the paper, lining up the folded edge with the top of the box so any extra paper hangs off of the bottom. With a glue stick, seal the paper around the box leaving the seam at the back of the bag.
8. Now look at the paper hanging off of the bottom. Fold it inward, sides first, then top and bottom. Seal these with your glue stick, too, and wait for it to dry.
9. Shimmy the box out of your paper bag! For a little extra support (because wine bottles are heavy!), you can stick a piece of packing tape down into the bag to secure the floor of it from the inside.
10. Slide your square of cardboard down to create a solid floor within the bag.
Put glue on one side of both of your cardboard handle re-enforcers and slip them up into the fold we created at the top of the bag. Allow for this glue to dry.
11. Hole punch two holes into the front and two holes into the back of the bag at the top where there is reinforcement. Slide some sturdy ribbon into each hole to create the handles, and knot them on the inside.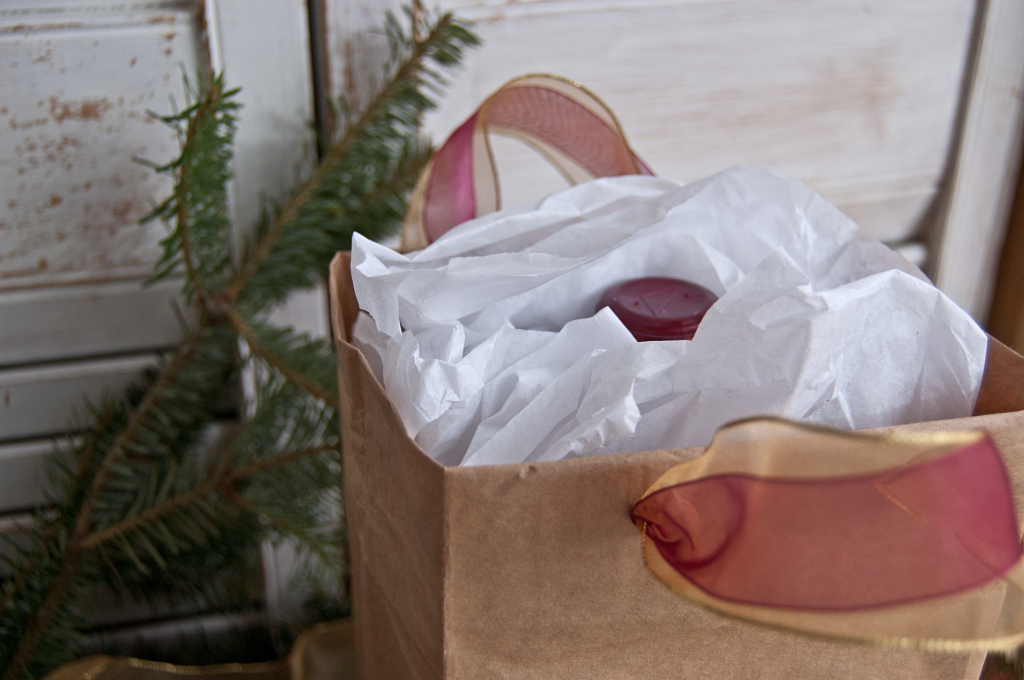 Feel free to get creative and come up with your own holiday packaging. No matter how it's dressed, a well-chosen wine is sure to be appreciated. Have a wonderful – and spirited – holiday season!
Julia Marchand is a DIY & home décor blogger with a passion for all things vintage. When she is not sewing and crafting in her scenic New England home, she is writing about her creations for TinyPrints, her preferred site for customized holiday cards. You can follow Julia on Twitter @jeezejulia.