Winter Panzanella
For your holiday gatherings, it's always great to have a communal dish so guests can serve themselves, that way you don't have to fuss with plating — and besides, it's way more fun to share anyway! Plus you have the option for seconds.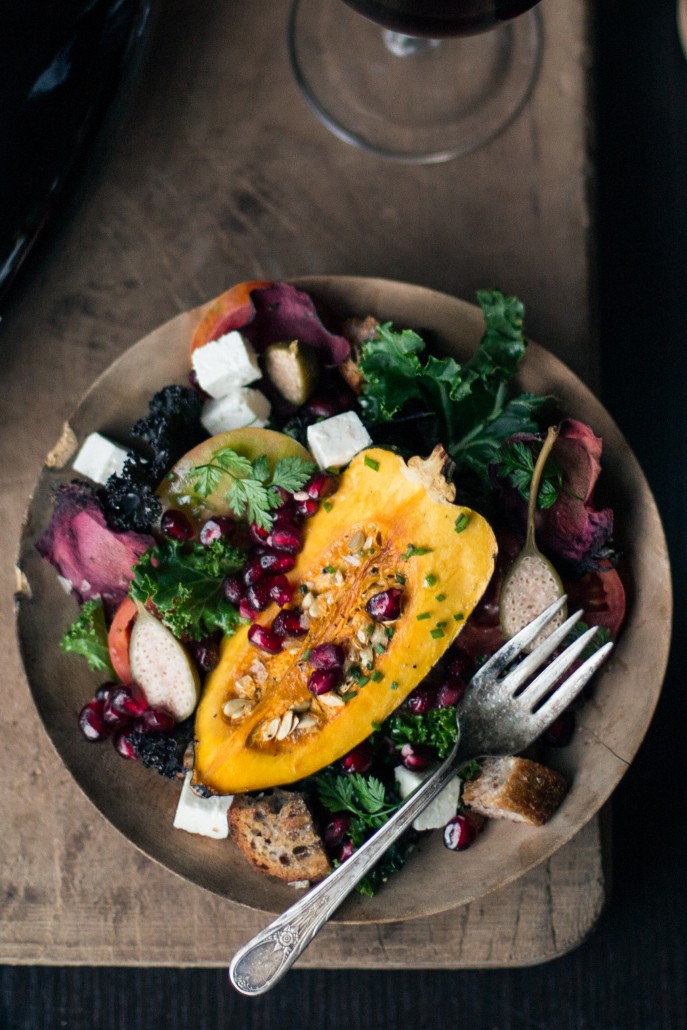 A Panzanella is usually made in summer, but we think with a few changes you can make it into a winter favorite. This recipe calls for acorn squash, which is all the rage right now. Acorn squash is super easy to bake and has a delicious nutty flavor that pairs well with most meals. In addition to the squash, we mixed in some kale, because we gotta balance out all the piggin' out on the holidays, right? Fiber my friends, it's all about the fiber.
You can serve this salad as a communal side dish, or even as a vegetarian entree. Just make sure to have enough squash for your guests.
Our pairing for this side dish is La Crema's Sonoma Coast Pinot Noir which has some lovely earthy notes with just the right amount of acidity to cut through the nuttiness of the squash and the salad.
Winter Panzanella
Author:
This classic gets a revamp with some winter staples: roasted acorn squash and beets, pomegranate, and kale. You can reheat the whole thing in the oven and the kale will turn into chips – win win!
Ingredients
2 acorn squash
1 medium beet
3 cups bread cubes cut from a stale baguette or sourdough bread
1 teaspoon smoky paprika
4 cups kale, roughly chopped
¼ cup olive oil
2 tablespoons red wine vinegar
½ cup feta cheese, cut in small cubes
¼ cup caper berries
3 medium tomatoes, thinly sliced (heirloom if you can still find some, if not, any other kind work too)
¼ cup fresh parsley, roughly chopped
1 pomegranate, seeded
Flaky sea salt and pepper to season
Instructions
Note: this recipe has caper berries and feta cheese which are salty as-is so be mindful when seasoning to not overdo it.
Preheat the oven to 350F
Cut the acorn squash in wedges (about 2 inches thick) leaving the seeds as is (they'll roast and get pretty tasty). Take the beets and thinly slice them (with a knife or using a mandolin) – no need to peel them. Rub both, the squash wedges and beet slices with olive oil and lightly season with salt and pepper. Place them on a baking sheet lined with parchment and bake for 30-35 minutes until squash is soft. Remove from the oven and set aside. Keep the oven on.
Place the bread cubes in a bowl, add the paprika, drizzle with olive oil and lightly season with salt and pepper. Put the bread cubes on a baking sheet with parchment paper and bake for 10-15 minutes until golden brown and crispy. Set aside.
In a small bowl whisk the ¼ cup of olive oil and red wine vinegar to make a dressing. No need to add salt.
In a big bowl place the chopped kale and toss with the warm squash and beets. Pour a bit of the dressing and toss again. Add the feta cubes, caper berries, sliced tomatoes, and parsley and give it one last gentle toss. Top the whole thing with pomegranate seeds.
You can serve with a side of extra croutons, because, everyone loves crunchy bread!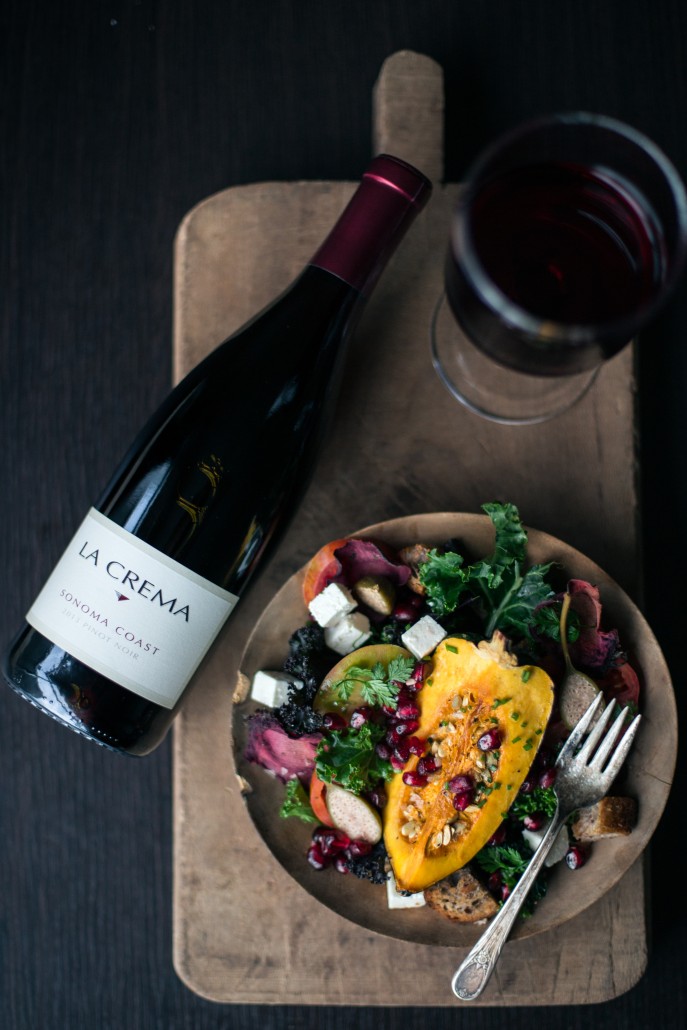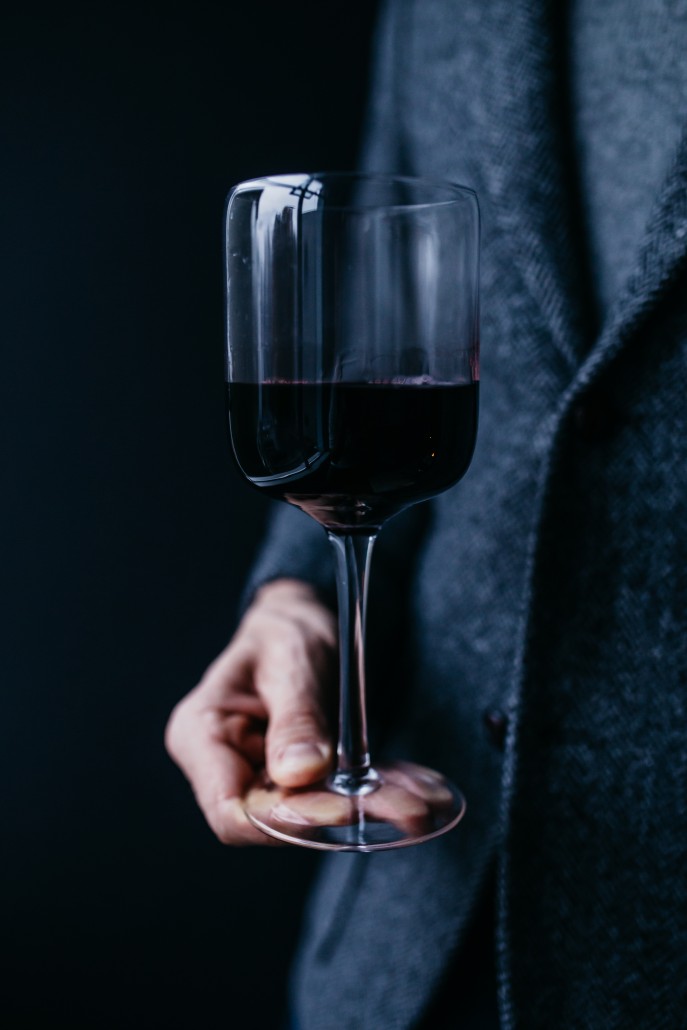 Check out our recipes for kicking off your holiday party with an ooey-gooey, delicious appetizer of Baked Brie with Figs, Walnuts and Ancho Chili Honey.