Cooking French with Rosé: Baked Halibut Provençal
For the main course of this French Rosé Dinner, we're heading to Provence for our inspiration with a baked halibut provençal. If you ever have the opportunity to go to Provence in May, go. Don't hesitate. Provence in the springtime is a magical place — cerulean waters beckon, rosemary blooms in abundance along the dry cliffs, and everything has a dusty rose hue. The summer crowds have yet to arrive, the food is fresh, and the wine is abundant and cheap. It's a wonderful, relaxing place to spend a week or two.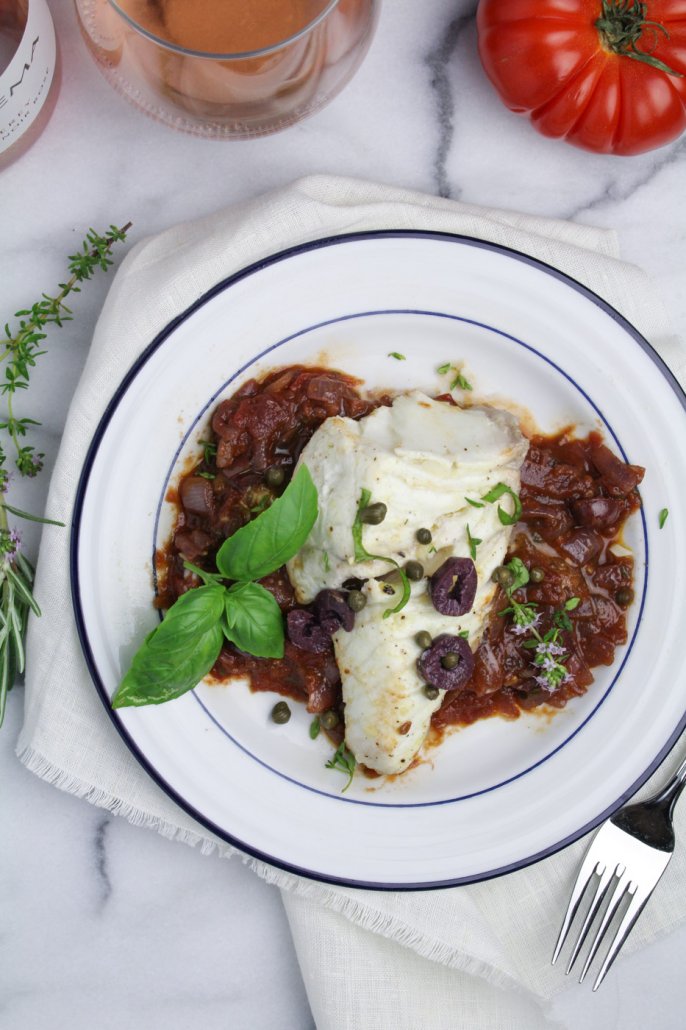 Many rosé wines come from Provence, making the flavors of the region a natural pick for pairing with La Crema's Rosé of Pinot Noirs. Simple seafood dishes are the rule in Provence where tomatoes, olives, capers, and basil adorn almost every meal.  You know salade niçoise? Nice sits at the eastern end of the Provençal coast, so all the same flavors apply. This simple Baked Halibut Provençal consists of a buttery piece of gently marinated fish and a thick, rich sauce of fresh tomatoes, olives, capers, and herbs.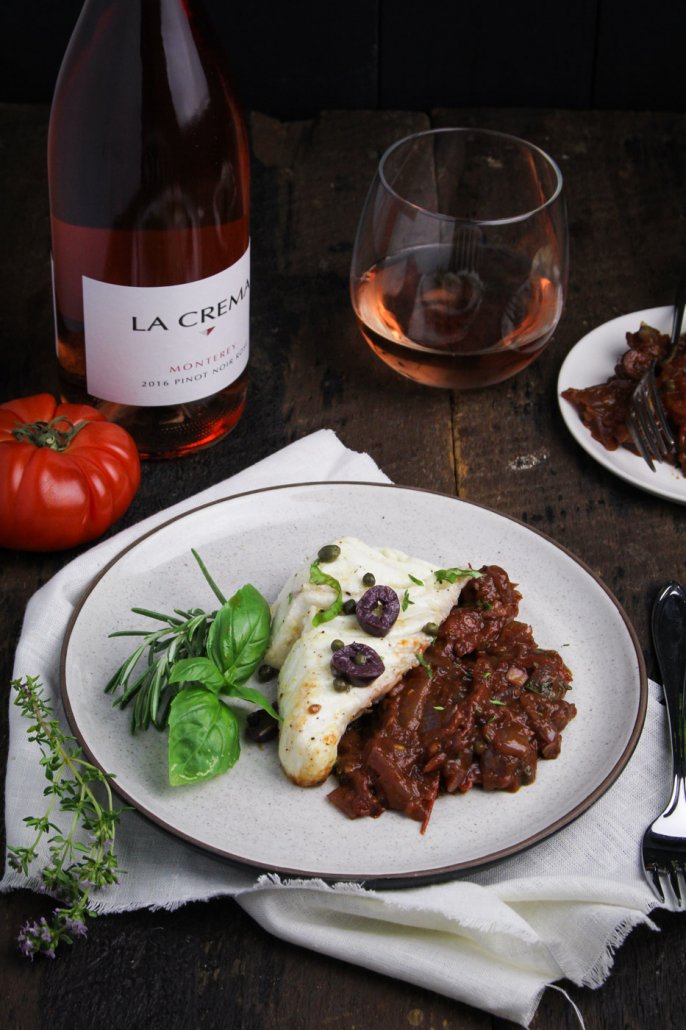 Halibut is a bit of a splurge, but it's so rich that a little goes a long way. I found that a six ounce piece of the buttery fish was plenty for each person, especially when served alongside a rich sauce and the other courses in this dinner menu. If halibut isn't in the budget, you can substitute another meaty white fish, such as monkfish or snapper.
I always get a little nervous when cooking expensive meats or fish, so I went the "safe" route with this halibut and popped it in the oven. This is a super simple recipe with impressive results. Both the fish and the sauce are quite flavorful on their own, so when you combine them both you get tons of flavor in every bite. The more robust Monterey Rosé is probably a better choice for this than the delicate Saralee's Vineyard Rosé.
Baked Halibut Provençal
Author: Katie at the Kitchen Door
Prep time:
Cook time:
Total time:
Serves: 2
A simple dish of marinated, baked halibut served in a rich tomato, olive and wine sauce. Halibut marinade adapted from Serious Eats.
Ingredients
For the fish:
Two 6-oz. fresh halibut filets
3 TBS fresh lemon juice (from ½ lemon)
3 cloves garlic, peeled and finely minced
3 TBS olive oil
Sea salt
Freshly ground black pepper
For the sauce:
2 TBS olive oil
1 onion, peeled and chopped
3 cloves garlic, peeled and minced
Sea salt
2 tsp fresh thyme leaves (from 4-5 sprigs)
2 tsp chopped fresh rosemary leaves
3 large heirloom tomatoes, roughly chopped
¼ cup red or rose wine
10 kalamata olives, sliced
1 tsp capers
1 TBS balsamic vinegar
6 large basil leaves, cut in a chiffonade (rolled and thinly sliced)
Instructions
For the fish marinade: Check the halibut fillets for any bones and remove them gently if found. Add the lemon juice, olive oil and minced garlic to a glass baking dish. Whisk together briefly with a fork, then place the halibut in the baking dish. Sprinkle with sea salt and black pepper. Turn the halibut over once or twice to coat in the marinade. Cover the dish with plastic wrap and refrigerate for 30 minutes.
For the sauce: Heat the olive oil in a large saute pan over medium heat. Add the chopped onion and saute until translucent, about 6-8 minutes, stirring frequently. Add the minced garlic, a pinch of sea salt , the thyme, and the chopped rosemary and cook for another 2 minutes, until very fragrant. Add the chopped tomatoes and the wine and cook at a slow simmer until the tomatoes are very soft and the wine has been absorbed, forming a thick sauce. Remove from the heat and stir in the olives, capers, and balsamic vinegar. Taste and adjust seasoning as desired. Keep sauce warm, or gently reheat before serving.
To bake the fish: Preheat the oven to 400 degrees F. Remove the plastic wrap from the baking dish with the halibut and place the dish in the oven (halibut fillets should be skin side down when they go in the oven). Bake until the internal temperature of the halibut at its thickest point is between 130F and 135F. Cooking time will vary with the thickness of your fillet. You don't want to overcook it, so begin checking the internal temperature with an instant-read meat thermometer starting at around 10-12 minutes. Most fillets will be done in 20 minutes or less.
To serve: Place a large spoonful of the sauce on a plate and scatter the chiffonaded basil on top. Place one halibut fillet on top of the sauce and serve immediately.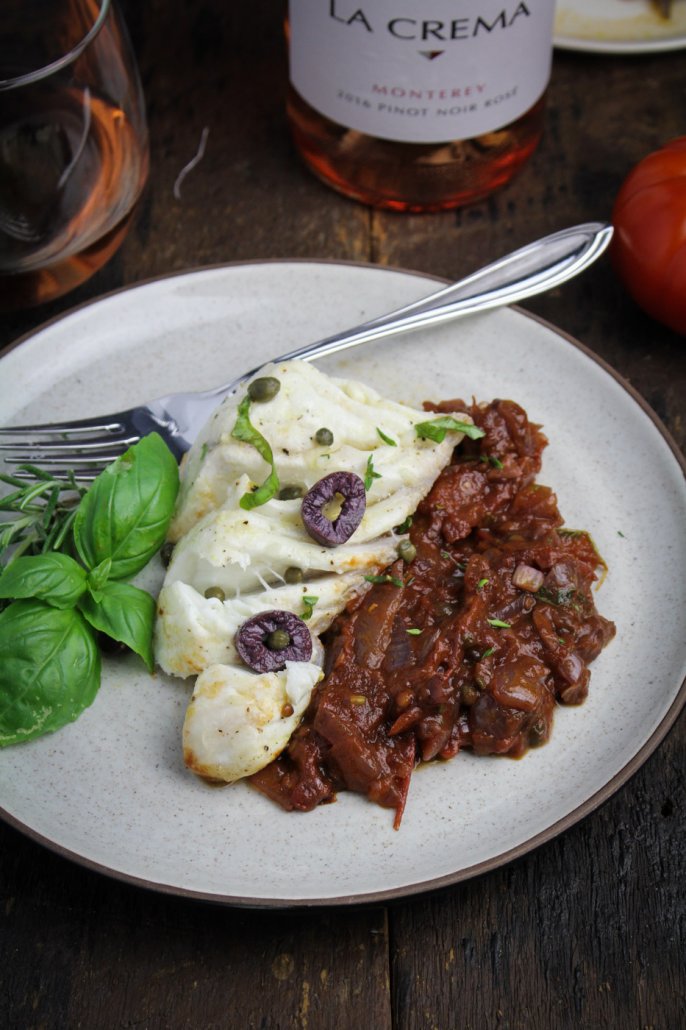 Cooking with Rosé Dinner Series:
Spring Crudites with Herbed Aioli
Goat Cheese Tart with Peas and Prosciutto
Strawberries and Cream Chiffon Cake