Cooking French with Rosé: Spring Crudites with Herbed Aioli
As soon as the first hint of spring arrives, I start thinking about rosé and spring crudites. The idea of a chilled glass of pink wine, sipped slowly, preferably on a terrace somewhere, kind of invades my brain and won't leave. Even when it's 45 degrees and raining, I find myself perusing the "pink" section of wine lists at restaurants and browsing the rosé section in stores.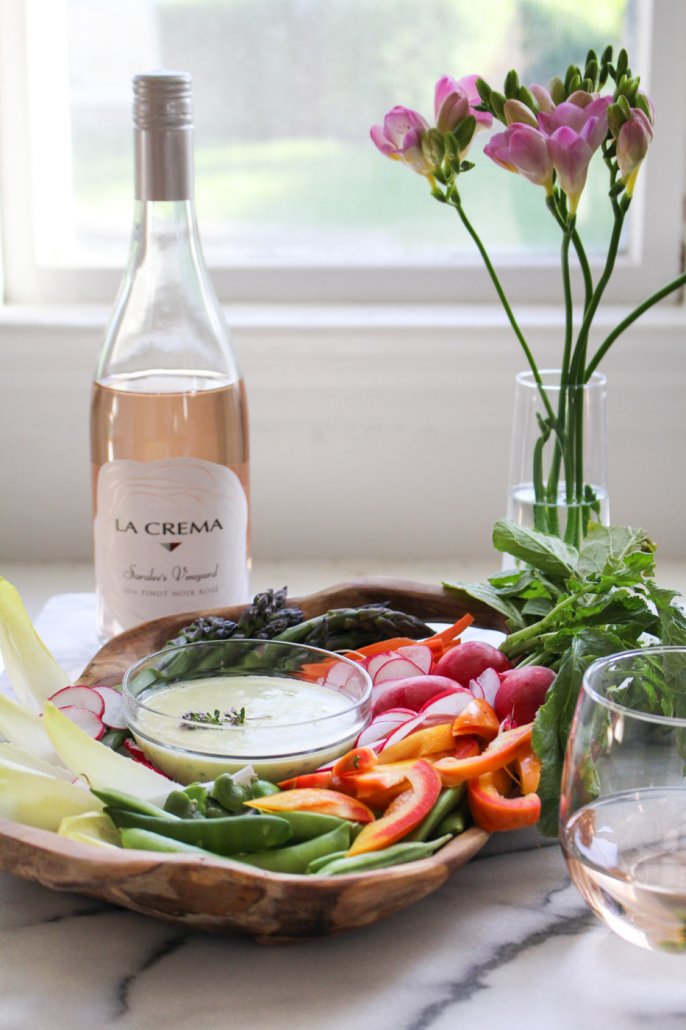 In March and April I test the waters with a glass here and there, usually consumed indoors while looking longingly at the outdoors, wishing spring would hurry up and get here. And then May hits, and it's all rosé all the time. While I enjoy rosé all summer, the frenzy hits its peak in May, when it feels so perfectly of the moment.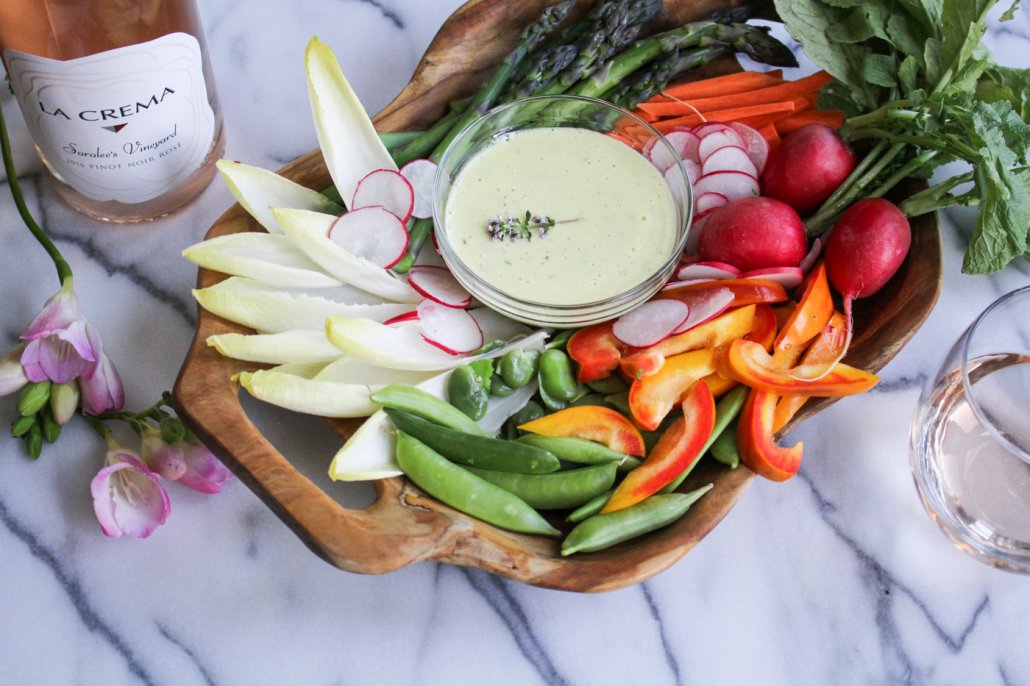 When I learned that La Crema produces two rosés – the Monterey Pinot Noir Rosé and the Saralee's Vineyard Pinot Noir Rosé – I started planning a new internationally themed dinner menu to celebrate the season of pink wines. In the past our dinners have taken us to Japan for Izakaya, Latin America for a spicy Thanksgiving menu, and Italy for a summery seafood feast. Now, for spring and for rosé, we're going to France, where effortless appetizers and simple but elegant entrées are king.
The menu consists of four parts – spring crudites with herbed aioli, a flaky goat cheese and green pea tart, baked halibut provençal, and a strawberries and cream chiffon cake for dessert. Everything pairs amazingly well with the two La Crema rosés, so you can open a few chilled bottles and sip as you go, without worrying about switching wines with courses.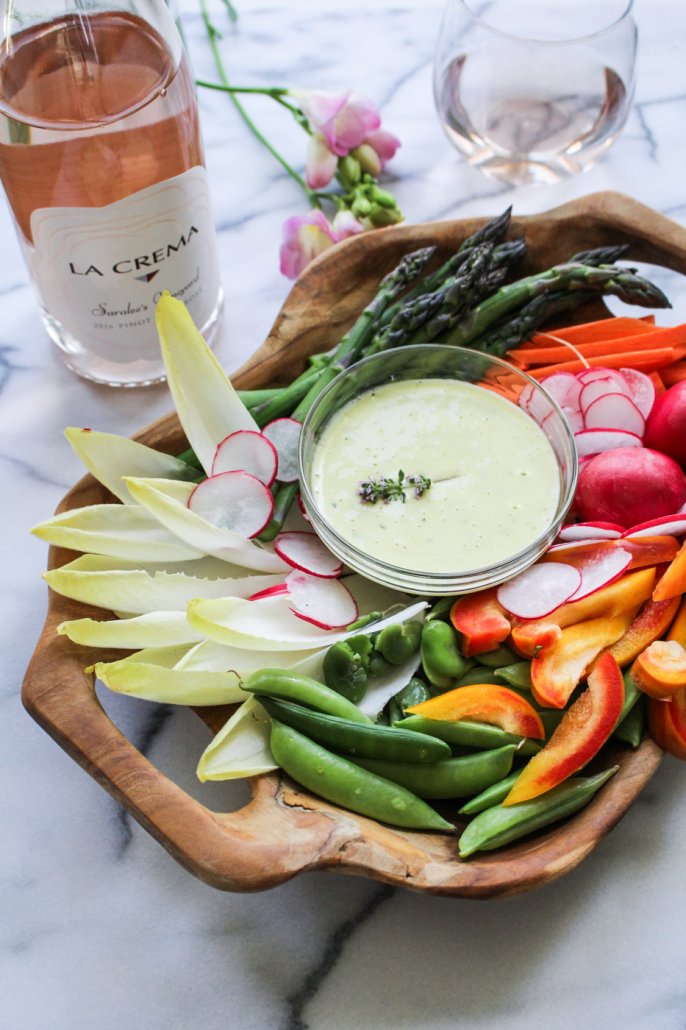 A platter of spring crudites doesn't have to be a boring plate of dry baby carrots and ranch dip that sits unloved in the corner while everyone crowds around the cheese and crackers. In fact, a good crudité platter can be the highlight of a meal. This one is a good one. The vegetables are all seasonal and highly flavorful: lightly blanched asparagus, thinly sliced sweet peppers, bitter endive leaves, snap peas, radishes, and young spring carrots. The dip is an addictive and oh-so-French pale green aioli, which is light and frothy and fragrant with herbs. Set it out for snacking while you prepare the main course (and don't forget the rosé!).
Spring Crudites with Herbed Aioli
Author: Katie at the Kitchen Door
Prep time:
Cook time:
Total time:
Serves: 6
An elegant spring crudite platter with seasonal vegetables and an herb-infused aioli as a dipping sauce.
Ingredients
1 lb. asparagus, woody ends trimmed
2 sweet bell peppers
10 spring carrots (pencil-thin)
6 radishes
2 Belgian endives
1/2 lb. sugar snap peas
1 egg yolk
1/3 cup of canola oil
1/4 cup of olive oil
1 clove garlic, minced
2 tsp fresh lemon juice
1/2 tsp minced fresh thyme
1 tsp minced fresh parsley
1 tsp minced fresh tarragon
sea salt to taste
Instructions
Bring a large pot of salted water to a boil. Add the trimmed asparagus and cook just until bright green, about 2 minutes. Drain the asparagus and run under very cold water to stop the cooking process. Drain again and set the asparagus aside.
Prepare the vegetables: wash the peppers, radishes, carrots, and sugar snap peas and set aside to dry. Cut off the root end of the endives, then remove and discard the outer leaves. Separate the remaining endive leaves. Slice the radishes into paper thin slices. Cut the carrots in half lengthwise. Remove the stem and seeds from the peppers and thinly slice the flesh.
Arrange the prepared vegetables neatly on a platter and set aside.
Prepare the aioli: add the egg yolk to a glass bowl and whisk until smooth. Add 1 teaspoon of the canola oil and whisk until the oil is evenly incorporated. Continue adding the canola oil 1 teaspoon at a time, whisking fully between additions. The aioli should slowly become light in color and frothy with no separation between the egg and the oil. Repeat the process with the olive oil. Once all of the oil is incorporated, you should have a light, smooth dipping sauce. Whisk in the minced garlic, lemon juice, and minced herbs. Season to taste with salt and serve with the vegetables.
Cooking with Rosé Dinner Series:
Goat Cheese Tart with Peas and Prosciutto