Italian Seafood Dinner: Mussels Bruschetta
As most of us know, Italian food isn't just pasta and pizza — it's a plethora of vibrant flavors and ingredients, seafood being one of them. So what better way to spend a summer's evening than enjoying an Italian Seafood Dinner, starting with Mussels Bruschetta!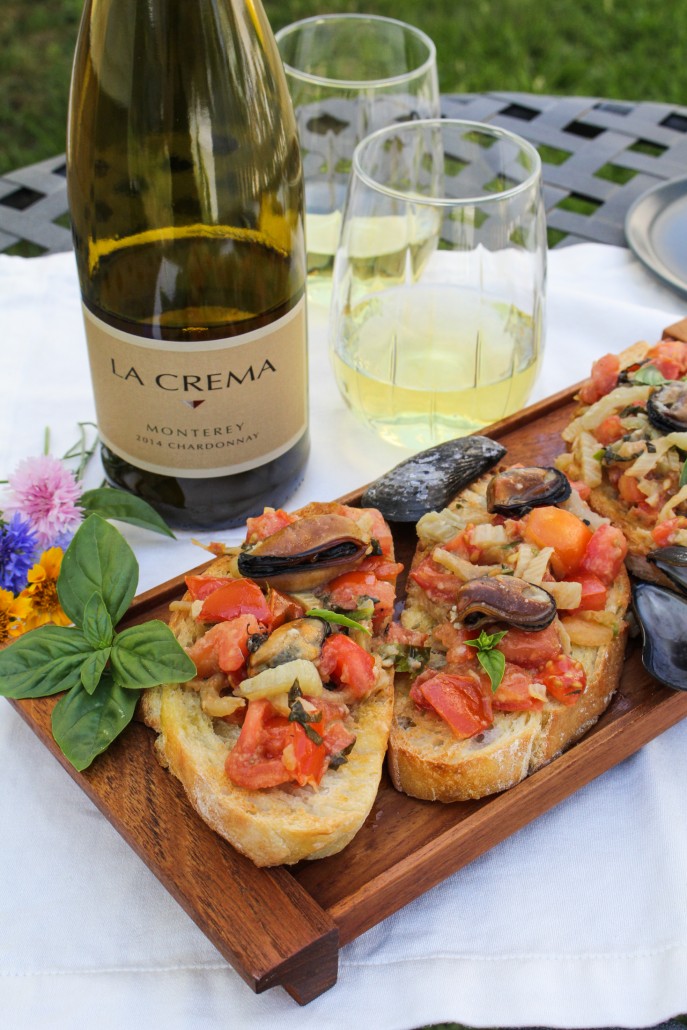 I only recently started eating seafood. For years, fish was something I choked down when absolutely necessary, and clams, mussels, octopus, and shrimp I wouldn't touch, not even to taste. Then, over the past 18 months, through lots and lots of travel to seafood-centric countries like Chile and Portugal, I started to eat it out of necessity, and now I can't seem to get enough of it. Perhaps I'm making up for lost time. This summer, in particular, I've been jumping at the chance to eat fish, perhaps because it goes so perfectly with a cold glass of white wine on a hot summer evening.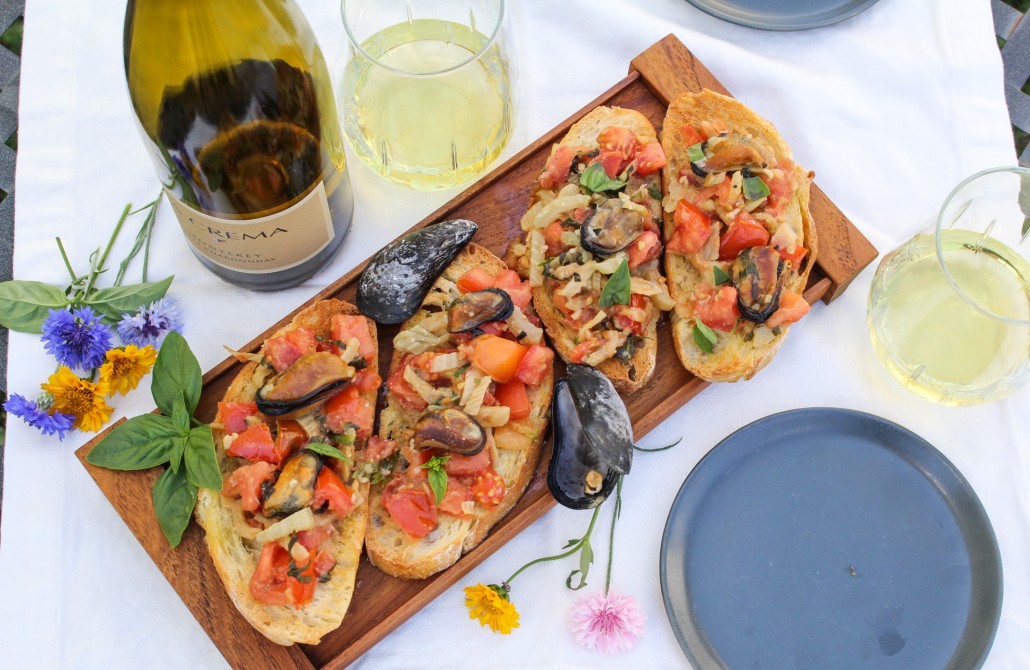 To celebrate my newfound love of seafood, I put together a little Italian seafood dinner paired with three La Crema wines. It's the sort of meal that demands to be eaten outside at the end of a hot, sunny day, when the sun is just beginning to slip behind the trees and the breeze picks up again. It's also the sort of meal that should be lingered over, with plenty of conversation and several bottles of wine on ice, within arm's reach. It's slow food.
The first course is a take on Mussels Bruschetta – sauté fennel and garlic until tender and fragrant, then steam the mussels just until they open. Add a splash of Chardonnay, a handful of tomatoes, and fresh basil and parsley, then serve on top of freshly-toasted bread. Serve informally on a tray for all to share, with a large glass of La Crema Monterey Chardonnay for each diner. Repeat until you've finished the bottle – but save room! There are two more courses to come.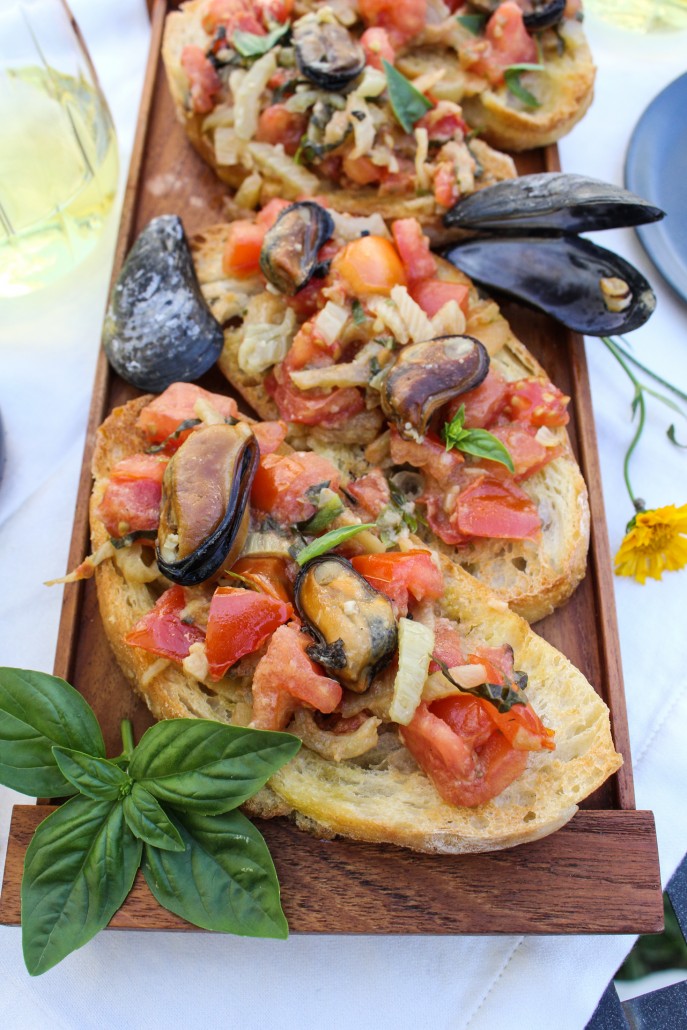 Italian Seafood Dinner: Mussels Bruschetta
Author: Katie Morris of Katie at the Kitchen Door
Recipe type: Appetizer
Cuisine: Italian
Prep time:
Cook time:
Total time:
Serves: 4
Ingredients
2 TBS olive oil, plus more for brushing toast
2 cloves garlic, peeled and minced
1 medium bulb fennel, thinly sliced (remove fronds and stalks and discard)
Sea salt, to taste
1 ½ lb. mussels
1/4 c. La Crema Monterey Chardonnay
3 medium tomatoes, cored and cut into ¼ inch pieces
8 leaves fresh basil, torn into pieces
1 TBS finely minced fresh parsley
8 slices sturdy Italian bread
Instructions
Check your mussels – discard any with cracked or broken shells. Rinse the remaining mussels under cold water, discarding any that were open and do not close after rinsing. Set remaining mussels aside.
Heat the olive oil in a large saucepan over medium heat. Add the garlic and saute until fragrant and golden, about 2 minutes. Add the sliced fennel, season gently with sea salt, and saute, stirring frequently, until it is beginning to become tender, about 5-8 minutes. Add the rinsed mussels to the pot, cover, and steam the mussels for 5 minutes, until they have opened their shells. Open the pot and remove any mussels that failed to open – these ones were dead before cooking and should not be consumed.
Add the chardonnay to the pot and simmer the mixture for 5 minutes longer, then use a slotted spoon to remove the mussels from the pot and place them in a bowl. Set mussels aside. Cook the mussel wine sauce remaining in the pot down for 2-3 minutes, until it has reduced, then add the tomatoes, basil, and parsley. Cook just to gently warm the tomatoes, about 2-3 minutes, then remove from the heat.
Preheat the oven to broil. To prepare the bread, brush each slice lightly with olive oil on both sides, then place on a baking sheet. Broil until golden brown, about 3-4 minutes, then remove from the oven.
Gently remove the mussels from their shells and discard the shells. Top each slice of bread with a few generous spoonfuls of the tomato mixture, then place 1 or 2 mussels on top of the tomatoes. Salt to taste and serve immediately.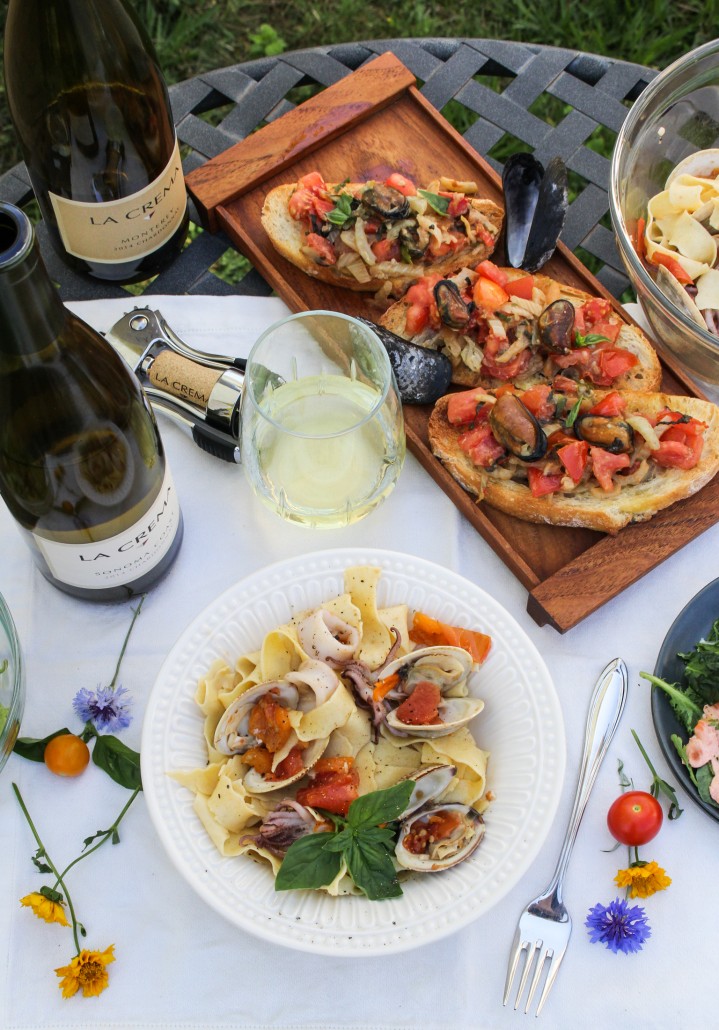 Italian Seafood Dinner Recipes: