Italian Seafood Dinner: Salmon Carpaccio and Spicy Greens Salad
Generally speaking, we think of seafood dishes, especially light, fresh ones like Salmon Carpaccio, as being well-suited to al fresco, summertime eating – partly because they are typically light, easy to digest, and often served chilled. That, and because they remind us of sitting by the ocean, with the salty ocean breeze blowing gently. If only we could all spend our summers in the Italian Riviera – swimming and sunning all day, dining and drinking and gossiping all evening. But if we can't do it for real, at least we can pretend – by drinking chilled white wines and noshing on light seafood dishes on our own patios. To help you pretend, we've put together a three course Italian Seafood Dinner, starting with a Mussels and Fennel Bruschetta as an appetizer. Next, we have a salad course – a light, super-refreshing Salmon Carpaccio and Spicy Greens Salad.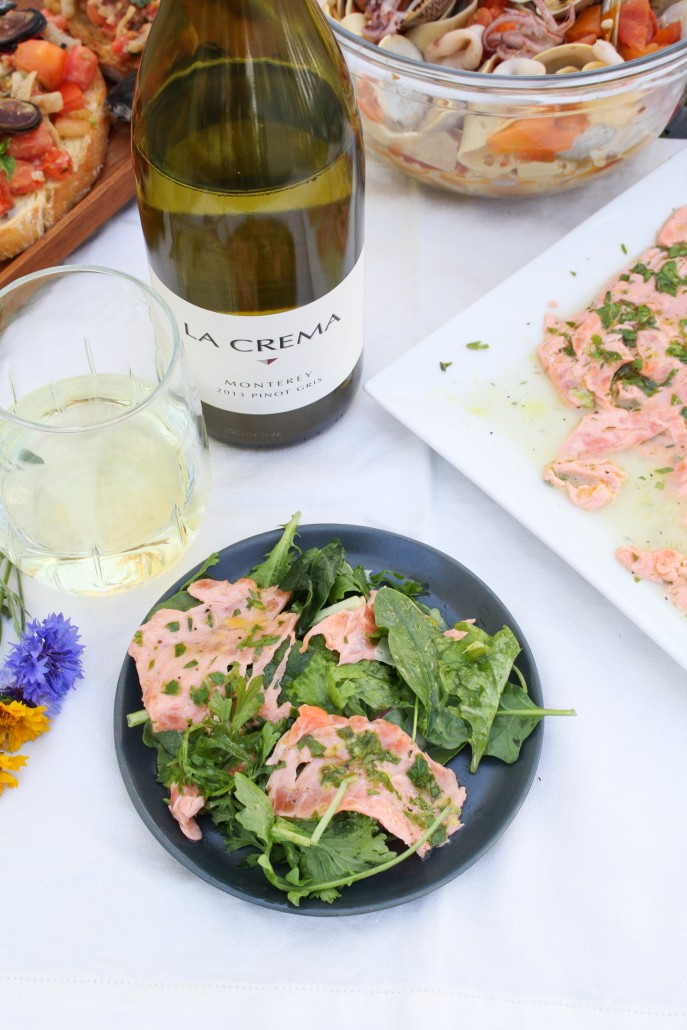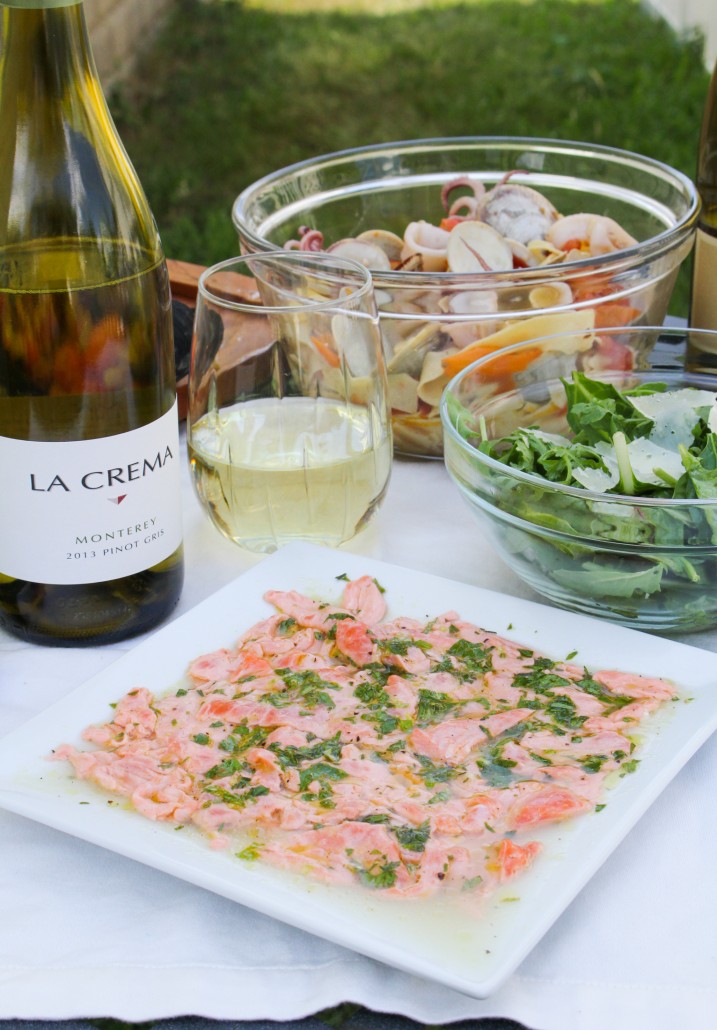 Think of salmon carpaccio like an Italian-inspired ceviche. The fish is technically raw, but the acid in the lemon juice "cooks" the fish, changing the texture and the color. Instead of the Peruvian flavors of lime and chile that you find in ceviche, the carpaccio relies on juicy lemons and herbs like parsley and thyme for its flavoring. Served on top of lightly dressed, slightly spicy greens like arugula and mustard leaves, it's a wonderfully light summer salad that feels elegant and refined. Paired with a crisp, bright La Crema Pinot Gris, this course screams summer.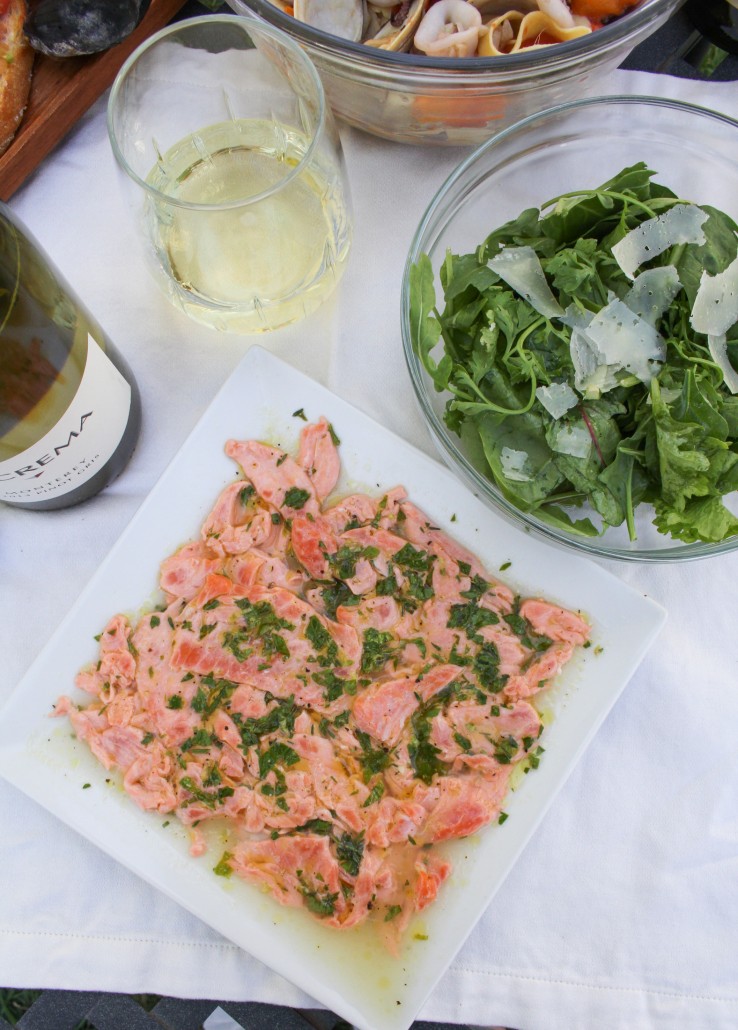 Italian Seafood Dinner: Salmon Carpaccio and Spicy Greens Salad
Author: Katie Morris of Katie at the Kitchen Door
Recipe type: Salad
Cuisine: Italian
Prep time:
Cook time:
Total time:
Serves: 4
Ingredients
½ lb. very fresh, sushi-grade salmon fillet
Juice from 2 lemons (1/2 cup juice)
1 tsp sea salt
1 TBS finely chopped fresh parsley
1 tsp fresh thyme leaves
2 TBS olive oil, plus more for dressing salad
5 oz. arugula, mustard leaves, or mix of spicy greens
1 oz. pecorino cheese, shaved into thin slices
Instructions
Remove any remaining bones from the salmon with fish tweezers and discard. Wrap the salmon tightly in cling wrap and place in the freezer for 90 minutes – just long enough to thoroughly chill the salmon and make it easier to slice.
In a small bowl, whisk together the lemon juice, sea salt, chopped parsley, thyme leaves, and 2 TBS of olive oil into a smooth dressing. Set aside.
When the salmon is fully chilled, remove it from the freezer. Slice the salmon horizontally as thinly as possible. I found this easiest to do by starting in the center of the filet (the fattest part) and slicing down the edge of the filet towards the thinnest part. Layer some of the salmon slices in a single layer on a large plate or platter. Cover the first layer of salmon with a few spoonfuls of the lemon dressing, making sure the dressing touches every piece. Repeat with more layers until you have used all of the salmon and all of the dressing. Tightly cover the salmon and place in the fridge for at least 1 hour.
When ready to serve, toss the salad greens with a little bit of olive oil and sea salt. Divide between plates and top with several shavings of pecorino cheese and pieces of the salmon carpaccio. Serve immediately. Salmon is best if consumed the same day, but will keep overnight in the fridge.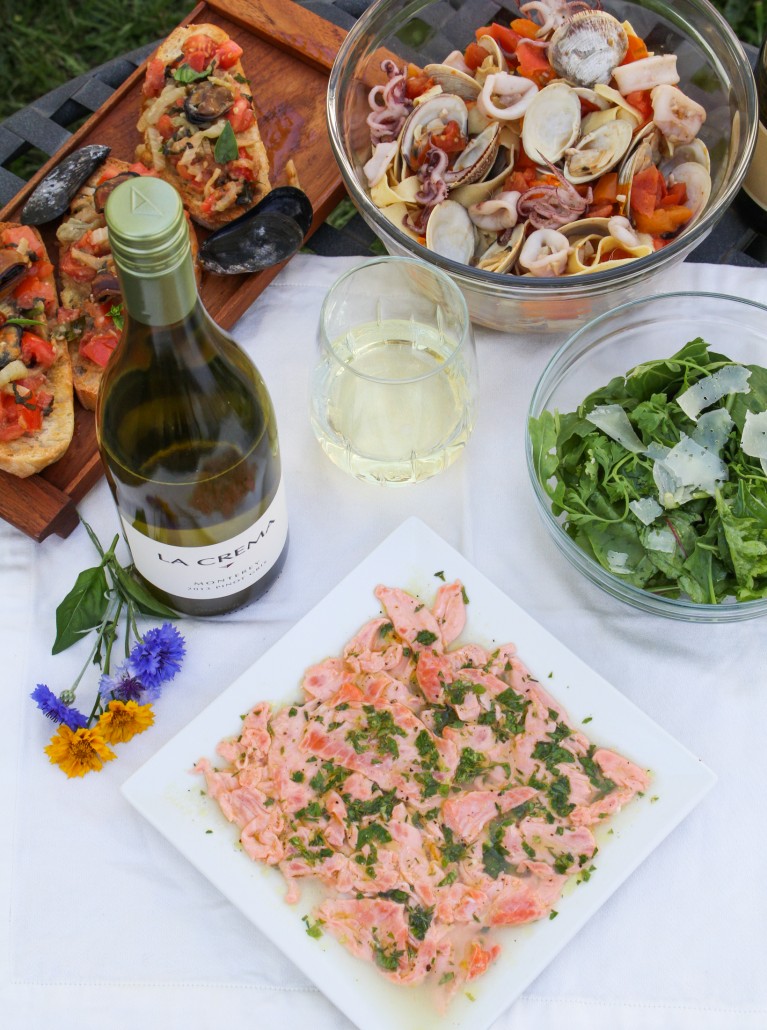 Italian Seafood Dinner Recipes: