Italian Seafood Dinner: Seafood Pasta with Squid, Clams, and Tomatoes
It's hard to imagine an Italian meal without pasta playing at least some role which is why I opted for a Seafood Pasta as the main course. I know plenty of Italian meals take place with no pasta whatsoever, but for me, a fresh pasta with homemade sauce is the centerpiece of any meal – something to be celebrated. So for our Italian Seafood Dinner I knew that the main course couldn't just be any pasta, it had to feature homemade pasta – wide rough-cut noodles of eggy pappardelle tossed with a quick, summery seafood sauce. The sort of pasta that can be served family-style in a big bowl and passed around the table again and again, while wine glasses clink and conversation flows freely.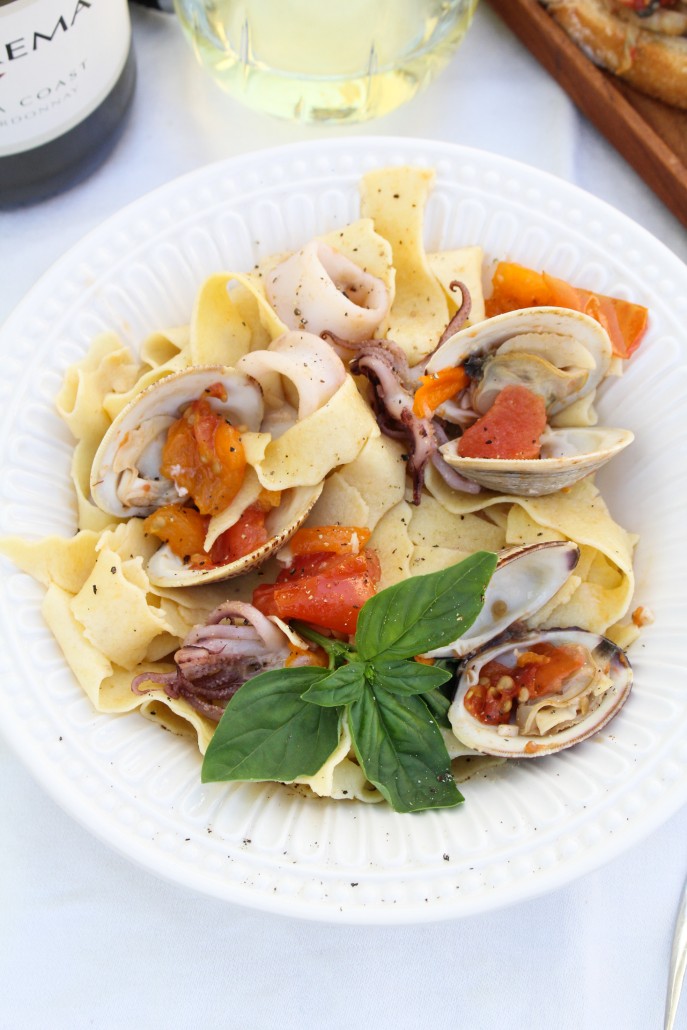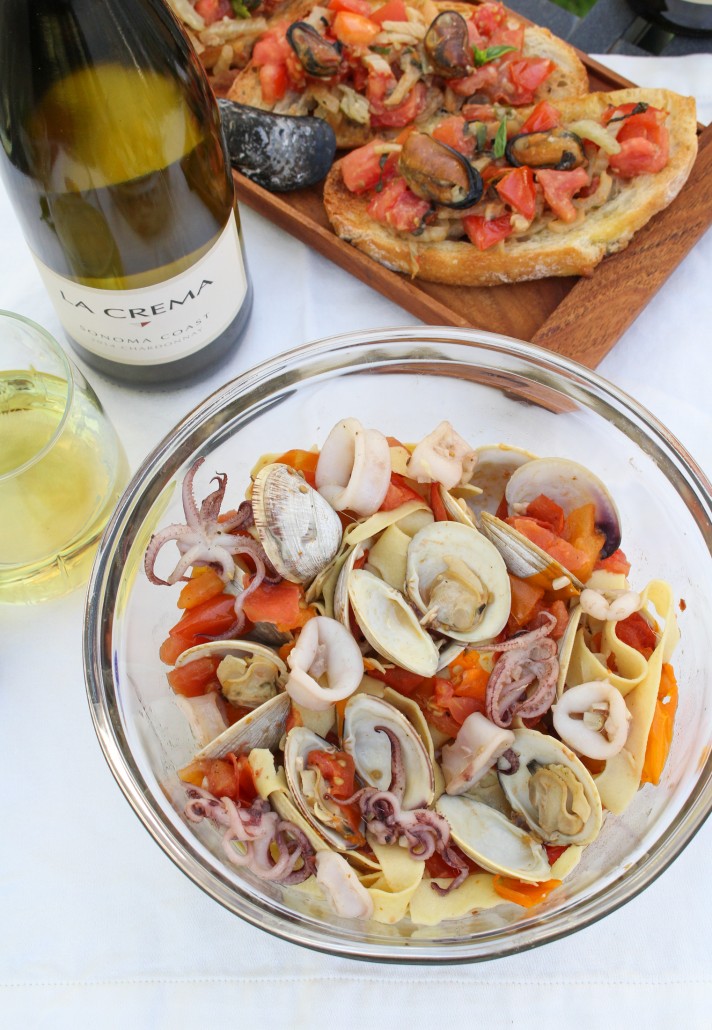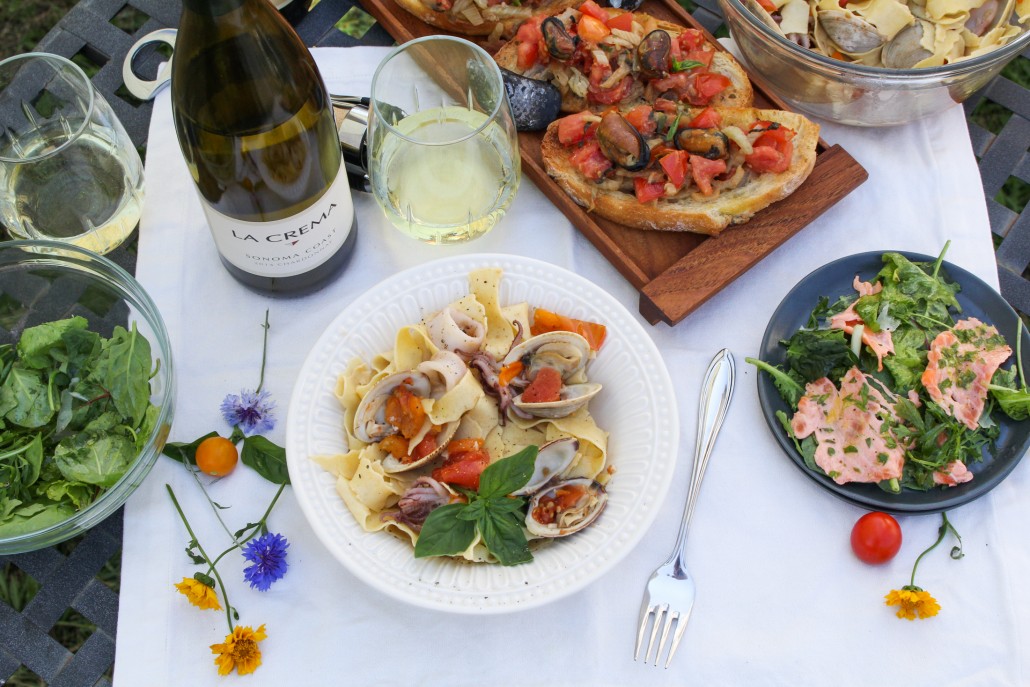 There's something about homemade pasta that elevates a meal from the everyday to a dish to be lingered over. I love to make the pasta myself – to crack the eggs into a well of flour and draw the tines of a fork through the mixture until it is no longer eggs and flour but a dough; to slowly knead the dough until it's soft and pliable; to roll the dough into thinner and thinner sheets, folding and pressing and re-rolling; to cut the sheets into thick noodles and hang them to dry on wooden dowels. It's a ritual, and the love that goes into each step makes you savor every bite of the finished product. Of course, there isn't always time for rituals like this, in which case a package of fresh noodles from a local store and a quickly but lovingly-made sauce will do the trick just as well.
This seafood sauce comes together in just 20 minutes, with squid fried until just barely tender, steamed clams, and a generous amount of fresh tomatoes and herbs. Serving it with a bottle of chilled, buttery La Crema Sonoma Coast Chardonnay elevates it one step further, so that suddenly you find yourself sitting outside long past dusk, with empty wine bottles, bowls stacked with clam shells, full bellies, and hearts full of friendship and good conversation, and the slower pace of summer. Leave the dishes for the morning.
Seafood Pasta with Squid, Clams, and Tomatoes
Author: Katie Morris of Katie at the Kitchen Door
Recipe type: Pasta
Cuisine: Italian
Prep time:
Cook time:
Total time:
Serves: 4
Ingredients
2 TBS butter
4 anchovies
3 cloves garlic, finely minced
¾ lb. squid tubes and tentacles, cleaned and rinsed of any grit
Sea salt and pepper to taste
10-12 basil leaves, torn into pieces, plus more for garnish
1 TBS minced parsley leaves
1/2 tsp red pepper flakes
3 medium fresh tomatoes, cored and cut into ¼ inch pieces
¼ c. La Crema Sonoma Coast Chardonnay
12-15 littleneck clams, rinsed in cold water
1 lb. fresh pappardelle noodles
Instructions
Melt butter in a large pot over medium-low heat. Add anchovies and saute, stirring, until anchovies have dissolved into the butter. Add the garlic and saute, stirring, until garlic is fragrant and beginning to brown, about 1 minute. Add the cleaned squid, season to taste with sea salt and pepper. Saute squid just until it begins to puff up and become firm, about 2-3 minutes. Overcooking the squid will make it tough. Use a slotted spoon to remove the squid from the pan and set aside in a bowl.
Add the fresh basil, parsley, red pepper flakes, and tomatoes to the liquid remaining in the pot. Cook until tomatoes have begun to release their liquid, about 3 minutes. Add the wine and the clams, cover the pot, and steam the clams until they have opened, about 5-7 minutes. Remove the lid and discard any clams that haven't opened. Cook for another 2-3 minutes until the sauce has reduced slightly, then remove the sauce from the heat.
Bring a large pot of salted water to a boil, then cook the pasta in the boiling water until al dente (usually takes 2-4 minutes for fresh pasta). Drain the pasta, then add the noodles to the pot with the sauce and toss the pasta to combine. Transfer to a bowl and add the prepared squid. Serve immediately, garnished with fresh basil.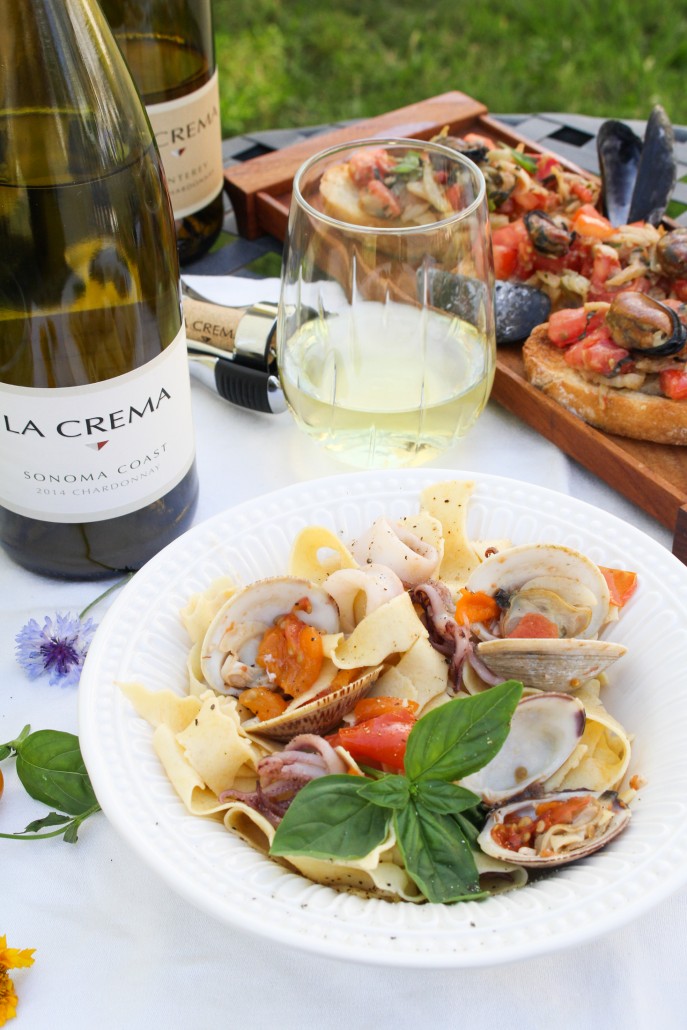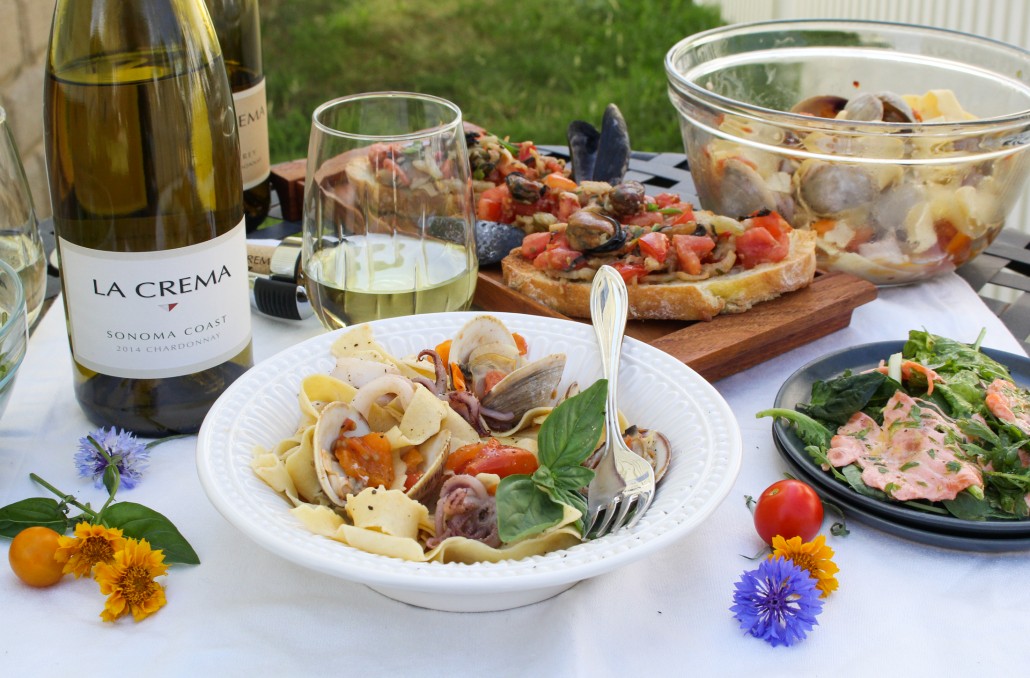 Italian Seafood Dinner Recipes: