Farm-to-Table Harvest Dinner
Megan from Freckled Italian and Courtney from Sweet C's Designs share their secrets to a delicious, comforting meal focused on farm-fresh ingredients to celebrate an autumnal bounty and La Crema's wines in the picturesque Saralee's Vineyard.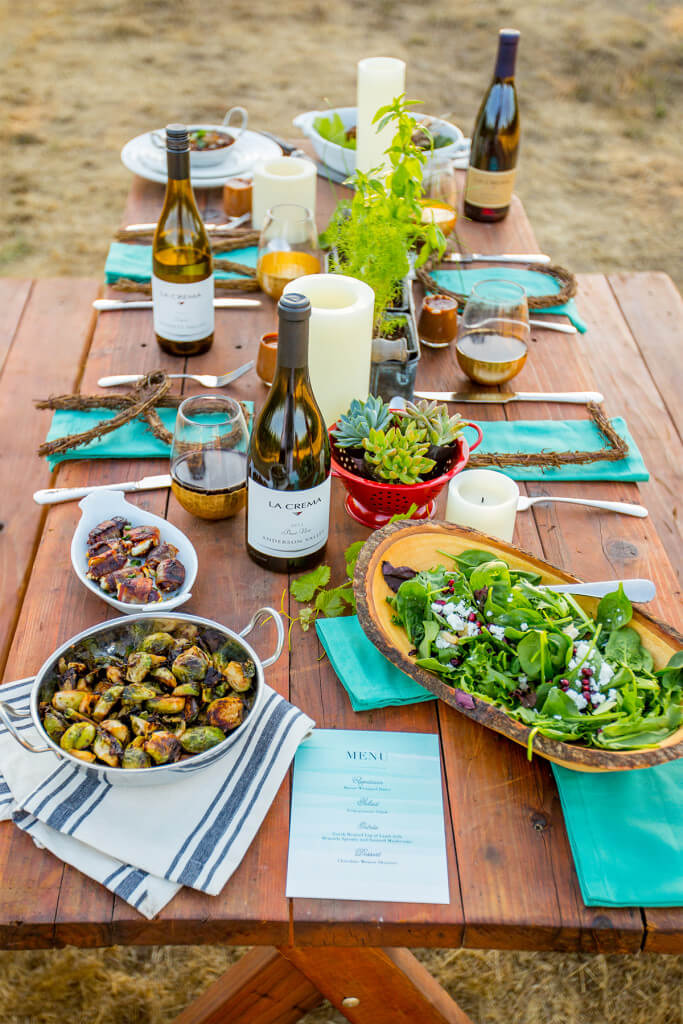 We recently visited the gorgeous Saralee's Vineyard in Windsor, California, to throw a beautiful and romantic harvest dinner with a wine tasting (because, of course!) nestled right in the vines to celebrate with some friends and nosh on delicious local foods with a focus on fall.
Autumn is such a special time around the country, but in wine country it is especially exciting as grapes ripen and wine is being harvested.  Many people see autumn as an ending as leaves fall and the growing season stops, but in a lot of ways, it can signal an important beginning as we work towards winter and the next year. The beginning of autumn is also one of the most delicious times of year as there are so many incredible fresh-harvested fruits and vegetables available to fill up your dinner table. Eating locally is fabulous in fall, and we're sharing some of our favorite recipes that spotlight some early autumn showstoppers like pomegranate, brussels sprouts, and dates.
The grapes picked in fall are just the start of beautiful things to come, and this gorgeous season is deserving of a special celebration, full of good friends, great food, and fantastic wine. We took all the guesswork out of throwing a fabulous fall fête for you with this wonderful guide full of delicious recipes and table décor that will get you in the mood to celebrate autumn!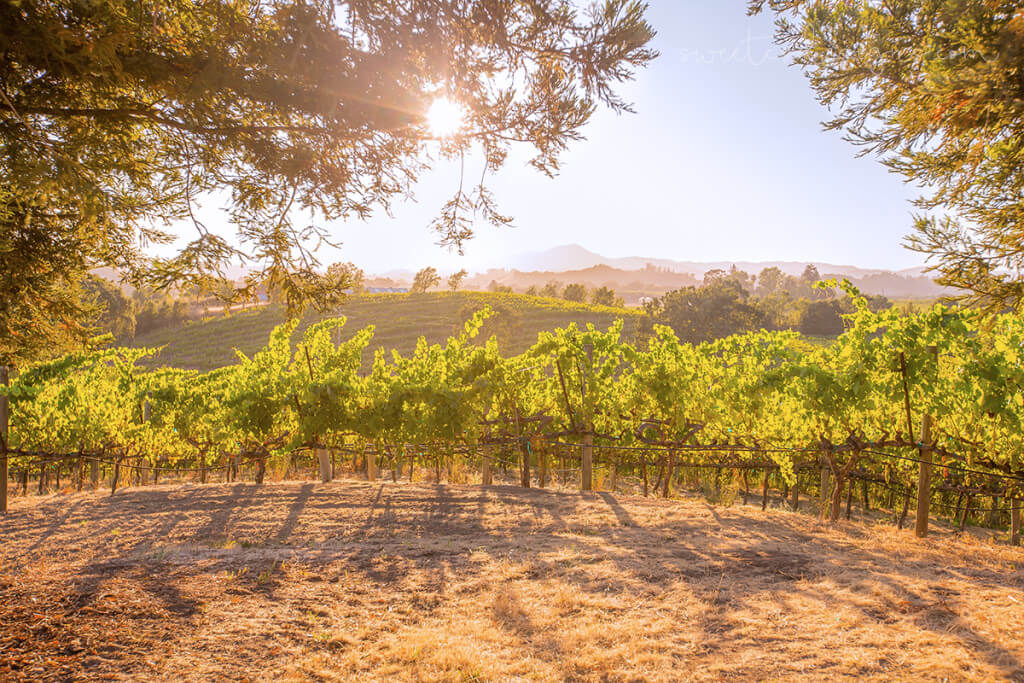 Tips to a beautiful harvest dinner party: 
Focus on fall-inspired décor, with pops of color. To pay homage to the wine theme of our dinner, we paired rustic grapevine monograms as place settings over simple teal napkins. While bright teal isn't a traditional fall color, it adds a lovely pop to typically neutral fall tones like red, orange, yellow, and golds. We also added bright teal to the table with watercolor inspired place cards and menus from Minted. For more about our fall inspired tablescape, head here!
Find the perfect pair. We pulled out some of our tried-and true favorite wines along with some special selections, including La Crema's Monterey Pinot Noir and Pinot Gris, as well as the new Bennett Valley Viognier. We started with the whites to cleanse our palates, and moved on to the Sonoma Coast Pinot Noir and Willamette Valley Pinot Noir for the main course. When dessert rolled around, we splurged and sipped the Anderson Valley Pinot Noir, which was simply divine with our Chocolate Mousse shooters.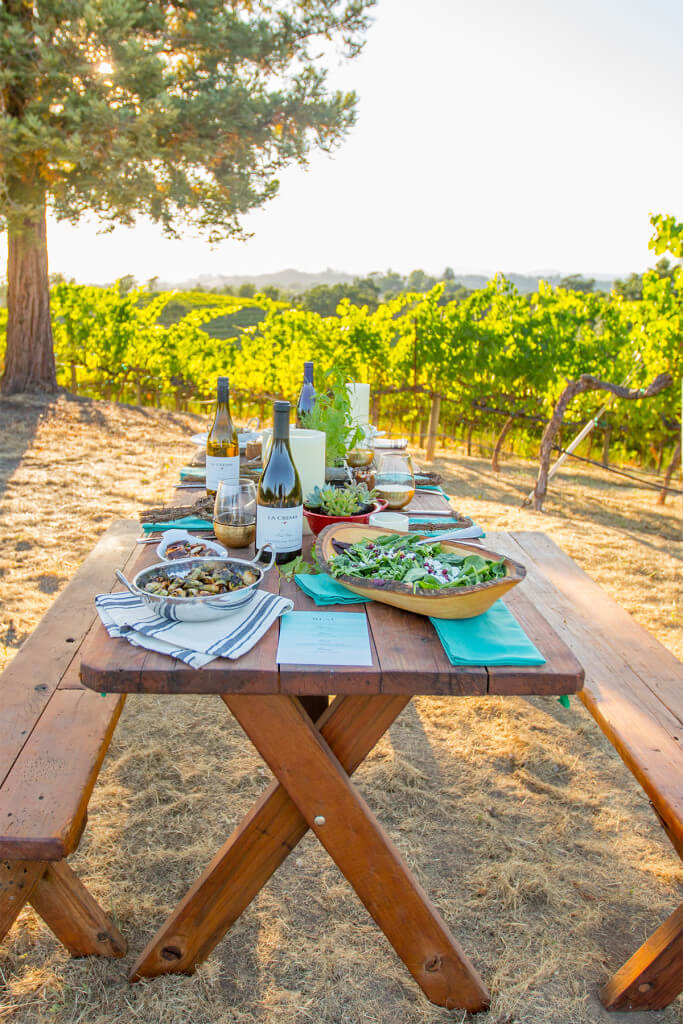 Mix textures, finishes, and natural elements to invoke the dramatic side of fall. We found lovely hammered stainless steel kadhais to cook and serve foods family style, and paired them with gold faceted stemware, as well as some enamel platters and a natural wood serving bowl. The mixture of colors, textures, shapes and patinas sets an elegant and dramatic nod to fall's changing colors.
Serve family style. Passing dishes to your guests creates an intimate, festive affair, and helps reduce plating time. Opt for items that multi-task: serve sides in metal pots that are sturdy enough to cook in, but look great on the table. Don't bother with fussy plating either, your party should be spent outside with your guests rather than slaving in the kitchen.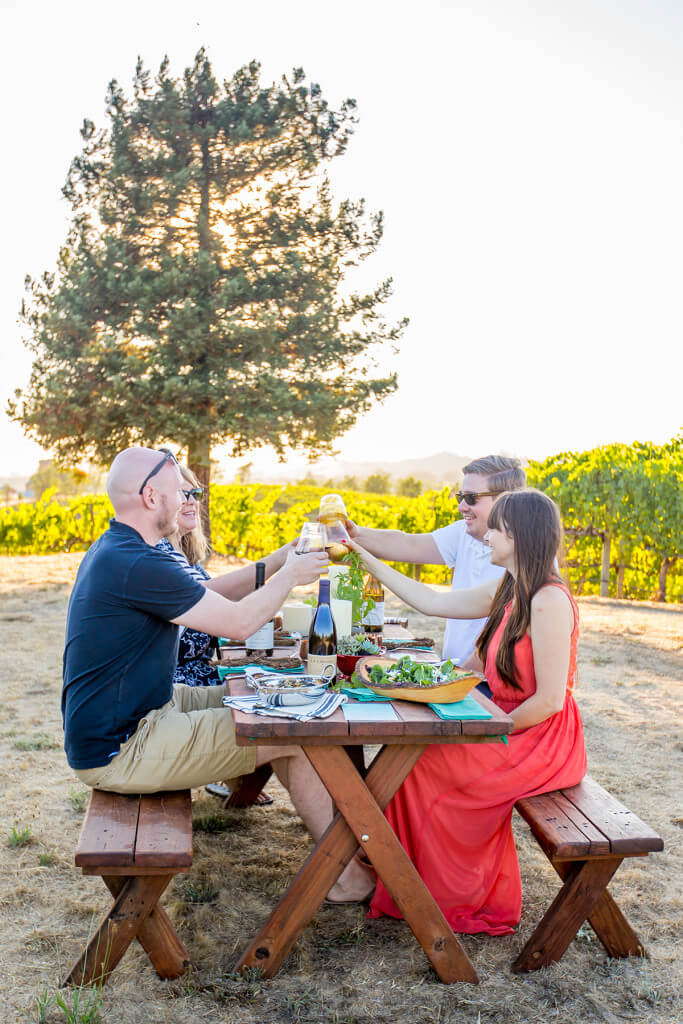 Get cozy with picnic seating! Some of the most beautiful views during autumn are outside, which is where we love to entertain. Opt for casual, relaxed seating with a picnic bench to encourage guests to get close and pass family-style food as your meal progresses.
Mix and match guests! For this dinner, Megan and I sat across from our husbands, and our friend sat in the middle, giving us a chance to all vary our conversations. I try to not seat guests next to their spouses to encourage new conversations, and get everyone in on the fun! When you sit right next to someone you know well, you might end up just talking to them all evening. Spacing out guests gives everyone a chance to get to know each other, and keeps the conversation alive across the table.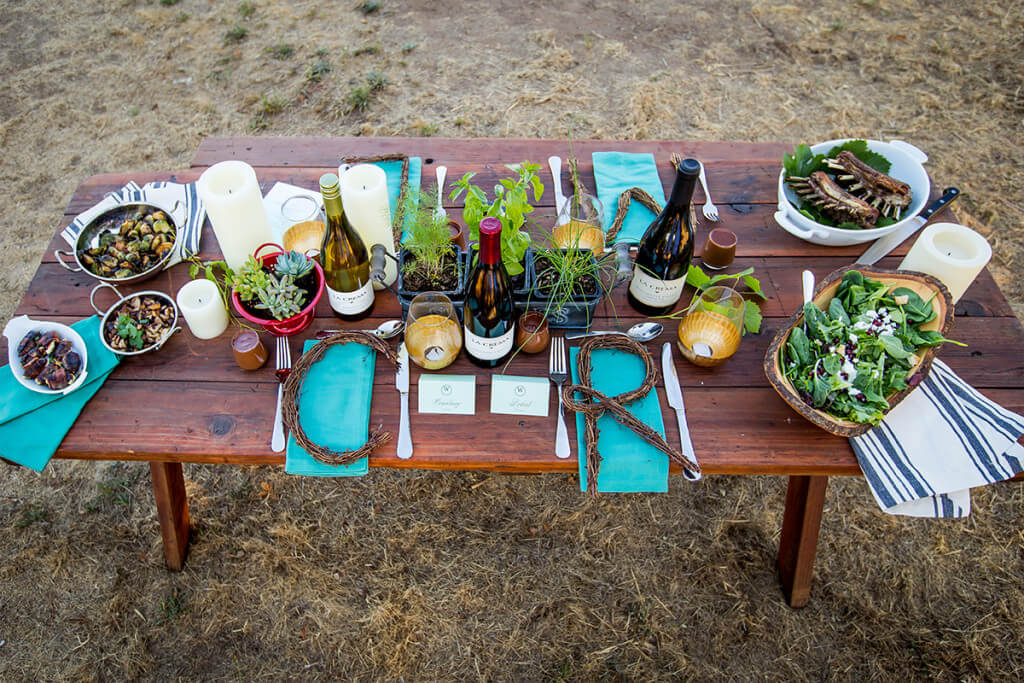 Follow along with our farm-to-table harvest dinner and get full recipes for each dish on Sweet C's Designs, Freckled Italian and the La Crema Winery blog here:
Farm-to-Table Harvest Dinner
Pan Fried Brussels Sprouts with Ghee
Garlic and Lemon Roasted Rack of Lamb