Fondue Two Ways: Cheese vs. Oil
There's just something about winter that begs for fondue–it's comforting and cozy and just romantic enough that it could make the perfect Valentine's Day dinner, but still casual enough that you can throw it together without a lot of planning and enjoy it with an impromptu party of friends.
I'm a big fan of snacky dinners, so picking out all the bites to dip is always my favorite part. Bread, olives, pickles, artichoke hearts, and a selection of charcuterie (this time ham, salami, and some nice prosciutto) are usually the things I reach for. I also love including some raw veggies–usually you see broccoli and potatoes, but this time I cubed up some zucchini, which worked really well for both the cheese fondue and the hot pot style oil fondue (keep reading for both recipes).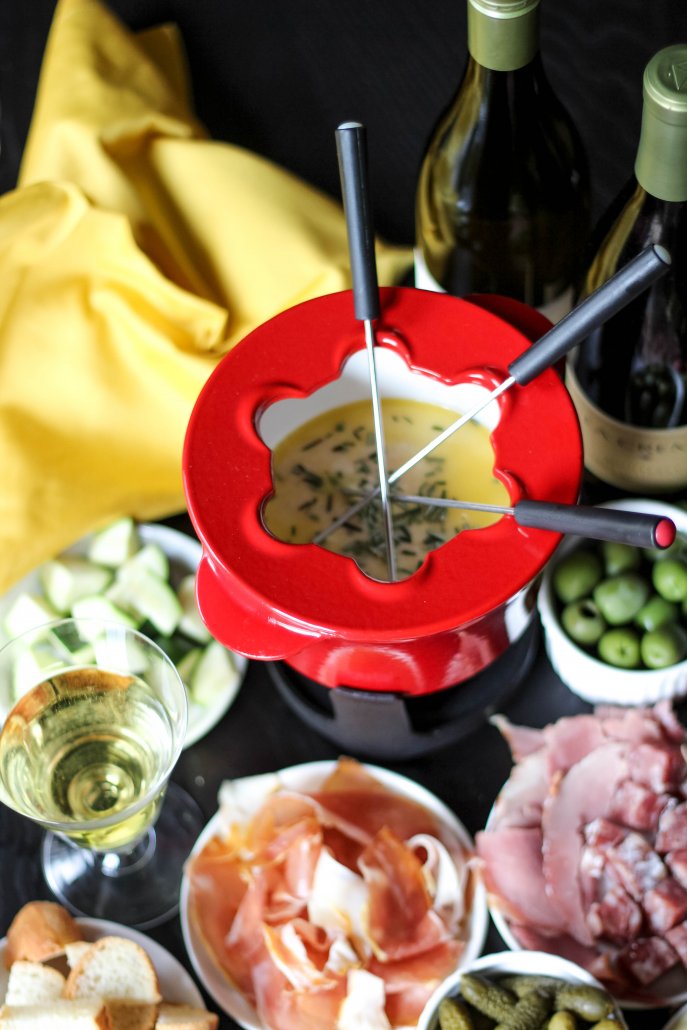 For this cheese fondue, we decided to mix it up and use Havarti and white cheddar instead of the traditional Swiss and Gruyere combination. I also added some fresh rosemary at the end to brighten things up a bit. Havarti is buttery and smooth and melts really well, and the cheddar gives it a nice sharpness–both of those flavors paired so beautifully with La Crema Monterey Chardonnay and Pinot Gris.
Havarti-Cheddar Fondue
Author: Megan Flynn Peterson
Prep time:
Cook time:
Total time:
Serves: 4-6 servings
Ingredients
1 clove of garlic, peeled
1 1/2 cups of white wine (La Crema Monterey Chardonnay is perfect)
12 ounces of sharp cheddar, shredded
12 ounces of Havarti, shredded
2 tablespoons of cornstarch
1 tablespoon chopped fresh rosemary
Salt and pepper, to taste
Instructions
Rub the clove of garlic around the inside of your fondue pot. Pour the wine in and bring to a simmer.
In a bowl, toss the shredded cheese with cornstarch. Slowly add the cheese to the simmering wine and stir to combine. Once all the cheese has been incorporated, season with salt and pepper and add the fresh rosemary.
Serve with a variety of food cut into bite-sized pieces: meats, vegetables, bread, etc.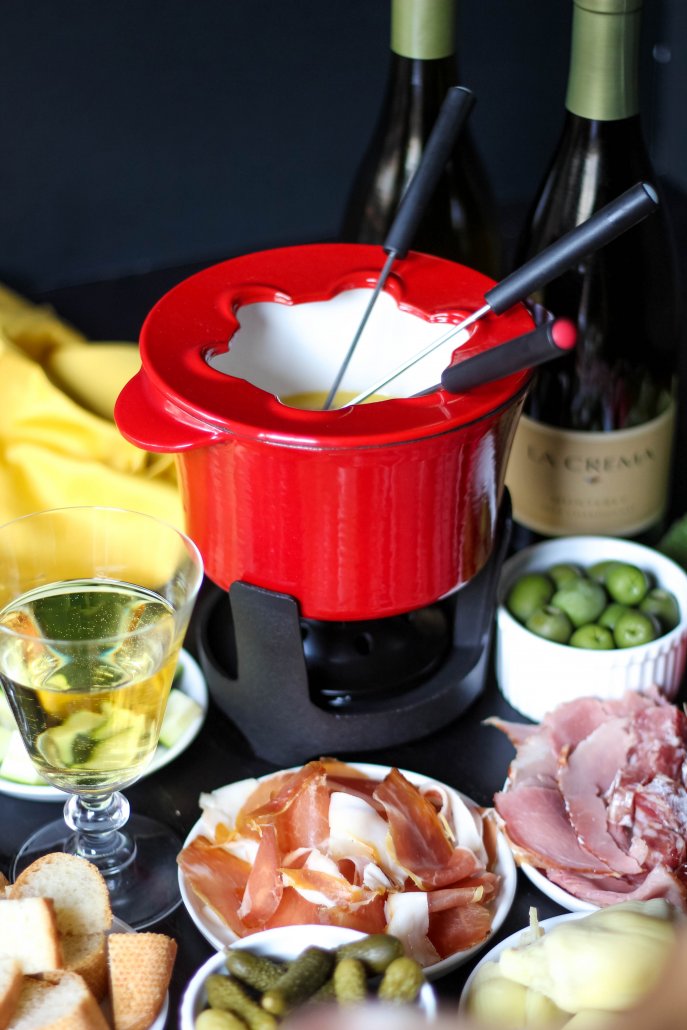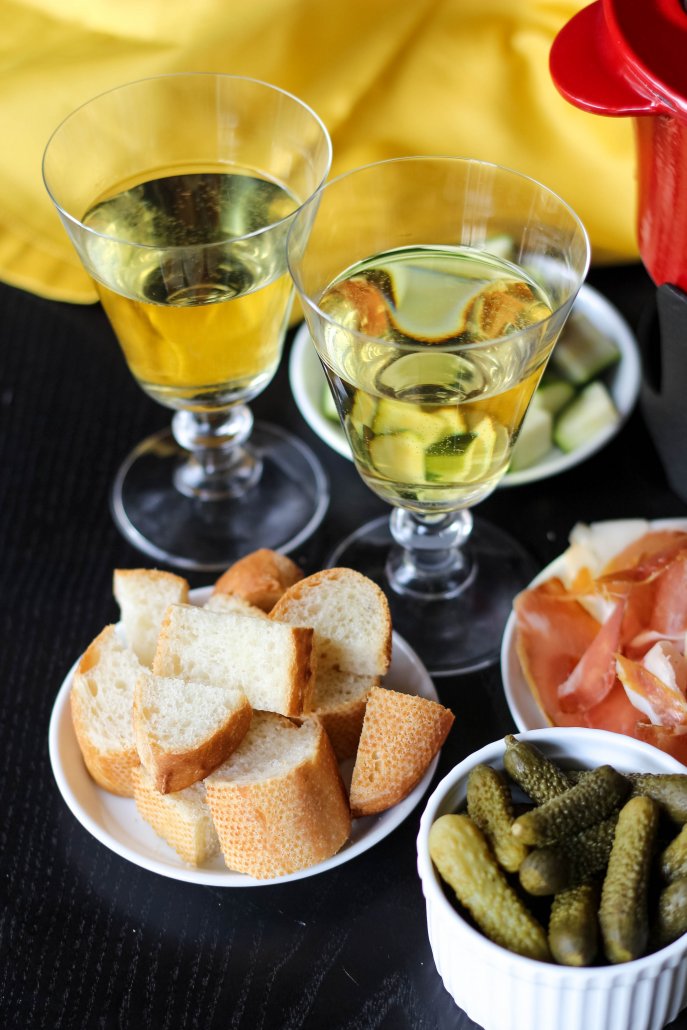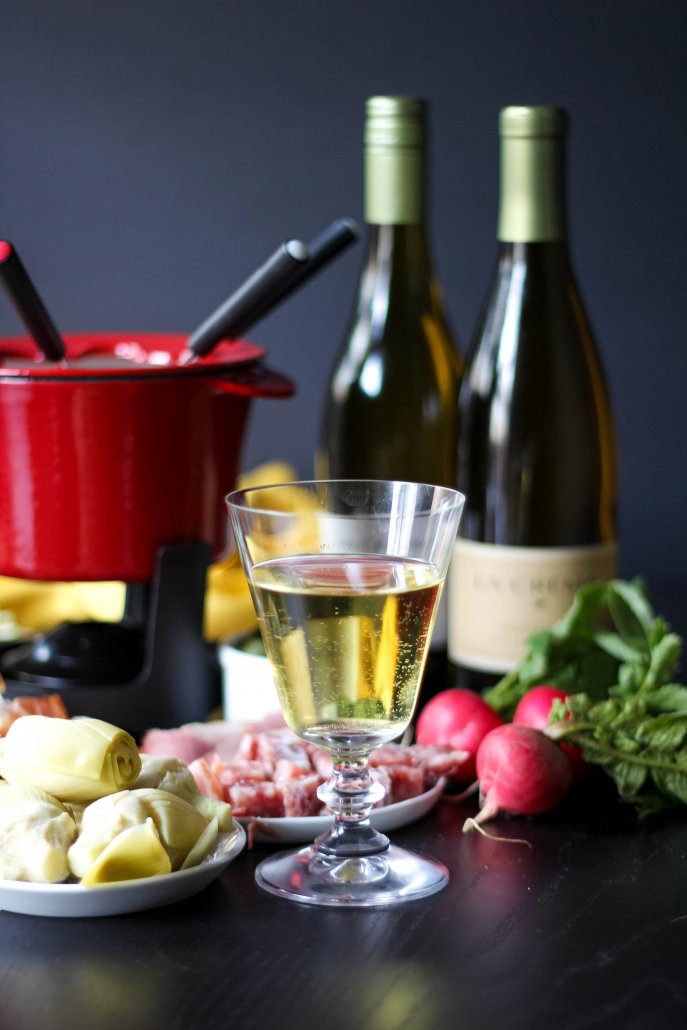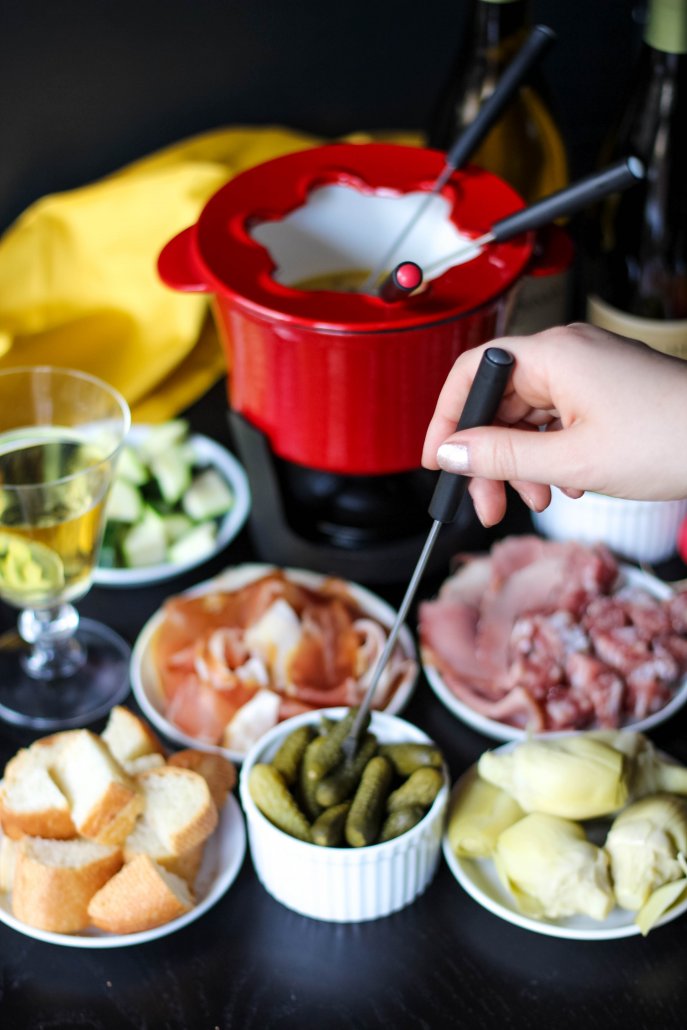 The second fondue I made is less of a recipe and more of a style of cooking–it's a hot-pot type situation where you dip sliced raw meats into simmering oil and cook it to your liking. I chose steak this time, but it would also be great with chicken and shrimp (I think shrimp would be especially good since they cook so fast). I also added some raw zucchini to the pot and ended up with lovely fried zucchini bites–not bad at all!
If you're going to include an oil (or broth) fondue to your plans, make sure to have separate plates for the raw meat and the cooked meat–you don't want to be adding ready-to-eat bites back onto the plate that had the uncooked meat. I like to put all the ready-to-cook proteins (and vegetables) on one large platter or cutting board, then set out smaller plates for everyone to use when they're ready to eat.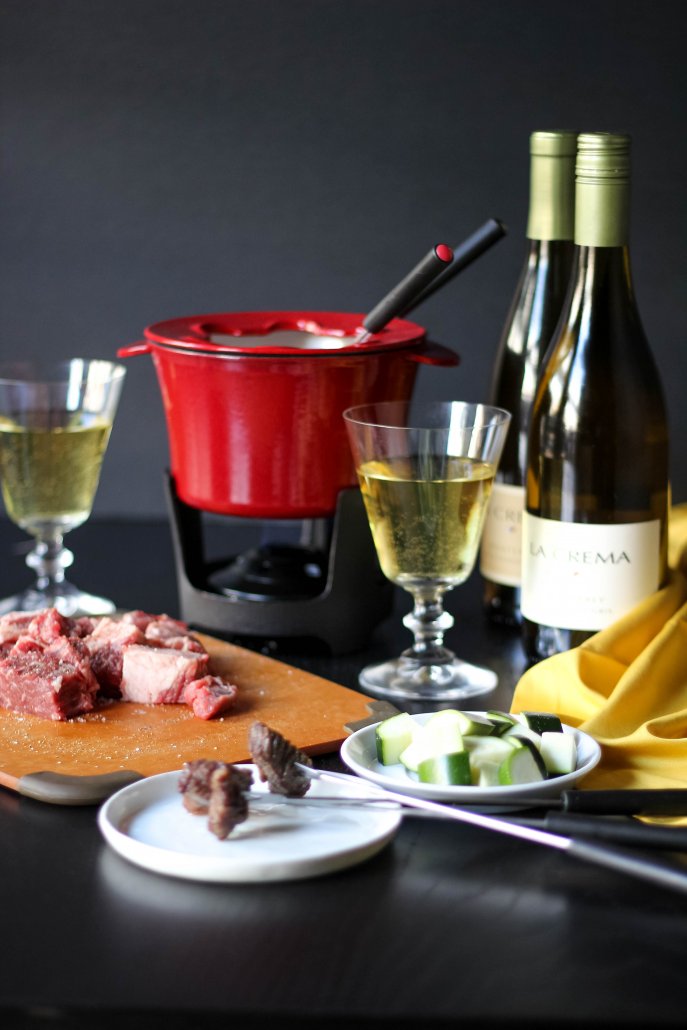 Oil Fondue
Author: Megan Flynn Peterson
Prep time:
Total time:
Serves: 2-3 servings
Ingredients
2-3 cups of canola or peanut oil
1-2 pounds of steak, chicken, or shrimp; cut into bite-sized cubes or sliced thinly
Salt and pepper, to taste
Instructions
Bring the oil to a low simmer in the fondue pot.
Season meat with salt and pepper and pierce it with the fondue spears. Carefully place the steak pieces into the fondue pot and cook until browned–about 5-7 minutes. Remove from pot and season again with salt and pepper if desired.
Repeat until all the steak is cooked.
Once you're done cooking, turn off heat source and allow the pot to cool completely before handling–be super careful! A pot of boiling oil is a very serious hazard.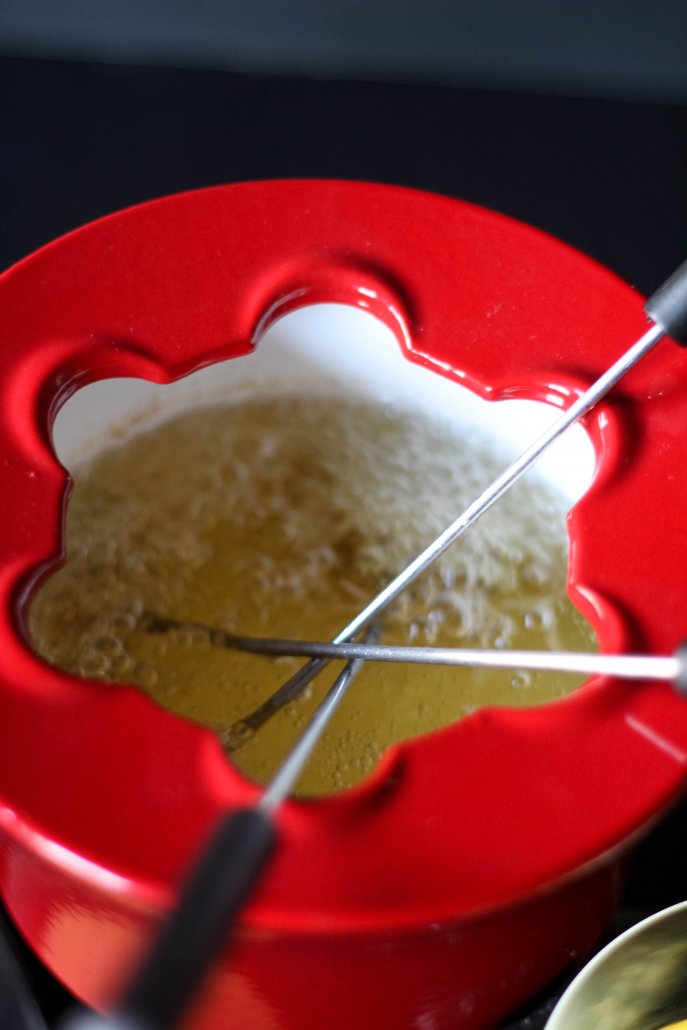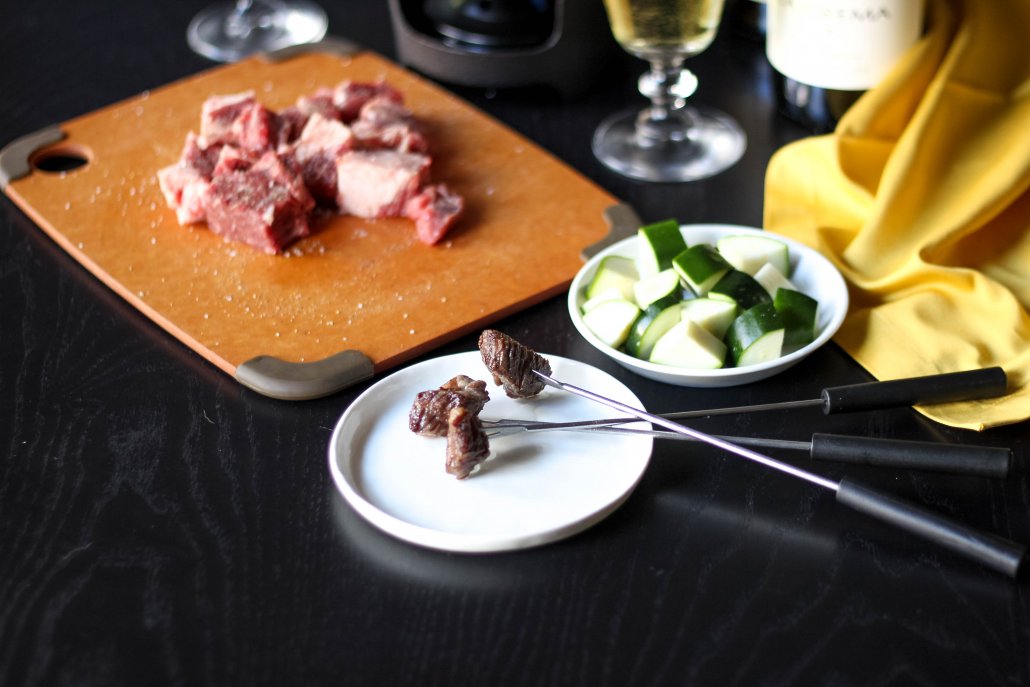 Cheese and bread, freshly-cooked morsels of steak, and delicious wine–what more could you want in a meal?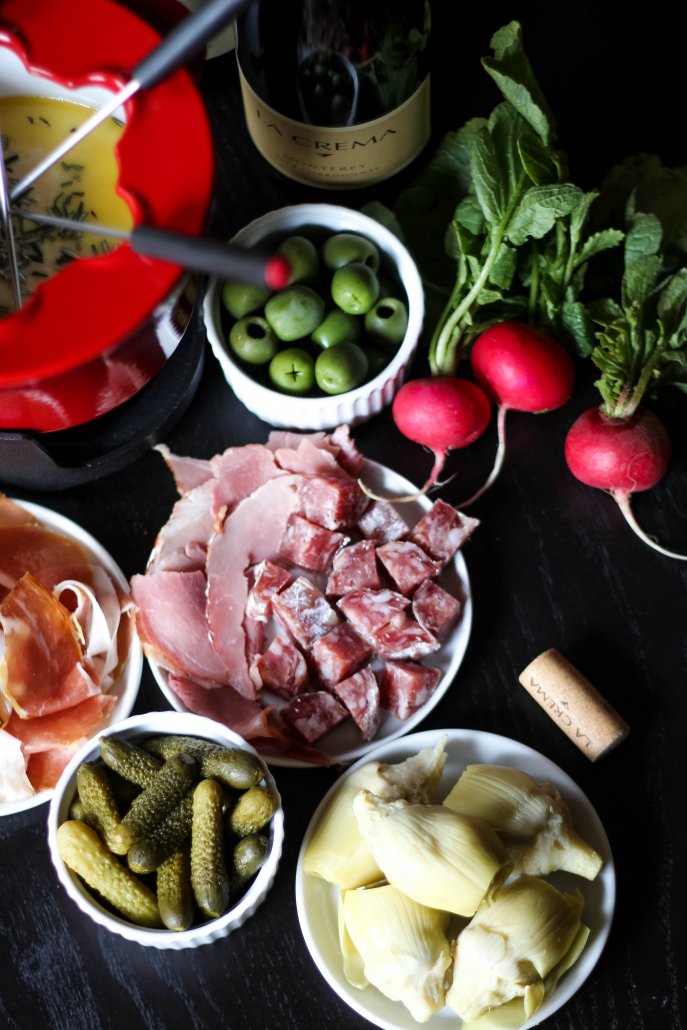 Oh, but don't forget dessert! Visit Freckled Italian for a chocolate fondue recipe too!