Labor Day Cookout: Greek Sweet Potato Fries
Sweet potato fries have quickly replaced regular old potatoes as the darlings of the french fry world. Of course, they've been around for decades, but it seems that now they've trickled down into almost every restaurant that serves normal fries.And they're popular! For good reason: sweet potato fries have all the addicting qualities of regular fries, plus that added hit of sweetness and flavor, and you can sort of get away with telling yourself that they're marginally healthier (they're still fried of course, but they do have a little more nutritional value in the forms of vitamins A and C).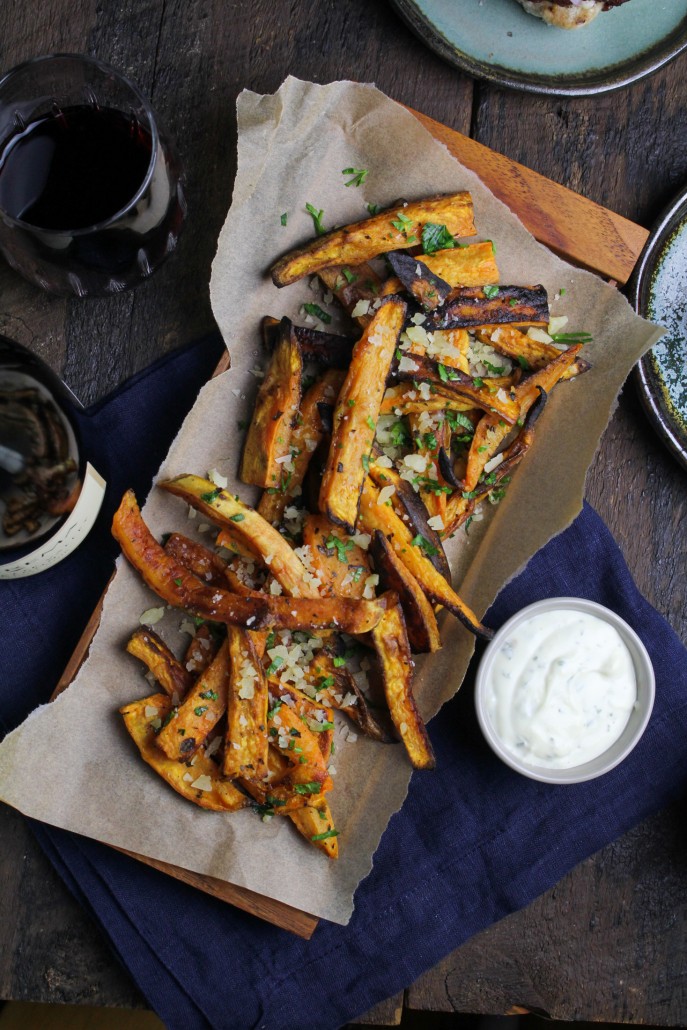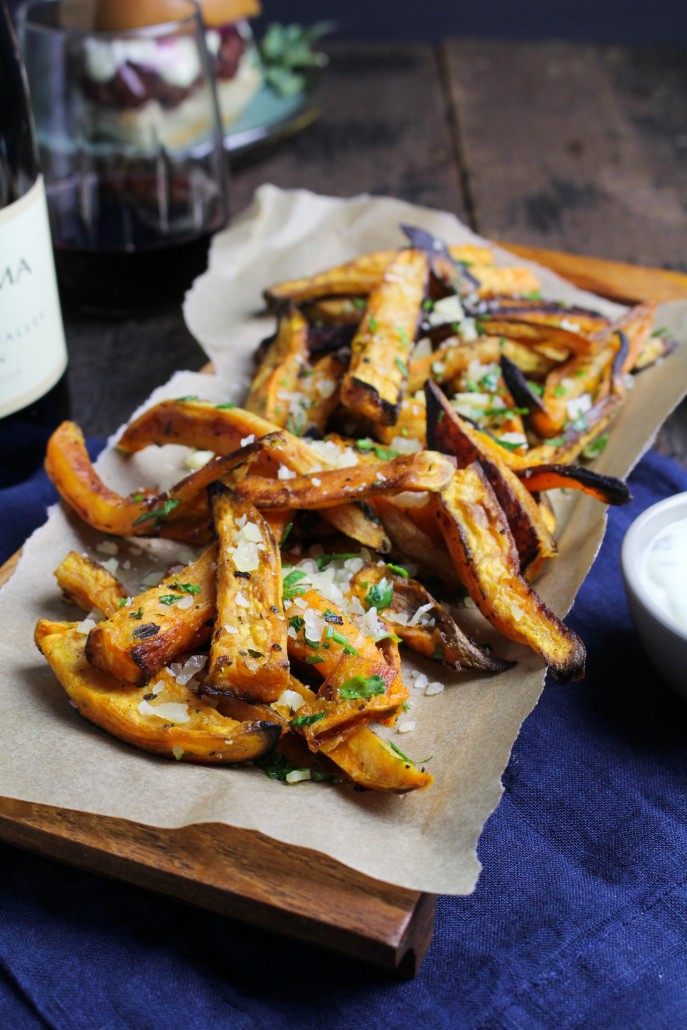 When we get Greek-American take-out, it's always hard to resist upgrading to the "Greek-style" fries, which are usually showered with parsley, parmesan or another crumbly cheese, and a bit of lemon. So for our Labor Day cookout I combined the best of two french fry worlds and made a big batch of steak-cut sweet potato fries, tossing them with fresh oregano and plenty of olive oil before roasting, then giving them the "Greek-style" treatment as soon as I pulled them from the oven.
They came out even better than I imagined – thick, crispy, sweet, lemony and cheesy. These are very simple to make at home – take care to cut your potatoes into evenly sized pieces, and, if you have the time, give them a soak in cold water before roasting, and you'll be good to go. Since I was serving these with the Lamb Burgers, I paired them with the same wine, La Crema's Willamette Valley Pinot Noir. It's a lovely wine, pleasantly tart and light-bodied enough to feel right at home at an end of summer, outdoor gathering.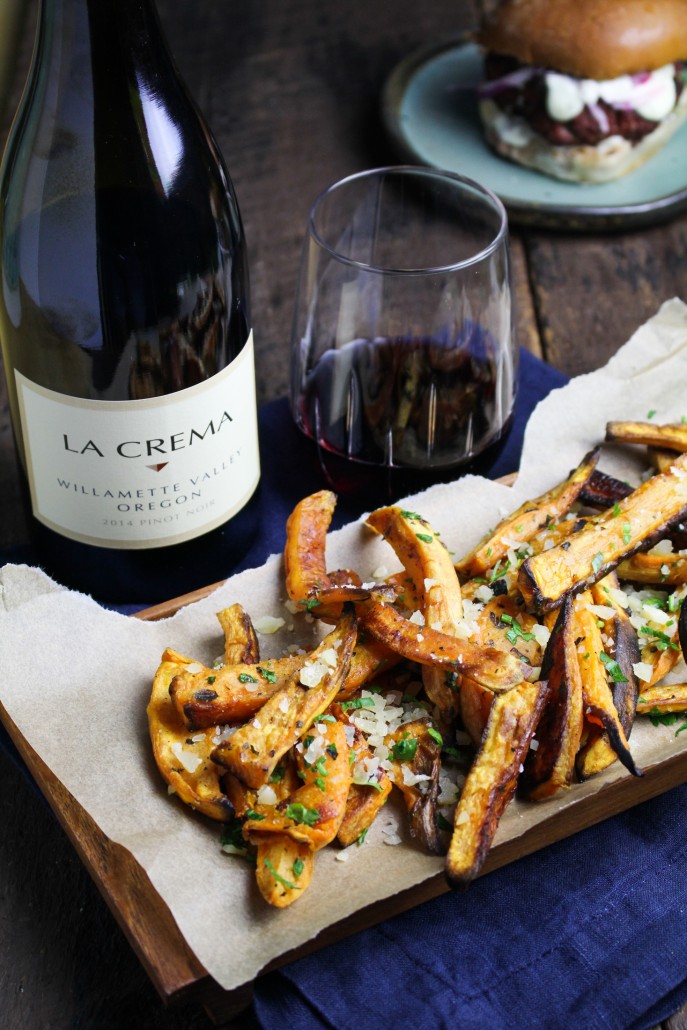 Greek Sweet Potato Fries
Author: Katie Morris of Katie at the Kitchen Door
Prep time:
Cook time:
Total time:
Serves: 4
Ingredients
2 large sweet potatoes
2 TBS olive oil
1 TBS canola oil
1 tsp minced fresh oregano leaves
Freshly grated black pepper
Sea salt
1 TBS fresh lemon juice
1 TBS minced fresh parsley leaves
2 oz. ricotta salata, Mizithra, or other crumbly hard cheese, crumbled into small pieces
Instructions
Peel the sweet potatoes, then cut them into evenly sized pieces, about 4 inches long and 1/2 inch thick. Place the cut potatoes in cold water and let soak for 30-60 minutes, then rinse and drain (soaking the fries is optional – it will help remove starch and allow the fries to become more crispy, but if you don't have time to soak them, it's OK to skip this step).
Preheat the oven to 425. Toss the fries with the olive oil, canola oil, oregano leaves, and a few good turns of black pepper. Spread the potatoes out in a single layer on a dark, non-stick baking sheet and place in the oven. Roast for 15 minutes, then remove from the oven and flip once, and roast for another 10-15 minutes, or until the potatoes are beginning to crisp and darken on the outside and are tender inside.
Remove the fries from the oven and immediately season generously with sea salt. Drizzle lemon juice and fresh parsley over the top of the fries and toss to coat the fries. Transfer to your serving dish and sprinkle the fries with the crumbled cheese. Serve immediately
For more Labor Day Cookout Recipes, check out: