Labor Day Cookout: Lamb Burgers with Lemon Garlic Aioli
This Labor Day, I'm celebrating with a Greek-American-inspired cookout of Lamb Burgers, Greek Sweet Potato Fries, Roasted Tomato Feta Dip, and Baklava Ice Cream Sandwiches. Sounds like a meal worth celebrating, right?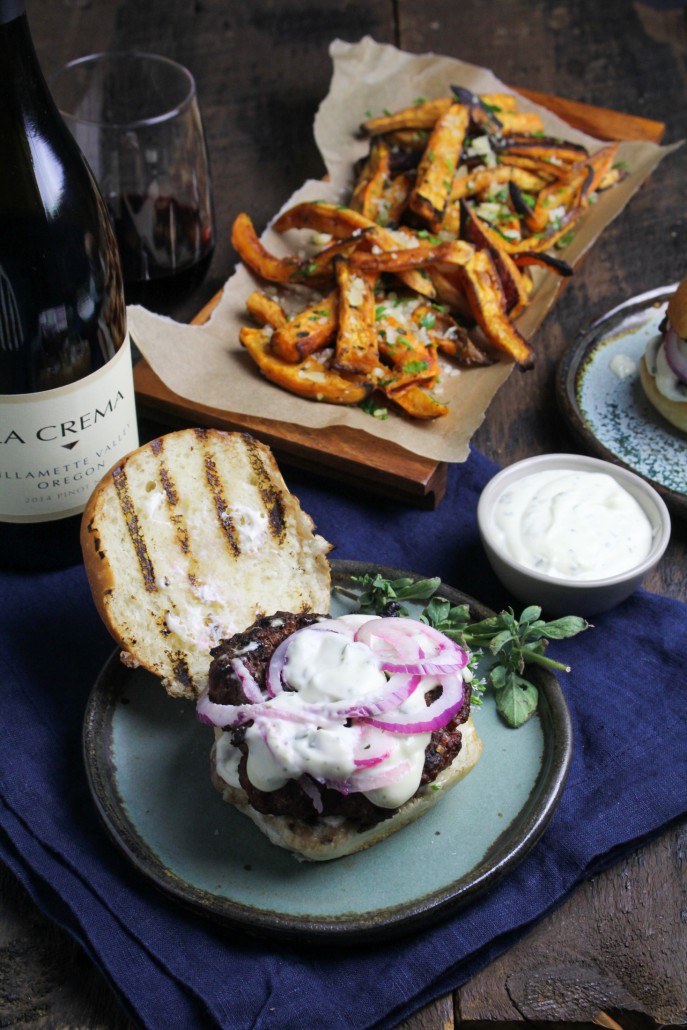 Now, Labor Day is a bittersweet moment – it's a sign that summer is winding down and instead of summer firsts ("the first swim of the summer! The first BBQ!") everything becomes the last. The weather is still warm and the summer produce is still abundant, but the days are decidedly shorter, and there's a chill in the air in the evenings. It's good that we have Labor Day to take one last long weekend to enjoy the sun, the company of friends, and the simple pleasure of a perfectly grilled burger and a good bottle of wine.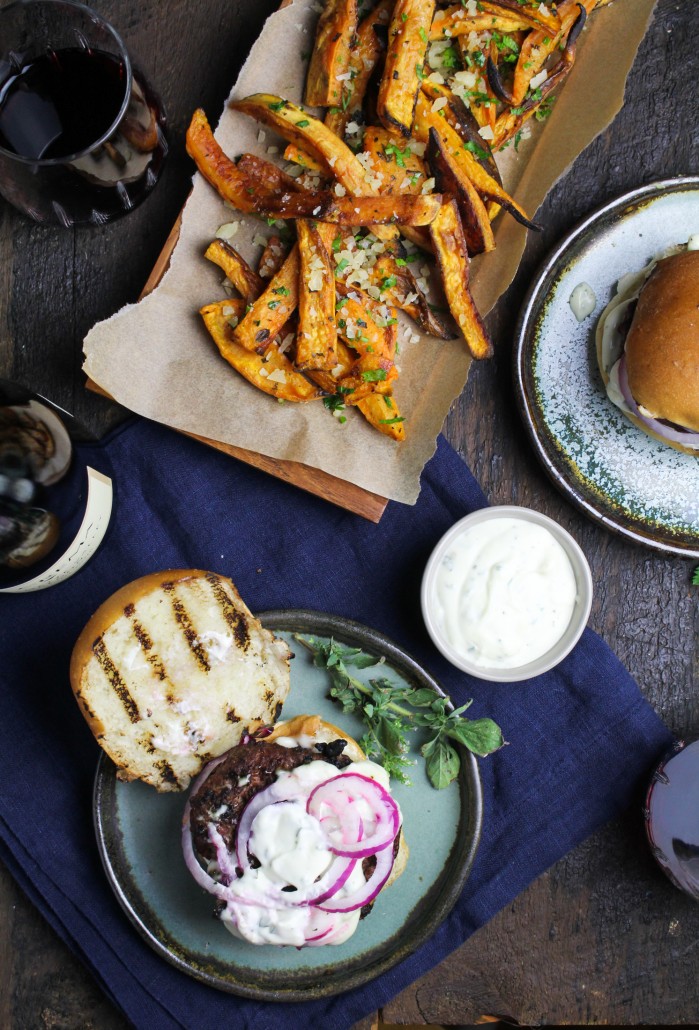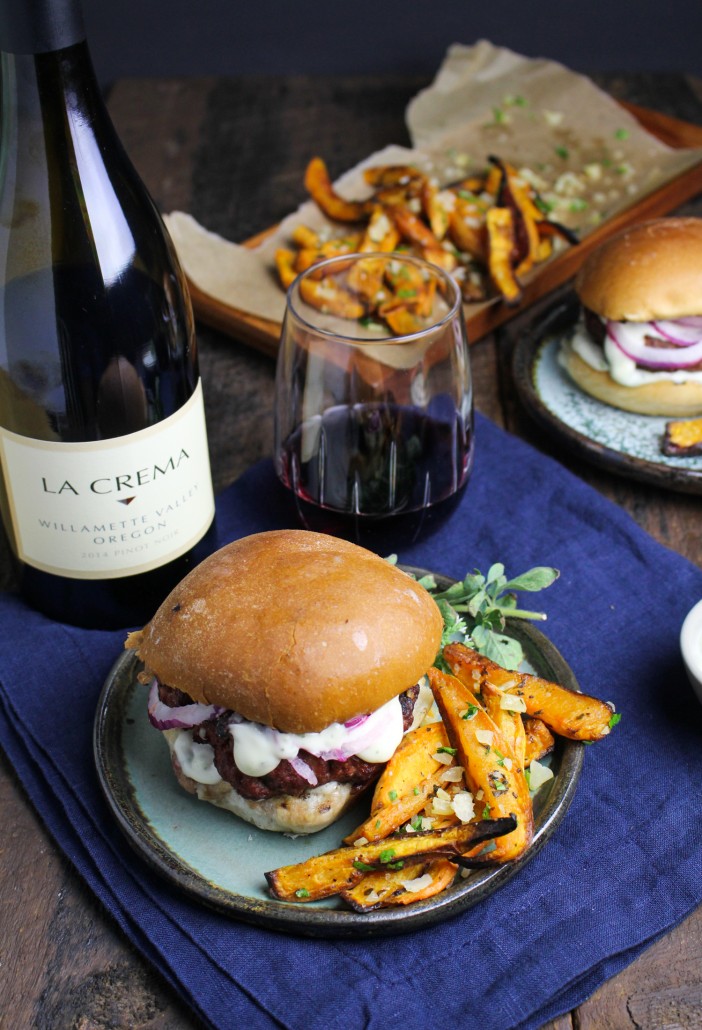 First up are the lamb burgers. Like many, I'm a believer in a good burger being super simple – high quality meat, salt and pepper, and smoke from the grill are all you need for a perfect burger. I will occasionally mix in onions, as long as they are very finely minced, and I used to add worcestershire and soy sauce, but have since become more of a purist. Since lamb is more expensive and arguably more flavorful than beef, I particularly wanted these burgers to be all about the taste of the lamb itself – so I used salt, pepper, and just a teeny bit of cumin, to amplify the lamb's natural earthiness. This burger recipe, then, is really all about the toppings, and here, the star topping is a creamy lemon garlic aioli.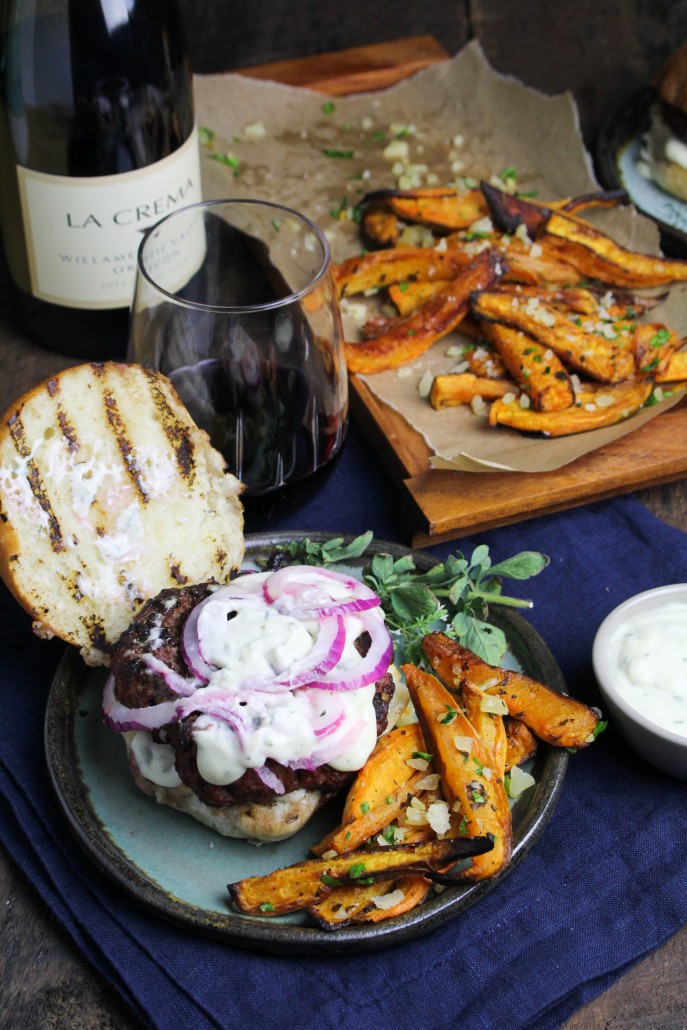 I tend to overcomplicate recipes by making everything from scratch, and I was tempted to make my own toum (that  addictive, creamy garlic sauce you get at your local falafel joint) for this recipe, but I stopped myself. Did I really need to make my own aioli along with all the other components of this meal? Turns out a quick sauce made from minced garlic, mayonnaise, lemon juice, and parsley was equally as delicious and only took about 3 minutes to make. Smoky lamb burgers, a dollop of lemon garlic aioli, plus just a few thin slices of red onion made for patty perfection. To serve, I also opened up a bottle of La Crema Willamette Valley Pinot Noir, which has just enough earthiness to pair beautifully with the grilled lamb.
Lamb Burgers with Lemon Garlic Aioli
Author: Katie Morris of Katie at the Kitchen Door
Prep time:
Cook time:
Total time:
Serves: 4
Ingredients
¾ c. mayonnaise
1-3 cloves garlic, pressed or very finely minced
1 TBS finely minced fresh parsley
Juice from 1 lemon
1/8 tsp coarse sea salt
1 ½ lb. lamb
¼ tsp coarse sea salt
¼ tsp ground cumin
Black pepper
4 burger buns, split
½ red onion, peeled and sliced into very thin rings
Instructions
To make the aioli, mix together the mayonnaise, pressed garlic, and minced parsley. If you're sensitive to raw garlic, start with 1 clove of garlic and taste the aioli before adding more. Add about half of the lemon juice to the aioli, stir to mix, then taste, continuing to add lemon juice until the flavor is balanced for you. Season with 1/8 tsp sea salt and set aioli aside.
Preheat the grill to medium-high heat. In a large bowl, gently break up the ground lamb with a wooden spoon. Add the 1/4 tsp sea salt, the ground cumin, and a few turns of freshly ground black pepper. Stir to gently mix the seasonings into the meat – try to mix the meat just enough to incorporate the spices, as overmixing will make your burgers tough. Gently form the burgers into four equally sized patties, then press your thumb into the middle of each patty to make a divot – this will keep the burgers flat when you grill them.
Grill the burgers until they are medium in the middle (an internal temperature of 160 degrees F), about 4 minutes per side. If you'd like, you can also toast your burger buns for about 60 seconds while you are cooking the burgers. When the burgers are done, place the patties in the buns, top with a spoonful of the lemon garlic aioli and a few slices of red onion, and serve immediately.
For more Labor Day Cookout Recipes, check out: