Labor Day Cookout: Roasted Tomato Feta Dip
Since it's (arguably) cool enough to use the oven again, the appetizer course for our Labor Day Cookout is a Roasted Tomato Feta Dip. Don't worry! The oven will only be on for 25 minutes, tops, and at the end you'll have a bowl of cheesy, tomato-laden goodness as a reward. At this time of year, my cherry tomato plants are just covered in ripe fruit, and my favorite way to use up a bunch all at once is to roast them with a little olive oil, salt, and pepper. Roasting tomatoes brings out tons of natural sweetness – I don't love fresh tomatoes, but I love roasted cherry tomatoes.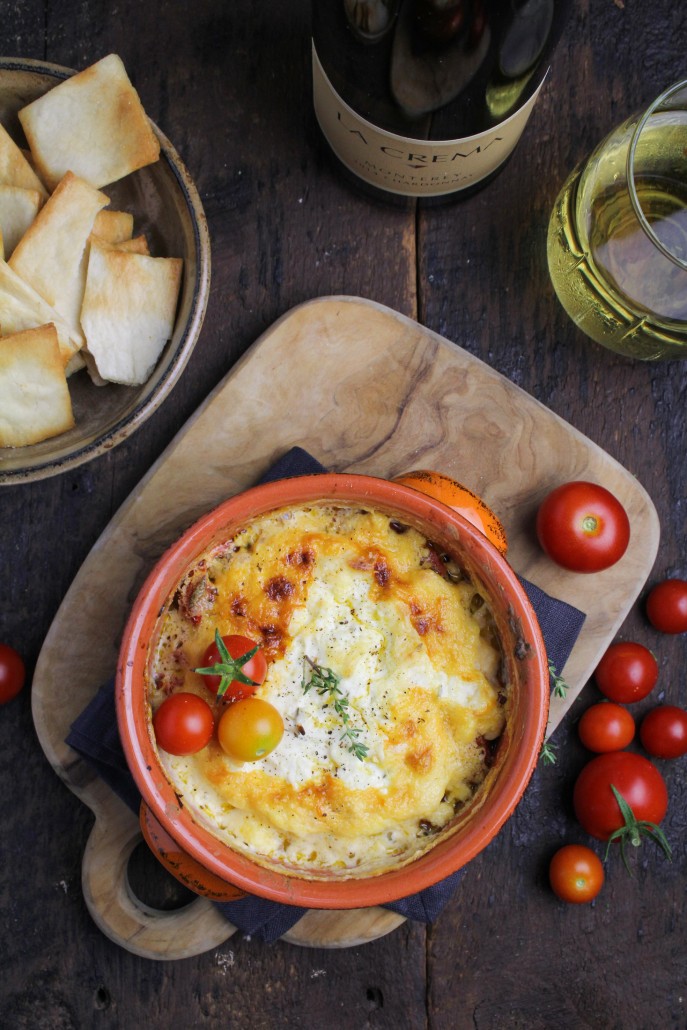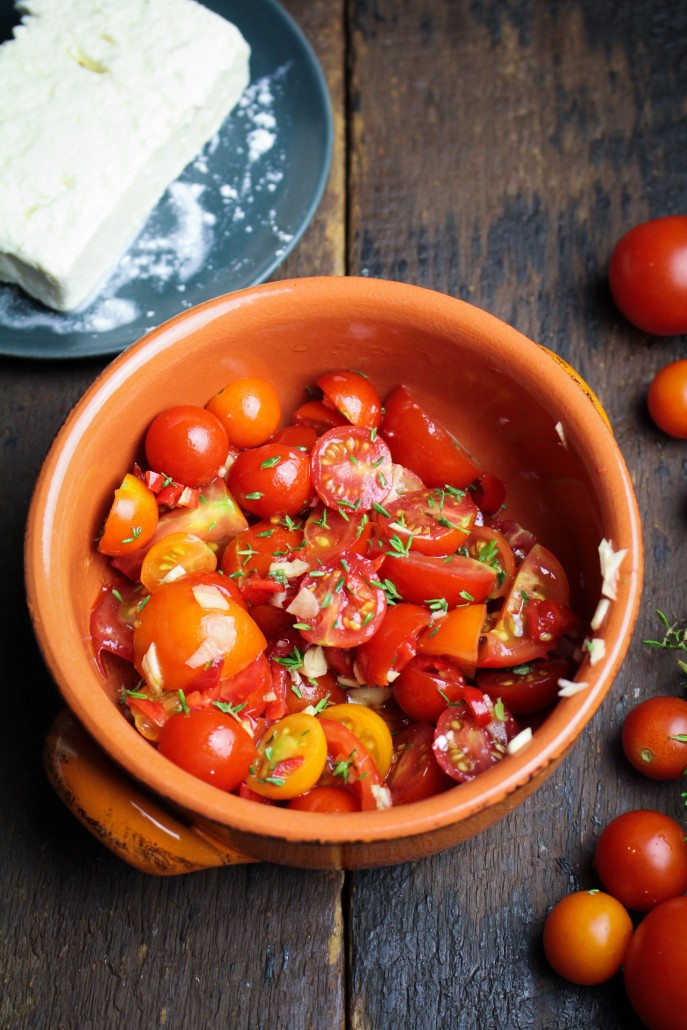 I didn't want this roasted tomato feta dip to be fresh – I wanted it to be indulgent, spreadable, and addictive. There are several roasted feta recipes out there that have you roast a block of feta with just a little olive oil, or with a pile of tomatoes on top, which makes for a very elegant appetizer. I considered going that route, but ultimately wanted this to be a dip that didn't require a knife to spread it out, so I whipped some cream cheese and high quality feta together, and spread it on top of the cherry tomatoes. Hot gooey cheese hiding sweet and garlicky roasted tomatoes underneath? Delicious. This dip would pair equally well with La Crema's Monterey Pinot Gris or Monterey Chardonnay, although I have a slight preference for the chardonnay – buttery chardonnay and creamy cheese is one of those combos I just can't resist.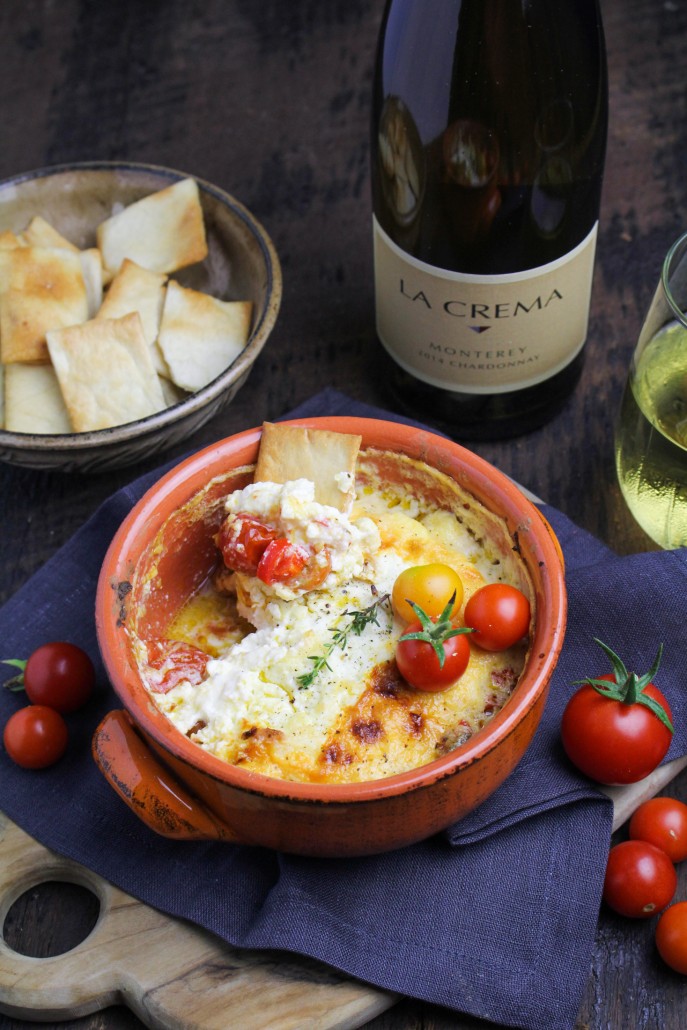 Labor Day Cookout: Roasted Tomato Feta Dip
Author: Katie Morris of Katie at the Kitchen Door
Prep time:
Cook time:
Total time:
Serves: 3-4
Ingredients
1 pint cherry tomatoes, halved
2 tsp olive oil, divided
1 tsp minced hot chile, such as Sandia or Fresno
1 clove garlic, peeled and minced
2 sprigs thyme, divided
Sea salt to taste
4 oz. light cream cheese, at room temperature
4 oz feta cheese, crumbled
Pita chips or sliced bread, for serving
Instructions
Preheat the oven to 400F. Mix the halved cherry tomatoes, 1 tsp of olive oil, minced chile, minced garlic, leaves from 1 sprig of thyme, and sea salt together in a bowl, then transfer to the bottom of a small baking dish (ideally 1/2 quart, but 1 quart will work as well). Roast for 8-10 minutes, until tomatoes are just starting to soften.
In a medium bowl, beat cream cheese together with 1 tsp of olive oil until it is smooth and spreadable. Stir in leaves from 1 sprig of thyme, then mix in crumbled feta cheese, stirring until well incorporated. Spread the cheese mixture on top of the partially roasted tomatoes. Try to spread the cheese out to the edges of the baking dish on all sides. Return the dip to the oven and roast for 10 minutes more, until the cheese is melty and beginning to brown on top. Serve immediately with pita chips or sliced bread.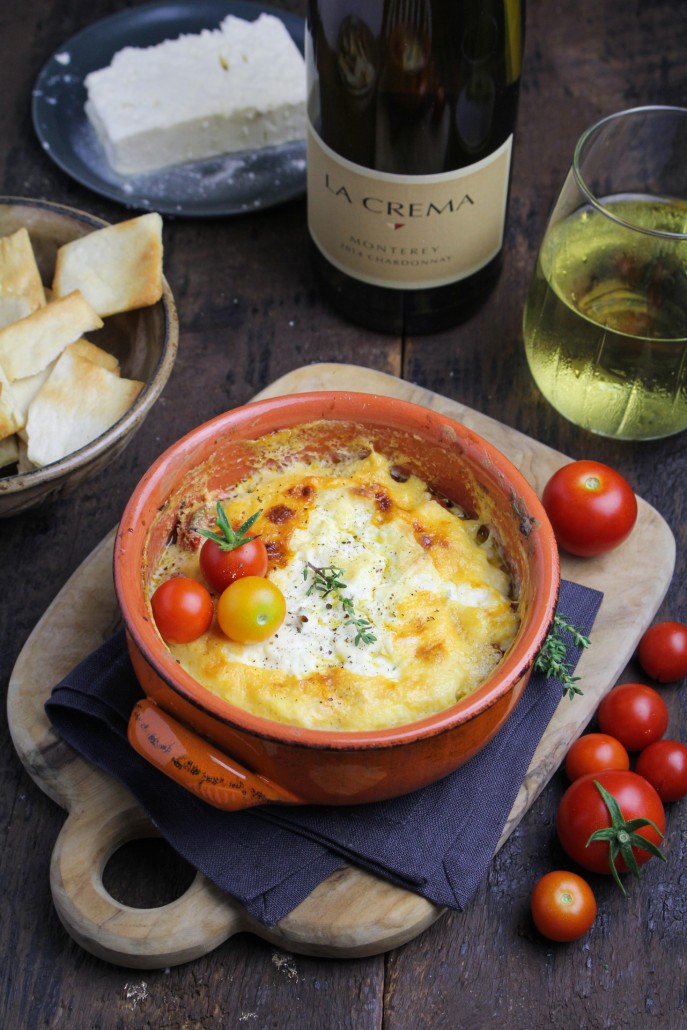 For more Labor Day Cookout Recipes, check out:
Lamb Burgers with Lemon Garlic Aioli