Kentucky Derby® Inspired Recipes
Inspired by the Kentucky Derby®, Chef Justin Wangler shares three recipes that will bring southern style into your home kitchen. Go ahead, stay in and enjoy the longest-running sports event in the United States with La Crema!  From the first course to the dessert course, La Crema's Chef Justin Wangler has crafted a sensational Kentucky Derby® menu for your at-home celebration.  True to their southern charm, these classic dishes will be enjoyed at your family table on Race Day and for many years to come.  And we're off to the races!
Spring Vegetable Salad with Benedictine Dressing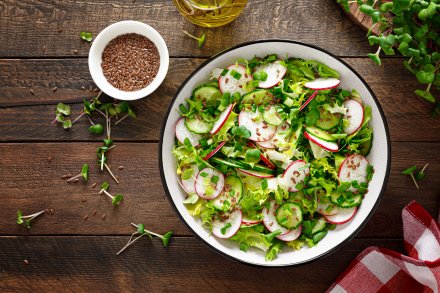 Wine Pairing:  La Crema Sonoma County Sauvignon Blanc
Spring Vegetable Salad with Benedictine Dressing
Serves: 4
This simple spring salad is a play on the Kentucky-style Benedictine dip. The creamy cucumber dressing lightly coats the salad and the crispy vegetables give a nice, crunchy texture.
Ingredients
2 romaine hearts, chopped to desired size
1/3 C. fresh peas, shelled & blanched
4 radishes, sliced
1 carrot, peeled then cut into ribbons using peeler
1/3 C. cherry tomatoes, cut in half
6 each snow peas, julienned
2 Tbsp. sunflower seeds, toasted
Pinch of crunchy salt (such as grey salt)
1 small shallot minced
1 ounce white vinegar
½ English cucumber washed with skin on
(cut in half and seeds removed, about 5 ounces)
1 bunch chives chopped
1 Tbsp. parsley, chopped
¼ tsp. salt
6 ounces cream cheese room temp
1 ounce mayo
Instructions
Place shallot in small container and cover with white vinegar and let sit for ten minutes.  Strain out shallots and place in blender.  Discard vinegar or save for another use.  To the blender with the shallots add the cucumber, chive, parsley and salt. Blend on high for 15 to 20 seconds or until pureed and bright green.  Next add the cream cheese and mayo and blend until creamy and light green.  Adjust seasoning with salt and pepper if desired.  Place in fridge to chill until you are ready to make the salad.
To assemble salad, toss romaine lettuce (or your desired lettuce) in enough dressing to coat and place on plate or serving platter. Garnish with vegetables, sunflower seeds, and crunchy salt.  Serve with a chilled glass of La Crema Sauvignon Blanc.
Sorghum Glazed Pork Belly with Beets, Carrots & Pecan-Pomegranate Sauce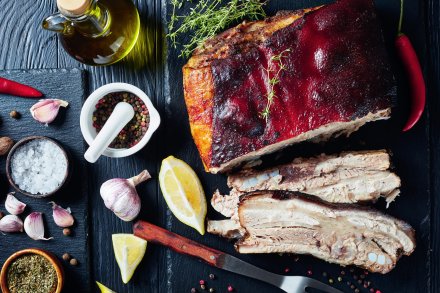 Wine Pairing:  La Crema Sonoma Coast Pinot Noir

Sorghum Glazed Pork Belly with Beets, Carrots & Pecan-Pomegranate Sauce
Serves: 4
Ingredients
1 (2lb) pork belly skin off
2 tablespoons sorghum (you can substitute molasses or honey)
1 tablespoon salt
1 1⁄2 cups julienned red beets, on a mandolin
1 1⁄2 cups julienned carrots, on a mandolin
2 tablespoons balsamic vinegar
1 tablespoon extra virgin olive oil
1⁄4 cup pecans
2 tablespoons extra-virgin olive oil
2 tablespoons minced shallot
1 tablespoon chopped fresh thyme
3 tablespoons pomegranate molasses
1⁄4 teaspoon kosher salt
Freshly ground black pepper to taste
1⁄4 cup pomegranate seeds
1 cup baby mustard leaves, for serving
Instructions
To roast the pork: Preheat the oven to 325 degrees F for 30 minutes. Rub the pork belly all over, with 2 Tablespoons of sorghum, 1 Tablespoon salt and place in oven.  Cook for 30 to 40 minutes or until golden brown and sorghum begins to caramelize.  Open oven and carefully add one cup of pinot noir to the pan.  Reduce the heat to 225 degrees F and cook for at least one hour or until pork looks caramelized and delicious.  It should be fork tender and much of the fat will have cooked out.  Remove from oven and allow to rest for 10 to 15 minutes.
To make the salad: In a medium bowl, combine the beets, carrots, vinegar, olive oil, and 1.5 teaspoon salt and toss to coat the vegetables evenly.
To make the pecan-pomegranate sauce: In a small skillet, combine the pecans and 1 tablespoon of the olive oil over medium-low heat and toast, moving the pan as needed to color the nuts evenly, for about 3 to 5 minutes, until toasted. Add the shallot and thyme, reduce the heat to low, and cook, stirring occasionally, for 2 minutes, until the shallot is translucent. Remove from the heat, add the pomegranate molasses, the remaining 1 tablespoon olive oil, the salt, pepper to taste, and the pomegranate seeds and stir to mix.
To serve: Divide the salad evenly among four individual serving plates and top each portion with 1/4 cup of the mustard leaves. Place 2 slices of pork belly on top of each salad and drizzle with one-fourth of the pecan–pomegranate sauce.  Pork belly is very rich, so a little bit goes along way.  It also reheats well if you have leftovers.
Chocolate Bourbon Tart with Caramel and Smoked Salt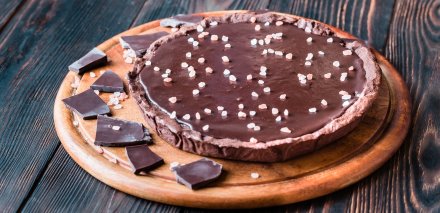 Wine Pairing:  La Crema Russian River Valley Pinot Noir

Chocolate Bourbon Tart with Caramel and Smoked Salt
Serves: 8-10
Ingredients
¼ cup unsalted butter, at room temperature
½ cup confectioners' sugar, sifted
½ teaspoon kosher salt
1 large egg plus 1 large egg yolk
1 ¼ cups all-purpose flour, sifted
2 tablespoons almond meal
¾ cup heavy cream
2 teaspoons butter
2 teaspoons corn syrup, light
½ teaspoon salt
1 ¼ cup dark chocolate, chopped
1 tablespoon bourbon
1 teaspoon smoked salt, garnish
Instructions
To make the tart shell: Put the butter in a stand mixer fitted with the paddle attachment. With the mixer on medium speed, slowly add the confectioners' sugar and salt and beat until well incorporated. On low speed, add the egg and egg yolk, one at a time, beating after each additional until incorporated. Then gradually add the flour and almond meal and continue beating until the mixture comes together and is evenly moistened.
Lightly flour a work surface. Gather up the dough, transfer to the floured surface, and shape into a disk about 1 inch thick. Wrap the disk in plastic and refrigerate for 1 hour. Roll dough to 1/8 inch thickness. Using a 3 1/4" inch round pastry cutter cut out 8-10 disk. Drape over 2 3/8 inch round pastry rings tart molds and gently press to fit in the bottom and sides of the mold. Use a small knife to cut the excess dough from the rim. Freeze the lined tart rings for 30 minutes. Preheat the oven to 350F. Bake for 12-14 minutes or until golden brown. Let cool for 20 minutes before adding the bourbon ganache.
To make the filling: Place chopped chocolate in a medium bowl, set aside. In medium pot combine heavy cream, butter, corn syrup, and salt. Bring mixture to a simmer. Pour cream-mixture over chocolate and let sit for 1 minute, then stir until the mixture is fully incorporated and glossy. Stir in bourbon and mix well. Gently pour the mixture into the prebaked tart shell and fill to the rim. Refrigerate the tarts for 1 hour or until set. Sprinkle with smoked salt.