Perfect Pairings for Your Kentucky Derby Party
Inspired by the Kentucky Derby®, Chef Tracey Shepos Cenami shares three recipes that will bring southern charm into your home kitchen.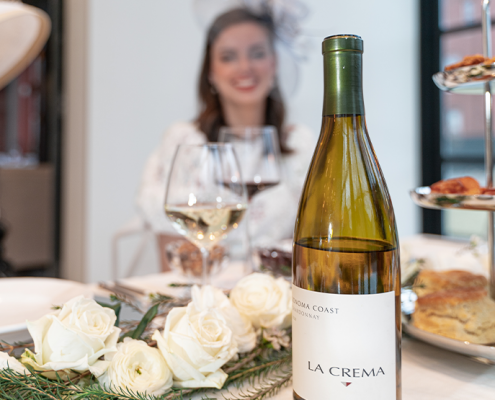 Need some recipe inspiration as your plan your at-home Kentucky Derby watch party?  Follow our Five Easy Steps to planning.   From the first course to the dessert course, La Crema's Chef Justin Wangler has crafted a sensational Kentucky Derby® menu for your at-home celebration.  True to their southern charm, these classic dishes will be enjoyed at your family table on Race Day and for many years to come.  And we're off to the races!   Check out our Five Easy Steps to Throwing the Ultimate Kentucky Derby for even more inspiration.
Undeviled Eggs with Herbs and Horseradish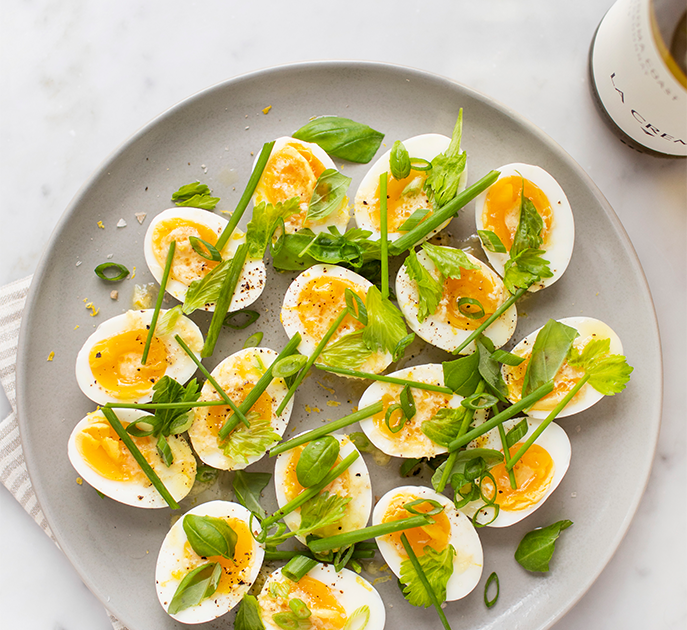 Wine Pairing:  La Crema Sonoma Coast Chardonnay
Undeviled Eggs with Herbs and Horseradish
Author: Chef Tracey Shepos Cenami
Serves: 8
Easier than deviled eggs, and—dare we suggest?—even better, especially if you can get really flavorful farm eggs. You can cook, peel, and chill the eggs up to 24 hours ahead of time. (Adding vinegar to the water softens the shells and makes peeling easier.) The day you are serving, arrange the eggs snugly in a single layer in a lidded container and top with the dressing. Pack the herbs separately, so you can scatter them on top at the last minute.
Ingredients
1 tablespoon distilled white vinegar
8 cold large eggs
1 tablespoon prepared horseradish
2 teaspoons Dijon mustard
1 1⁄2 tablespoons Champagne vinegar
1⁄4 cup rice oil or other neutral-flavored oil
Maldon sea salt
Freshly ground black pepper
Finely grated zest of 1 lemon
2 green onions, white and light green parts, thinly sliced
3 heaping tablespoons chopped fresh chives
18 fresh small basil leaves, torn
1⁄2 cup loosely packed celery leaves (light, tender leaves from center of head
Instructions
To prepare the eggs: In a medium pot, combine 2 qt water and the vinegar and bring to a boil over high heat. Meanwhile, fill a large bowl halfway full with water and ice. Using a slotted spoon, carefully lower the eggs into the boiling water, adjust the heat to a simmer, and cook for 81/2 minutes. Again using the spoon, transfer the eggs to the ice bath and let sit until chilled.
Gently roll each egg on a hard work surface to crack the shell slightly. One at a time, carefully peel the eggs under cool running water, then pat dry with a paper towel. Cut the eggs in half lengthwise and arrange the halves in a single layer, cut side up and close together, on a small platter or in a container and set aside. Do not refrigerate the eggs if they are being served within 4 hours.
To make the vinaigrette: In a small bowl, whisk together the horseradish, mustard, vinegar, and rice oil. You should have about 1/3 cup.
To serve: Pour the vinaigrette evenly over the eggs. Season the eggs with salt, pepper, and lemon zest. Sprinkle evenly with the green onions, chives, basil, and celery leaves. Serve at room temperature.
Pork Belly Sliders with "Hoi-Zin" BBQ Sauce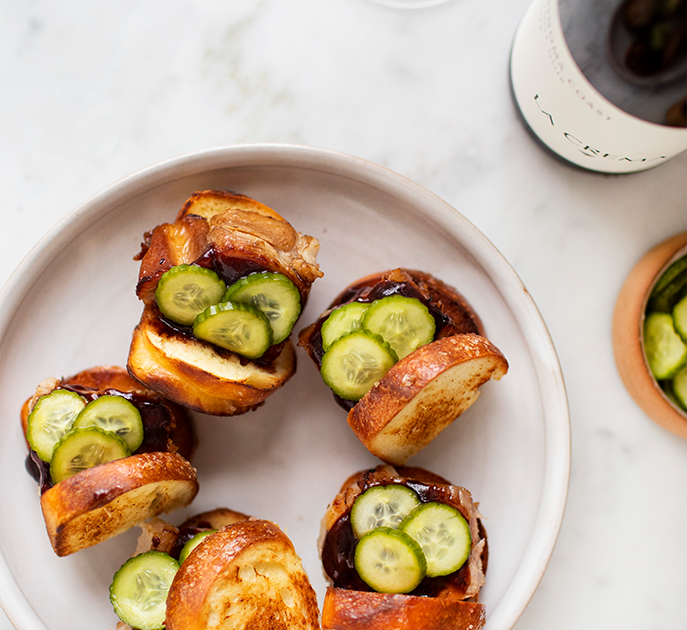 Wine Pairing:  La Crema Sonoma Coast Pinot Noir
Pork Belly Sliders with "Hoi-Zin" BBQ Sauce
Author: Chef Tracey Shepos Cenami
Serves: 8
These mouthwatering two-bite sandwiches were on our food-and-wine-pairing menu for years. The sweet tea brine, a nod to Justin's southern roots, makes the pork extra juicy and tasty, and the crisp quick-pickled cucumbers and hoisin-Zinfandel barbecue sauce create a bit of a bánh mì effect. If you're not up for baking your own rolls, you can use hot dog buns. Just trim off a bit of the top and bottom crusts, brush those cut surfaces with a little of the rendered pork belly fat, and toast in a skillet.
Ingredients
For the pork belly:
1 oz (scant 1 cup) loose black tea leaves, preferably Lipton (13 regular tea bags)
1 cup kosher salt
2 cups sugar
2 qt ice cubes
3 lb pork belly, in a single piece, 2 inches thick
For the Parker House rolls:
1⁄4 cup plus 2 tablespoons whole milk, warm (110°F)
1 teaspoon active dry yeast
1 1⁄2 cups bread flour
2 1⁄2 teaspoons sugar
1 teaspoon kosher salt
2 tablespoons unsalted butter, at room temperature
1 large egg, at room temperature, plus 1 large egg, lightly beaten, for egg wash
1⁄2 teaspoon Maldon sea salt
For the "hoi-zin" BBQ sauce:
1 cup medium-bodied red wine (such as Zinfandel)
1 cup hoisin sauce
1 cup barbecue sauce (we like KC Masterpiece)
For the easy pickles:
1 cup rice vinegar
1⁄4 cup sugar
2 teaspoons kosher salt
1 English cucumber, sliced crosswise 1⁄4 inch thick (32 slices)
Unsalted butter if needed, for toasting the rolls
Instructions
To prepare the pork belly: Wrap the tea leaves in cheesecloth and secure with kitchen twine. In a large pot, combine 2 qt water, the tea leaf sachet, salt, and sugar and bring to a boil over high heat. Remove from the heat and let steep for 1 hour. Transfer to a large nonreactive container and add the ice. Let stand until the brine cools to below 45°F on an instant-read thermometer. Add the pork belly, cover, and refrigerate for72 hours (3 days). When the pork has finished brining, preheat the oven to 425°F. Line a sheet pan with parchment paper. Remove the pork from the brine, pat dry with a paper towel, and place, fat side up, on the prepared pan. Roast the pork belly for 20 minutes. Reduce the oven temperature to 275°F and roast for 2 to 3 hours longer, until golden brown and fork-tender. Remove from the oven and carefully pour off and discard the fat. Let the pork belly cool completely, then cover it with parchment paper, top it with a second sheet pan, and then with a weight to press the pork belly gently and evenly. Refrigerate overnight. The following day, slice the pork into 16 medallions, each 1 inch thick and 3 inches long. Any leftover pork belly can be tightly wrapped and refrigerated for up to 3 days or frozen for up to 1 month.
To make the Parker House rolls: Pour the milk into a stand mixer fitted with the dough hook. Sprinkle the yeast over the milk, whisk to combine, and let stand for 10 minutes, until dissolved. Add the flour, sugar, kosher salt, butter, and 1 egg to the bowl and begin to mix on low speed. As the dough comes together, adjust the mixer to the next highest speed and beat for about 5 minutes, until the dough begins to pull away from the sides of the bowl and is smooth. Spray a medium bowl with nonstick cooking spray. Shape the dough into a ball, transfer the dough to the prepared bowl, and cover the bowl with plastic wrap. Place the bowl in a warm spot and let the dough rest for 1 hour until it doubles in size. Gently fold each of the four sides of the dough in toward the center, flip the dough over, re-cover the bowl, and let the dough rest for 40 to 45 minutes, until it doubles in size. Lightly spray a 41/2-by-81/2-inch loaf pan with nonstick cooking spray. Lightly flour a work surface. Punch down the dough and turn it out onto the floured surface. Shape the dough into a rectangle about 1/2 inch thick and lightly dust the top of the dough with flour. Using a bench scraper or a large knife, cut the dough into 8 equal-size pieces (about 13/4 ounces each). Using your palm, roll each piece of dough in a circular motion on the lightly floured surface to form a ball. Line up the dough balls on the bottom of the prepared loaf pan in 2 rows. Cover the pan loosely with plastic wrap and let rest in a warm spot for about 1 hour, until the balls have doubled in size. After about 45 minutes, preheat the oven to 350°F. Lightly brush the top of the dough with the egg wash and sprinkle with the Maldon salt. Bake the rolls for 20 to 25 minutes, until golden brown. Gently turn the rolls out of the pan onto a wire rack and let cool completely. Using a serrated knife, cut the cooled rolls apart into individual rolls. Cut each roll in half vertically down the center. Starting at the center of the top of each roll half, cut vertically three-fourths of the way to the bottom. You will have 16 slider rolls.
To make the barbecue sauce: In a small pot, bring the wine to a boil over medium-high heat and boil for about 5 minutes, until reduced by half. Add the hoisin and barbecue sauces, stir well, bring the mixture to a boil, and remove from the heat. Let cool before using. Any leftover sauce will keep in an airtight container in the refrigerator for up to 1 week.
To prepare the easy pickles: In a medium bowl, stir together the vinegar, sugar, and salt until the sugar and salt dissolve. Add the cucumber slices and let marinate for 5 to 10 minutes. Serve immediately for a crisp texture or allow the slices to marinate longer for a softer pickle.
To serve: Heat a large nonstick sauté pan over medium-high heat. Working in batches to avoid crowding, add the pork slices to the hot pan and cook, turning once, for about 1 minute on each side, until golden brown and crisp on both sides. Transfer the pork to a plate and keep warm. Working in batches, place the rolls, cut sides down, in the hot sauté pan until lightly toasted. If there is not enough pork fat in the pan, add a little butter.
To assemble each slider, fill with 1 piece of pork, 2 pickles, and as much sauce as desired. Serve immediately.
Dark Chocolate Budino with Blueberries and Basil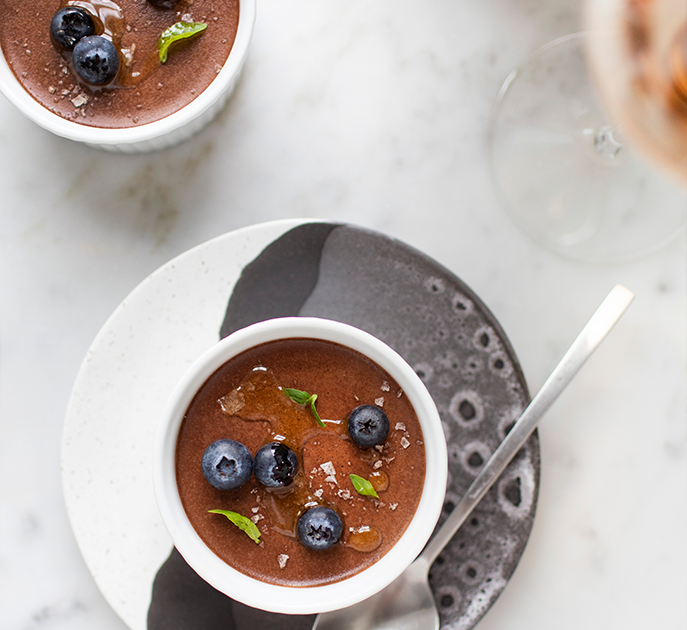 Wine Pairing:  La Crema Sparkling Brut Rose
Dark Chocolate Bundino with Blueberries and Basil
Author: Chef Tracey Shepos Cenami
Serves: 8
This dense, Italian-style chocolate pudding requires no tricky techniques, and because it's thickened with rice flour, it's gluten-free. We garnish it with blueberries, delicate sprigs of microbasil, our own buttery estate-grown olive oil, and crunchy sea salt, so every bite has its own unique combination of flavors. We recommend letting the pudding cool completely before covering the bowls with plastic wrap to avoid condensation and drips.
Ingredients
2 teaspoons powdered gelatin
1 1⁄4 cups whole milk
1 cup heavy cream
1⁄2 cup sugar
1⁄4 teaspoon kosher salt
4 large egg yolks
2 tablespoons plus 1 teaspoon brown rice flour
8 oz high-quality dark chocolate (70 percent cacao), chopped
1⁄2 cup warm freshly brewed medium-roast coffee
1⁄4 cup extra-virgin olive oil
1⁄2 cup blueberries
1⁄4 cup basil microgreens
1 tablespoon Maldon sea salt
Instructions
In a small bowl, sprinkle the gelatin over 5 teaspoons water, stir, and then let sit for 10 minutes to bloom.
In a medium pot, combine the milk, cream, 1/4 cup of the sugar, and the salt and bring to boil over medium heat, stirring to dissolve the sugar. Meanwhile, in a medium bowl, whisk together the egg yolks, rice flour, and the remaining 1/4 cup sugar, mixing well. Remove the milk mixture from the heat and slowly pour it into the egg mixture while whisking constantly until thoroughly mixed. Pour the mixture back into the pot and continue to cook over medium heat, whisking constantly, until the mixture registers 160°F on an instant-read thermometer.
Remove from the heat and stir in the bloomed gelatin. Put the chocolate in a medium heatproof bowl and pour the hot milk mixture through a finemesh sieve over the chocolate. Let sit for 2 minutes, then whisk until the chocolate melts and is fully incorporated. Stir in the coffee, mixing well.
Divide the mixture evenly among eight individual serving bowls and let cool completely. Cover with plastic wrap and refrigerate until well chilled. To serve, drizzle with the olive oil, garnish with the blueberries and basil, and finish with a sprinkle of the Maldon salt.